Meet Alison Andersen. Now meet Kate Husted. They are next-door neighbours and best friends.
Having been roommates in the past, they now use each other's apartments as an extension of their own. And it just so happens they both have a knack for decorating. Join us on a two-part home tour as we explore their two different takes on similar spaces in the Beltline's historic Barnhart Apartments.
Look inside Andersen's Scandinavian-inspired home. With a background in photography and a Bachelor of Fine Arts from Nova Scotia College of Art & Design, it's not surprising she has a great eye for quality art and great furniture.
What is your design philosophy?
I am a really nostalgic person and sentimental value is huge for me in terms of designing my home. I like having a narrative running through my home; things that have a story to them. That is why I love discovering great vintage finds.
Overall, I like keeping it simple and keeping it to pieces I love. Don't fill your home things just to fill your home with things.
What is your favourite space in your home?
I love the living room. During the winter, I love putting out lots of candles on the fireplace; it is so nice and cozy. I also love spending time in Kate's window alcove. We could sit there, drink coffee and people-watch all day.
What is your most treasured item and where is it from?
My grandfather's typewriter that I inherited. It's nice knowing that I have something that his hands have been on and used over the years. I use it occasionally for projects – I like having something tangible, something that I can touch, feel and produce with.
What is your favourite decor find?
Aesthetically, I love the lockers in my space. And it doesn't hurt to have extra storage in a heritage building. My sister, Kate and her husband Jordan picked some of these up in Edmonton from a second-hand shop and they eventually made their way to me.
Where do you find inspiration for your home?
I get inspiration from many different places. I accumulate inspiration; I pick up little things here and there as I travel. People I meet and other homes I visit all inspire me. I log what I see and it eventually influences what I am dreaming up. It's like an evolution of my personal style. When I reflect back on all of the different apartments that I've had over the years, there is always an adding and subtracting going on.
A lot of people in my life are really inspirational as far as design goes. My family is great. My sister is an architect and she is a big help. We grew up in a heritage home as well, so I am really into older spaces.
What is your favourite thing about living in your home?
I really like being part of the community in our building. And I love being right in the center of the city. I don't mind that there are sirens going by or lots of noise. I've never felt anxious about being home because we can open our windows and be right in the mix of things.
Where is your favourite place to shop for decor locally?
I love shopping vintage but I don't have one place that I always go to. I live around the corner from Kit Interior Objects and BoConcept so I often go in there for inspiration.
Did you encounter a decor challenge when you moved into the space?
Besides the usual challenges you go through living in a heritage building in terms of heat and water, there wasn't a whole lot of design challenges. The layout is great.
What is your favourite view from your home?
The view from Kate's window alcove. It is always sunny and bright – even in the winter. We have a perfect view of the street that is ideal for people watching. We're always trying to figure out who our neighbours are, where they live and what they are all about.
What would you like your next home to be?
I would like the same place, but transported into a modest heritage home with a yard. That would be great.
Any tips for our readers in terms of decor and design?
Choose things you love and not things just to fill your home. Make it a home but make it eclectic. You'll spend time, money and energy if you have to keep going out and replacing things.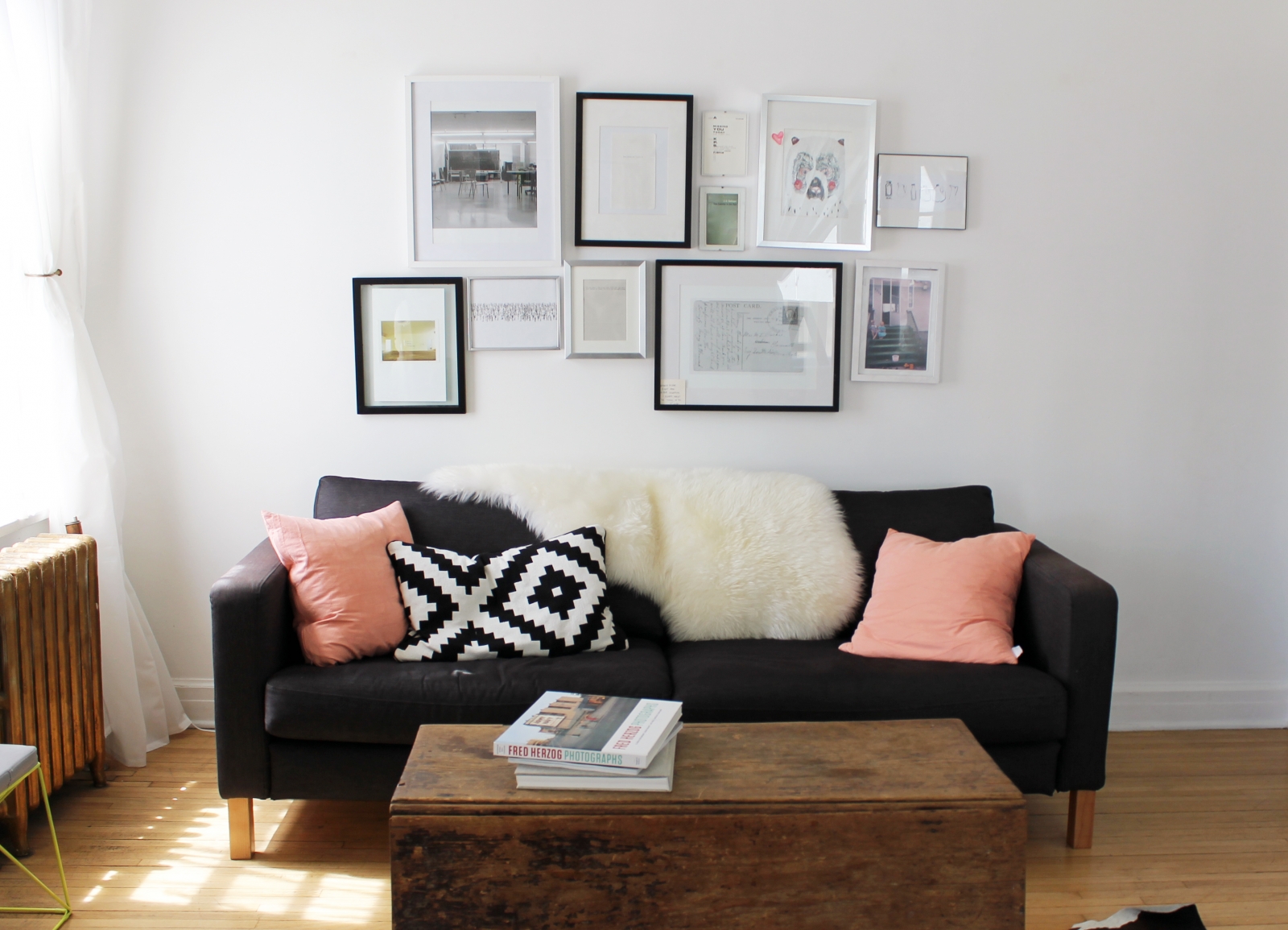 PHOTO BY KAIT KUCY
The salon-style wall is comprised of some of Andersen's favourite pieces of art. Pink throw pillows add a punch of colour to the room.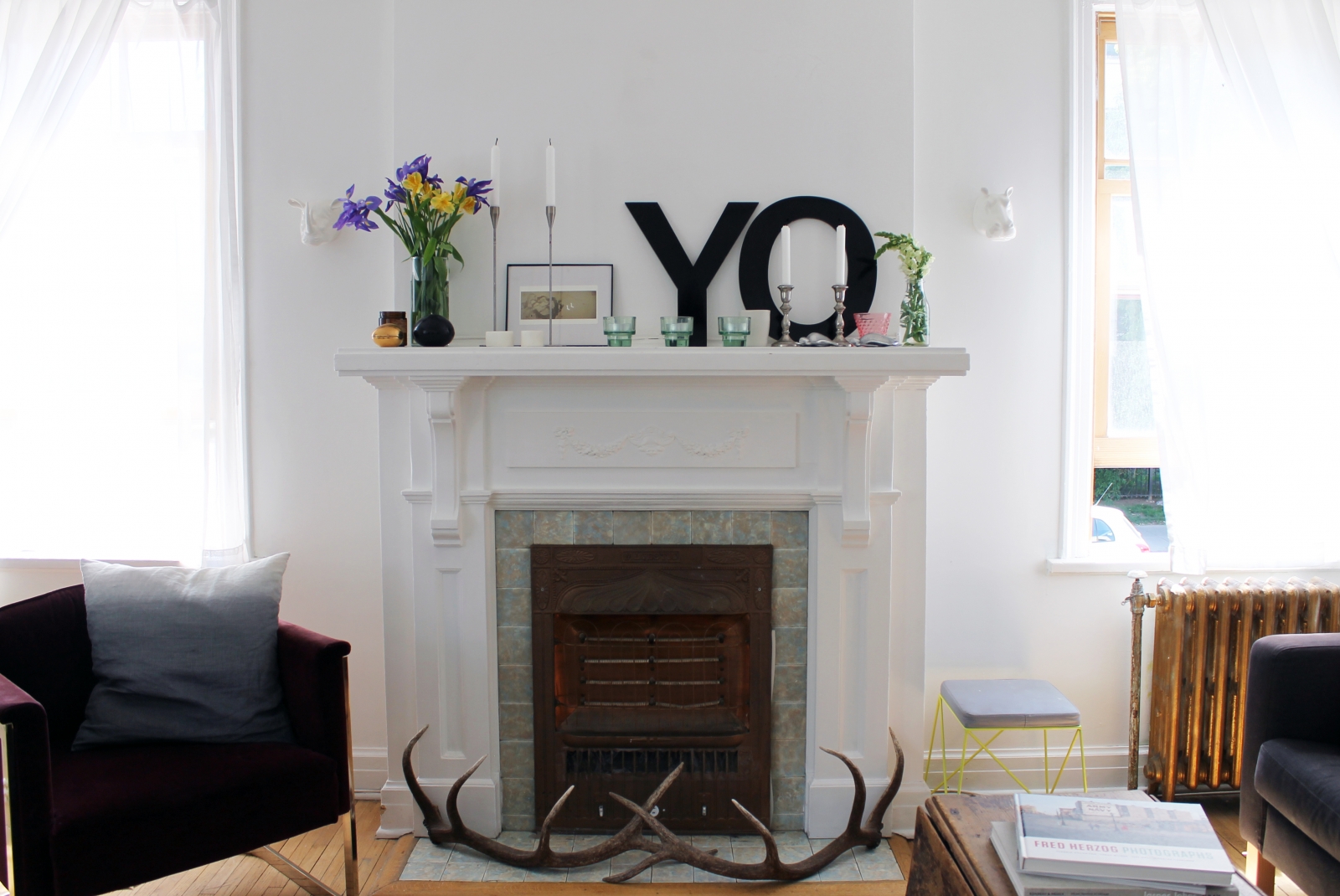 PHOTO BY KAIT KUCY
Andersen is known among her friends for her stunning fireplace mantel vignettes. They change seasonally, and sometimes even weekly.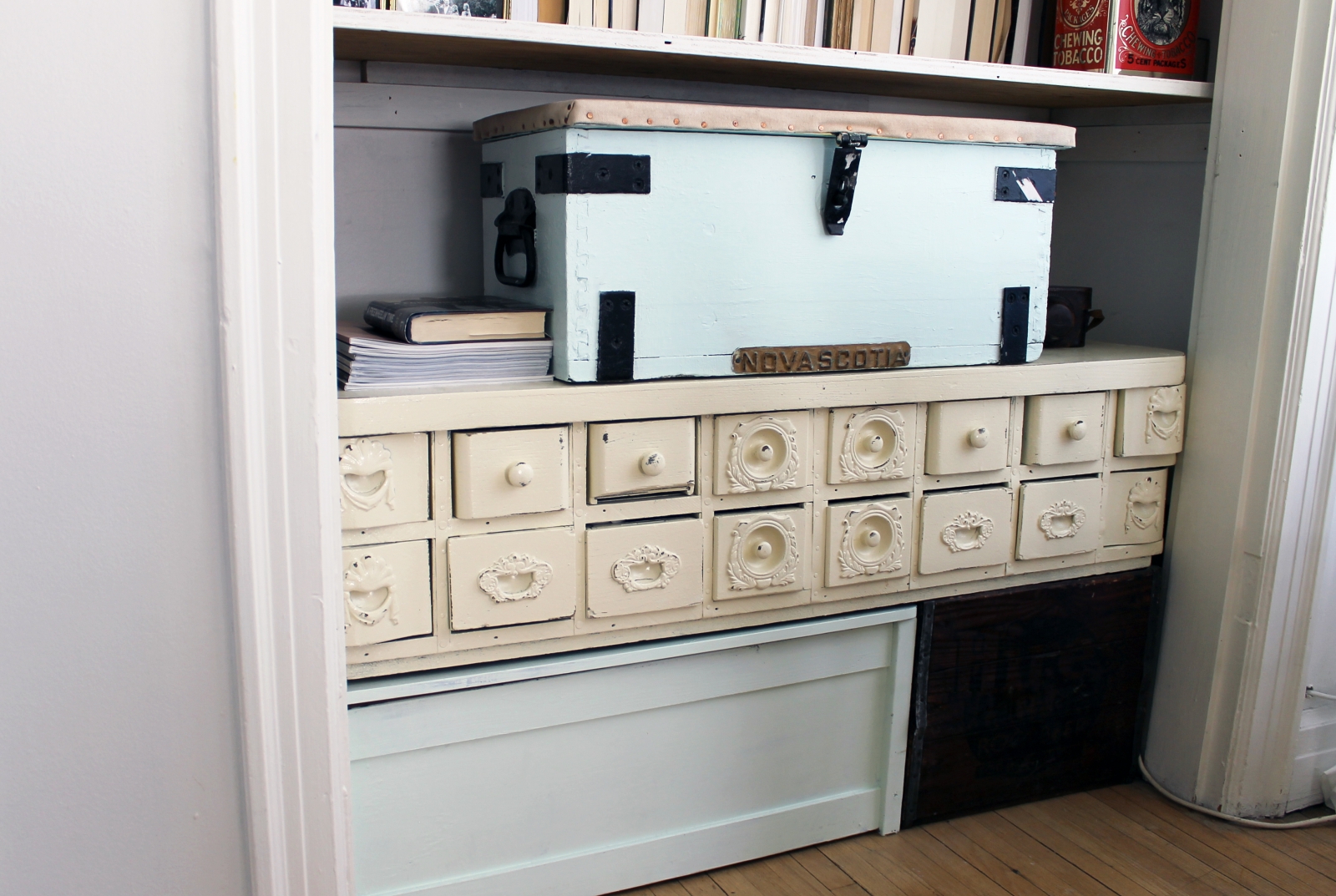 PHOTO BY KAIT KUCY
Andersen created this clever storage area in her kitchen nook using an antique wooden trunk and drawers.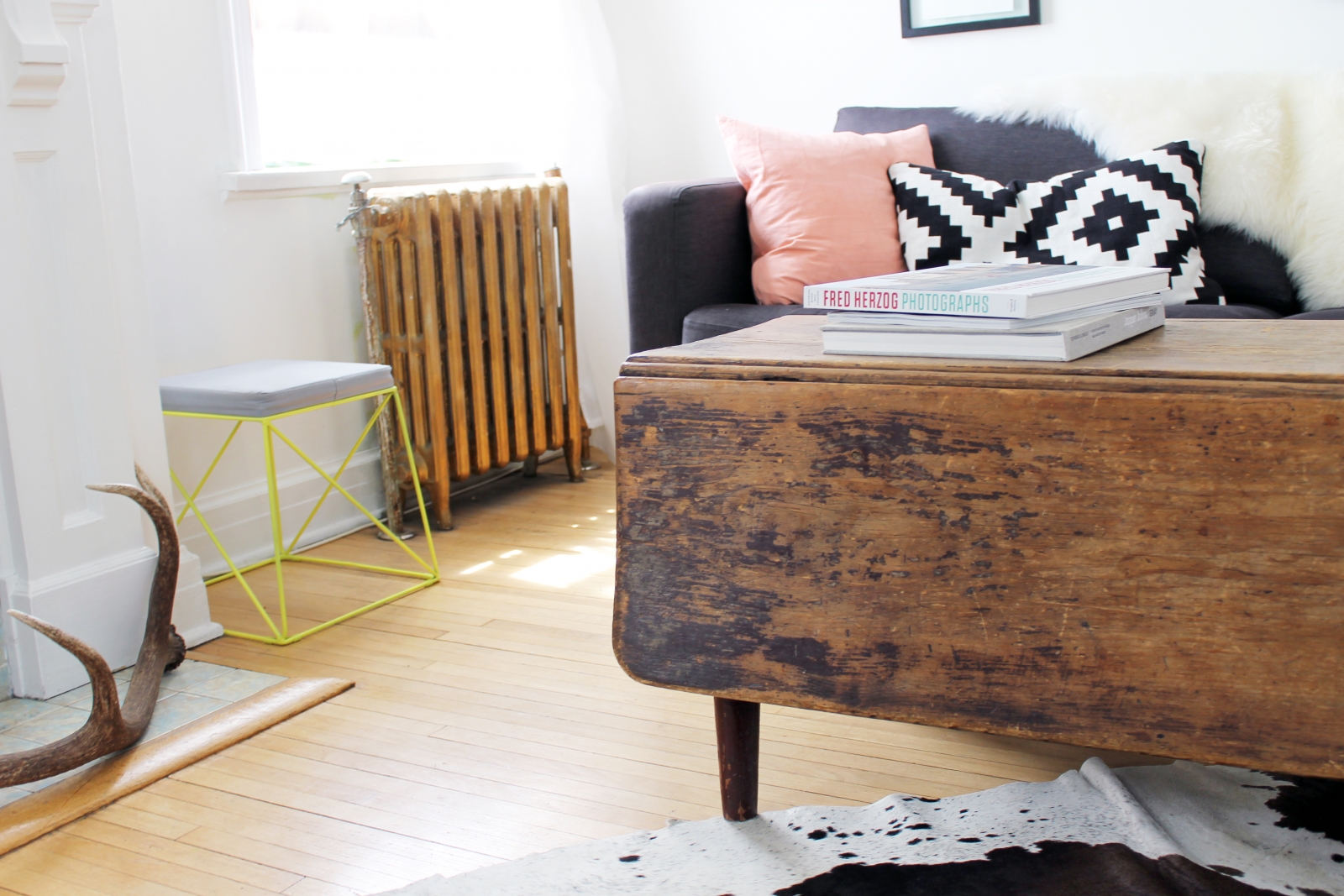 PHOTO BY KAIT KUCY
Andersen seamlessly mixes antique pieces with modern finds in the living room.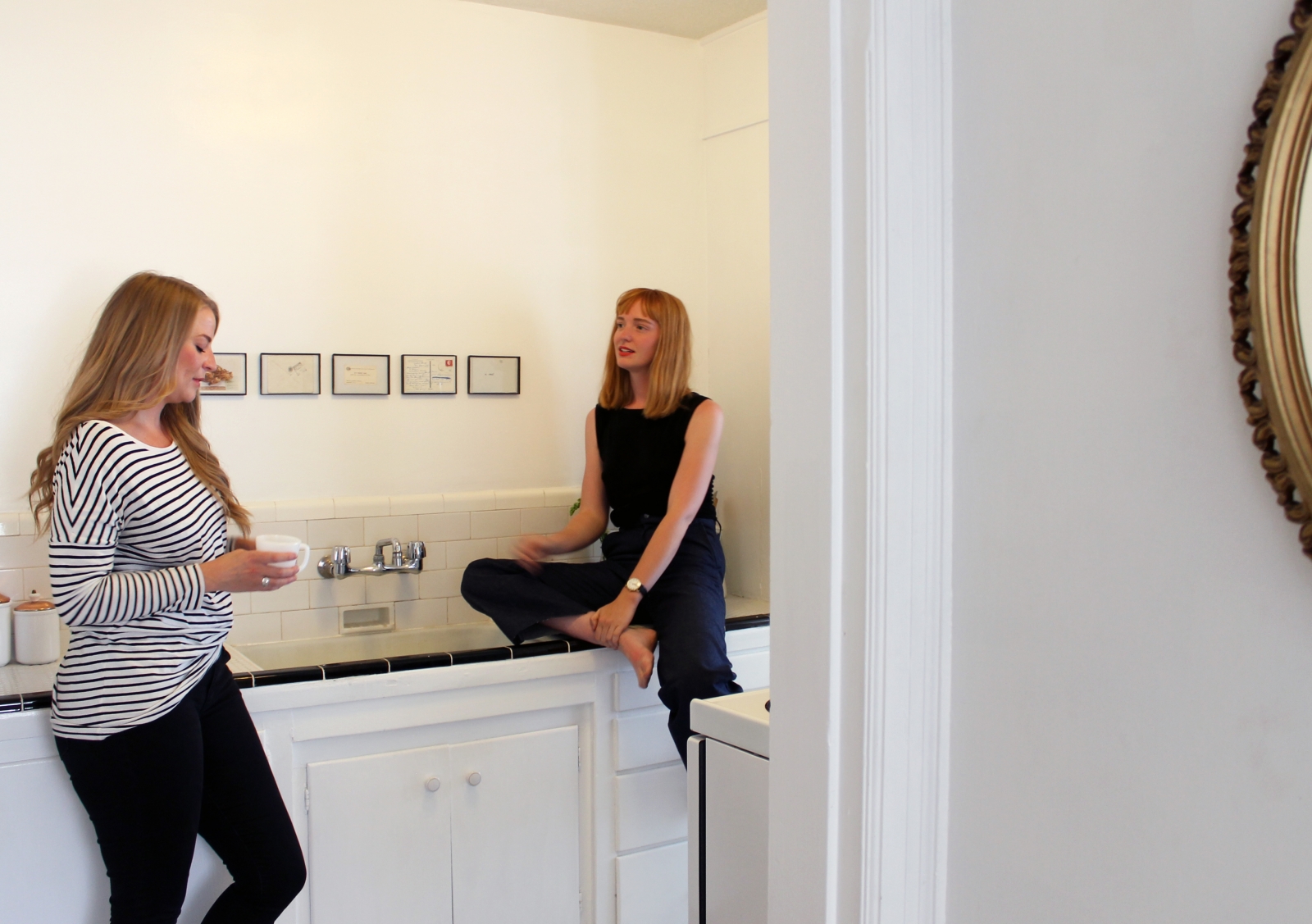 PHOTO BY KAIT KUCY
Andersen (left) and Husted at their favourite perching spot in Andersen's kitchen.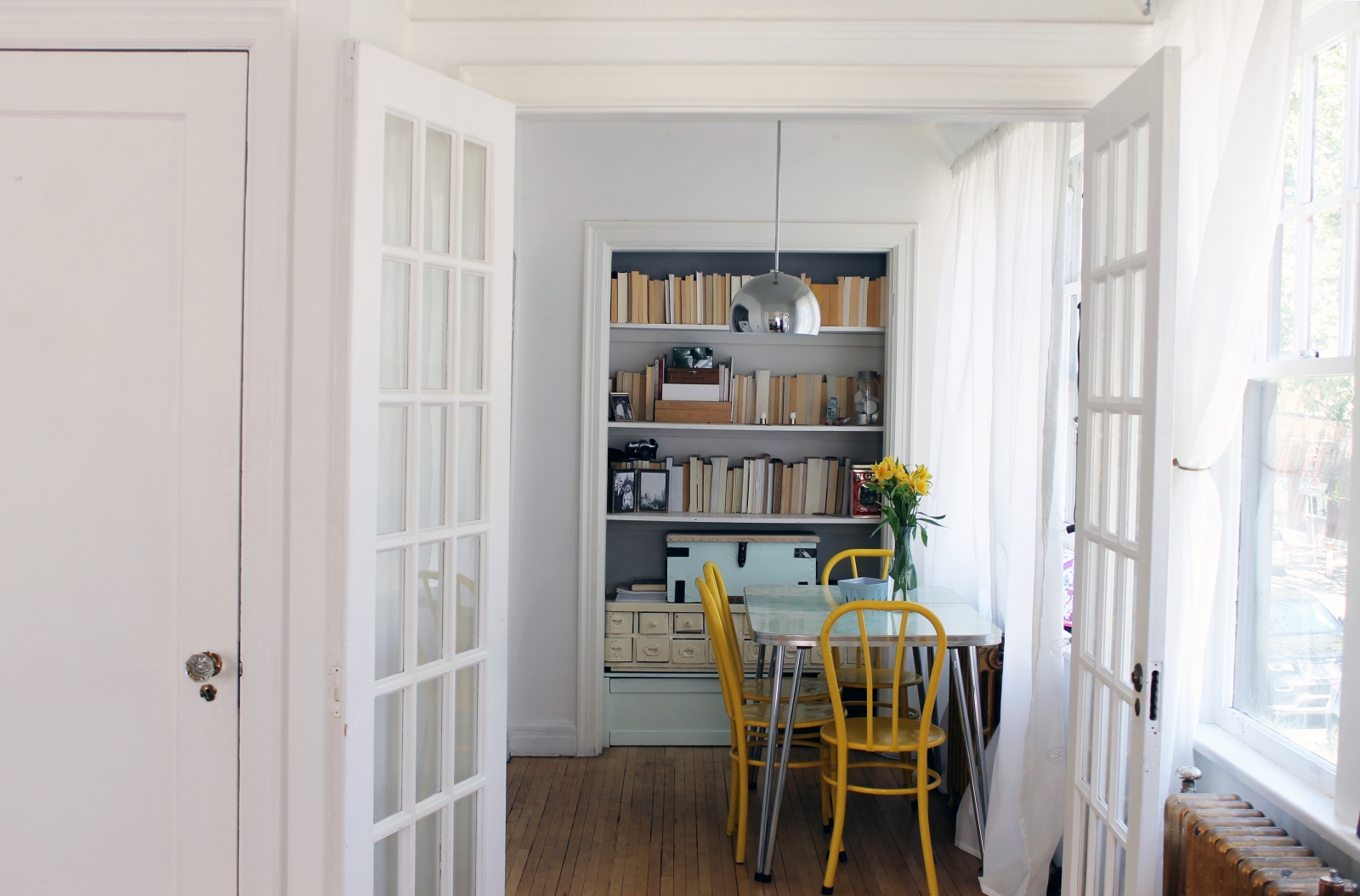 photo by Kait Kucy
The eclectic nature of Andersen's dining room still maintains a minimalist bent with well-chosen pieces collected from her adventures across Canada.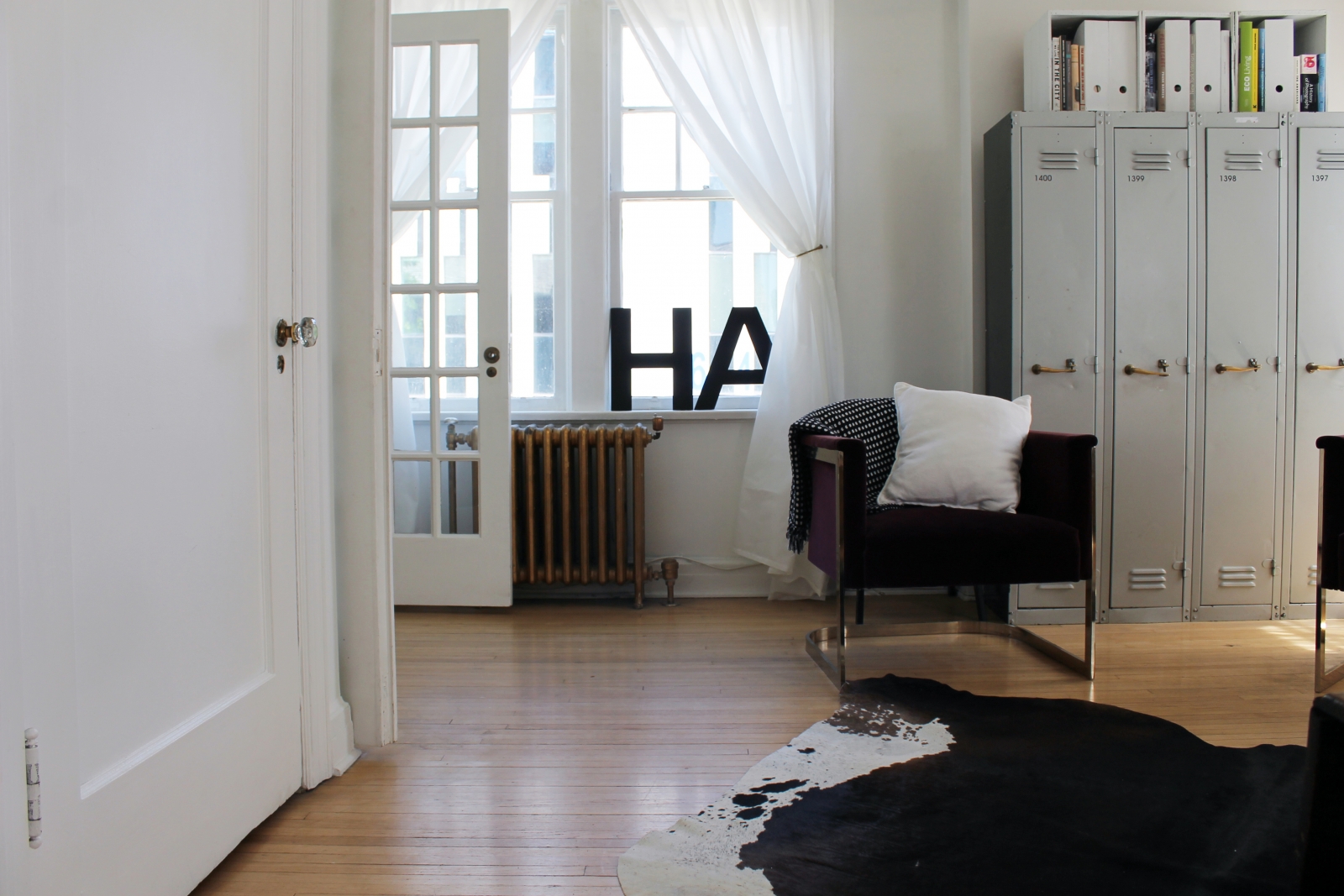 Photo by Kait Kucy
Andersen finds unique pieces from different eras and mixes them together to great effect. Vintage school lockers, purple velvet armchairs and a hide rug go surprisingly well together in the 1920s-era apartment.
Now see Kate Husted's space next door.