What You Need to Know to Find the Perfect Winter Coat
Use these tips, invest wisely, keep warm and stay stylish this winter.
By Sarah Comber
Keep cosy this winter with the hooded wrap coat with fur trim from Canadian designer, Sentaler.
Photo courtesy of Sentaler
Living in Calgary, your winter coat is more than a passing seasonal style statement – it is your home-away-from-home for six months of the year. It not only keeps you warm and protects you from the 40-below elements, but is also the first – and sometimes only – visual impression you will make. Thus, investing wisely in a winter coat is a decision not to be taken lightly.
Here's what you need to consider to get the highest return on winter coat choices.
Pick your price point
Although many factors contribute to establishing your ideal budget – age, lifestyle and gross income – on average, Brenna Hardy, who along with Phaedra Godchild makes up the styling duo Styleista, says you should expect to invest an average of $500.
"Look at it like spending a price per year," says Hardy, "If you get a gorgeous wool coat from Holt Renfrew compared to a fun, trendy item at H&M, you may be spending more but it will last you longer." Hardy recommends investing $100 for each year that you intend on wearing your winter coat.
Megan Szanik, owner of Espy Boutique, says that if you are purchasing a winter coat from a reputable brand and a store you trust, you can get away with a beautiful coat for around $260 to $300.
Material matters
Natural materials like wool are much warmer than synthetic fabrics like polyester. And, look for a down-filled or synthetic down-filled jacket to keep warm through the winter months.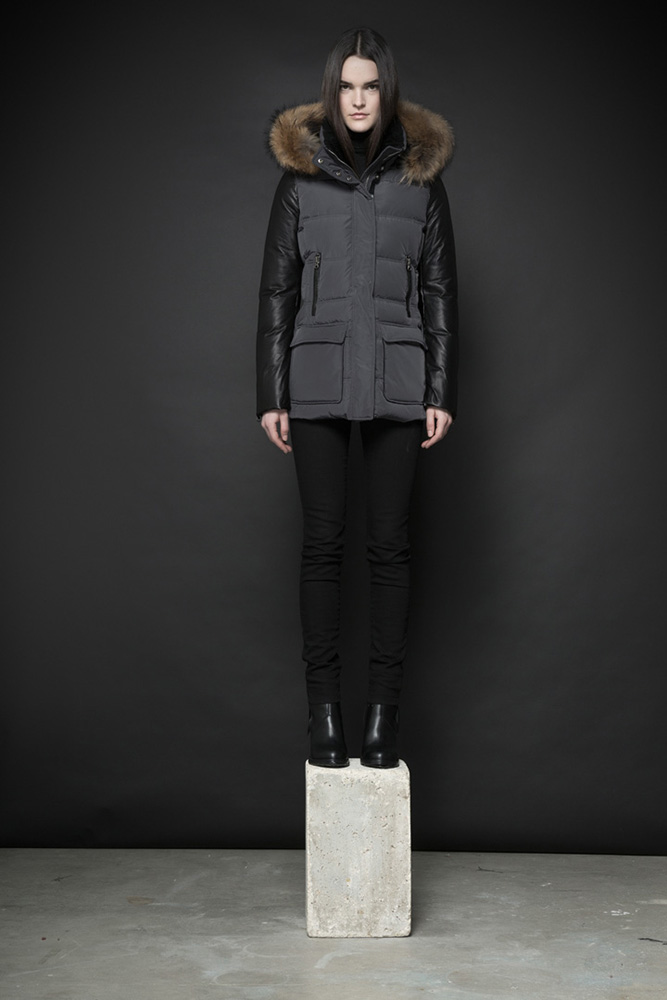 Photo courtesy of Mackage.
A down-filled interior and leather detailing makes the Orla jacket by Mackage an excellent choice to invest in this winter. 
Indeed, Szanik recommends that in a sporty city like Calgary, a wise investment choice would be to purchase two winter coats.
"On the warm side you want to pick a fabric that is more technical – like an MEC-style fabric. That's what is really going to keep you warm," says Szanik. "For your fashion coat or dress coat you'll want to stick to wools and natural fibres that can be easily cleaned."
Find the right fit
Ensuring your jacket is tailored well in the shoulders is the most important fit-consideration. It's especially important for men.
Leave a little extra room for winter layers. Women with petite frames should opt for jackets that hit them at the hip, whereas a taller person can get away with a longer shape.
Be trend aware
It is no secret that not all trends have staying power; however, both Szanik and the Styleista team agree that wool jackets with leather detailing are fashion-forward yet classic. Belted coats are also a good option to create shape.
Image courtesy of sentaler.
Alpaca wool will keep you warm and a belted waist will create a beautiful, feminine shape.
Be wary of overly trendy colours and patterns.
"Choose a neutral colour like navy or grey, so it goes with everything," says Godchild.
While capes may be a favourable look for this winter, it is important to treat a cape like the accessory it is – not as a winter coat.
"If you are going to blow your wad on a Burberry cape, you are going to be cold," says Szanik. "But that cape on top of your beautiful wool-leather combination would look amazing."
Brands to consider
So what do the experts recommend? Godchild and Hardy suggest Canadian company Sentaler – available at Holt Renfrew.
"She has amazing, beautiful alpaca coats," says Hardy. "They're different levels of thickness and warmth and some of them have fur hoods."
Szanik also suggest looking for Canadian companies, such as LaMarque and Ellabee. "Some of the best winter coat designers are actually from Canada," she says. "As a Canadian, now is the time to buy Canadian."
Canadian companies Mackage and Canada Goose are also recommended.