Local woodworkers Adrian and Martinus Pool take the increasingly desired "reclaimed wood" aspect of their craft to a new level with their company AdrianMartinus. In addition to working with typical reclaimed materials such as barn wood and old flooring, the brothers have come to be known for their work with an otherwise overlooked material – broken skateboards.
Growing up close to their grandfather, a hobby woodworker, and simultaneously immersed in skateboarding culture, the brothers naturally acquired the skills to combine these two worlds.
"We didn't approach woodworking seriously until we started using skateboards," Martinus Pool says. "At the time it was an easily accessible material that wasn't being used."
Since each skateboard deck comes pre-shaped, drilled and significantly beat up and covered in extremely adhesive grip tape, building with this material can be challenging. But these challenges also come with their rewards – because each skateboard has such unique characteristics, each finished piece ends up being unique.
When asked about their process, the brothers are evasive. They like to keep their technique a secret, but joke that it's "a lot of making things square and gluing them together."
The intention is to create pieces that are visually appealing but also practical. "Our approach is to refine the process enough that we're able to create products that have the interesting skateboard aesthetic but also maintain the intended functionality," Pool says.
With the increasing success of their business, more and more AdrianMartinus work is popping up around the city. In addition to private furniture commissions, their work can be seen at a variety of local businesses, such as Last Best Brewery, Made By Marcus Microcreamery and several of the Teatro Group restaurants including Alforno, Cucina and Royale Brasserie.
Aside from surviving the 60-plus-hour workweeks, Pool says their focus for now is on maintaining standards. "We have no interest in expanding just yet, as all of our ideas come from doing the production ourselves. We're always focused on refining our product line and plan to soon launch a furniture line," he says. "We can be as busy as we want to be, and we always seem to be incredibly busy."
For more information, visit adrianmartinus.com.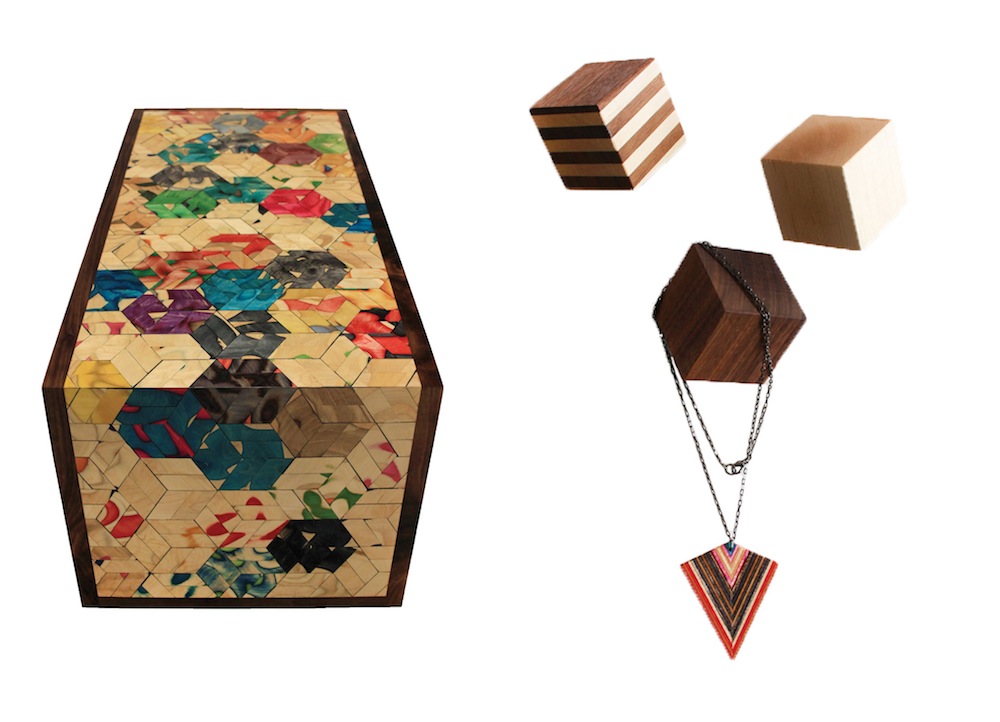 AdrianMartinus coffee table (left) and wall-mounted hangers and necklace (right).