With her trademark heels and penchant for wearing head-turning, shoulder-baring pieces, Chinenye Otakpor embodies her own style philosophy: "Every woman is a queen and fashion is her playground."
The Nigerian-born beauty launched her fashion blog, queensplayground.com, in early 2016 and it has been on the rise ever since. Splitting her time between her job as a disability support worker, finishing her university degree and shooting photos for her blog, Otakpor is constantly on the go. But wherever that is, her bold style goes with her.
How did you go from being a disability support worker to a fashion blogger?
That's a funny story, actually. I started my blog for stress relief when I first began working with kids. It's hard not to bring your work home with a job like that, so I started writing about my experiences. But every time I wrote a blog, I'd include a picture of myself to show who I was. Almost all the feedback I got was less about what I wrote and more about what I was wearing. My sister suggested I make it into a fashion blog instead, and here we are.
So it was kind of an accident?
Definitely! I'm still so flattered that people like it. Everyone has their own style, so I'm happy to share mine.
Have you always been into fashion?
I love it. I'm that friend who's always dressed up – even just to get coffee. I'm always in heels, so that makes everything I wear look extra dressy. I don't know how to dress without them and if I don't wear heels, I don't feel like myself. My feet feel depressed.
Heels in all seasons?
Oh yeah. I like to feel tall. Everyone in my family is taller than me, so I like to meet eyes with everyone. I drive everywhere, so I have to admit I have two pairs of Crocs in my car. My friends laugh at me all the time, asking, "How do you call yourself a fashion blogger in Crocs?"
It's a safety measure!
That's how I get away with it! But there have been times I've gotten out to get gas and forgot that I had them on, which is a no-no.
What is your "getting ready" process?
It's kind of a tedious process sometimes, especially the hair-and-makeup part. I always find that your hairstyle is just as
important as your outfit.
Do hair days dictate what you wear?
I visualize what I want to look like when I pick out my outfits, so when my hair doesn't do what I planned, it's time to change.
Did growing up in Nigeria have any effect on your style today?
No, actually. I moved here when I was 12, so I didn't think too much of fashion at that age. I was 14 when my interest in fashion started, because I'd steal my sister's clothes and think: "This is what an adult woman looks like." If I was to go back to Nigeria now, I don't know if I'd know how to dress because it's constantly hot. As crazy as it sounds, I'd miss the cold.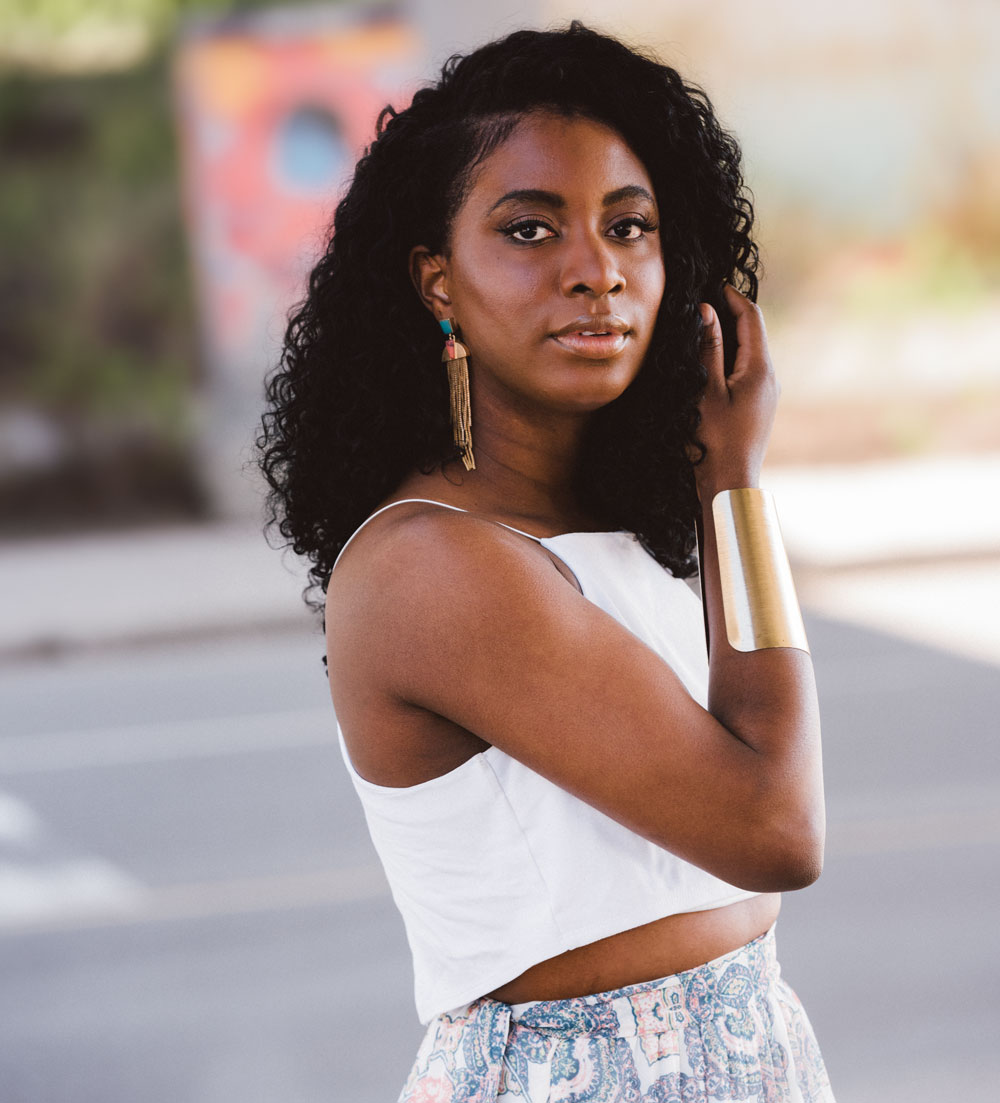 White crop top from lulus.com; maxi skirt from saboskirt.com; gold arm cuff from missguidedus.com; earrings from Zara.
What are your shopping habits?
I'm a big online shopper. When I started my blog, I was aiming for affordable fashion for college students. As a college student myself, I would see things on fashion blogs that I loved but knew I couldn't afford, so I always attach some kind of discount to each item I buy and pass that on.
How did you choose "fashion," "lifestyle" and "culture" as the three categories of Queen's Playground?
I knew fashion had to be a main pillar, so I started to think about what else I love. The culture pillar started out as my day-to-day experiences at my job, but [the blog] became more about travel because I love it and I wanted to use it to explore different cultures. Lifestyle is more about places I love to go in the city and things I could recommend outside of the fashion world.
How does that relate to your life in Calgary?
For fashion, it's definitely about catering to the weather in Calgary. I do like to break the rules of winter, though, because I cannot be bundled up all the time. I had never actually experienced winter until I moved here, so now I have an obsession with coats. As for lifestyle, I find that a lot of people think Calgary is boring, but that's absolutely not true.
What about culture?
I've always loved how multicultural Calgary is. All of my friends here are from different areas of the world, and that's what inspired me to want to travel to begin with, because whenever we talk, we share stories of our own cultures.
Do you have a different style for different parts of your life?
My school style and my going-out style are basically the same, but what I wear to work is different. At work I'm more laid back and comfortable because it's not about what I wear there, it's about the individuals I work with and how I can make their day better.
How would you describe your style outside of work?
I dress for my mood. If I'm feeling a little sassy, you can tell. Overall, I'd say I'm classy with an edge. I love colour because I like to stand out, and I wear a lot of off-the-shoulder or open-back tops, with anything high-waisted. It makes me feel sexy, like I'm revealing enough without over-exposing myself – just giving a glimpse of skin. I like feeling sexy and I like that confidence.
Do you find that your draw to fashion comes back to that feeling of confidence it gives you?
I find my interest in fashion keeps growing and keeps making me bolder. There are a lot of things I wear now that I never would have considered before. As my passion for it grows, my confidence also grows.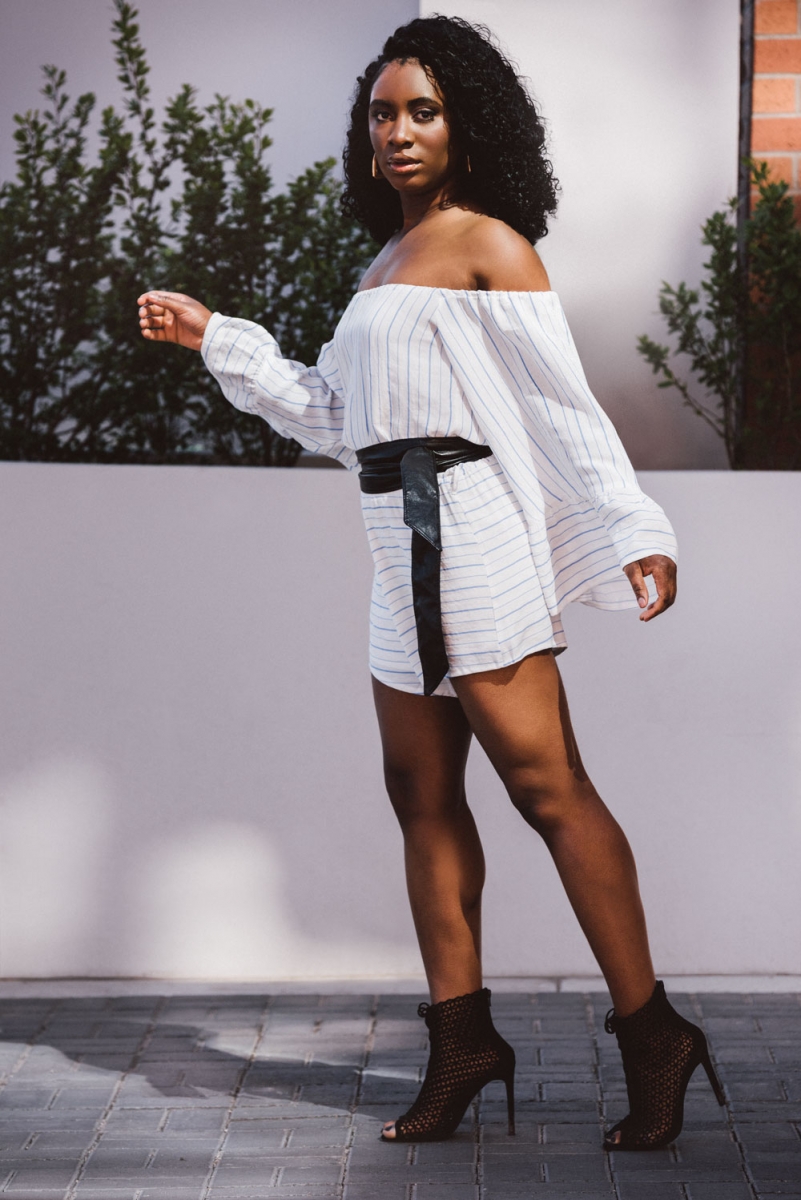 Romper from Princess Polly; heels from Zara; belt from Suzy Shier; earrings from Zara.
---
Lightning round with Chinenye Otakpor
Where were you born?
Benin City, Nigeria.
What did you think you'd be when you grew up?
A doctor.
What do you listen to in the car?
The radio is always set to 98.5 [FM Virgin Radio].
What book are you reading?
I Know Why the Caged Bird Sings by Maya Angelou.
What was the last movie you saw in the theatre?
Get Out, and it was very uncomfortable [laughs].
Red or white wine?
Red wine is for the real adults – I like sweet white wine.
Favourite breakfast food?
French toast, turkey bacon and scrambled eggs.
Pet peeve?
When people use the word "moist" to describe food.
Midnight snack?
Special K Coconut and Almond cereal.
Favourite cocktail?
Caesars.
Favourite locally made edible treat?
Village Ice Cream is my kryptonite.
Build your ideal nacho platter.
Nacho chips, pulled pork, chicken, mixed cheese, pineapple (don't judge me), sour cream and salsa.
What is your greatest extravagance?
Food and coats.
Which words or phrases do you most overuse?
"Wow, you are so extra," when someone is being over-dramatic.
Favourite season?
Winter for the fashion.