Interior designer Edward Tsang's bold style is an exercise in opposites. The born-and-raised Calgarian balances masculine lines with feminine movement, classic cuts with quirky prints and wears statement accessories in unconventional ways.
As an associate at B+H Architects, Tsang sees his personal style as an extension of his job, which takes him around the world.
How does your job influence your style?
I always try to steer [toward] a different path in terms of what I wear. I always try to introduce something new, edgy or different. That's what our clients hire us for.
To take risks?
Yes. I like to listen to a client and give them what they need, but I also like to give them the option of something different. I like to present an alternate idea so they can, maybe, give the risk a thought.
What would a risk-taking outfit look like for you?
Sometimes, I'll shop in the women's section. It's all about my confidence, my mood and appropriateness.
What great finds have you found in the women's section?
Recently? Capes. I like the pieces to have a masculine feel – for instance, Ralph Lauren has that masculine crossover to feminine. I like movement and structure at the same time. I like clean lines.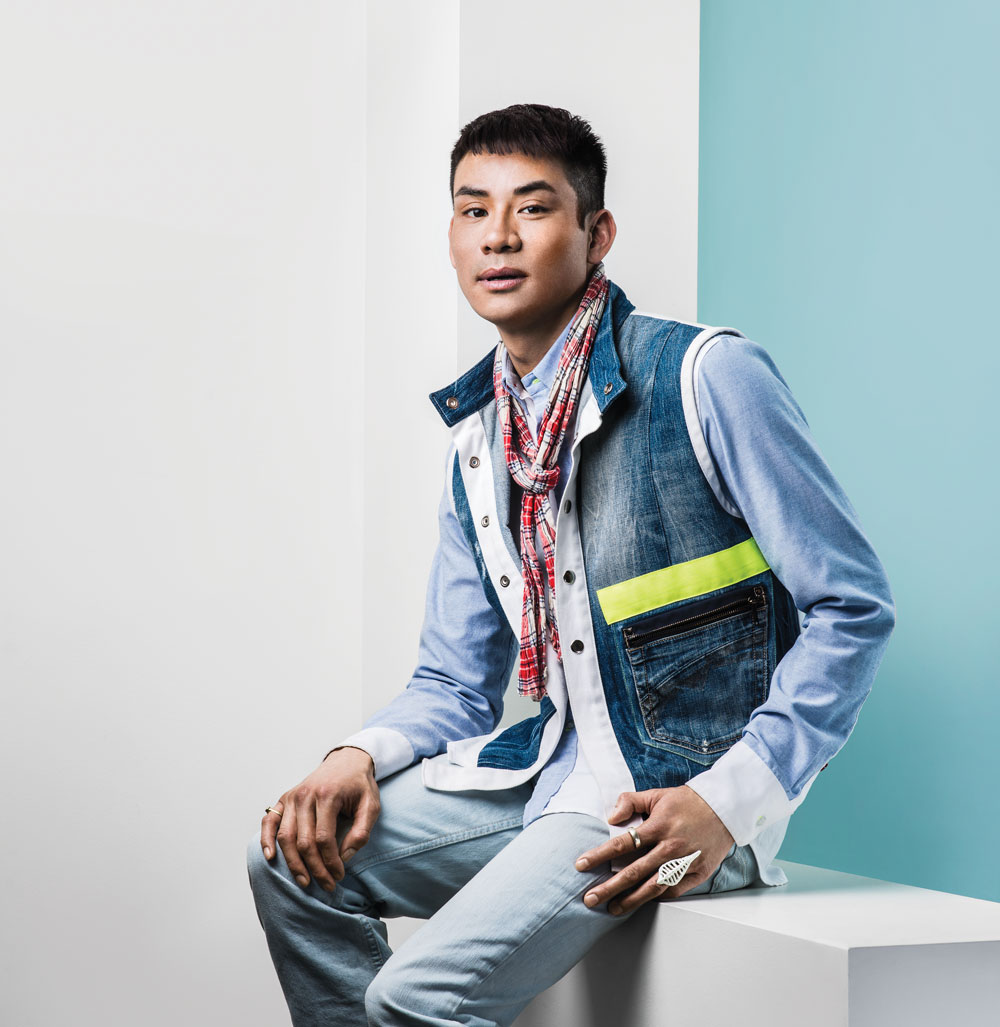 Kaadiki shirt and vest; Levi's jeans; scarf, private collection; Dean Davidson ring; white spine ring was purchased in New York City.
I see that you accessorize.
For sure. Always, always, always.
Do you have a jewellery drawer?
Yes, several. I have a drawer for my rings. I'll always wear a big, chunky ring. I have my watch section. I like to wear a more classic watch. I have a section for my cuffs and bracelets. Then I have a section for my brooches and pins. I like to wear brooches centred on my dress shirt to work. I have a section for scarves and bandanas and necklaces. It's quite fun.
Do you have a work uniform?
It's always about confidence and appropriateness. At work, I'll wear some sort of tie. Sometimes, I'll wear a very heavy necklace with a buttoned-up shirt. It depends on the client.
Do you have a weekend wardrobe?
I might pick something like a cape or a flowy wrap jacket and wear it with boots tucked into my jeans. My look is a little more casual [on the weekend], but I could walk into a fancy restaurant and eat there. I'd never wear cargo shorts.
What else would you never wear?
I won't wear flip-flops.
It sounds like you dress for the occasion.
It doesn't matter how casual the event might be, I always dress up a little more.
Have you always been stylish?
Yes.
Were you stylish as a little kid?
In the '80s, when skateboarding was hot, I never skateboarded, but I wore Converse high-tops and I remember walking down the halls and the other kids would point at my shoes and say, "Oh, there's the Converse kid."
You led the trend.
For some reason, I've always had a natural sense for trends. I'll try it and push for it and then, when the trend becomes mainstream, I'll be done and over. I had the man-bun five years ago.
Is your family fashionable?
My mother was my biggest influence when I was younger. My mom was super fashion-y. My playmates would always say, "Wow, your mom looks like a superstar!" She taught me to look ahead and not be afraid.
Do you plan your outfits?
Never! It's just spontaneous.
So you trust your instincts?
Yes. When I throw a look together, it's usually the best look, and people comment on it. When I'm grabbing impulsively, I won't second-guess myself.
Why is fashion important to you?
It's confidence. I also want people to know that I'm a designer, and fashion is a reflection of what I do. If I'm selling an option in interior design, they can see me as an example of risks in fashion working. I'm proud of it.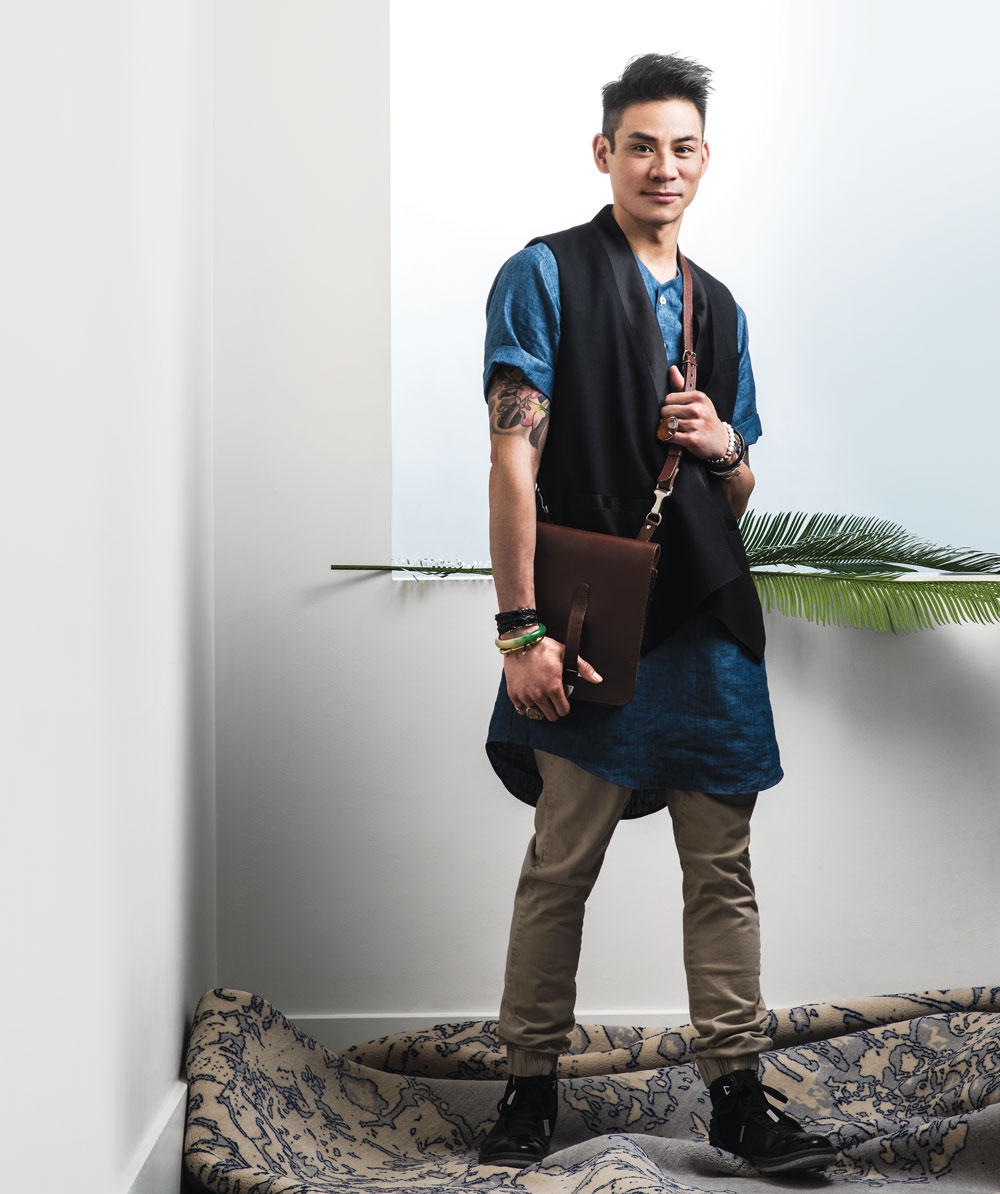 Izzue Collection vest was purchased in Hong Kong; Kaadiki linen chambray long shirt; Zanerobe pants; vintage bag from Crown Surplus; Nike Air Jordan sneakers; jewellery, including Alexander McQueen resin double-knuckle ring, Dean Davidson beaded bracelet and cast crocodile cuff, from various retailers.
---
Lightning round with Edward Tsang
What would you do if you didn't have to make a living at it?
Floral design, something with plants – it's therapeutic for me.
What would be playing if we were to turn on your iPod?
Amy Winehouse.
What book are you reading?
Is Buzzfeed considered a book?
What is your favourite childhood book?
Miss Viola Swamp [by Harry Allard].
Red or white?
Juniper berries; I'm a gin-drinker.
What are some of your favourite brands?
Fendi, Chanel, The Kooples, Zanerobe, Club Monaco, Diesel.
Where in Calgary do you shop?
Favourite breakfast food?
Bagel and eggs.
Dream vacation?
Bora Bora.
Pet peeve?
Slow-moving people.
Midnight snack?
Potato chips.
Favourite locally made edible treat?
Jelly Modern Doughnuts – the one with the bacon bits.
What's your guilty pleasure?
French fries.
Favourite fashion blogs?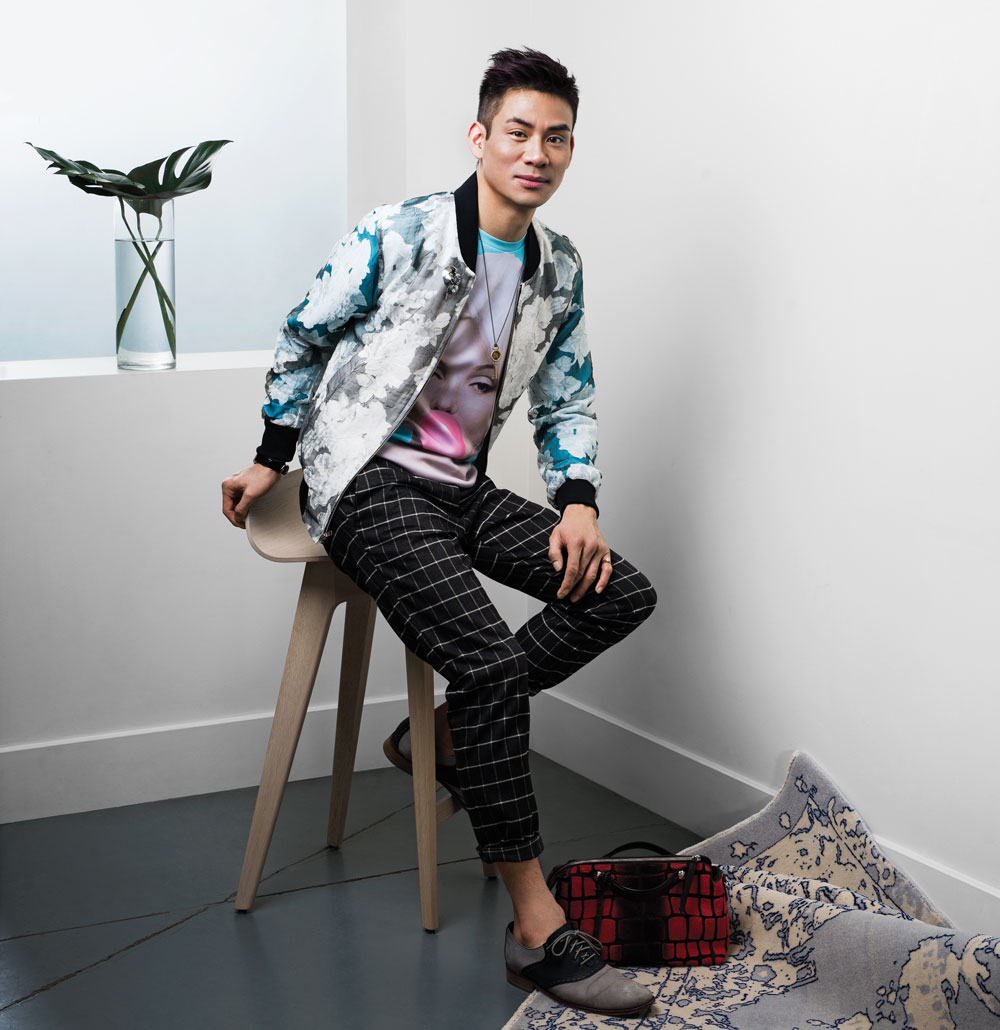 Graffiti floral jacket and 3.3 Field Trip T-shirt were both purchased in Japan; 1991 Inc. pants; Cole Haan shoes; Kat Marks pin; Pyrrha key pendant from Rubaiyat; vintage watch from Birks; heirloom diamond ring; Fendi bag was a gift from Karl Lagerfeld.
---
Get Edward Tsang's look
Six gender-neutral clutches inspired by Edward Tsang's Fendi bag.
Vivian Woven Large Clutch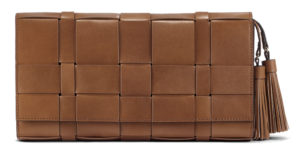 $288, from Michael Kors, Chinook Centre, 403-537-0093, and two other Calgary locations, michaelkors.ca
Burberry Peyton Bag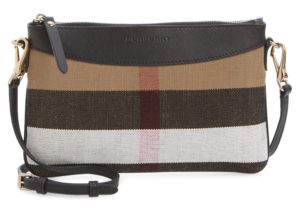 $575, from Nordstrom, Chinook Centre, 587-291-2000, nordstrom.com
CL 56 Portfolio Clutch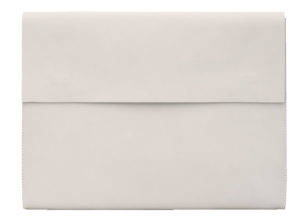 $490, from m0851, Bankers Hall, 403-265-0851, m0851.com
Bellroy Carry Out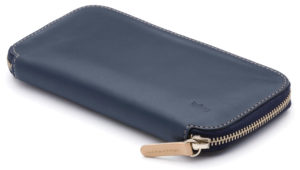 $160, from LESS17, 930 17 Ave. S.W., 403-228-9199, lessoneseven.com
Tiger of Sweden Brilla Handbag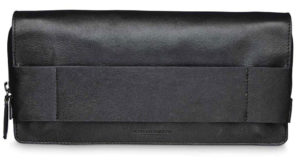 $329, from Leo Boutique, 810 16 Ave. S.W., 403-410-9236, leoboutique.com
Matt & Nat Hyke Pouch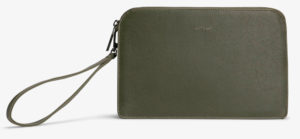 $85, from The Livery Shop, 1130 10 Ave. S.E., 403-453-7711
– List compiled by Fraser Tripp
[Correction: This story has been updated from its original version to better reflect Edward Tsang's career in design.]