Handmade dress was purchased in Ghana; shoes were a gift; clutch and all jewellery from Alora Boutique.
As one half of the mother-daughter duo behind Alora Boutique, Jameela Ghann has been creating necklaces, earrings and other jewellery from recycled brass and glass since 2013. As part of their process, Jameela and her mother, Emilyn Ghann, attach a "meaning card" to each piece, detailing the intention they've put into it.
"A lot of them are about love, patience and tolerance or being your own kind of beautiful," says Jameela. "I think that jewellery is like art; every piece has to connect with you and there has to be a reason why you want to wear it."
From what she wears to how she works, everything Jameela does is in line with a clear set of values that inform her unique style. Whether it's an African print dress from Ghana or a brass necklace she's created herself, you can count on it being local, sustainable and community-minded.
"If you're going to buy something or make something, it should help the environment and it should help other people," she says.
How did the business come about?
My mother and I took a jewellery-making class about five years ago and we started making a bunch of jewellery. Then we had too much, and we started giving it away. Then we started selling it. We'd go to markets and realize people actually liked our things, so we just kind of progressed from there.
Do you have a favourite piece of jewellery?
My favourite pieces are the statement pieces, the colourful pieces, the ones that have lots of recycled glass beads and brass.
How would you describe your personal style?
I would say my personal style is business casual with African print. I like high-waisted skirts, I like crop tops and I like made-in-Canada. If I'm going to buy something here, it has to be made in Canada. I like fitted pieces, so whenever I go to Ghana, I always get clothes made for me that fit my body. My style isn't overly dressy or anything; it's kind of whatever I see and like and feel comfortable in.
What kind of pieces do you buy in Ghana?
You don't really buy clothes. Most of the things are not off-the-rack. You go to the market, you pick out your fabric and you take it to a seamstress, tell her the style you want, she takes your measurements and, two weeks later, you have a new outfit. It's really nice because you get custom pieces, which I could never afford here in Canada.
How does your heritage inform your fashion?
There are a lot of people in Ghana who wear whatever they want. You'll see women wearing head-to-toe monochrome pink and you're like, "I would never wear that," but they feel comfortable. I feel that reflects my style; I'll wear what I want, as long as I feel comfortable and I think I look good.
Do you have any pieces with sentimental value?
I have this really nice pink dress that my nana made for me when I was in Ghana. She passed away last year, and that's my favourite dress because she made it for me.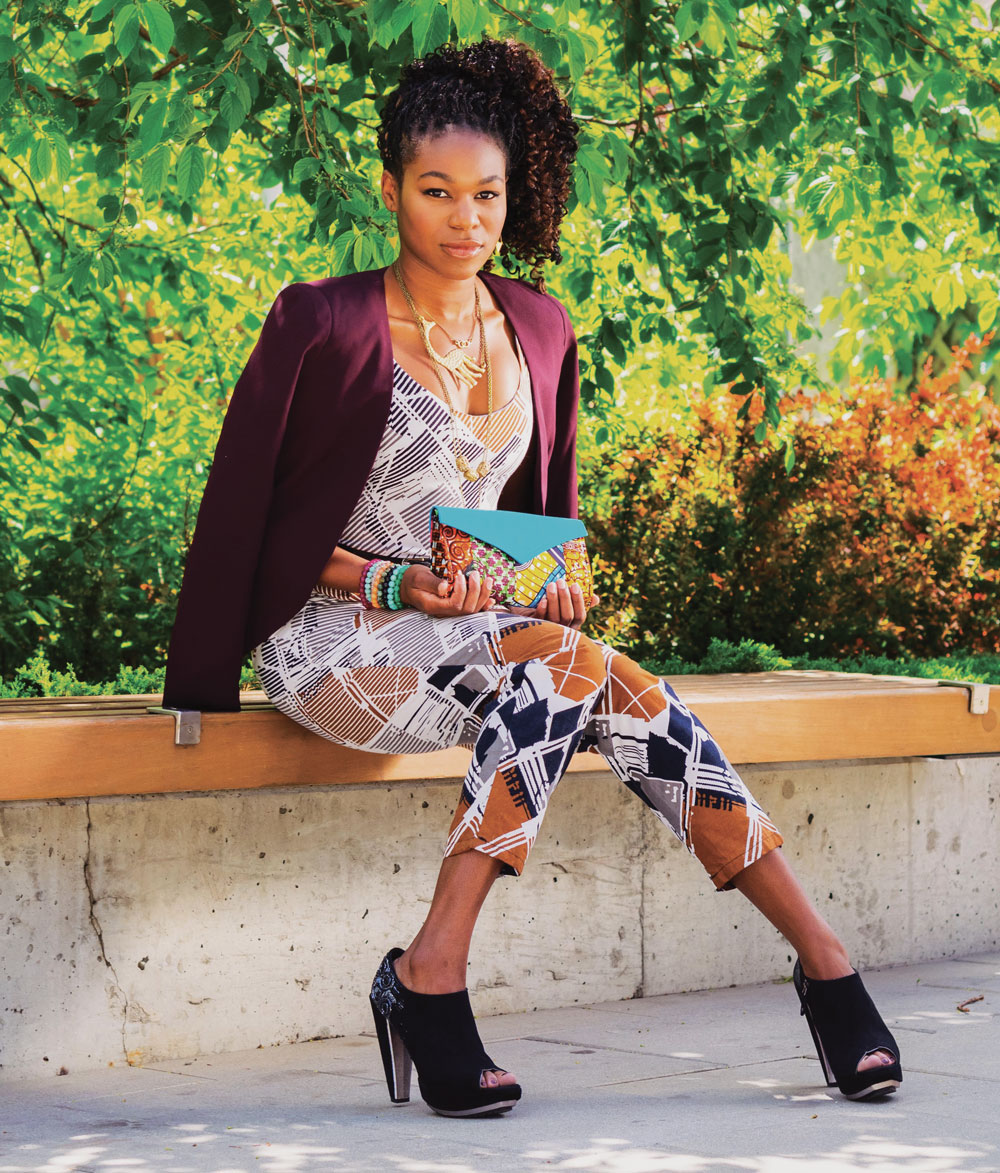 Zoharous jumpsuit; N Black Label blazer; shoes from Joyce's Closet; clutch was purchased at the Dress for Success sale; all jewellery from Alora Boutique.
Where do you like to shop?
Studio Intent, Joyce's Closet and The Front Porch. Joyce's Closet and The Front Porch are consignment and Studio Intent is made in Canada, but it's really hard to find Canadian-made items – almost impossible in Calgary.
Who are some of your fashion icons?
I love Solange Knowles. I like that she wears lots of colour, she wears great pieces and her body type is pretty similar to mine. My mom isn't stylish, but I like her because she wears whatever she wants. She owns it.
What is the last thing you bought?
I bought a black jacket, two dresses, a skirt and a top from Studio Intent. I love them so much. The dress I bought was by Jennifer Glasgow, made in Vancouver.
What was your favourite outfit growing up?
In grade school, I thought the Spice Girls were really cool, so I had this really ugly yellow belly shirt, black bell-bottom jeans and terrible platform shoes, but I loved it so much because I thought I was Scary Spice [Mel B]. I hope there's no photographic evidence of that!
Do you have any fashion dilemmas?
My hair. It is it's own entity – it needs special attention. There are so many styles you can do. You can have an Afro, braids, Bantu knots, so it's always a struggle to know what to do with my hair. I have the clothes thing down, but the hair? It's a journey.
Any pieces you pine for?
Body Politic yoga jeans in every colour. They're $136, which is a decent price for a good pair of jeans.
What are your favourite hot spots in Calgary?
There's an amazing Korean barbecue place on 10th Avenue S.W. called Korean Village Restaurant. I'll go out with my friends once a quarter to Commonwealth. I also like going to Theatre Calgary.
What outfit would you wear to Theatre Calgary?
I'd wear a long, high-waist, African-print skirt, a crop top and a sweater. I'd do my hair up, depending on what kind of performance it is.
What's next for you?
With the business, we want to hire someone to help make jewellery, because it's hard to do it just by ourselves. Life plans? I'm going to save up my money and buy a property in the Caribbean and live there six months a year.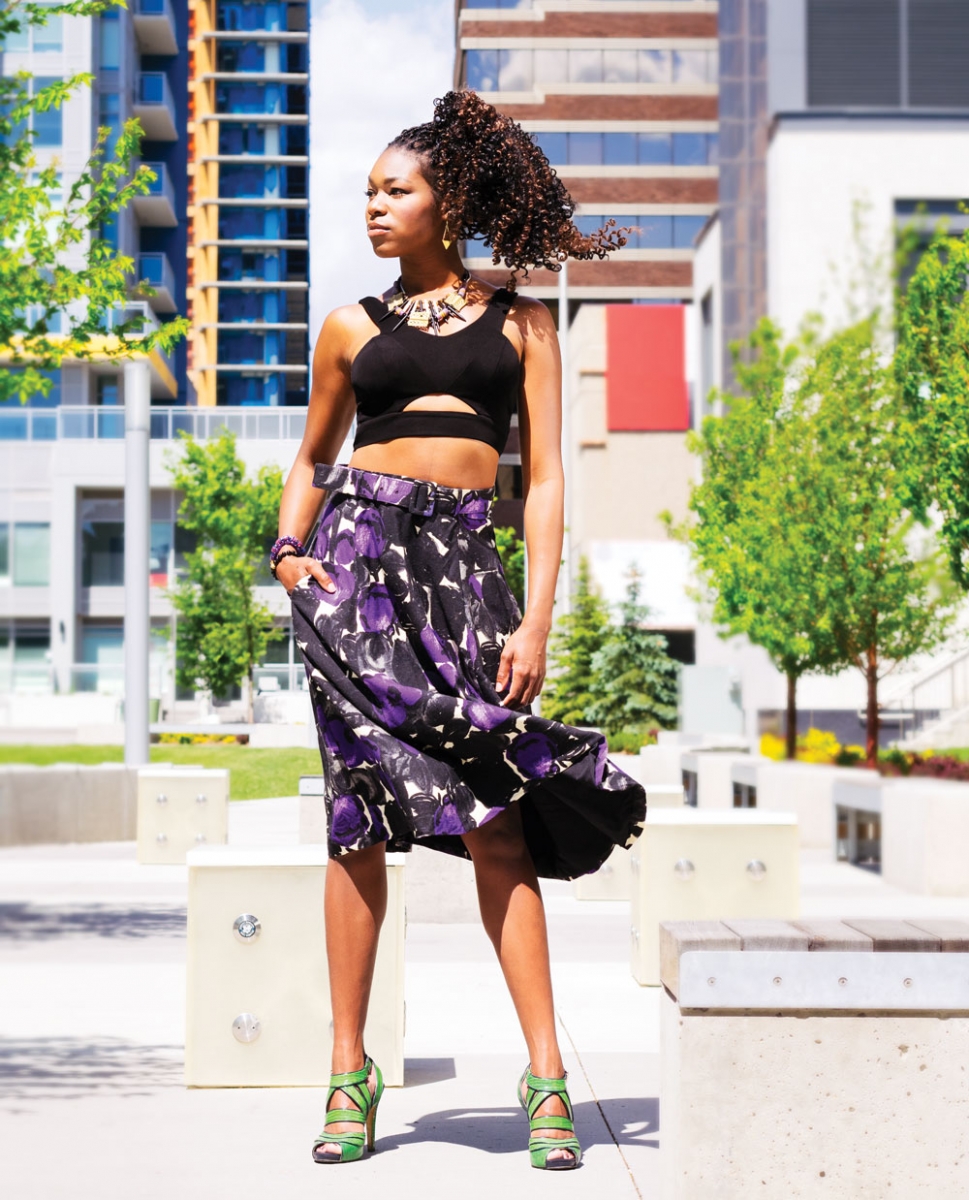 Crop top from Joyce's Closet; skirt was purchased at the Dress for Success sale; shoes from Fond Boutique; all jewellery from Alora Boutique.
---
Lightning round with Jameela Ghann
What did you think you'd do growing up?
I didn't even know there was life after high school when I was young.
What would you do if you didn't have to make a living at it?
I would still make my jewellery and sell it, but I'd do a lot more volunteer work.
What station is your car radio set to?
CBC Radio One. I love talk radio.
What would be playing if we were to turn on your iPod?
Rihanna's "Pour It Up." I like lots of music with good beats but not necessarily good lyrics.
What book are you reading?
[Michael E. Gerber's] The E-Myth, about the myth of what it means to be an entrepreneur.
Glasses or contacts?
Glasses, because then you can change up your style.
Denim or leather?
Denim jeans, yes. Leather pants, no. Leather jacket, yes. Denim jacket, no.
Favourite breakfast food?
Plantains and poached eggs. Anything with an egg on it.
Pet peeve?
If someone washes something and it's still not clean, but they still put it away.
Midnight snack?
Popcorn.
Favourite locally made edible treat?
Wings n Tings makes the best Jamaican patties.
Greatest extravagance?
Clothes. Or my daughters.
Which words or phrases do you most overuse?
"You're not serious." I say it all the time to people when they're being ridiculous.
Favourite fictional heroine?
Mulan. She's such a badass. She saves her entire kingdom. Best Disney princess ever.
Favourite season?
Summer. It's warm and I can wear whatever I want.