As the community investment manager for Calgary Arts Development, Jordan Baylon helps local artists and arts organizations find the resources they need to thrive. A poet himself, Baylon draws inspiration from Japanese culture, samurai flicks and delicious home-cooked meals, particularly anything made with pork belly. But Baylon is especially inspired by people, be they members of his large extended Filipino family or the interesting strangers he observes while riding the CTrain through downtown Calgary. The self-described wallflower says he's happy to be invisible, which seems at odds with his distinctive and playful sense of style.
Baylon favours traditional Japanese dress robes, Western-inspired neckties and perfectly tailored collared shirts. To Baylon, true personal style is an opportunity to let the little spark we all carry within us burn bright.
The flowing robe you're wearing today is amazing. What is it?
This is called a happi. In Japan, they wear it usually around festival times, so it's not something people wear every day, although some eccentric people will.
So, it's a dress robe?
It's more "costumey." If I was at a festival in Japan following behind a procession going to a shrine, I'd be wearing this.
There is an element of confidence or bravery in how you dress.
You think so? I feel like I'm a bit of a wallflower.
But today you've paired your happi with a lanyard tie secured with a carved turtle. That's not exactly something that blends in.
Yeah, there's an ostensible output; there are petals on the flower. I can't deny that and it's something that's taken me a little while to grow into. I think there are lots of aspects of everyday life that are inane or ugly and alienating for people because we have to compromise that little spark inside of us. For me, clothes have been a little weapon to beat back some of that ugliness. Clothes have been an invisible bridge I can create to a part of myself I don't feel has the same sort of voice in everyday life. It's that secret inner world.
A secret inner world you're willing to share?
I have to, because I have to grow it and sun it a little bit. Put it out there.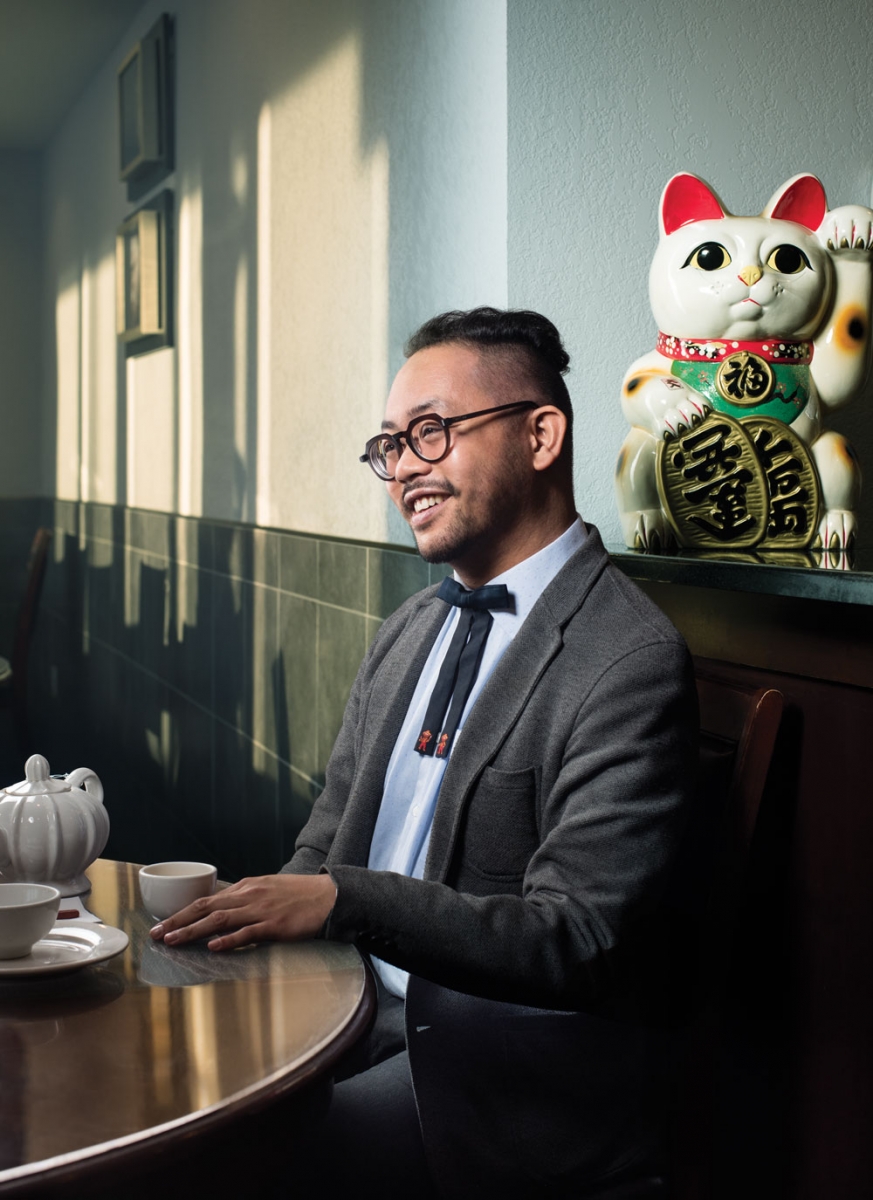 Jacket from Zara; bespoke shirt tailored by Himark Martin; tie is vintage.
You have a very specific look; where does it come from?
When I was a kid, I was very into Asian culture, specifically through the medium of '70s film, like kung fu and samurai flicks. The clothing of ancient Asia is very inspiring to me. So I wear a lot of robes and lots of layering. When there is a pattern, it's rich and very sumptuous and, when there isn't, it's very elegant.
Have you always been fashionable?
I always had a specific way I liked to dress as a kid. When I was very young, my mom used to make my clothes and I think I owe a lot of my "razzmatazz" to her. I would describe some of the looks she made as if Al Pacino in the movie Scarface was a little boy going to his first communion.
Do you have a favourite childhood outfit?
One of my favourite pieces was a Hulk Hogan T-shirt that was kid-sized and had Velcro down the front so you could rip it open like he did. I used to rock that as much as possible.
How did your style evolve?
I can offer you a vignette: There was a period of time when I was big into Darth Vader, so I would wear my grandma's towels like a cape and use old rolls of wrapping paper like my lightsaber.
You didn't want to be Luke Skywalker?
No way! Villain, for sure. Who wants to be Luke? Boring.
When did you decide to start to dress the way you do now?
The turning point for me was when I lived in Japan after university. I was living in this little mountain village, a World Heritage Site, full of tourists, but no one in the village spoke English. I really missed hip-hop and A&W, but, when I came back from Japan, something changed inside of me and I no longer wanted to hold back.
What does your closet look like today?
I have a couple of robes, a couple of happi, some haori – that's like an overcoat worn over a kimono. When I'm not feeling that saucy, I might even wear a cardigan and punch it up with accessories. I like collared shirts. To me, there's nothing more sophisticated than a white collared shirt. I have a really thick neck – it's like the size of a pro wrestler's, so I have to get my shirts tailored to get the fit that I want. That's one extravagance I give myself.
Where do you get your shirts made?
Himark Martin Tailors is based in Hong Kong and travels to Calgary every so often. They book a hotel room and you go there and they measure you and you get to pick your fabrics. All of it is customized. It's so worth it.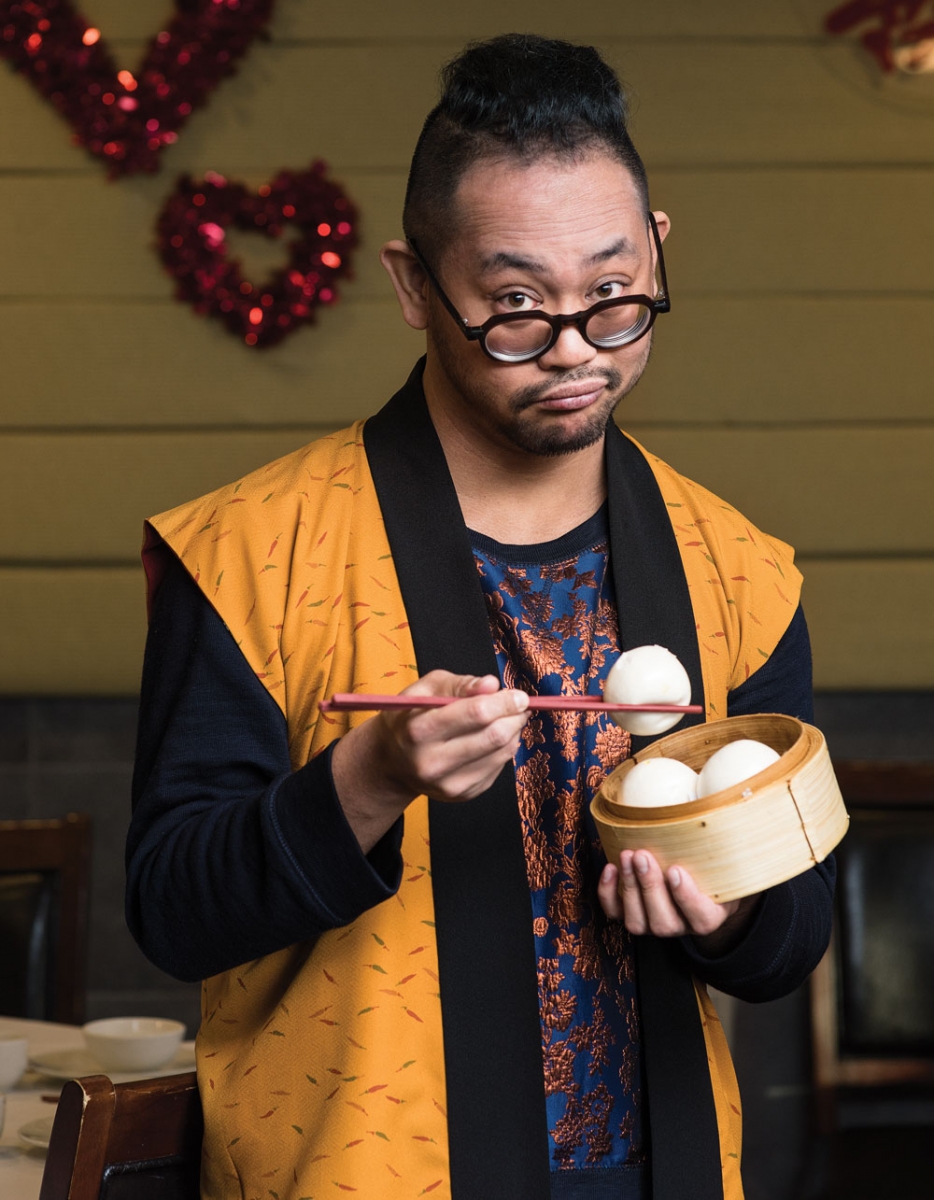 Sweater from J.Crew; Matsuri Happi vest is vintage.
With your job, you must have to attend a lot of opening-night parties. What do you wear?
In Calgary, there is an opening night of an arts event every night of the year. I'll wear a robe over a collared shirt and then accessorize. I have a Colonel Sanders-style tie I like. It looks like a bow.
Your Japanese robe works well with a Western-inspired tie?
There's a kinship there, for sure. An 18-year-old at Cowboys may wear a loop tie, but so would a 70-year-old Chinese man, and that appeals to me. I guess my vibe has a geriatric influence.
How so?
I grew up wearing my grandfather's clothes. He's a dandy. All of his clothes are tailored for him. He would wear tailored golf shirts and trousers. He loves a loafer.
So your look is like a Southern-dandy grandparent with a samurai influence?
Ha! I'm very influenced by both my grandparents and somewhere in there are my mom's Don Knotts-inspired razzmatazz suits.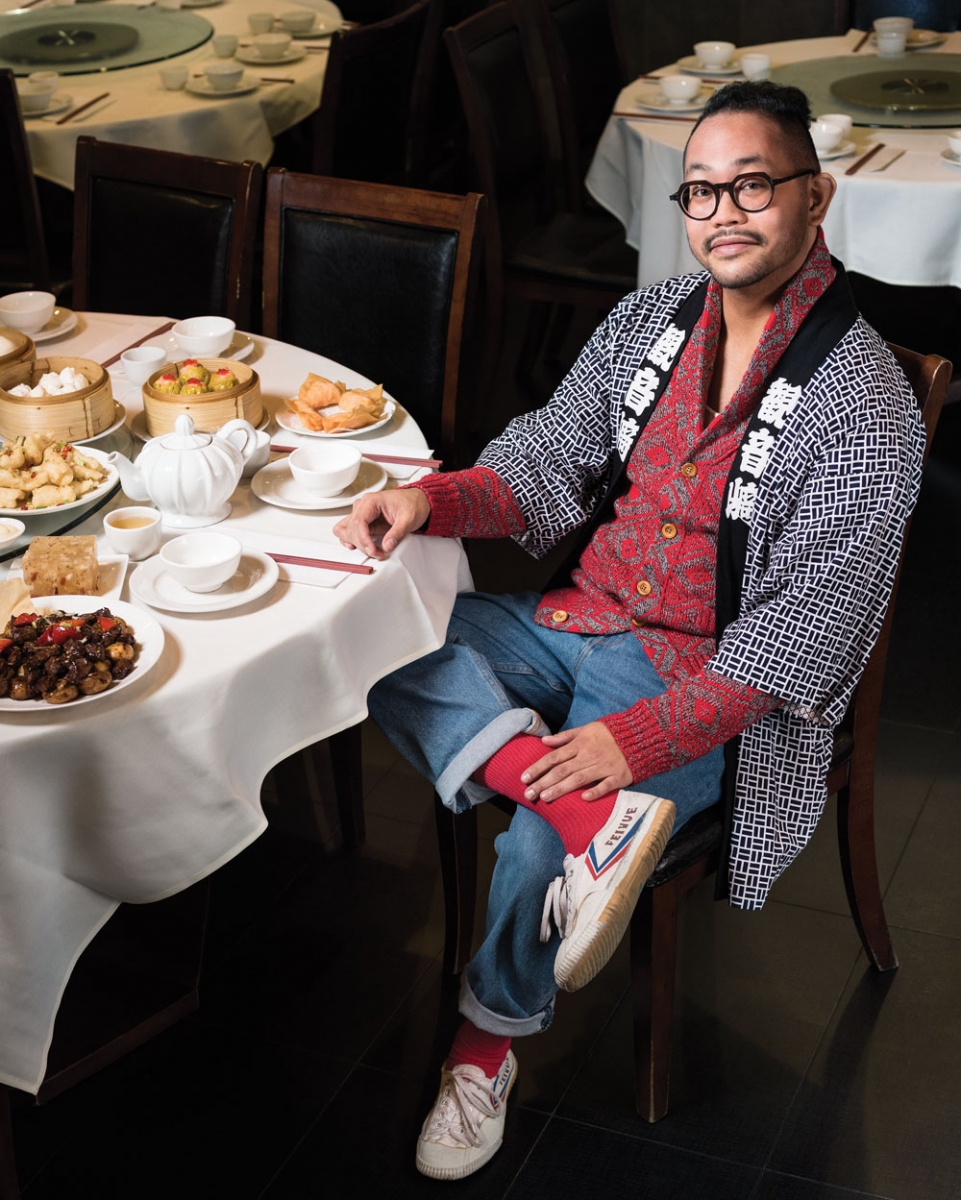 Kimono purchased in Japan; sweater and jeans, both from Urban Outfitters; Feiyue Thai Chi shoes purchased at the Chinese Cultural Centre; Anne et Valentin glasses from Brass Monocle.
---
Lightning round with Jordan Baylon
Where are you from?
I was born and raised here in Calgary.
What do you do?
I design and run investment programs that support the arts in Calgary.
What did you think you'd do when you were growing up?
I wanted to be either the abbot of a Shaolin temple or a Bela Lugosi Dracula, you know, with the cape and tux.
What would you do if you didn't have to make a living at it?
I would focus on maintaining a modest, well-appointed household where I would grow a small plot and cook for my friends and family every day. Home is very important to me.
What is your favourite childhood book?
The Remarkable Journey of Prince Jen by Lloyd Alexander.
Where in Calgary do you shop?
Hong Kong Food Market in Forest Lawn or the T&T in Harvest Hills.
Pet peeve?
An unexamined sense of entitlement. Full stop.
Midnight snack?
Lap chang sausage on rice, then vanilla ice cream, then honey-mustard potato chips, then a chocolate chip cookie, then leftover salt-and-pepper squid right out of the fridge, then …
Favourite cocktail?
The Sugar Water boys mixed up this cocktail that has fresh dill in it, of all things. If I can't have that, then nigori sake or bourbon.
Favourite locally made edible treat?
The steamed salted egg yolk custard bun that my friend Sango makes at his restaurant, Golden Central.