As Shaw TV's senior producer and reporter, with stints in hard news and crime reporting, Shiva Jahanshah has more than a decade of experience helping Calgarians tell their stories. But she also has a unique story of her own.
Jahanshah moved from Iran to Calgary when she was eight years old. Her sense of style began to develop as a teenager in Canada and was deeply influenced by both her Iranian culture and her love of fashion. She spent the summer before grade eight creating her own fashion magazine – complete with horoscopes – and still remembers the first thing she ever bought with her own money: a pair of chunky high-heeled sandals.
In the past year, her love of fashion has translated into her professional life. After winning the CrossIron Mills Celebrity Style Challenge in 2015, Jahanshah not only received $5,000 to donate to her charity of choice, the Sheldon Kennedy Child Advocacy Centre, but she also found herself on the radar of the city's fashion, design and beauty communities and was flooded with emails and calls.
With an onslaught of great story ideas, Jahanshah observed that Shaw didn't have a specific platform to highlight Calgary's style scene. She decided she would create one herself and Style in the City was born. As the creator, producer and host, Jahanshah is involved in every aspect of the monthly magazine-style fashion, beauty and home decor program, a 30-minute show that can be viewed online.
Tell us about Style in the City.
I don't have a background in style or fashion or decor, but I've been in community programming for 12 years and I care about what the community wants. Right now, Calgary's style and fashion industry is growing so much and that community needs a platform to be able to display what they do. I want to profile the best of the best.
What's a normal day like?
This morning, I did a story at the Food Bank about their relief efforts for the people of Fort Mac for our go! program. This afternoon, I'm going to finish up a story about a daddy makeover that we're producing for Episode 3 of Style in the City. I'm a full-time working mom, and my husband and I also own a construction company. There's never really a dull moment.
Your family moved from Iran when you were eight. Besides culture shock, were you aware of how differently Calgarians dressed?
Yes, it was a totally different world. Calgarians just had so much more access to things. Iran is very oppressed and woman can't openly wear different fashions, or wear their hair differently or even uncovered. But it's actually a very stylish community, a stylish country.
Does the fact that you're Iranian-Canadian influence how you dress?
I was brought up by my mom to always be on point. This is a very Persian thing as well and I think I'm passing it along to my daughter. So, never leave the house without your lipstick. Don't leave the house in sweatpants. When my mom was growing up, she was under the Shah's rule, so they had the best style. The Shah's third wife, Farrah, was like Kate Middleton. My mom's generation was very well-dressed. She's 62 years old and walking around in Coach high heels.
Are heels always a part of your look?
Yes, heels, black eyeliner, red nail polish and gold jewellery. I always have that going – it doesn't matter where I am.
What about fashion do you love?
I was bullied really badly when we first came to Canada, and fashion was one of the only things that made me feel really good. I was clinically obese and I got picked on a lot [at school], to the point where it was unsafe. I would eat in the janitor closet. One summer, I lost weight and I switched schools and my life changed. I really wanted to look like those people in the magazines. I wanted to wear high heels and lipstick. For me, it was completely a confidence thing.
Dressing really well can almost seem like armour.
And it was, absolutely.
But it looks like you're now willing to take risks.
Now my style is an expression of who I am. It started out as a way to feel like I belonged. Now it's about what makes me feel good. It is important to me and I will always dress like I give a damn, because I do.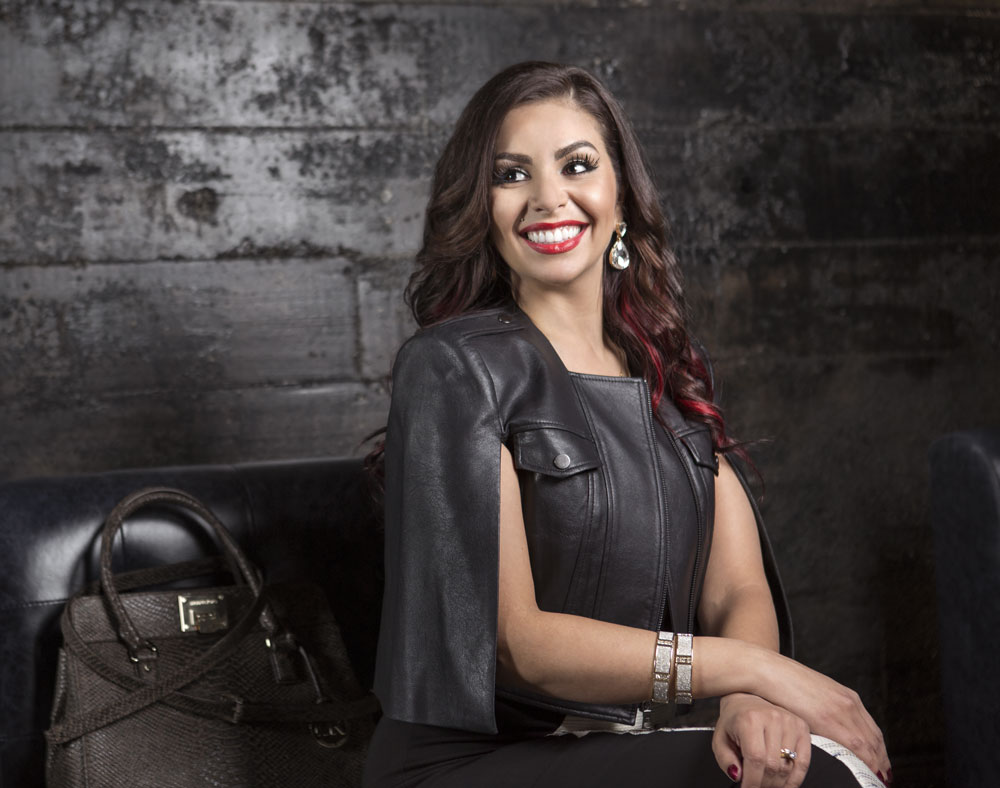 Leather cape jacket from BCBG Max Azria; Rachel Roy dress from Hudson's Bay; earrings from Aldo Accessories; bag from Michael Kors.
How would you describe true personal style?
To me, true personal style means feeling fabulous and being comfortable in your own skin. I think you can change up your style 15 times a week, if you like. I can go from punk rock to full-on elegant from morning to night, as long as I feel comfortable and confident – that's personal style.
How would you describe your own style?
How would I? I'm really all over the map.
You've mentioned punk a few times.
I think I can pull off punk. Punk in heels! At the same time, I will wear a mid-calf dress with heels. I don't do cleavage. I love pencil skirts with a silk blouse and, of course, high heels. Mary Janes are my go-to style. I must have at least 60 pairs. I have an extensive high-heel shoe collection – over 250 pairs.
You mentioned you really had to push to get Style in the City on the air. Do you feel hungry to succeed because of where you came from?
I always have. Not just because of where I came from, geographically, but also where I came from socially here in Canada. Being a kid that was bullied primarily because of the way I looked and spoke – I couldn't speak English – really gave me that drive to succeed and a desire to make a difference.
You want to help the underdog.
Absolutely! I am a huge fan of the underdogs. I've always wanted to prove to myself that I can do more than what's expected. I don't want to just clock my nine to five and go home. Style in the City has provided that bigger picture for me – something that, with the right support, could benefit the community that seems to really want it. I'm looking for people who are looking outside the box and are working really, really hard and need a break. I've been there.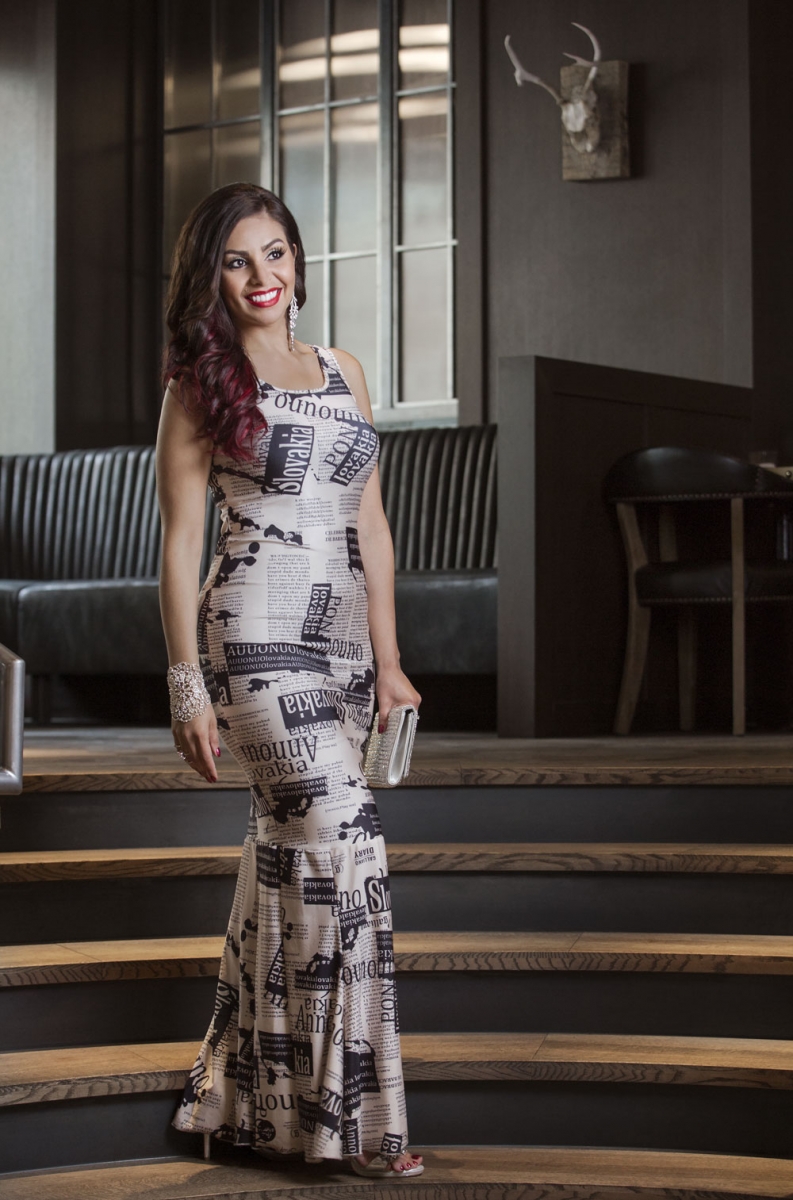 Dress was purchased online; shoes, bracelet and rings from Le Chateau; earrings, private collection; clutch from Aldo.
---
Lightning round with Shiva Jahanshah
Where are you from?
I was born in Iran, and moved to Canada when I was eight. I have lived in Calgary ever since, and consider myself to be a true Calgarian.
What do you do?
I am the senior reporter-producer at Shaw TV Calgary. I am also the creator, producer and host of Style in the City.
What did you think you'd do when you were growing up?
Ever since I was a little girl, I knew I would be a television personality in some format. At one point, I wanted to be a hard-news reporter.
What would be playing if we were to turn on your iPod?
Persian music.
What was the last movie you saw in the theatre?
Straight Outta Compton.
Denim or leather?
I love a great pair of jeans, but I love incorporating leather into my look, as well.
Favourite breakfast food?
Beef sausage-and-egg omelette with hot sauce. Gotta have hot sauce.
Dream vacation?
Riu Palace Pacifico in Riviera Nayarit, Mexico.
Midnight snack?
Cheetos or chocolate ice cream.
Favourite locally made edible treat?
Cheesecake, made in-house at Spiros Pizza.
What's your guilty pleasure?
Shopping. I shop too much.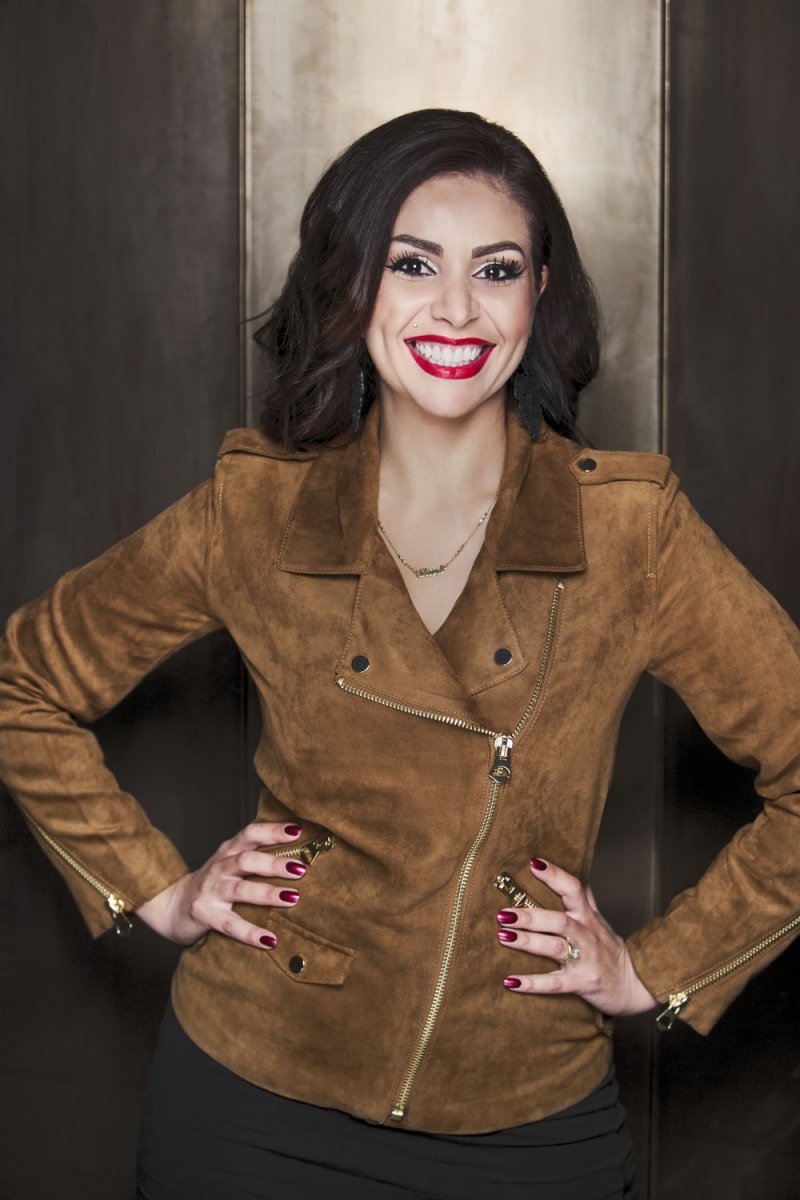 Suede jacket from H&M; earrings from Le Chateau; necklace was a gift from Jahanshah's husband.