Local interior designer Amanda Hamilton has been creating beautiful spaces in Calgary for more than a decade. After graduating from Mount Royal University in 2005, she opened her own interior design firm, Amanda Hamilton Interior Design, in 2009. In the last two years, she's launched The Loft by Amanda Hamilton and her newest company, Palette Archives.
We asked Hamilton to pick three spaces she's designed — one that was a first for her, one that was a challenge and one that features her best finds. Here are the stories behind them.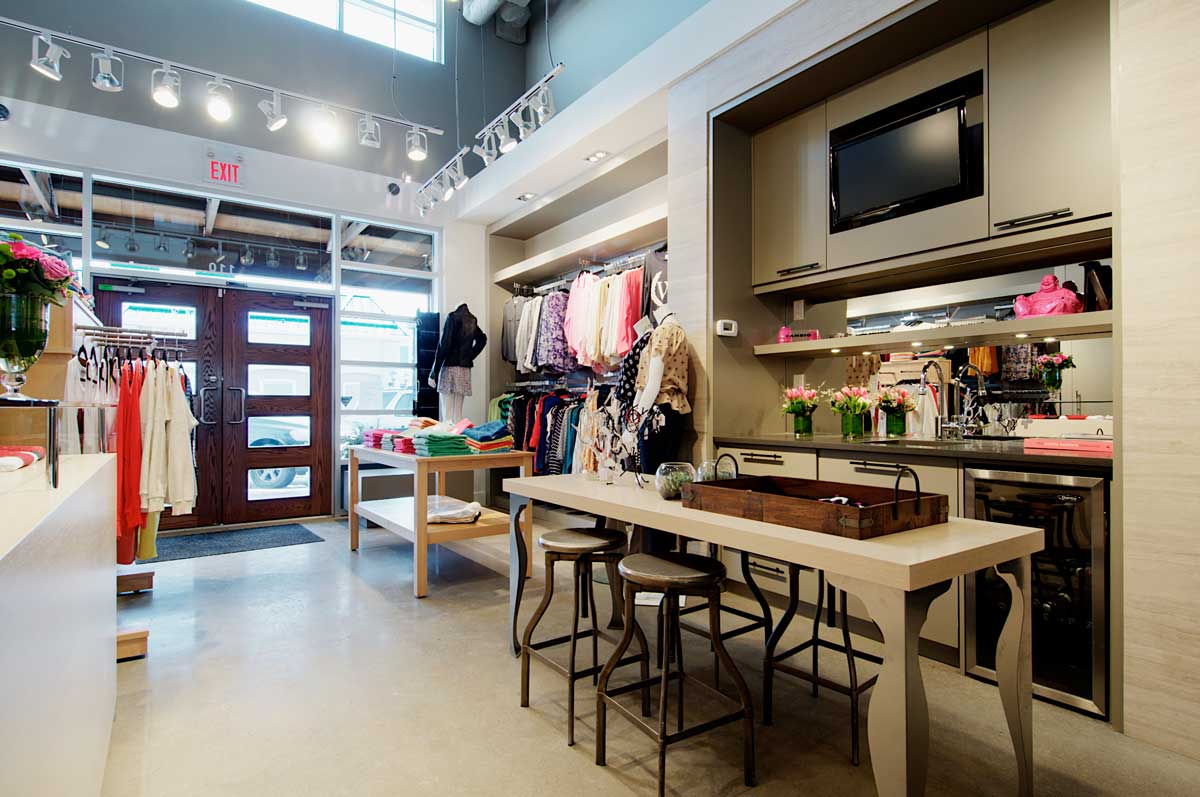 When Hamilton took on the redesign of Mariah Clothing, a family-run women's clothing store in Aspen Woods, it was her first time designing a retail store under Amanda Hamilton Interior Design. But that wasn't the only first in this design project.
"It was one of the first times that I really was able to communicate and convince a client of design intent, with the biggest thing being that because they have a loyal following, many of the women would come in with their daughter and spend extended periods of time in the space," Hamilton explains.
"So, what I did was suggest something that was very unorthodox, which I didn't think was going to get approved by the client, but they ended up loving it. What we did was we actually created a high-top sort of bar situation that was directly parallel to the cash desk. And then behind that, we had a built-in kitchen right in the main shopping experience, so the idea being that they could offer their guests a glass of water while they were shopping or a cup of tea or some coffee. Or, for instance, if a husband and wife came in, because it is a women's store, we built a television into the millwork so that he had something to watch.
"For me, that was a first in really thinking about how we can define space differently and how we can break the rules in a retail space, where normally they would hide something like that back of house."
The risk paid off, resulting in a retail space that is not only unique compared to other clothing stores, but still looks great today.
"It's one of those projects where almost 10 years later, it still feels pretty contemporary, pretty on trend. It's remained really timeless for them, which was the original intent," Hamilton says.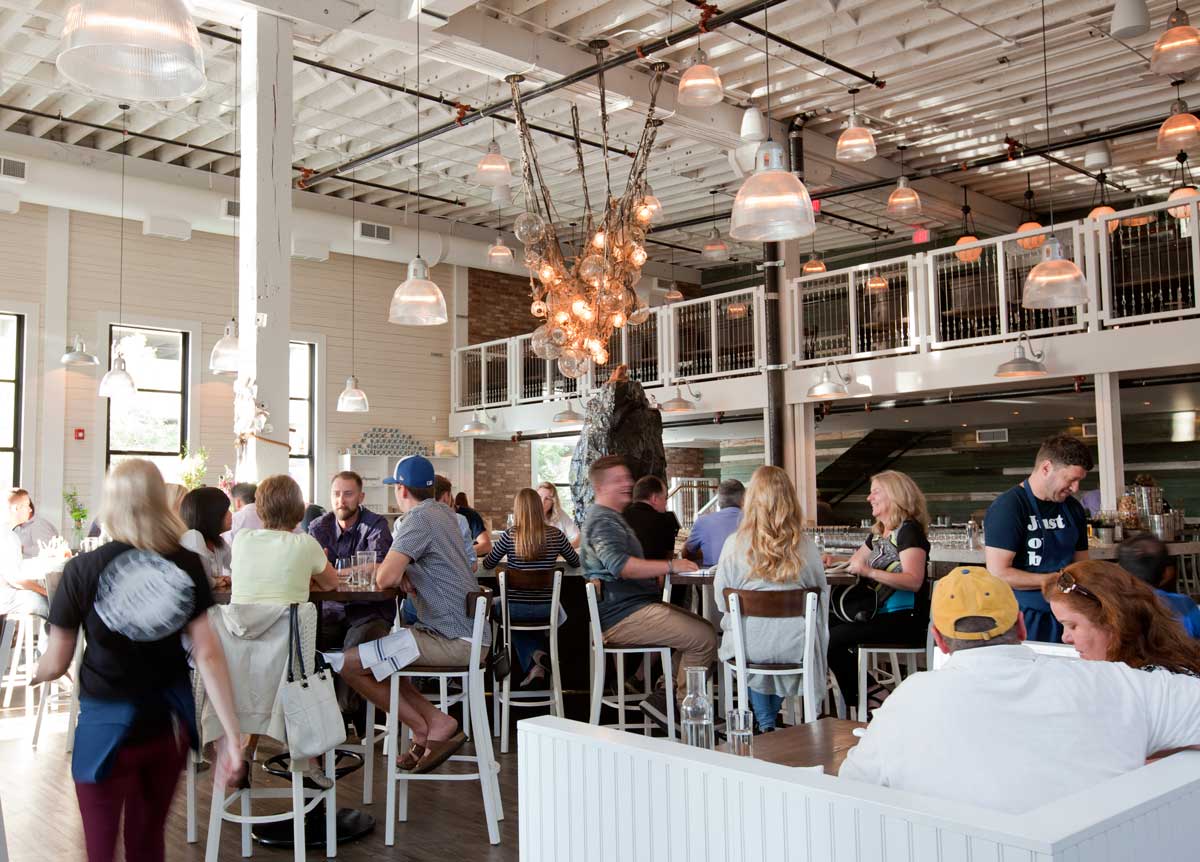 Looking at Rodney's Oyster House now, you'd have no idea that the space once posed multiple challenges to Hamilton and her team. Not only was the building on a historical building watch list, but at 12,000-square-feet, it was more than double the size of any previous restaurant space they'd designed at the time. They also had to make sure everything was up to code, create different spaces for the restaurant's wholesale and takeout operations, and seek out lots of used and vintage furniture.
"We basically sourced almost everything single thing you see in there. The decor elements and a lot of the features like the re-salvaged wood [came from] anywhere from eBay to junkyards to garage sales. We were sourcing stuff from all over the world because they wanted things that felt really worn and used. That was really challenging because sometimes it's tough to find exactly what you're looking for when you're looking for something vintage," Hamilton says.
In the end, their efforts paid off and resulted in the bright, beautiful space local diners now know as Rodney's.
"I think [for] anybody who was in there when [the space was a nightclub], it was just sort of this big, black hole and now we've opened it up. A lot of people thought that we added the windows in the ceiling, but those were always there, it's just that no one could ever see them because it was so dark in there. So I feel like we brought that building closer to what it originally was and did a service to it," Hamilton says.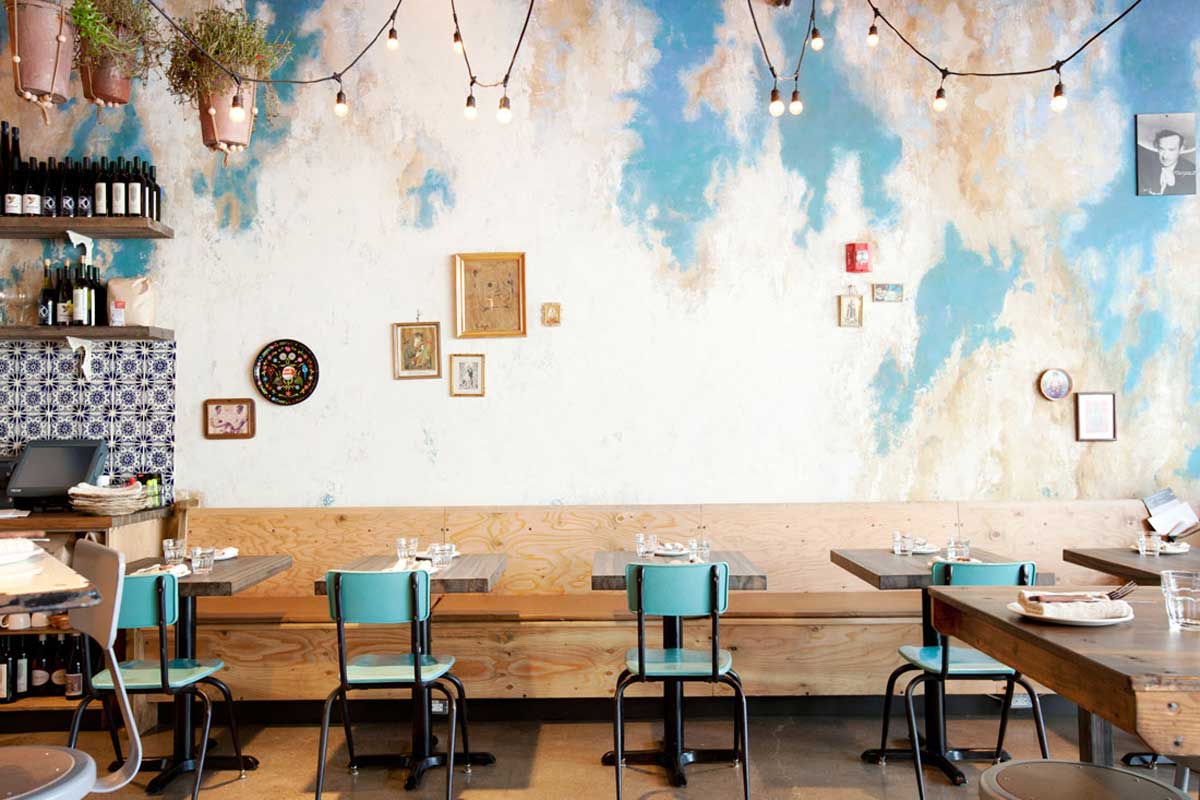 From the strings of lights hanging from the ceiling to the layered, custom made plaster feature wall (which was redone three times), Hamilton incorporated plenty of eye-catching details into the design of Native Tongues Taqueria, a Mexican restaurant that opened in the Beltline in 2015.
"With Native Tongues, we really wanted the space to feel like you were wandering off of a side street and kind of stumbling upon this really beautiful, eclectic space," Hamilton says. "But given where it is on a busy street and being in a refurbished building, it didn't really have a lot of character that say Rodney's had, so we had to bring that character in."
One of the major ways she did that was by seeking out pieces of architectural salvage to bring into the space. There are metal cornices from Mescalero's building on the bar, vintage high top Coke tables found by the client, bathroom doors from an old school, a stain glass transom that features a bullet hole, artwork from salvage stores and more.
"One of the things that I love in there personally are the blue chairs that run along the banquette. I found those when I was in Vancouver doing a vintage shop for a few clients, and brought those back thinking, 'these are super cool.' What was interesting about those blue chairs [is they] sort of inspired this additional blue colour throughout the space, so it really started to tie together the rest of the space," Hamilton says.