Eden Schell's light-filled home could easily be mistaken for a rural oasis tucked deep within Alberta's sprawling foothills, when, in fact, it's only minutes from Calgary's city limits.
When initially deciding on where to build their home in 2007, Schell's husband had his hopes set on an alpine dream home, nestled somewhere in the Rockies. Ultimately, with two children who were very young at the time, they needed to be close to the city and their families. A compromise was struck: they decided to build in Elbow Valley, where they would receive the best of both worlds.
Eden Schell, the creative force behind the lifestyle blog thewhitepicketfences.com, designed the home with McDowell & Associates, one of Calgary's well-established residential design firms. "During the initial design process, we had hoped to have more input on the overall design, but we quickly realized that the scope of it would be more than we could handle," says Schell. "The first round of ideas we brought to the table was completely rejected by the developer. Hiring the architects allowed us to build what we wanted with help from the experts."
The final design is a decidedly modern structure that contrasts beautifully with the landscape that surrounds it. With 4,100 square feet of living space, it has plenty of room for the family of four, including a playroom for arts and crafts and a luxurious ensuite where the adults can escape to from time to time. "Back in 2009, when we moved in, we were a bit nervous about the bold design of the home amongst the more traditional properties out in the country," says Schell. "However, now we are seeing more and more similar homes being built and we've started to blend into the scenery."
Designing a house of glass
When the busy family of four isn't travelling around the province for son Sawyer's motocross competitions or daughter Autumn's swimming and gymnastics, the Schells love spending time in their home, where they soak in the sprawling views of fields and mountains. With oversized windows that encompass the entirety of the home's northwest side, the living room is easily the family's favourite space to relax.
"I spend most of my time here, from morning coffee to wine in the evening. Summer evenings are beautiful with the sunlight lasting until around 11 p.m.," says Schell as she gestures to the cozy seating area. "We had the option of installing a television above the fireplace, but instead we decided to keep the focus on the nature right outside our windows."
Schell says the windows, in fact, were probably the best investment in the house. The family's previous home "felt like a cave," she says, and their top priority was to bring as much light as possible into their new home. Glass doors lead from the kitchen to the patio, with outdoor dining and living areas complete with a firepit and barbecue.
"It is so beautiful all year round. We get to see wildlife pass by and witness gorgeous sunrises and sunsets," says Schell. "What more could you want than being this close to nature with all of the luxuries of a home?"
Modern simplicity
Throughout the home, Schell has kept things simple in a style that is her own brand of minimalism. Citing mid-century modernism as her main source of inspiration, she manages to keep the clutter away while maintaining the feeling of a well-loved, lived-in home.
"I love the idea of contemporary minimalism; however, I wanted a home that was warm and welcoming. Mid-century design brings a certain warmth into the space that is still polished and styled," she says. "With two kids, it is hard to keep things sparse and stark, so I found a nice balance."
Design classics such as the moulded Eames chairs that flank the kitchen table are found throughout the home, although things get a bit more rustic in the home office with Schell's large wooden desk – a HomeSense score she is intensely proud of. "You have to be very patient with home decor and design these days with so much inspiration at every corner," Schell advises. "Be true to yourself and your personal style, otherwise you'll be drawn in so many different directions – one minute you are mid-century modern and the next you are Hollywood glam.
"I try to stick with what I love and keep a common theme running through the home. I don't rush my decor purchases. I wait until I find the perfect piece."
---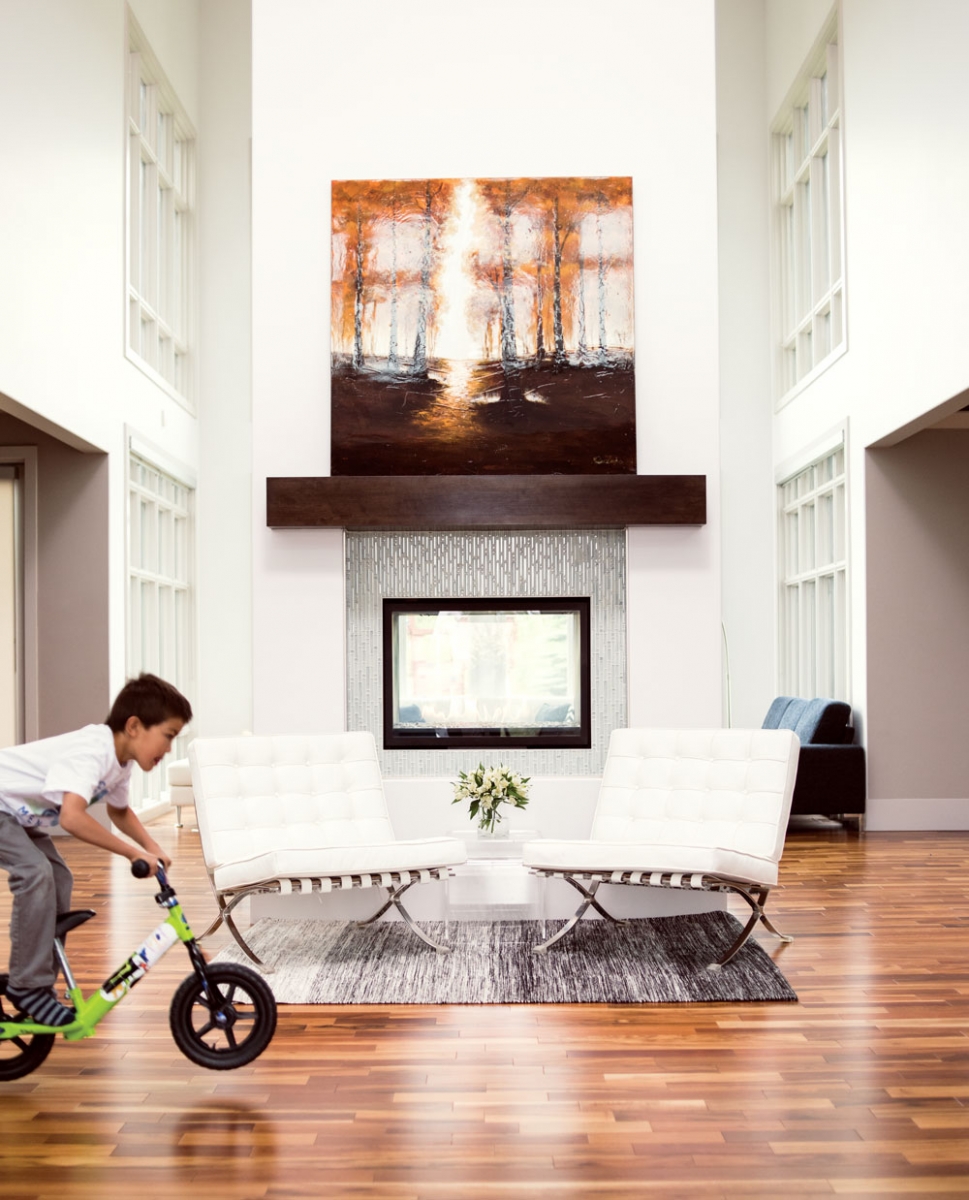 The entryway is a bright and welcoming space big enough for Schell's BMX-loving son to pedal around in.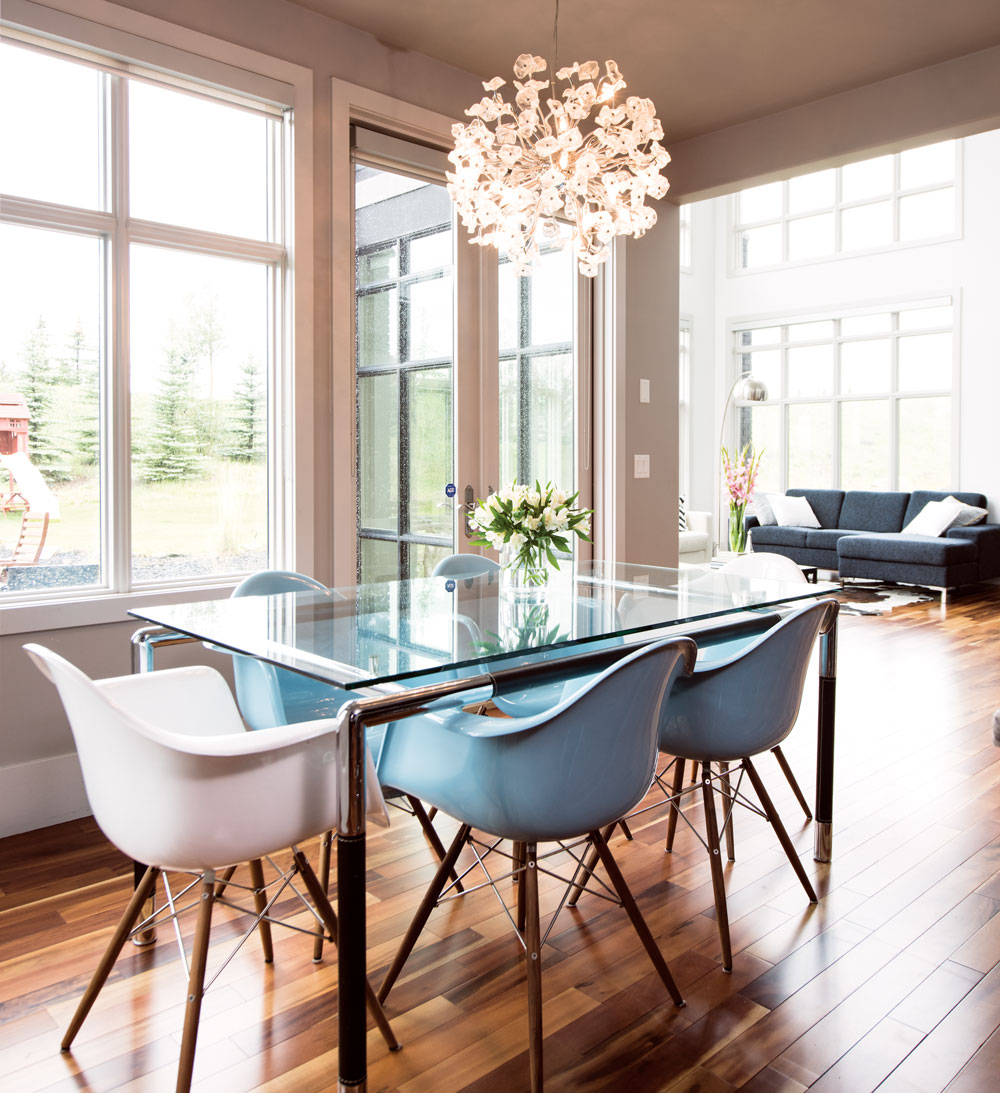 Bright Eames chairs are stylish and practical for the family of four.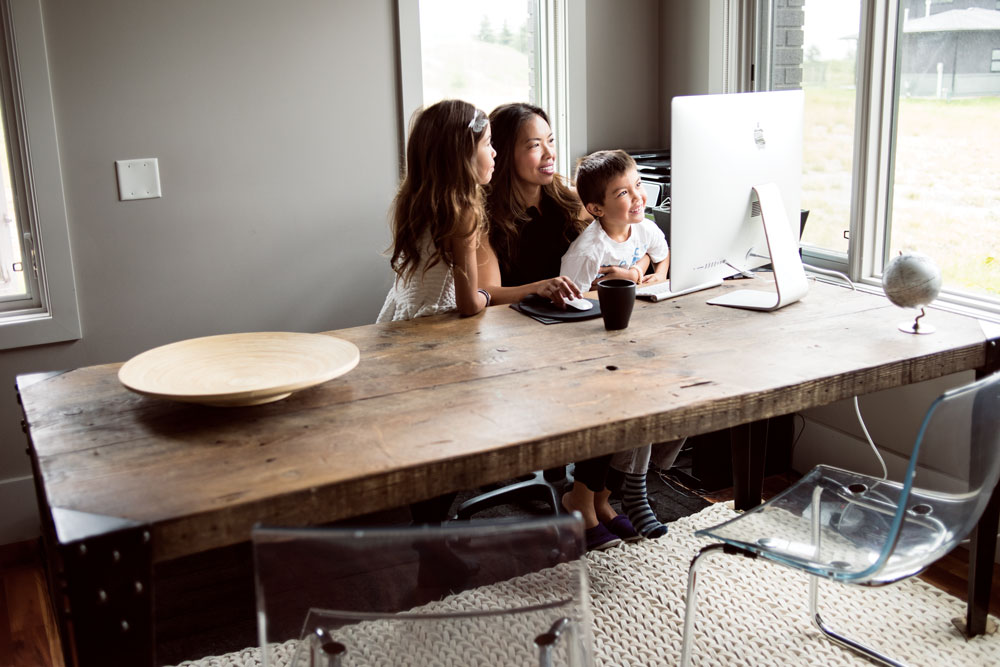 This harvest table from HomeSense was one of Schell's biggest scores.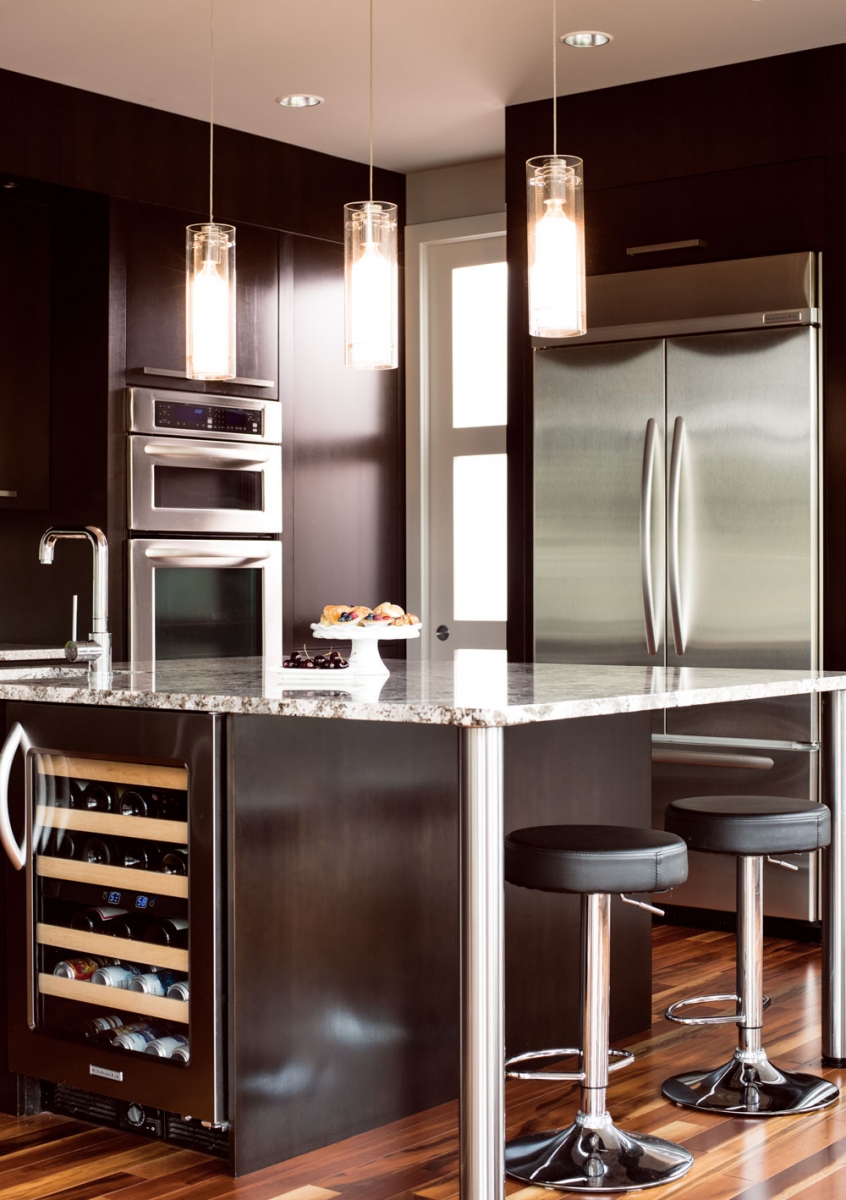 When the Schells built their home, they opted for a darker colour scheme in the kitchen, although it still manages to feel bright thanks to reflective surfaces and lots of light.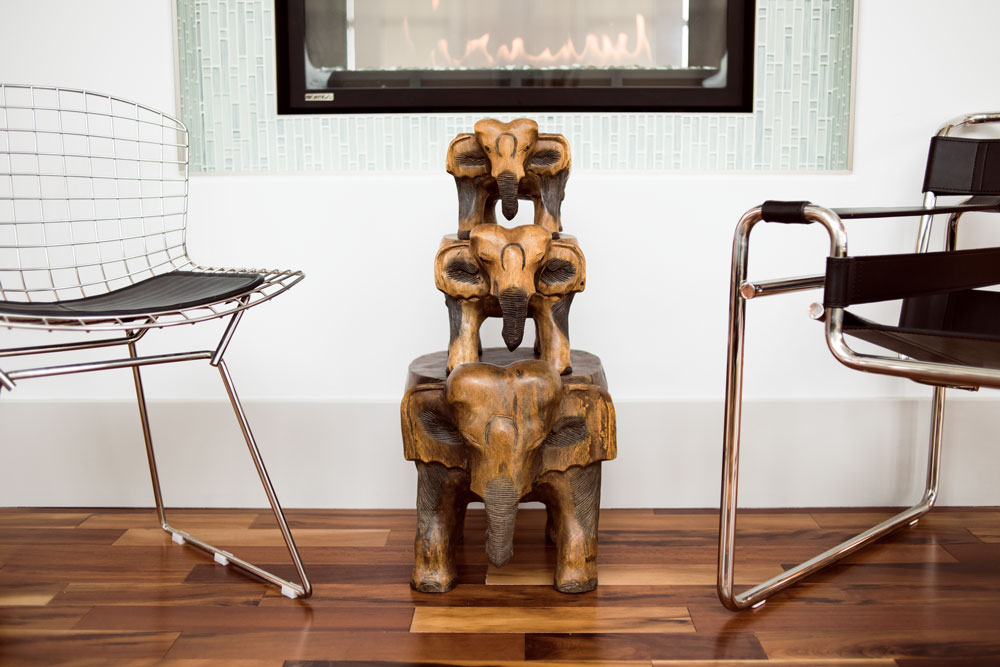 Mid-century modern chairs.
---
Eden Schell's tips for hunting your next great buy
Layer textures
Mix things up with woven blankets, faux fur and linen.
Plan ahead
Pick out a colour scheme, style and placement of furniture and accessories. Researching beforehand can save time and money. Online tools such as Pinterest or Instagram provide not only ideas but links to shops and even lower-cost alternatives.
Take your time
Purchasing everything all at once can lead to trendy decor that looks outdated very quickly. The best pieces of furniture, artwork and accessories are the ones with meaning behind them.
Shop around
Avoid purchasing everything from one store. It's tempting, but you don't want your home to be a replica of a store showroom. Mixing pieces from the big-box stores with vintage-shop scores and salvage finds will add personality to your home.
Don't be afraid to DIY
A simple paint job on an existing item can add personality and even save some money. A little spray paint can go a long way!
Think outside the box
A good way to add flair to any home is by turning extraordinary non-furniture items into furniture or accessories.
Splurge to save
Invest in good-quality furniture pieces such as the dining room table or sofa. These items will typically stay in your home for the long term. It is not always in the budget to replace furniture, so best to purchase neutral tones. Save money on accessories such as throw pillows and vases. It is easier to replace these items and will allow you to change your decor every season, if you wish.