A beautifully designed, highly organized closet is no longer a luxury. Now, in the age of Instagram, Pinterest, HGTV and a plethora of other design inspiration resources, a great closet is simply the new normal.
In a 2015 study by Avid Ratings Canada in partnership with the Canadian Home Builders' Association, 68 per cent of respondents said a walk-in closet was a "must-have" interior feature. According to Cameron Johnson, owner of California Closets, this growing trend is all about peace of mind. "It's organization of what you have – being able to have a home for your most important items, whether it's your clothing or your 50 pairs of shoes. Or your 500 pairs of shoes."
And while more and more new homes are being built with custom closets installed by companies such as California Closets, Johnson says he sees many customers looking to add function to their existing space, especially those who are downsizing or adapting to a smaller home. "They really have to think about what they own and where they're going to put it all," he says. "Having the opportunity to organize those items in a way that allows them to take it with them is vital."
But before you revamp or totally renovate your closet, Wendy McAllister, owner of Calgary-based Simple Spaces recommends identifying what drives you crazy now. "Out of frustration will be born a great idea," she says. If your disorganized ties or improperly hung pants are driving you crazy, she says that's the place to start. "It sounds reversed, but that will really lead you to a great closet design and get you what you really need."
No matter what your budget – from quick and inexpensive storage solutions to the professionally planned, walk-in closet of your dreams – function, quality and innovation is in reach.
---
How to rethink your basic closets
California Closets Edmonton and Calgary owner Cameron Johnson shares his tips on how to double – or even triple – the storage space in your standard reach-in closet.
 California Closets, 1139 9 Ave. S.E., 403-640-9070, californiaclosets.com
Maximize vertical space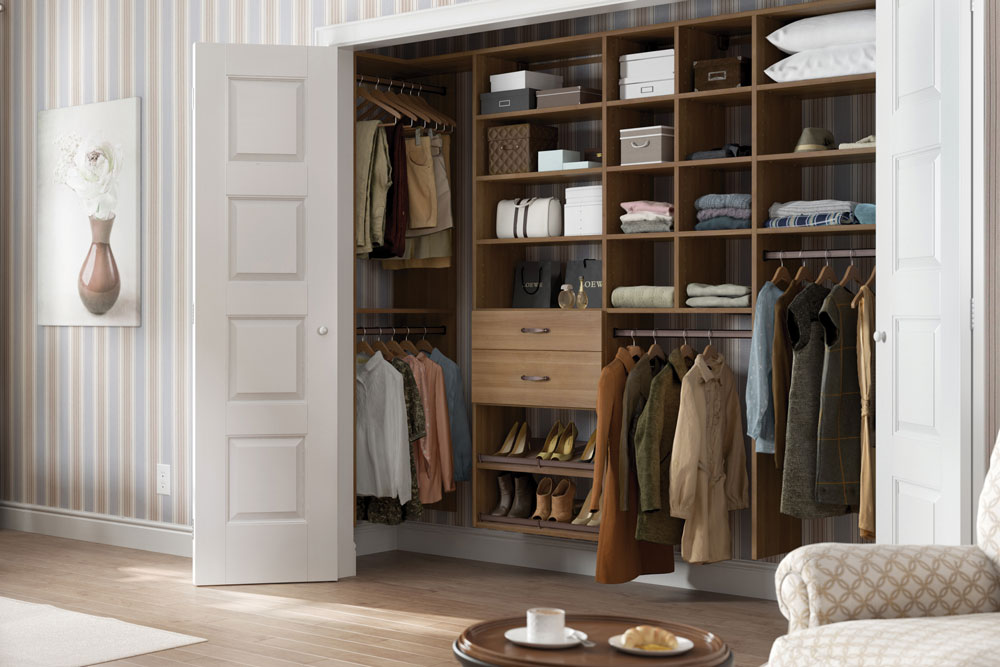 2017 California Closet Company, Inc. All rights reserved. Franchises independently owned and operated.
"If you have a shelf and a pole that runs across the whole width of your closet, you're forced to hang everything and then pile things up on top of the shelf. Take out the shelf and rod and add a 'double hang.'"
Make room for the big stuff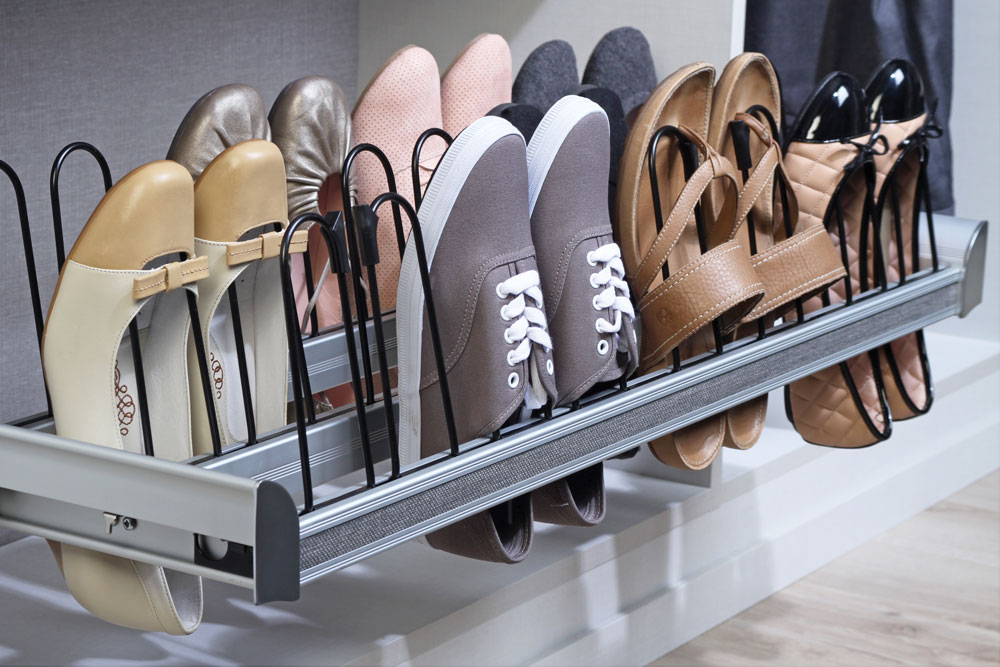 2017 California Closet Company, Inc. All rights reserved. Franchises independently owned and operated.
"With the space you save from the double hang, you have the whole rest of the closet to add drawers with shelves, slanted shoe shelves and a laundry insert."
Add what you really need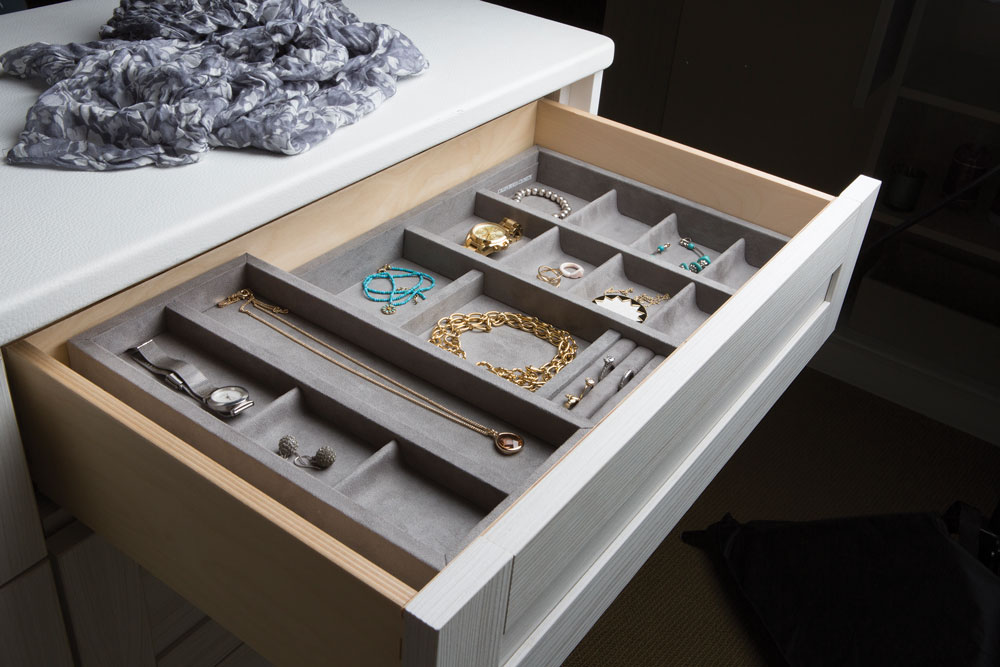 2017 California Closet Company, Inc. All rights reserved. Franchises independently owned and operated.
"Maximize the space for full efficiency with the right type of space for the type of clothing and accessories that you have. If you have a large number of accessories, add a velvet-lined jewellery tray. Put in a belt rack, put in a scarf rack, a tie rack."
---
2017 closet trends
Wendy McAllister, owner of Simple Spaces, a Calgary-based closet, shower door, interior glass and mirror manufacturer, shares the year's biggest trends.
Simple Spaces, 11550 40 St. S.E., 403-203-3333, simplespaces.ca
Put in lighting fixtures
"It just adds that personal touch and it brings the space a really nice calm feeling. You start your day there, you end your day there. It should be just as nice as the rest of the home."
Added functionality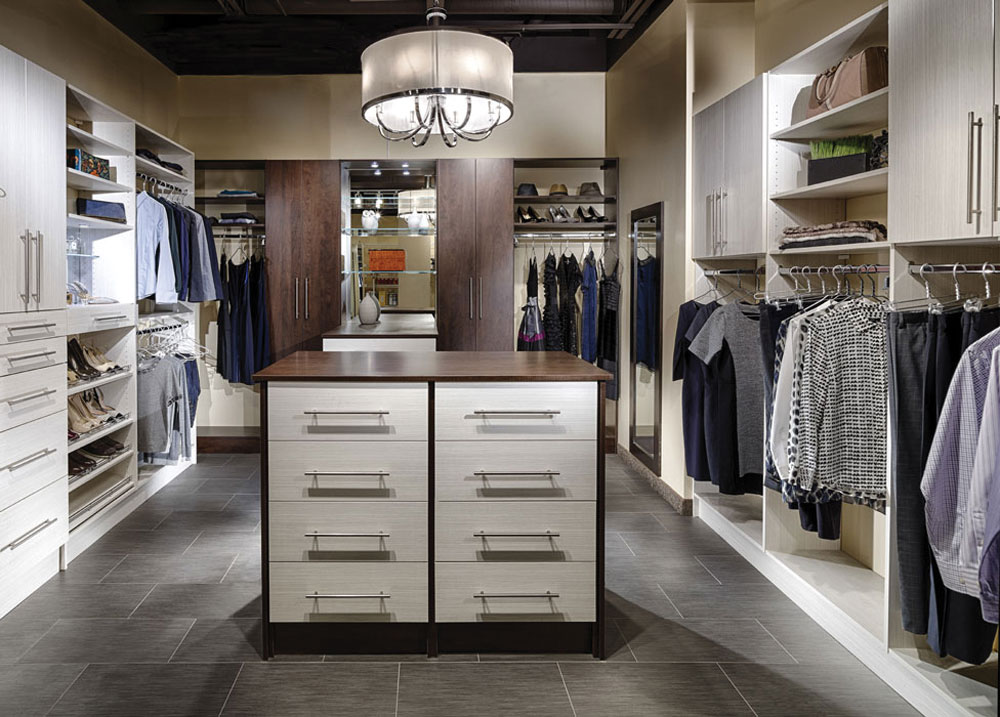 photograph courtesy of simple spaces
"Shoe storage: wall-to-wall, floor-to-ceiling, even tucked behind doors. We're also integrating makeup desks into a lot of closets now, so you've got a dedicated space."
Just add wallpaper
"If you're totally happy with your white closet and you just want a little refresh, add wallpaper."
Next-level handles
"Handles have become the jewellery of the closet. People now spend a lot of time considering the finish, the colour, the style. What are they going to be using it for? Are they going to be hanging their dry cleaning off it? Do they want to match their ensuite cabinets or do they want to jump off and do something entirely different?"
Back-painted glass
"Something that's relatively new to the market is back-painted glass. We're doing it as countertops, as backsplashes. It's personal and it's something you're able to customize."
Mirrors everywhere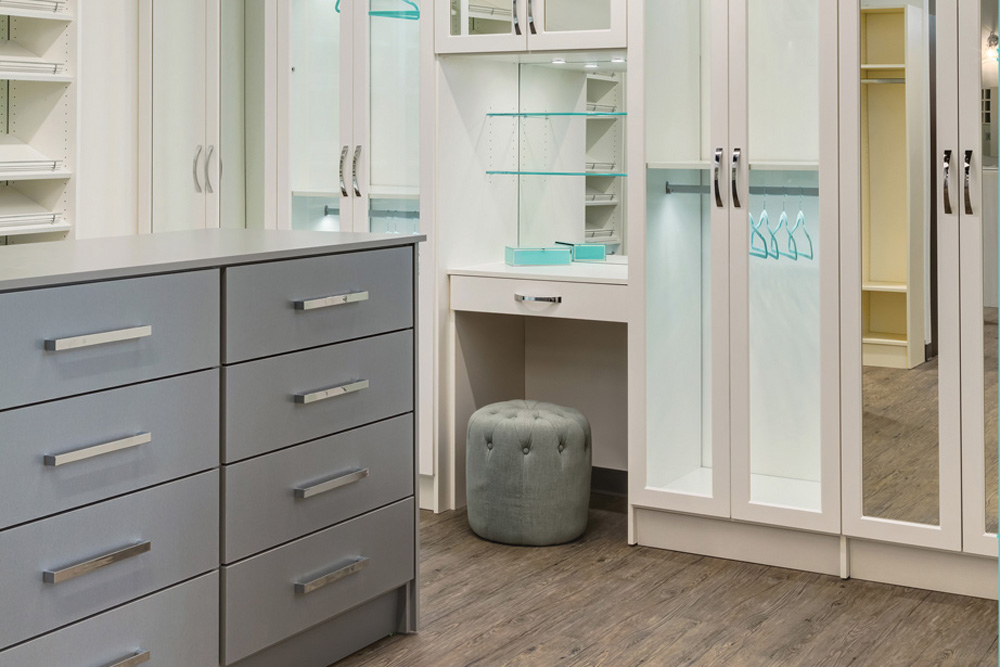 photograph courtesy of simple spaces
"The biggest request right now is getting as much mirror and glass as you can pack into a closet. It gives the illusion of more space."