Initially, Stephanie Charest's plans to redesign her friend's home were modest. The Calgary-based interior designer's idea was to redo the bedroom of the century-old home in Crescent Heights. But once consultations began, Charest and homeowner Melissa Olin soon realized how much more work was needed. The specifics of their plan changed throughout the process. But with Charest's help, this dark 1917 house was transformed into a brighter, more vibrant home with a more modern design.
How important was it to maintain elements that reflected the century-old age of the home?
It's really important. Calgary knocks stuff down. We have so few century buildings; you don't find them anymore. So to keep the high baseboards and the detail around the windows and not take out the stained glass or the leaded glass was very important.
There was a redesign partway through the renovation. Why did this happen?
The dining room and kitchen were separate, with a fireplace in between. Our initial plan was to save the fireplace and put a new fireplace in the dining room. But then we were standing in her kitchen with the cabinet company and her kitchen was just so small, and she really wanted an island. [The cabinet company and I] said, "Okay, here are your options,' and she said, "Take the wall out." It was a big decision.
What is your design philosophy?
My philosophy is that design has to be for the individual. I don't subscribe to trends, necessarily. If you love them, then absolutely, work a trend in. But I tend to stay with very classic design because I don't ever want someone to get tired of it.
What is the biggest change to this house to have come from this renovation?
It's so light and bright in there now. It was so dark and chaotic before. Because it was dark and not what she wanted it to be, I find that clients tend to let go of it and not take care of their space as much. Now it's just beautiful and refined and elegant. It's light and bright, and she takes care of it differently.
What was your favourite decor find for this particular home?
I love the ottoman in the living room. It's that pop of turquoise. I love the way it looks in there – it's just fun. The homeowner really wanted colour, so we used a lot of colour in the cushions.
What's the biggest challenge you faced in designing this home?
I think because the homeowner's my friend, it was harder, because it was such a personal project for both of us. I didn't want to push her too much and then overstep boundaries. So I didn't approach her maybe the same way I would other clients when you're a bit removed from it.
Where is your favourite place to shop locally for decor items?
West Elm, EQ3, The Other Room, Domaine Furnishings & Design. They're really helpful to designers – great selection of decor items.
---
Kitchen before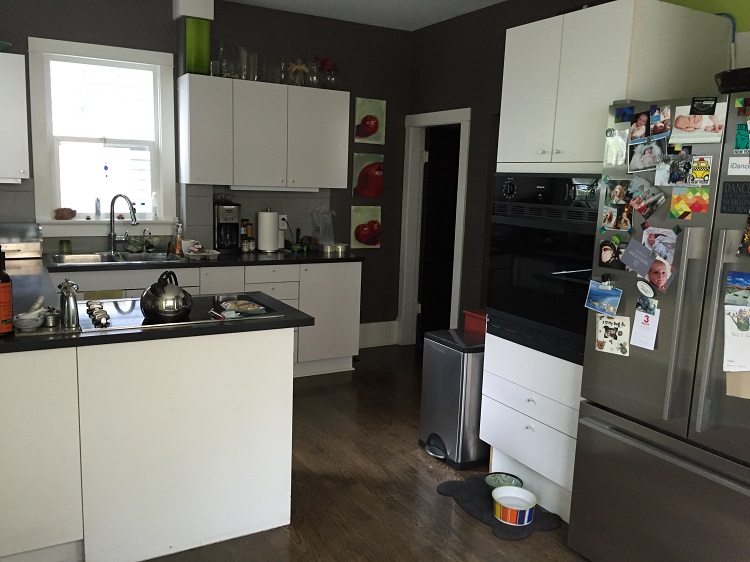 Kitchen after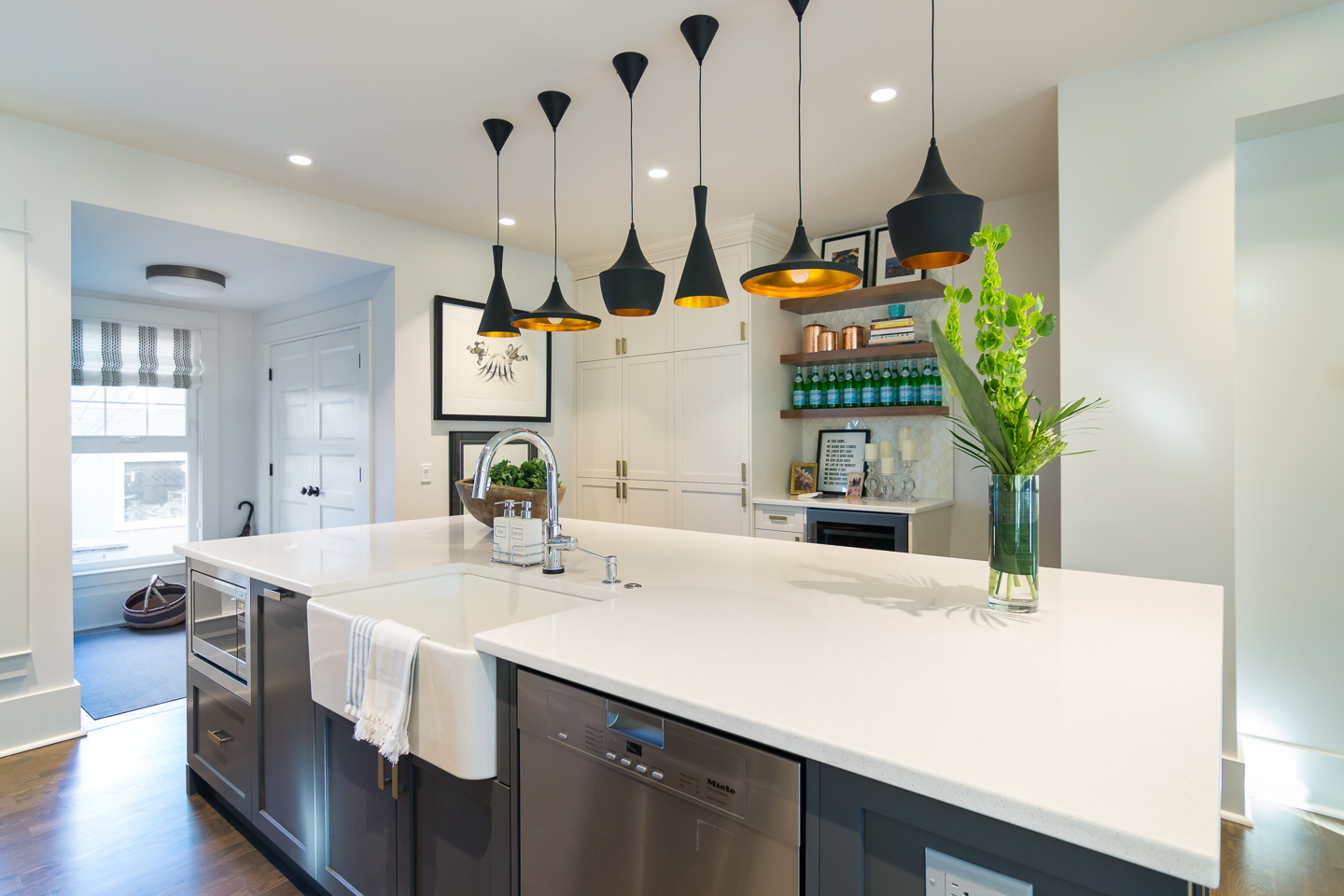 The kitchen ended up being the most radical change in Charest's redesign. By knocking down a wall, installing brighter lighting from Robinson Lighting & Bath Centre, the kitchen became a brighter and more spacious gathering spot in Olin's home.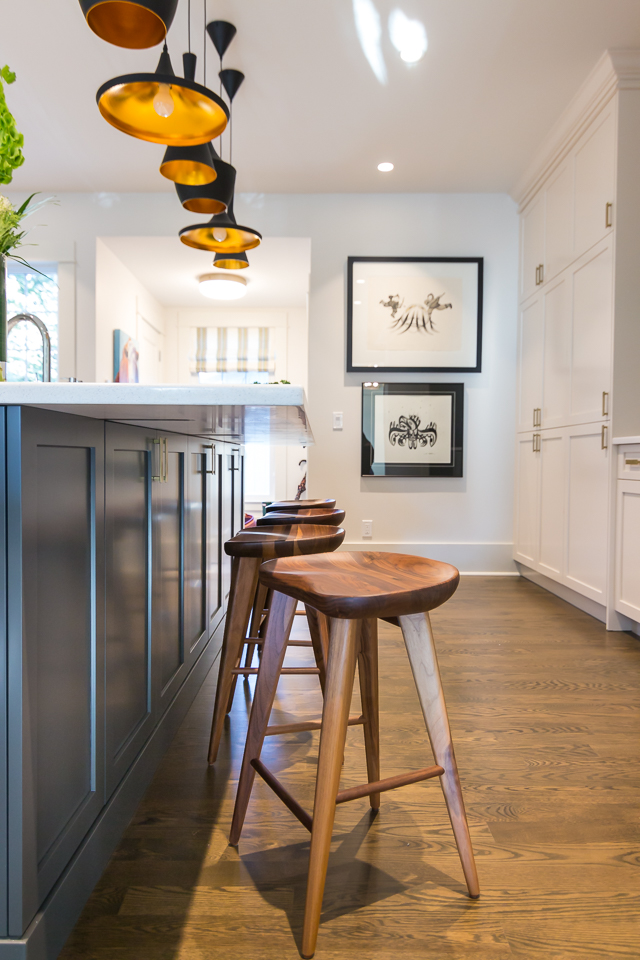 At approximately The 11-foot-long island is now an ideal spot for Olin to have more room for cooking and to sit down with her friends and guests.
Bedroom before

Bedroom after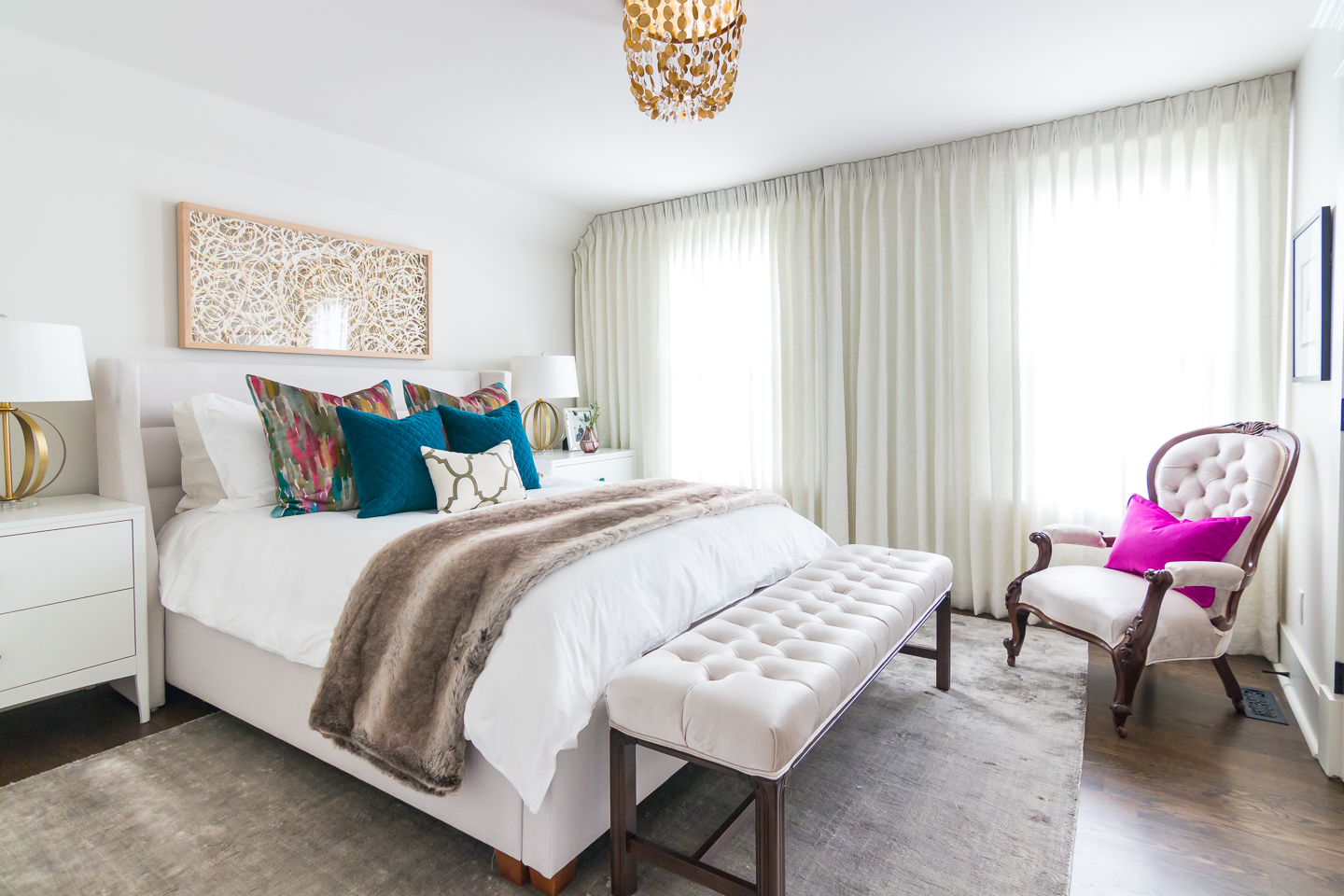 Charest's favourite room in the home is Olin's revamped bedroom, with its peacock blue and pink pillows, Van Gogh Designs bed and Stewart Drummond bench.
Living room before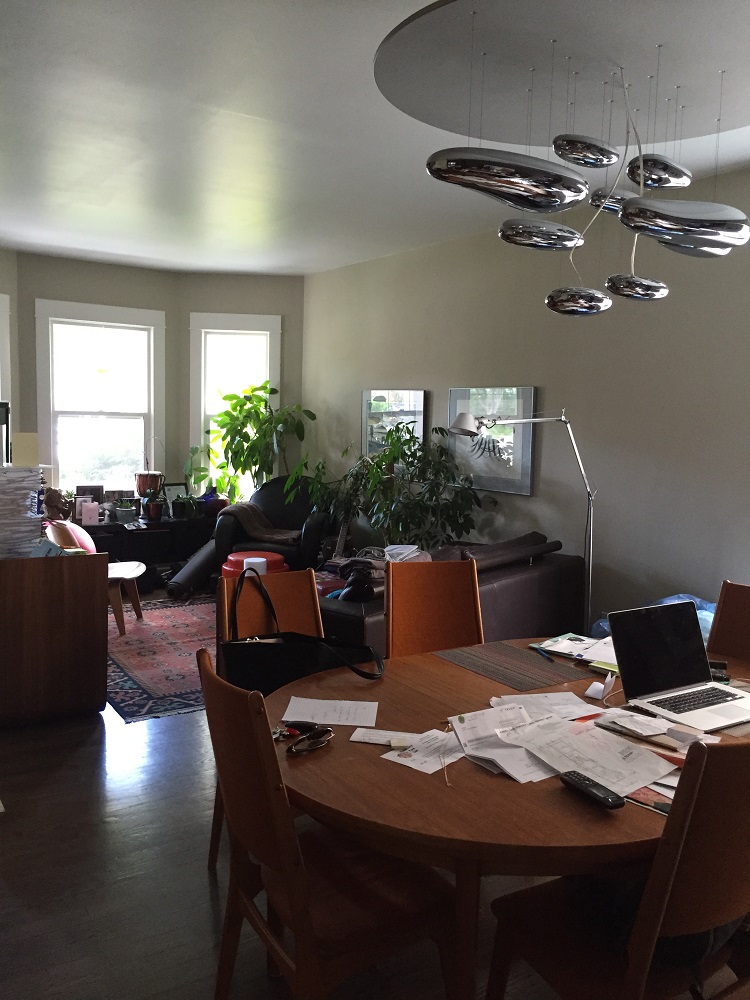 Living room after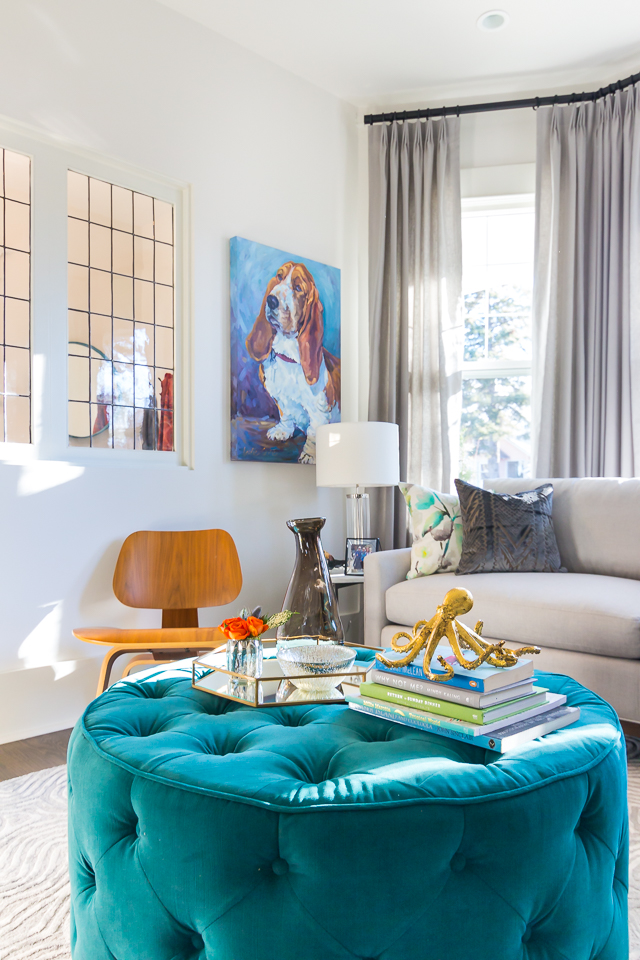 The sofa and ottoman were custom-made for the redesigned home.
Dining room before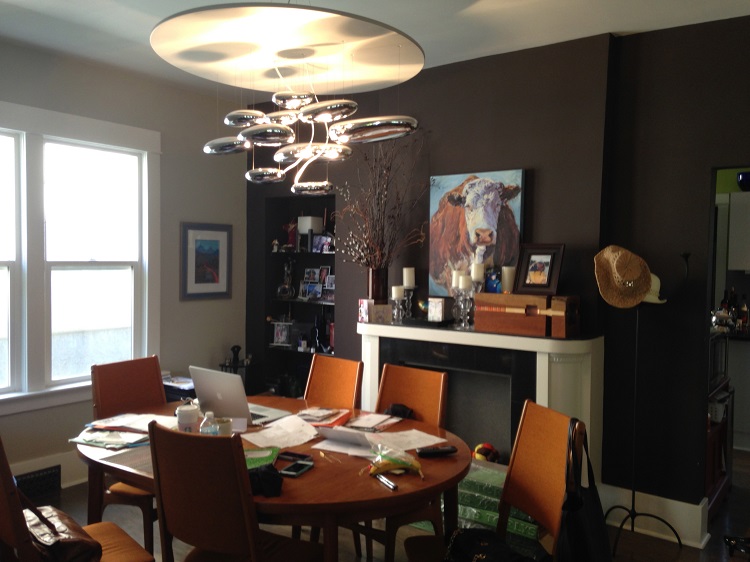 Dining room after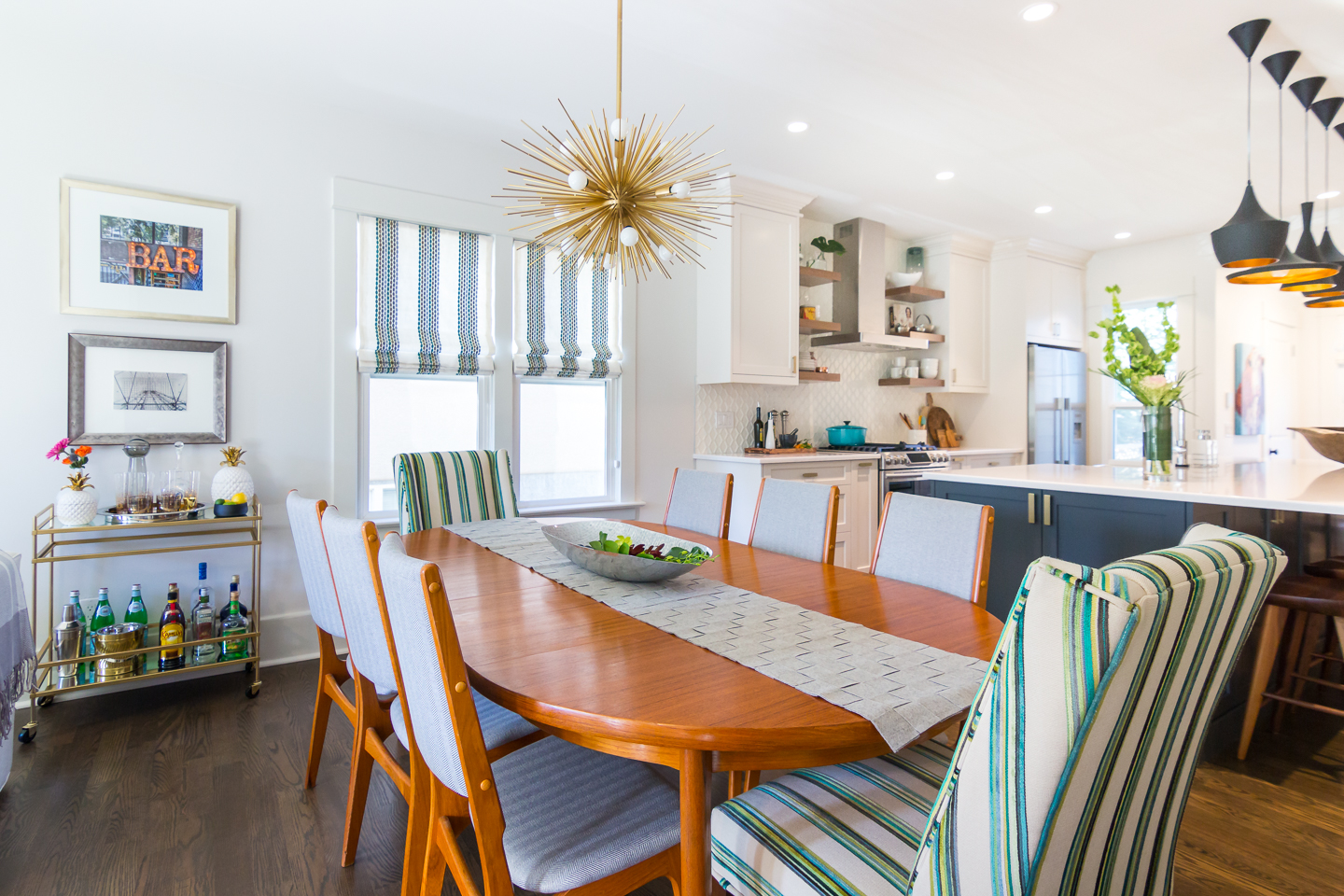 The increased kitchen size created an open space combined the kitchen and dining room. Contrasting with the high baseboards and early 1900s-era architecture is the new mid-century-modern dining room set with newly upholstered chairs at both ends of the table and a bar cart from West Elm.