Nestled between the vast Canadian prairies and the majestic Rocky Mountains, Calgary is a city surrounded by natural and man-made splendour, providing a wealth of inspiration for interior spaces.
City
Often set against crystal-blue skies or intense sunrises and sunsets, Calgary's ever-expanding skyline is an iconic symbol of the city's progress and growth.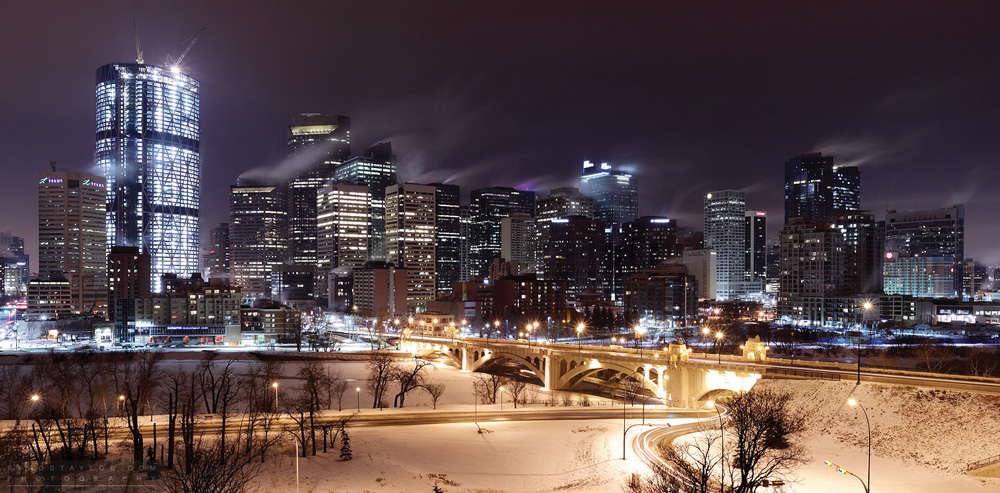 Tips from designers and decorators
"Calgary's skyline is vibrant and full of light. Using this as inspiration within the design of a home, I would tend to lean toward a cooler palette of greys, rich navy and creams, adding a hint of golden tones to reflect the beautiful sunlight. It is a strong, timeless palette, with warmth filtering in through highlighting details." – Kelsey Kittleson, Woolrich Group
"Unlike Vancouver, which demands a more muted palette due to the calmer light, the brightness in Calgary gives us some latitude to play with stronger colours. Invariably, they'll wash out a bit on a sunny day, so I advise dialling things up just a bit to maintain consistency. There is the notion that Calgarians only favour beige, greige and grey, but I've found that most of my clients want a bit more 'oomph' in their lives, especially those who collect and appreciate art." – David Crosson
"On one of Calgary's coldest, crisp minus-30 days, we find ourselves surrounded by shades that appear desaturated, layered with shadow blacks and puffs of white exhaust smoke. It's those days that we yearn to be warmed and surrounded by nuances of rich colours like burgundy and camel, with sensual textiles of knotted wools accentuated by a candlelit sepia glow." – Kendell Woo, Holland Design House
---
River Valley
With the Bow and Elbow rivers flowing through the city, not to mention several creeks on the north and south sides, Calgary's waterways are a dynamic feature in the city's landscape.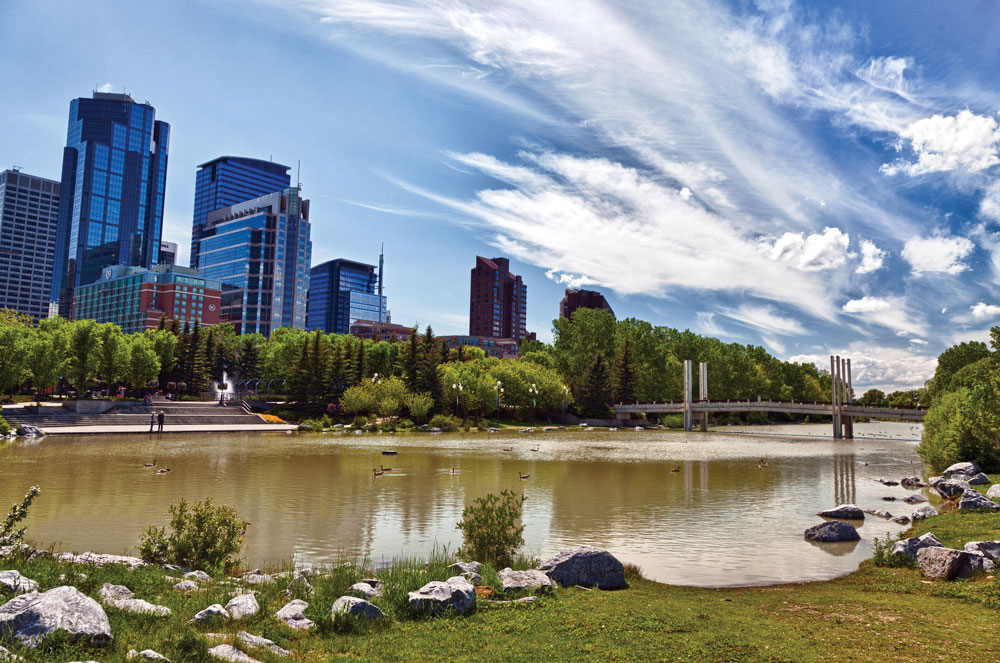 Tips from designers and decorators
"My ideal colour palette, inspired by the rocks within a Calgary river valley, would consist of deep greys and a medium shade of caramel and rust alongside a light warm grey. More specifically, Benjamin Moore Kendall Charcoal HC-166, Acorn 1125 and Grey Mist OC-30. Grey Mist, one of my all-time favourite colours, has a chameleon quality and changes beautifully with the Calgary light." – Nyla Free, Nyla Free Designs
"Steel blue-grey and varying shades of green, even including chartreuse [come to mind]. There are certain times of the year when our hills are a vibrant shade of green that would make a great accent colour against a more neutral palette." – Stephanie Charest, Stephanie Charest Interior Design
"I am fortunate enough to live along a river valley in Calgary and see these changes occur throughout the year. In the spring, ornamental apple trees have vibrant pink or red leaves that contrast with the deep greens of our many poplar, spruce and elm trees. There are so many colours to draw inspiration from and I always think of this time of year as very fresh. Summer brings wildflower blooms, vibrant grasses and varying shades of green. These mossy tones work flawlessly together. I must say my favourite season is autumn. The poplar leaves turn a beautiful vibrant yellow, the ash leaves turn a striking copper colour. There is a wide array of earthy, vibrant hues that work harmoniously together." – Kevin Mitchell, Mitchell Design House
"I would pick a main colour to run through a river valley colour palette, such as steel blue. I would repeat this colour in fabrics, paint, artwork and draperies, but add layers and depth with other colours to create harmony. Main pieces in a room could take colour inspiration from the moving water and accent colours could reflect the land, leaves and grass." – Stephanie Charest, Stephanie Charest Interior Design
"Moving water makes me think of shades of blues and greys, like the ones you would find in mountain run-off, with a sparkle from the sunlight reflecting off the river. Within an interior-design scheme, this could be reflected using soft and overlapping textiles with a hint of metal for contrast." – Johanna Power, IBI Group
---
Mountains
The majestic views of the Rocky Mountains – crystal-clear and snow-capped in the winter and ethereal and distant in the summer – are a year-round source of inspiration and delight.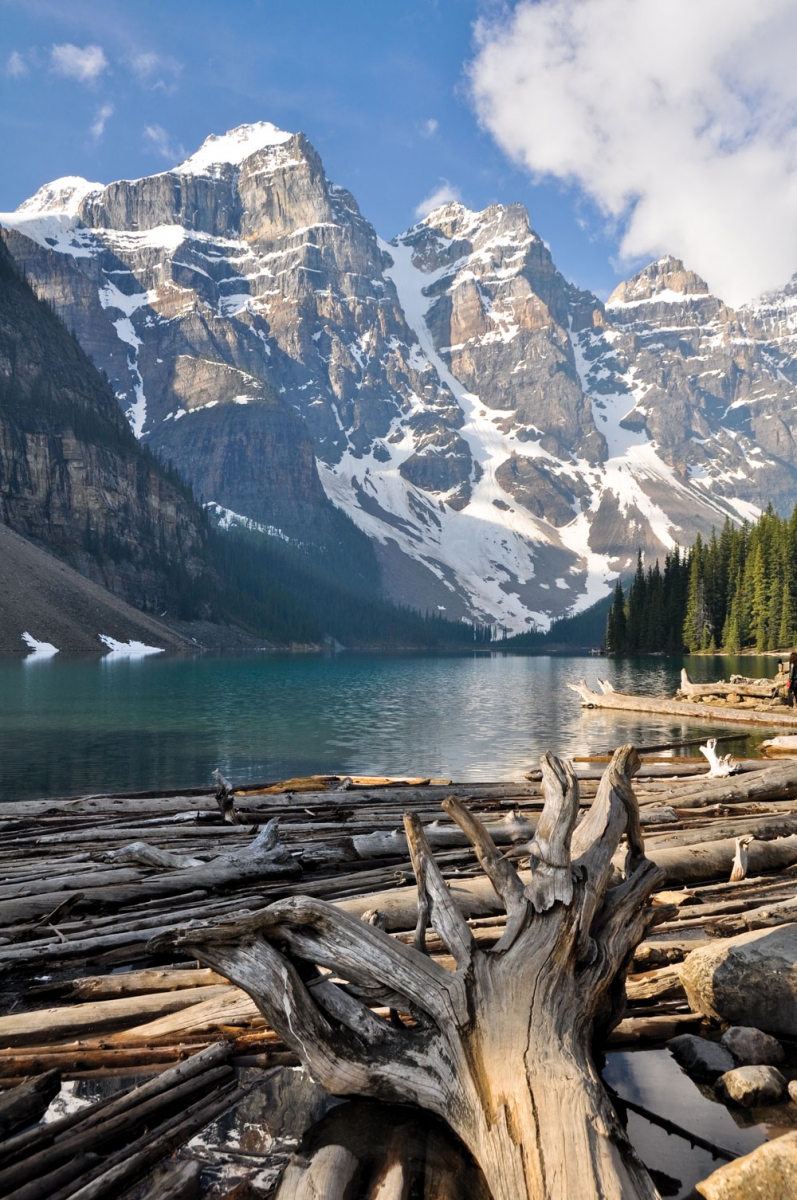 Tips from designers and decorators
"If [the Rocky Mountains] were my inspiration, I would probably choose cooler tones like greys, blues and purples. I have done many projects for clients' second homes in Canmore in the past and, while each was different dependent on the client's wishes and specific tastes, one that comes to mind is a master bedroom that had an amazing mountain view. I actually chose the wall colour (Benjamin Moore Smoked Oyster 2109-40) right from the view out the window." – Reena Sotropa, Reena Sotropa In House Design Group
"When I think of our mountains and the surrounding landscape, I see reflections of the mountains in our lakes: the strong contrast of white mountain peaks with crisp, clean waters below. For decor, I picture a dark accent wall with a big mirror hung over a rustic wood-accent table. A tall chrome light fixture stands beside a clean white leather chair with a warm faux-fur blanket draped over the side. I feel the lighting in this space would be warm and not overbearing." – Tanya Stembridge, Solle Interiors
"Focusing on natural materials is the most honest way of capturing the spirit of the Rockies. In a custom home McKinley Burkart designed at Kicking Horse [in Golden, B.C.], we opted for oversized timbers and slabs of stone throughout the entire home. We didn't use any drywall. When selecting finishes, we chose them specifically because their finish didn't feel machined, replicating the textures of the mountains. This resulted in a house that had the weight and presence to hold its own amongst the Rocky Mountains." – Caelan Tatz, McKinley Burkart
"My Rocky Mountain-inspired palette would be light, airy and showcase natural beauty. It would include monochromatic natural materials with interesting stone veining, wood grain and textile fibres within a dominant true white space (my pick is C2 Architectural White). Architectural White will create a bright, dynamic space that evokes the tranquility experienced on a mountain peak and act as a gallery backdrop for the natural textures and colours found in materials and details." – Deana Lewis, Design Office of Deana Lewis Inc.
---
Prairie
A short drive from Calgary, in almost any direction, will land you knee-deep in fields of wheat, flax, canola or other crops, as the open sky takes centre stage.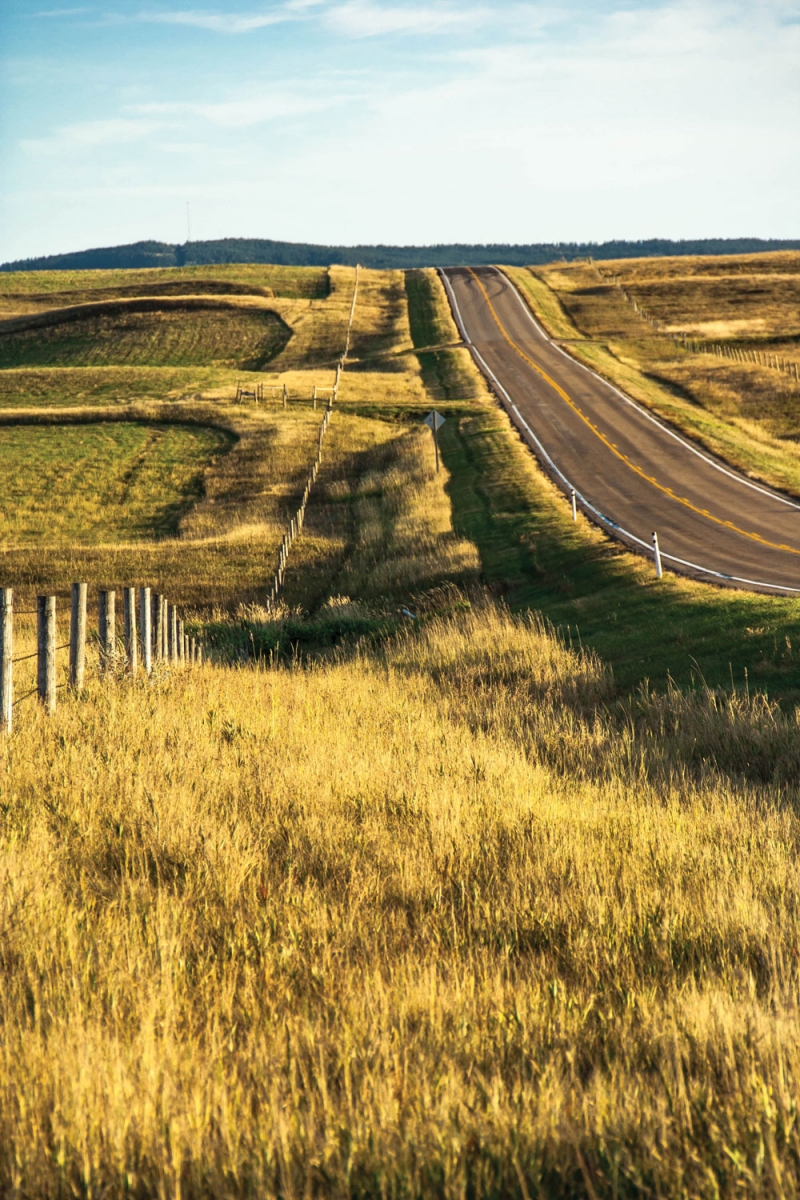 Tips from designers and decorators
"Picture the scene near Morley, Alta.: wild horses in a massive, untouched field against the majestic mountains, a train in the background. Within a contemporary colour palette, combine the textural black and muted white of the wild horses with the reds, steel and scratchy yellows of the train beyond. For a traditional palette, look to grassy tans, yellows and strong browns." – Holly Shearer, Shearer Licensed Interior Design
"The sunrises in Calgary are known for their intense coral hues, and, at LeAnne Bunnell Interiors, we are in a strong coral phase right now. We love the not-quite-pink, not-quite-orange-saturated richness that is popping up in several of our recent projects." – LeAnne Bunnell, LeAnne Bunnell Interiors
What type of crop or field would inspire you in creating a colour palette reflecting Alberta's prairies?
"Mustard seed. Just like the Alberta prairies, mustard has shades of yellow and orange seen everywhere from our farm fields to our sunsets; greys and browns that can be found in our landscape and mountain range; greens within our forests and grasses and shades of burgundy and rose found within our provincial wildflower and backyard chokecherry trees." – Elena Del Bucchia, Elena Del Bucchia Design
If you had to choose a single paint colour to define Alberta's prairies, what would you choose?
"Benjamin Moore Fairview Taupe HC-85. I use this colour often on exteriors to compliment the Calgary landscape. "Fairview Taupe" resembles the darker tones of the prairie wheat fields that I love. It has richness to it, with just enough warmth behind it, and blends in with the natural landscape." – Rochelle Cote, Rochelle Cote Interior Design