Joe Dort and Tanya Puka are collectors of many things. Whether it's adding to their impressive record collection or their constantly evolving collection of original artwork, this couple knows how to curate. Puka, a public-relations professional, also runs a small consignment business on the side called Fond Boutique. Dort is a professional chef and director of operations for Model Milk and Pigeonhole. Over the past three years, they've created a home they can truly retreat to after a long work week.
What is your design philosophy?
Joe Dort: I would say it is eclectic and purposeful. We try to put things in our space that are both interesting and functional too; not just things that are aesthetic for the sake of being aesthetic. We draw from mid-century modern and Bahaus. I really like the Japanese design philosophy of Wabi-sabi which is all about finding beauty in imperfection. Eclectic textures, you know a mix of wood, glass, metal and flatworks; we try to incorporate them all to make the space warm. We both spend so much time working that when we come home, I just want to be in very comfortable space, at peace, where everything is also in its place.
Tanya Puka: We love the idea that everything has a story before it comes to us. That's huge for us.  We love searching around and going to places like that Nanton or Inglewood to see if we can find something unique.
What is your favourite room in your home?
TP: I think I like the bedroom. It's my oasis and my space to escape.
JD: For me it's the living room. We spend a lot of time in here late at night listening to records late at night.
What is your most treasured item and where is it from?
TP: It is a repurposed ashtray with a marble top. We found it half price at a little antique shop that was closing down in Inglewood. We just feel in love with it.
JD: I'm a huge fan of architectural history and the Cherner Chair has a really intriguing back story. I wanted one since I was in high school. Last year I finally pulled the trigger and bought one. I think it was in the 1950s that Herman Miller was using molded plywood to make something he called a "Pretzel Chair." It turned out to be very expensive to make and not very durable. So he scrapped the design after a few years and he asked Norman Cherner to design something else and this is what he came up with. Subsequent to him designing it, the company that commissioned it told him that they had scrapped the project. Later he found the design being sold in stores and it turned into a big lawsuit. Cherner ended up winning. He received royalties and proper credit for his design and it was produced until the 1970s. This is a reissue of the chair that Cherner's sons have recently released. It's comfortable but a little dainty so I don't sit in it a lot but I love it as an object.
What is your favourite decor find?
TP: The original piece of art I commissioned local artist Cody Swinkels to paint for a gift for Joe.
JD: I collect vintage tobacco containers. I'm always on the hunt for those and most of them are Canadian which is interesting. And the little metal tray on the table is originally from the radiant heater that was previously installed on the wall. They removed it and we kept it and re-purposed it as a tray. We've used it in every room in our house.
Where do you find inspiration for decor?
TP: We read decor and design magazines and derive a lot of information and inspiration from those. Travel is big for me too; visiting different homes and staying with family and friends. I was just in Japan and it was a big inspiration for me. And I've taken a lot of what I was able to see there and bring it back here.
JD: I would agree with that but for me my parents are a big inspiration. Aesthetically, I draw a lot from them. In particular, their love for mid-century-modern furniture and architecture is something I was raised on.
What is your favourite thing about living in your home?
TP: Walking out and getting a coffee in the morning – that's one of the best things. Just being in the center of what's going on and not having to drive on days off. We love Mission.
JD: The location for sure is unbelievable. It's central without being in the core. I love this building. There is always something going on that everybody is invited to.
Where do you like to shop for decor locally?
TP: Definitely Kit Interior Objects. Inglewood antique shops. Bex Vintage.
JD: Reclaimed Trading Co. and Uniquities Architectural Antiques.
Did you encounter any decor challenges?
TP: We almost didn't take the place when we first saw it because it was painted so many awful colours.
JD: One room was green. One room was brown. One room was orange. Our friend Kelly Morrison from RAD Architecture helped us see past the paint and came up with a vision for the space. Beyond the paint colours, we had to keep in mind that it is an old building. The roof is slanted, the floors are crooked – there a lot of challenges in terms of where we can put things.
What is your favourite view from your home?
JD: Definitely the fire escape. I love people-watching on the fire escape. There are three restaurants underneath us so there are always trucks and people coming and going.
What would you want your next house to be?
TP: Probably a very similar esthetic but transplanted to a bigger space. I would love to have a work/live space. Something where I could create, keep my shop inventory and do other business-related things. That would be great, but for now we're very happy.
JD: I would want almost twice the space we have now. Definitely another room that is dedicated 100 per cent to listening to music. And storage, please – some storage would be nice. You know a little bit more space as we grow is never a bad thing. It just gives you more options in terms of how we can live.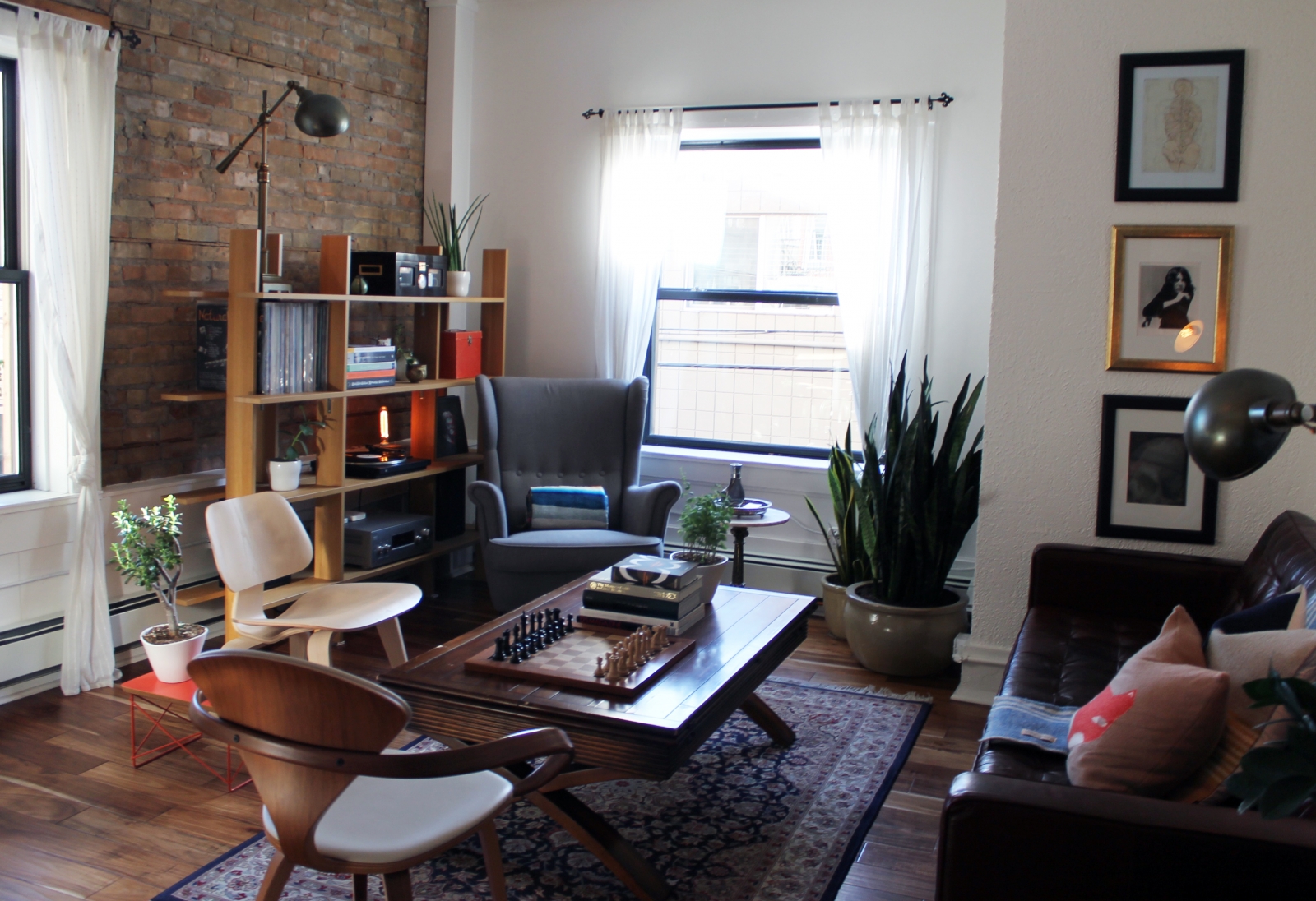 Tanya Puka and Joe Dort spend most of their time in the living room, either listening to music, reading or spending time with friends. The warm, eclectic feeling is reflected through each piece of furniture they have added to the space.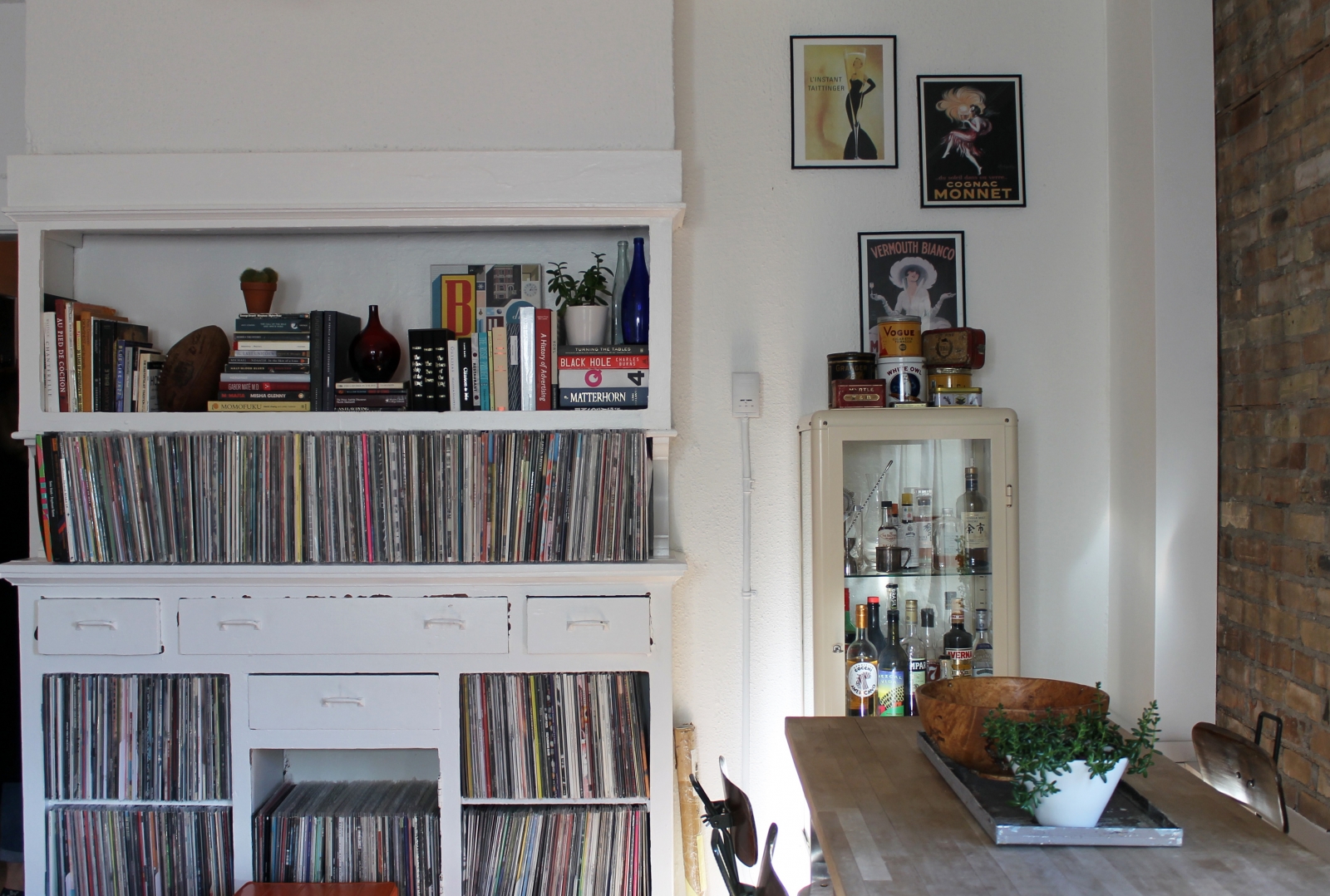 Dort and Puka are quickly running out of space to house their ever-growing music collection. They hope to revamp this area soon to be able to store more records.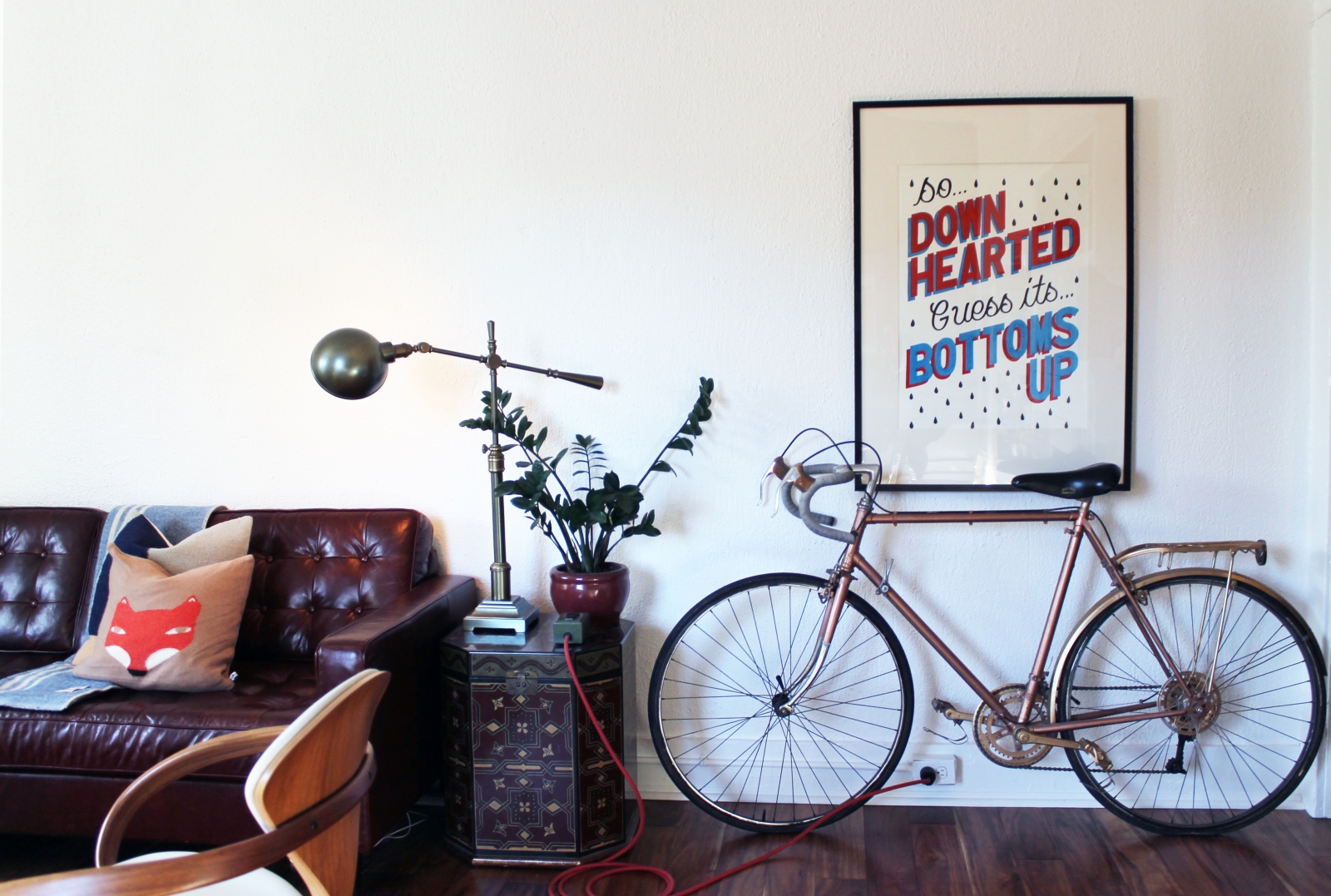 The original piece of art work that Puka commissioned local artist Cody Swinkels to create is one of their most treasured items.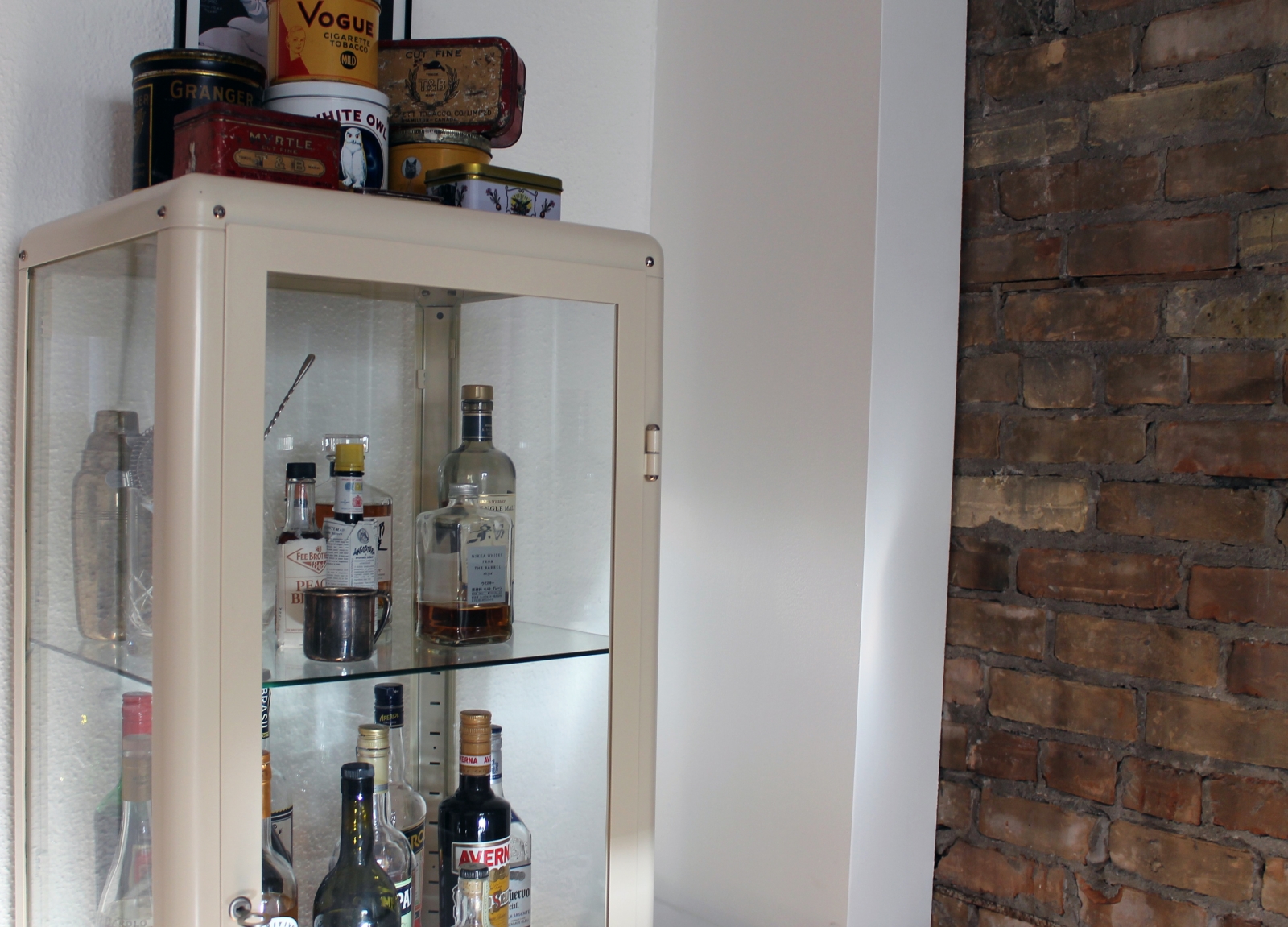 Puka and Dort both love a good cocktail and their "bar car" is fully stocked. Joe's collection of vintage tobacco boxes sits on top.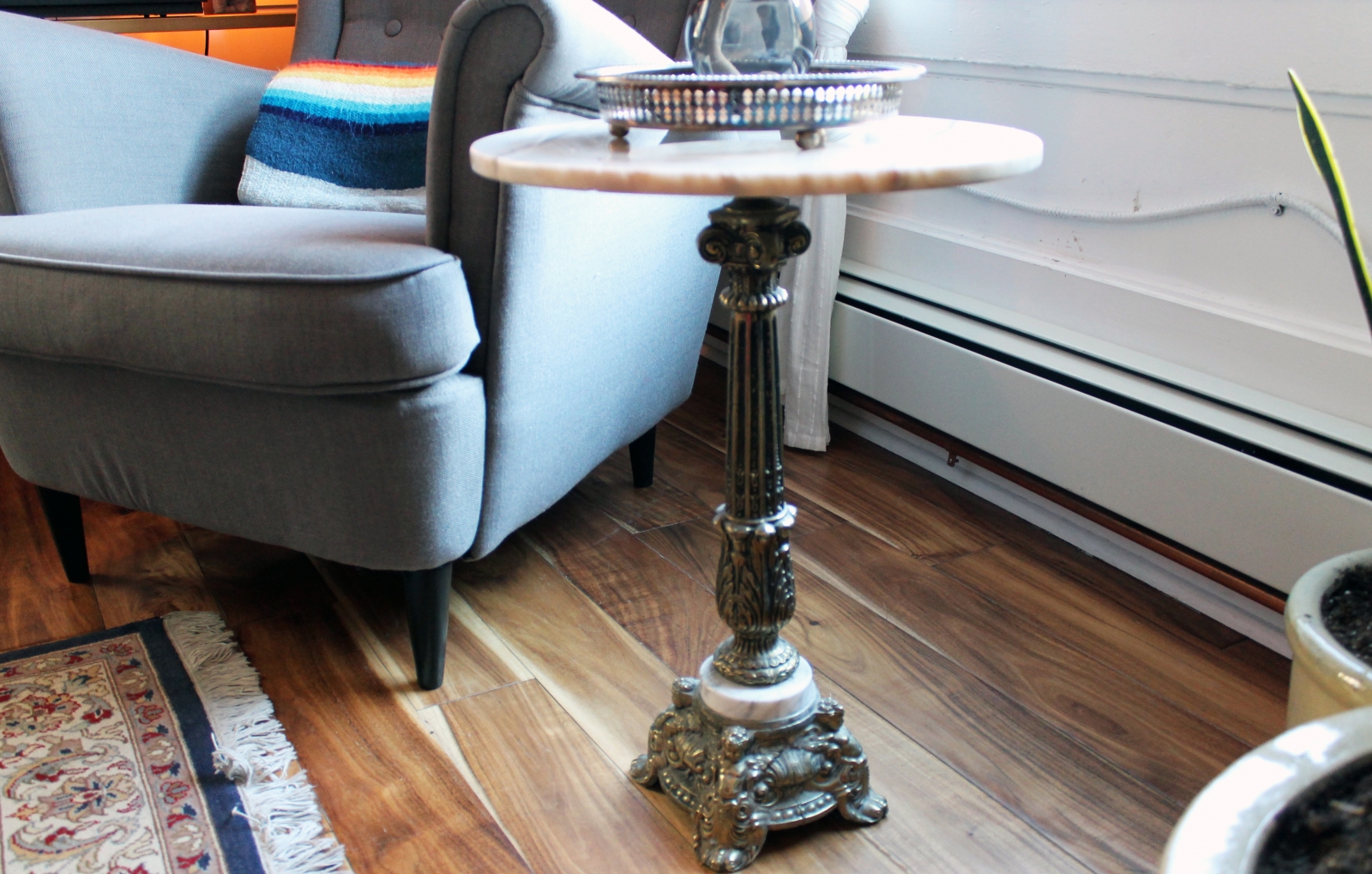 One of the couple's most treasured items, this ashtray table was unearthed in an antique shop in Inglewood a few years ago.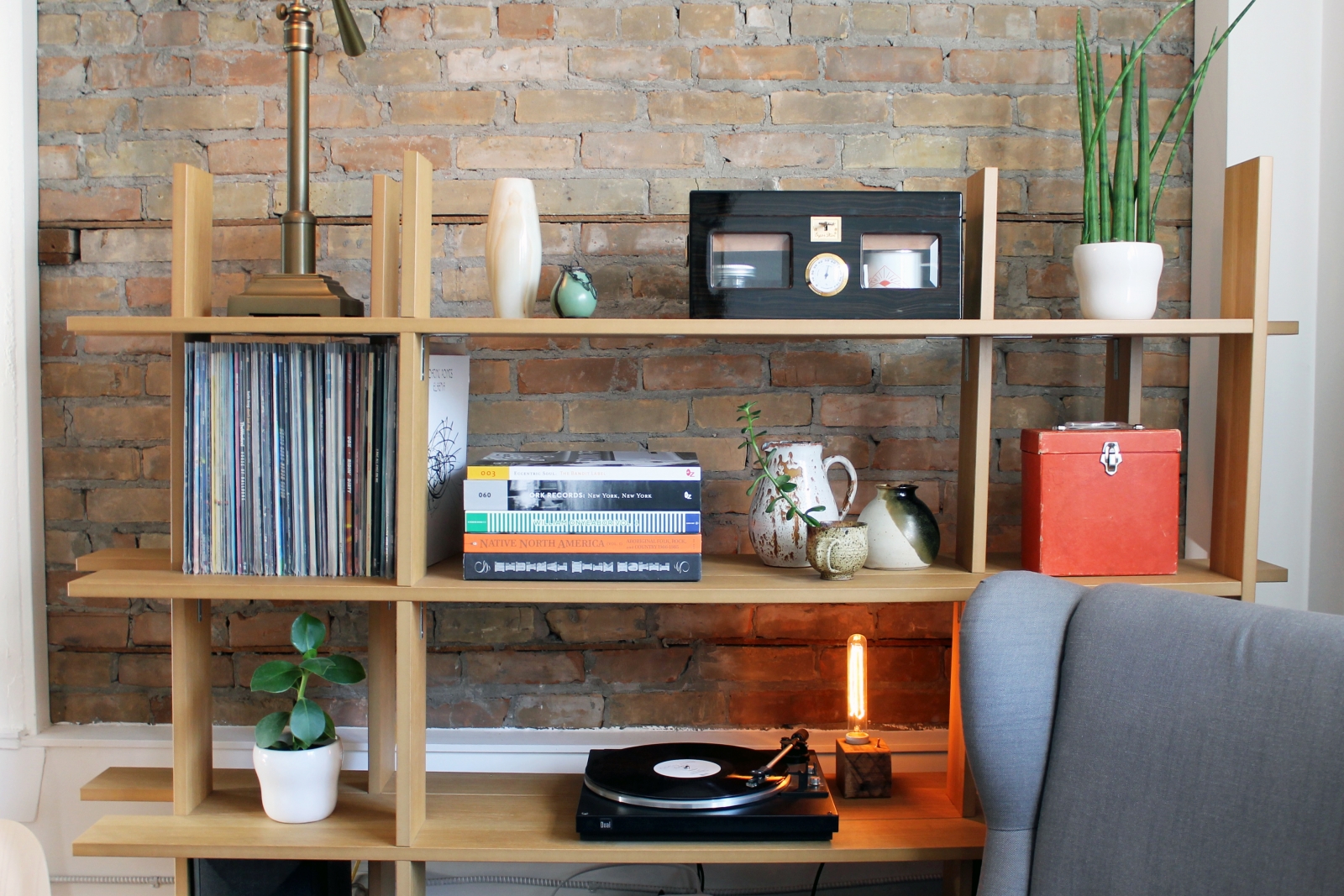 Dort can usually  be found in this chair after a day at work, listening to a variety of genres on his turntable.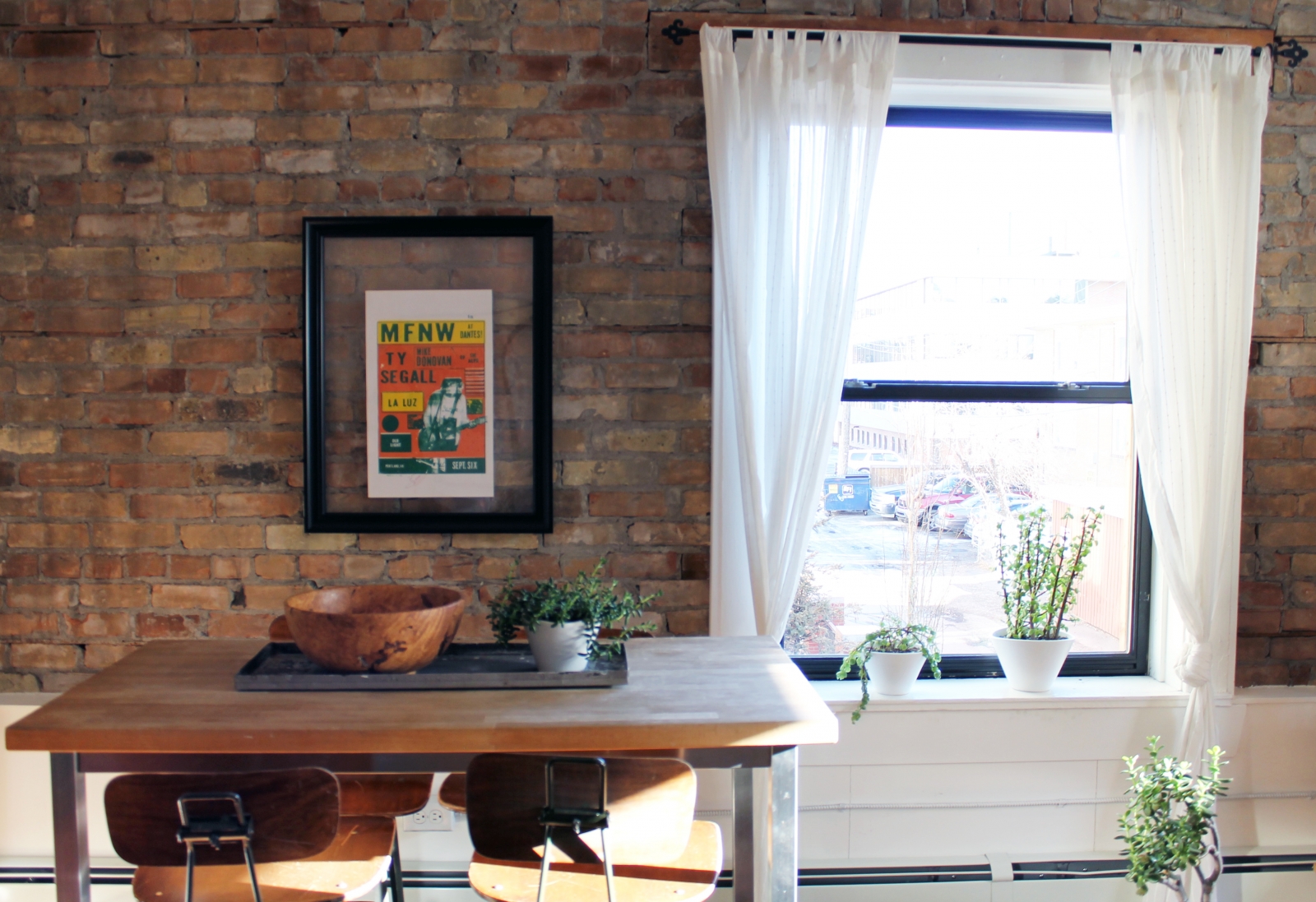 A great place to entertain friends or catch up on their reading, the dining table features chairs from inside the original Model Milk building.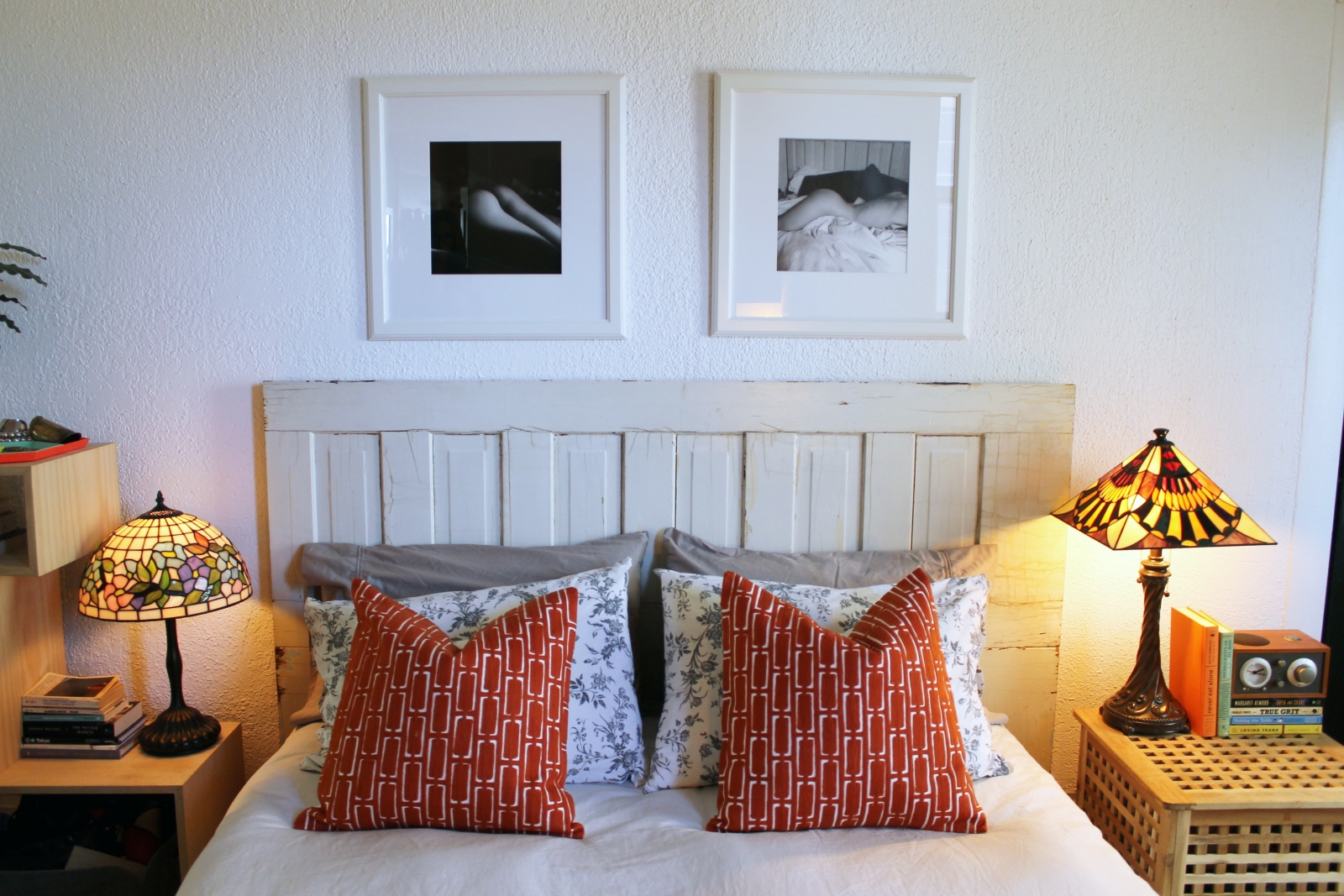 This headboard was built by Puka and her dad. They joined two vintage wooden doors together and sanded off paint to reveal the many colours of years past.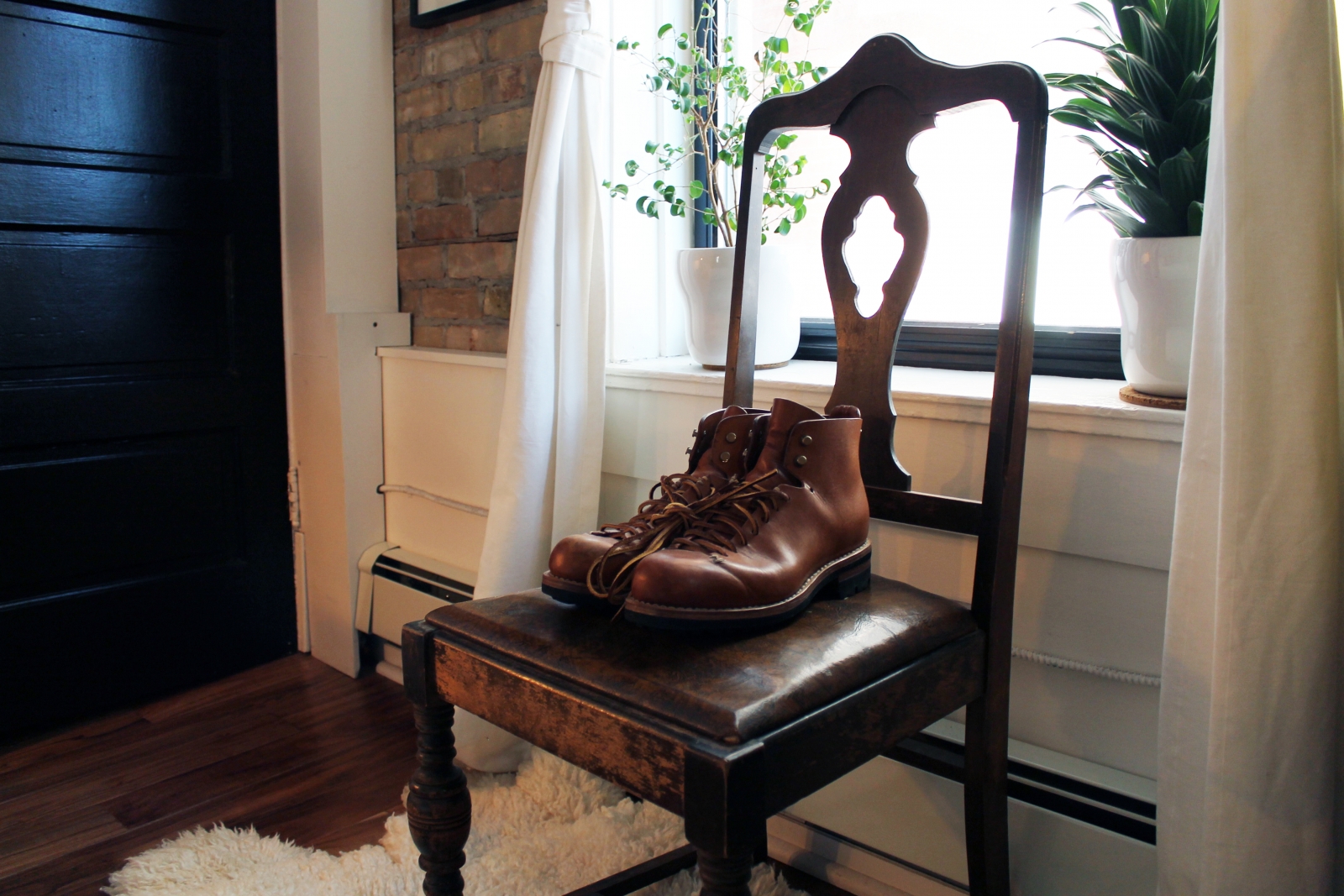 The bedroom features a variety of warm textures – everything from linen to leather to sheepskin to brick and hardwood.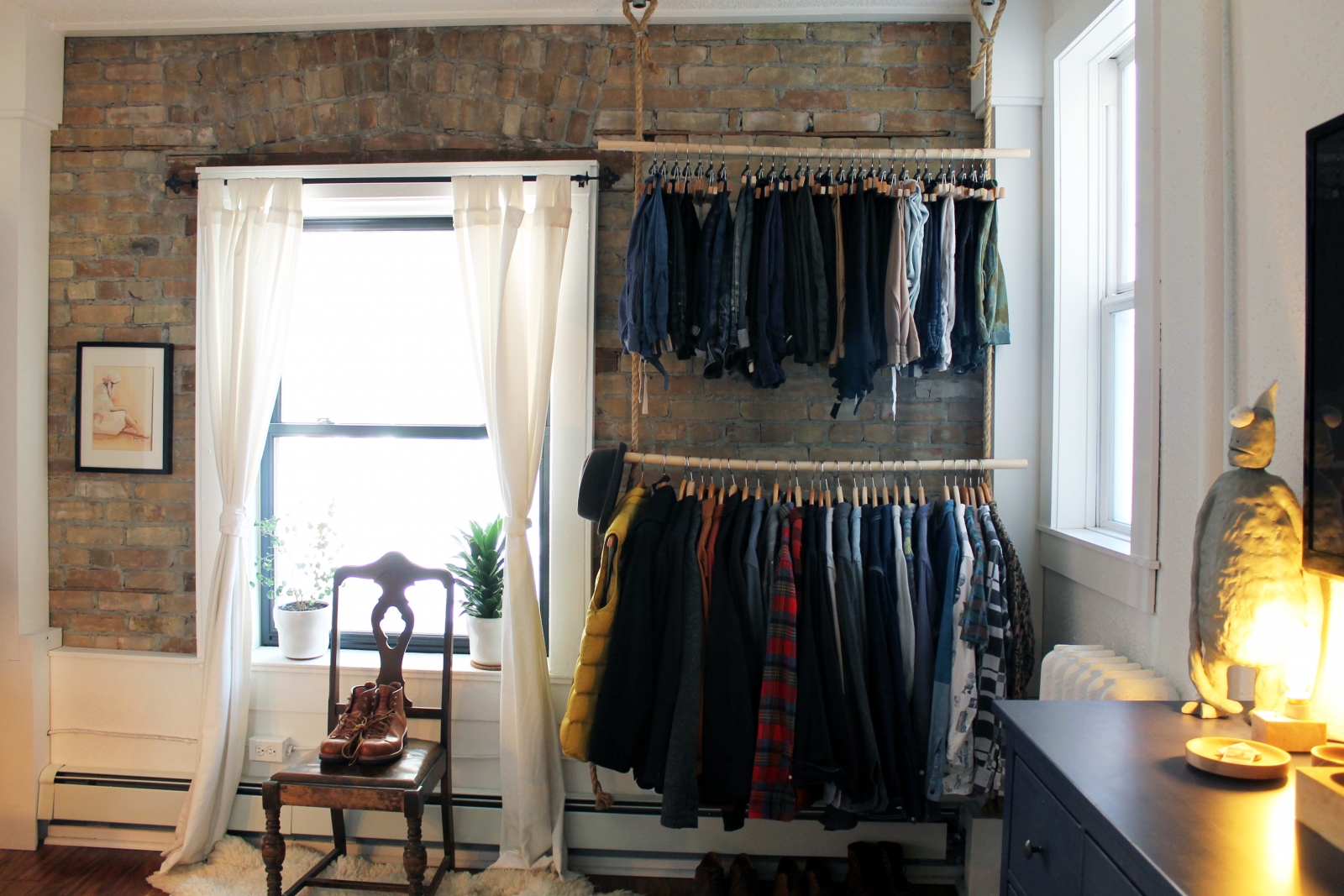 Despite having a great floor plan, the apartment is in dire need of storage. Tanya and Joe have been creative with their space like creating this "boutique-style" hanging rack for Joe's clothing.