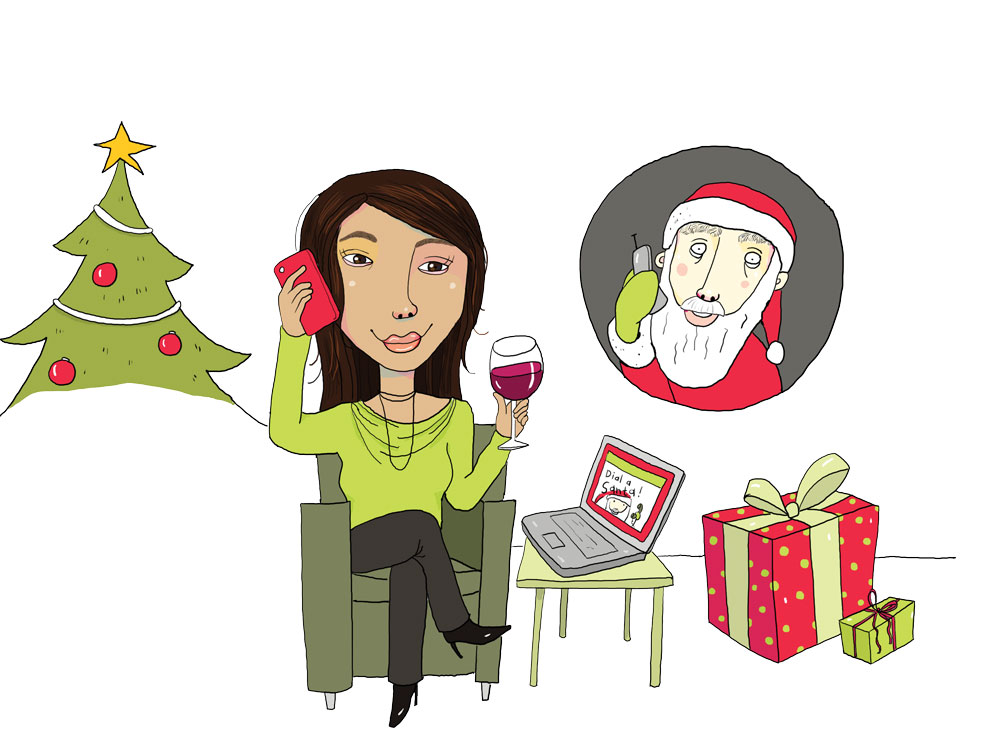 Illustrations by Monika Melnychuk
Gifts
Gifting is a skill unto itself, and one that not everybody possesses, unfortunately. For those who remain clueless about what to get family and friends, timeismoney.ca will work with you to assess what your loved ones would like, buy gifts that will please even the pickiest giftee and wrap and deliver them right to your door.
Whether you know what you'd like to buy or not, if you don't have the time to wait in holiday shopping lines, hand your shopping list over to Jan Wagner, of letmehelpyou.ca, who will do all your gift-related running around for you.
If you've got two left thumbs when it comes to gift-wrapping, bring your goodies to the pros at Creative Packaging for the proverbial and literal bow on top. Many shopping centres also operate a gift-wrapping service where fees are donated to local charities, so be sure to ask at the information kiosk.
Decor
Christmas movies tend to make decorating look like a breeze, zeroing in on the "putting a star on the tree" scene and leaving the hours of tinsel-laying, light-wiring and knick-knack-displaying on the cutting-room floor. Take a page out of the film editor's book by hiring of people at The Light Kings or Bugaboo Lights to light up your home this winter, without you having to set foot on your roof. And get your tree delivered by Porter River Christmas Trees, who will not only deliver the perfect-sized balsam tree for your home but will also take it off your hands once the holidays are done for a $50 fee.
If your home's interior decorations lack panache, contract the holiday decorating by hiring someone with a working knowledge of how homes should look, mistletoe or no, by getting an interior designer like one of the folks at Accent on Design to figure out how to deck your halls in style.
If a basic cleaning of your home is in order, cleaning services like Mad Maids or Maid Right Calgary offer by-the-hour and one-time cleaning services.
Food
If cooking isn't your thing, or you'd just rather skip the mountain of dishes that pile up every year, there are a number of services that will take care of your cooking at every level.
Looking for a takeout meal for 10 or more? Calgary's Westin hotel has takeout options for complete turnkey 13- or 20-lb. turkey dinners that come with gravy, pumpkin pie and more. River Caf also offers turkey dinners with gourmet fixings, though you roast the bird, which comes pre-brined, yourself. As a bonus, you can order boxes of cookies, squares and truffles from River Caf, too.
Want someone to prepare your whole meal and deliver it? A Splendid Affair Catering will do just that. If you're looking for regular meals rather than your holiday dinner to sate guests, take a look at the menu from Dashing Dishes, which also delivers full meals.
Can't trust anyone else in the kitchen, but are still pressed for time? For those living inside its inner-city delivery zone, Yuba will pick up your grocery shopping for you and deliver it right to your door. Some services, like Pick n Drop Delivery and Spud, will even pick up other necessities, like toilet paper or laundry detergent, if you're running low. Sunterra also offers a delivery service from its market.
Entertaining
Entertaining is supposed to be, well, entertaining. But it can be hard to enjoy your own party if you're busy worrying whether everyone else is having a good time. That's where having a great caterer comes in. Executive chef Nicole Gomes caters everything, from large cocktail parties to intimate, multi-course meals, and will work with you to create a custom menu that her team prepares in your own kitchen. She'll also help with room decor and sourcing wine and drinks and provide all the staff you need so you can be a guest at your own party.
GreatEvents also does catering for parties of all types and sizes, as well as being a party-rental company – perfect if you need extra chairs, linens, dishes and glasses. The best part is, the caterers will pick up the dirty dishes the next day so you won't even have to wash them.
Santa
If you're looking to keep the myth of Santa alive for the kids' sake and can't pull off the "bowl-full-of-jelly" physique, an appearance from the man of the hour himself is just a phone call away thanks to Calgary's Santa School, which will send over a St. Nick professionally trained in the art of Clausing.