Calgary's first Miniso store opened in Beacon Hill in May and it's a streamlined box of affordable treasures with simple designs. The Asian brand was created in 2013 by a Chinese entrepreneur and a Japanese designer and has a huge following. Miniso first came to Canada in 2017 when it opened in Vancouver. It's planning to open hundreds of stores in Canada, including 30 in Alberta very soon.
If you've been to other Miniso stores, you know they're all set up almost identically. White shelves and bright lights showoff products that include electronics accessories, beauty products, decor items, stationery and fashion accessories. It's not quite dollar store cheap, but you can easily find plenty of items for less than $20 (most less than $10). Here are a few that caught our eye.
11420 Sarcee Tr. N.W., 587-619-4244, miniso.ca
Cleansers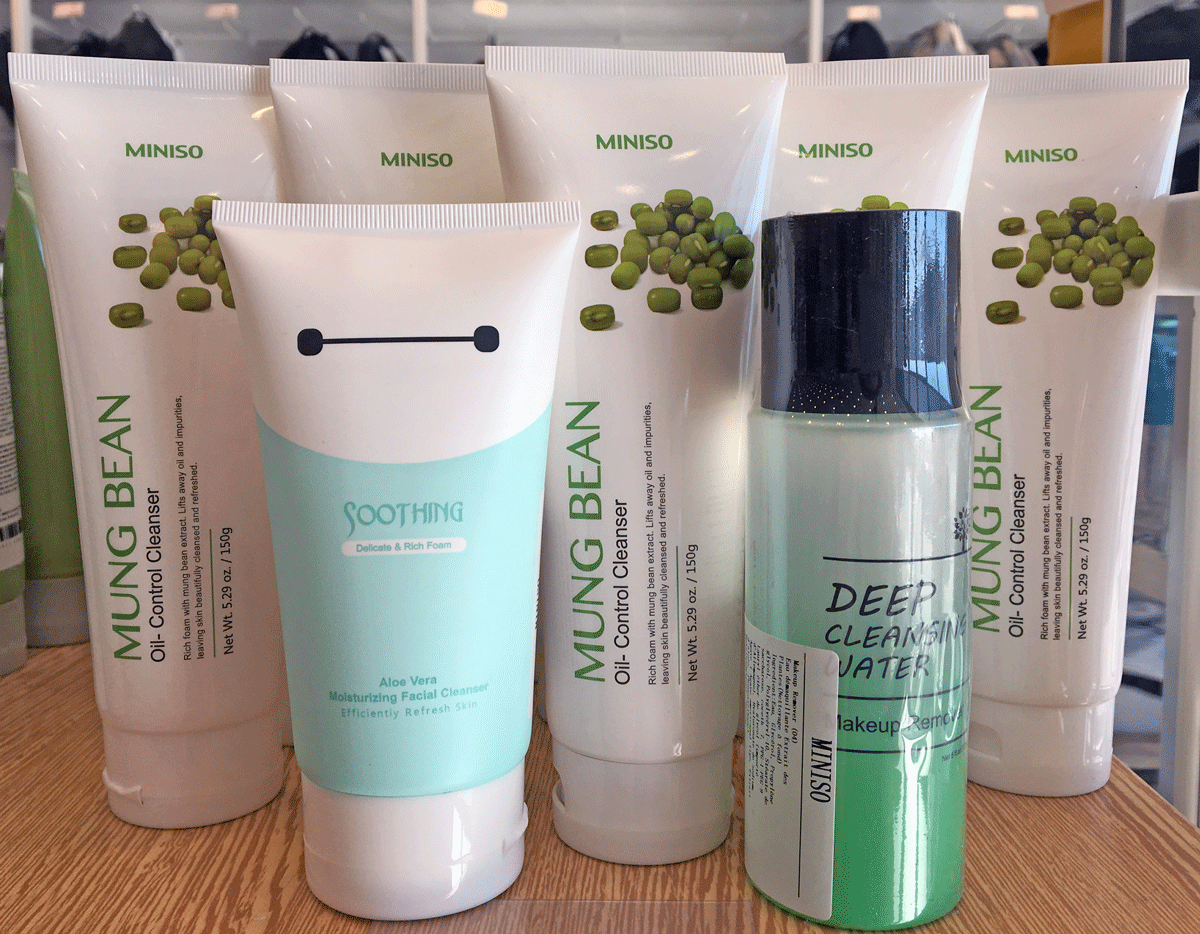 As soon as you walk in the door, you'll see Miniso's large collection of health and beauty products, which includes these cleansers. The Mung Bean cleanser ($3.99) is for oil control and the Soothing cleanser has aloe vera and is moisturizing. Both of those are foams. The Deep Cleansing Water ($3.99) is for removing your makeup.
Facial Masks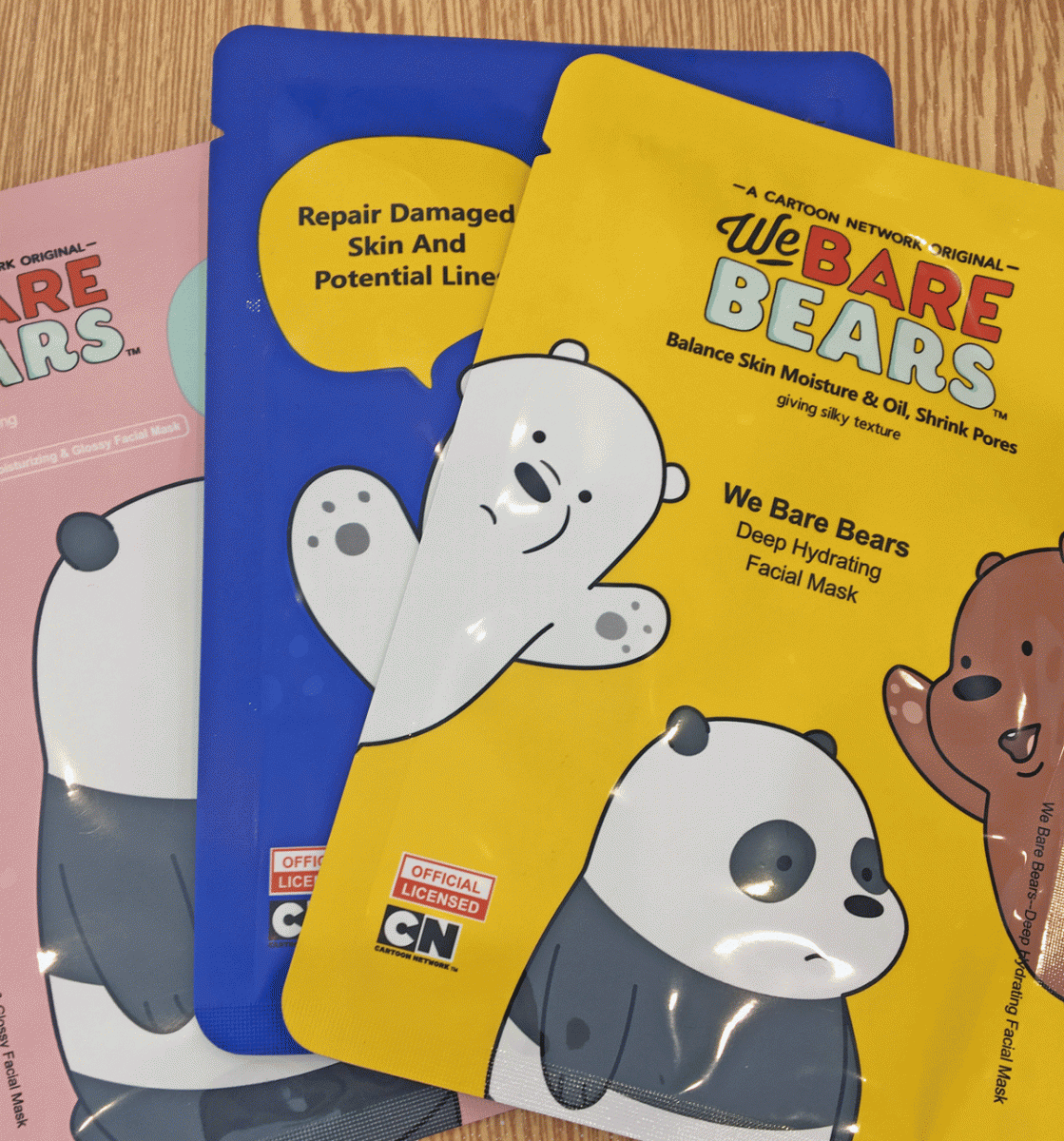 Miniso partnered with Cartoon Network's We Bare Bears to carry all sorts of merchandise featuring the three main characters: Grizzly, Panda and Ice Bear. The products include these sheet face masks. Wash your face and then apply the mask. Let it sit for 10 to 15 minutes. Rub any liquid that hasn't absorbed into your skin and your at-home facial is complete for just $2.99.
Makeup Brush Sets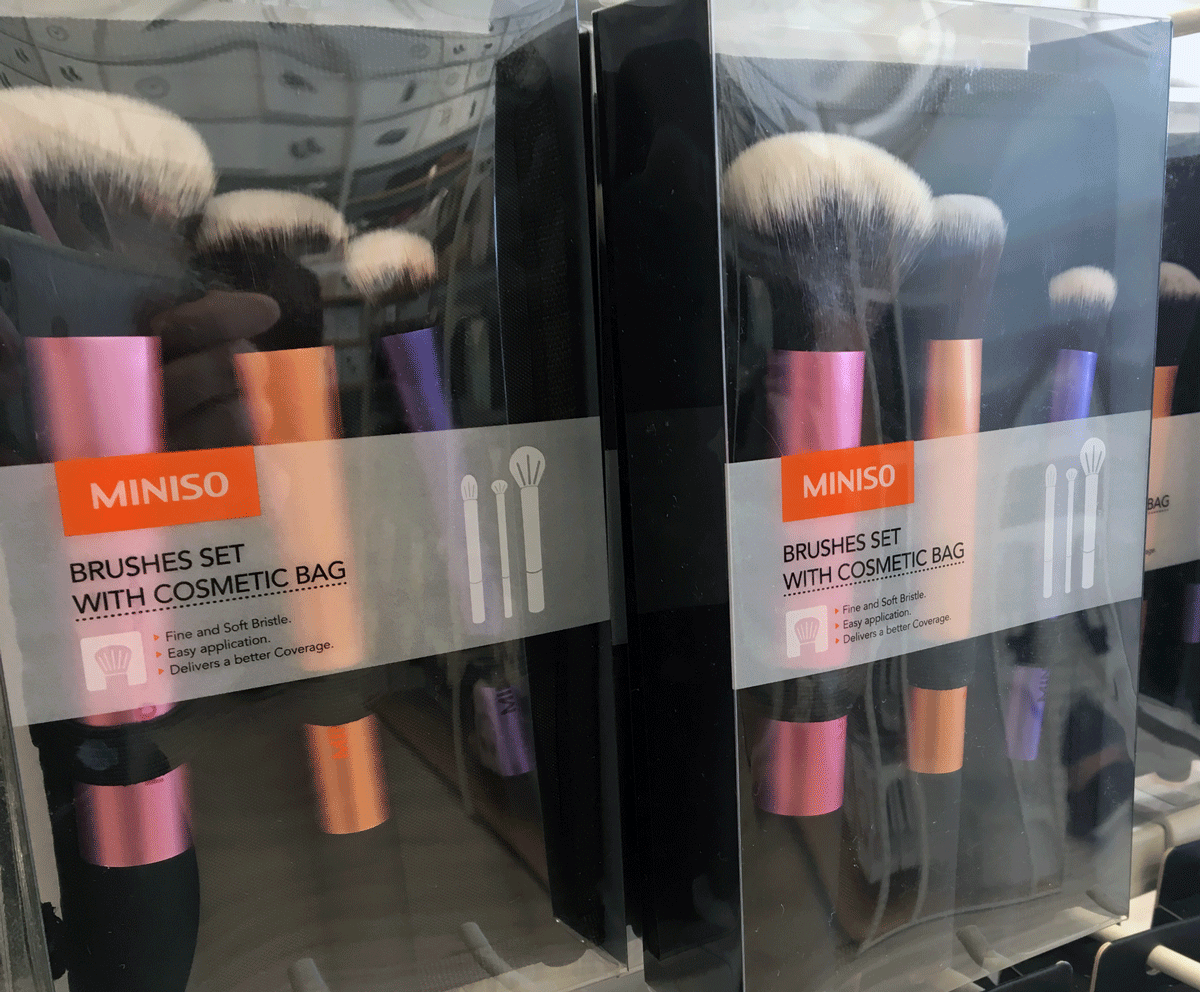 These makeup brush sets are $9.99 each and can be found among the shelves full of tweezers, foam applicators, hair clips and other items you might need to stock your cosmetics bag.
Power Banks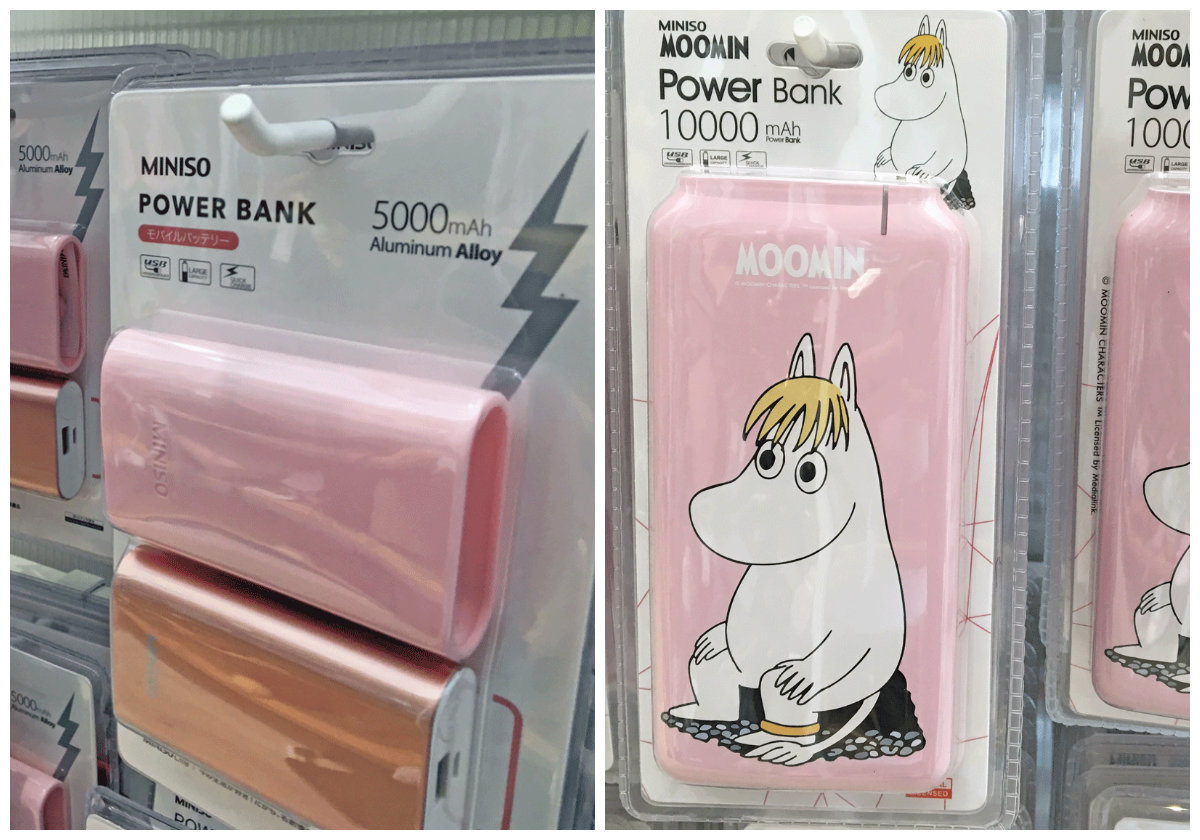 Miniso has lots of electronics accessories, including power banks that come in a variety of colours and levels of power. The 5000mAh pack on the left is $12.99. The one on the right has 10,000mAh and is slightly over our $20 budget at $24.99. It features a Moomin, which are fairytale characters created by Finnish illustrator Tove Jansson. They first appeared in Swedish books in 1945 and have since been featured in comics, television shows and movies, including a recent Japanese-Dutch collaboration.
Charging Cable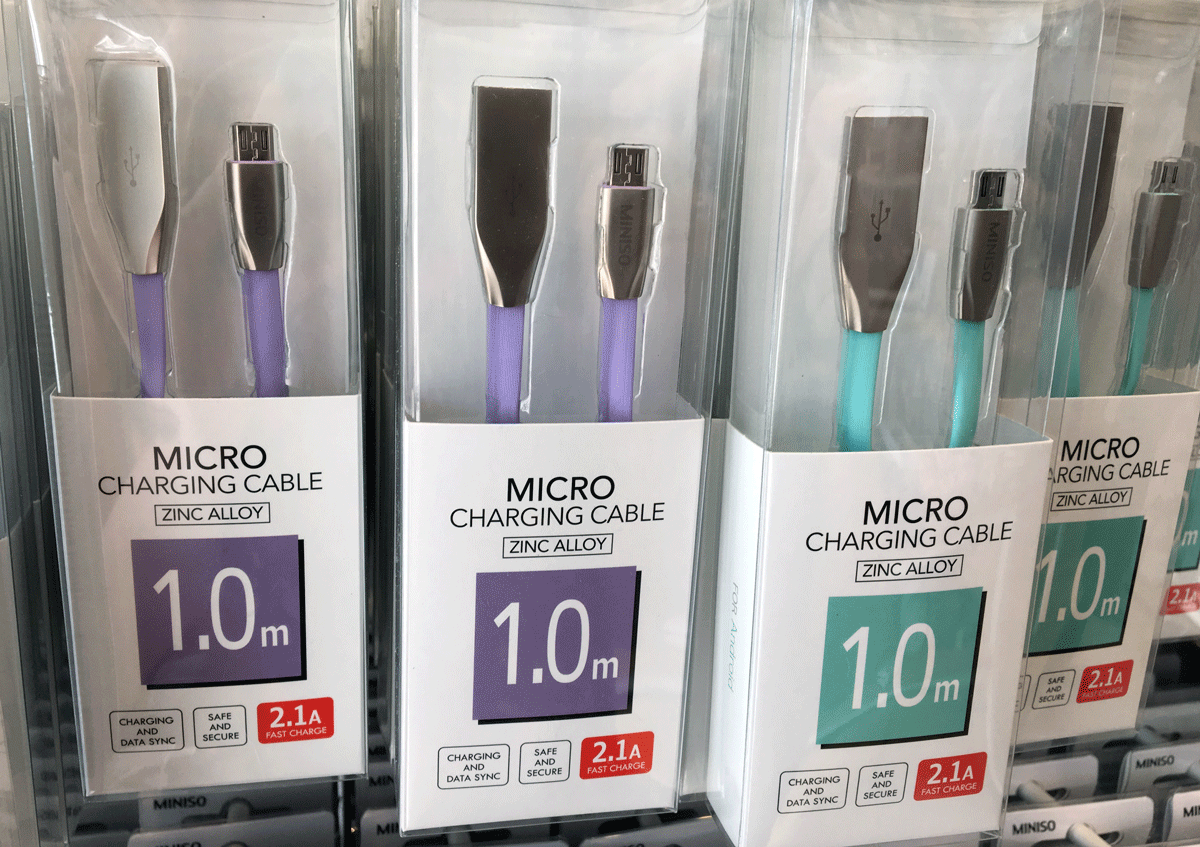 Cables, headphones, phone cases, speakers and desk lamps are all at Miniso. These charging cables are $3.99, which is inexpensive enough to get one for everywhere you might need to charge a device.
Notebooks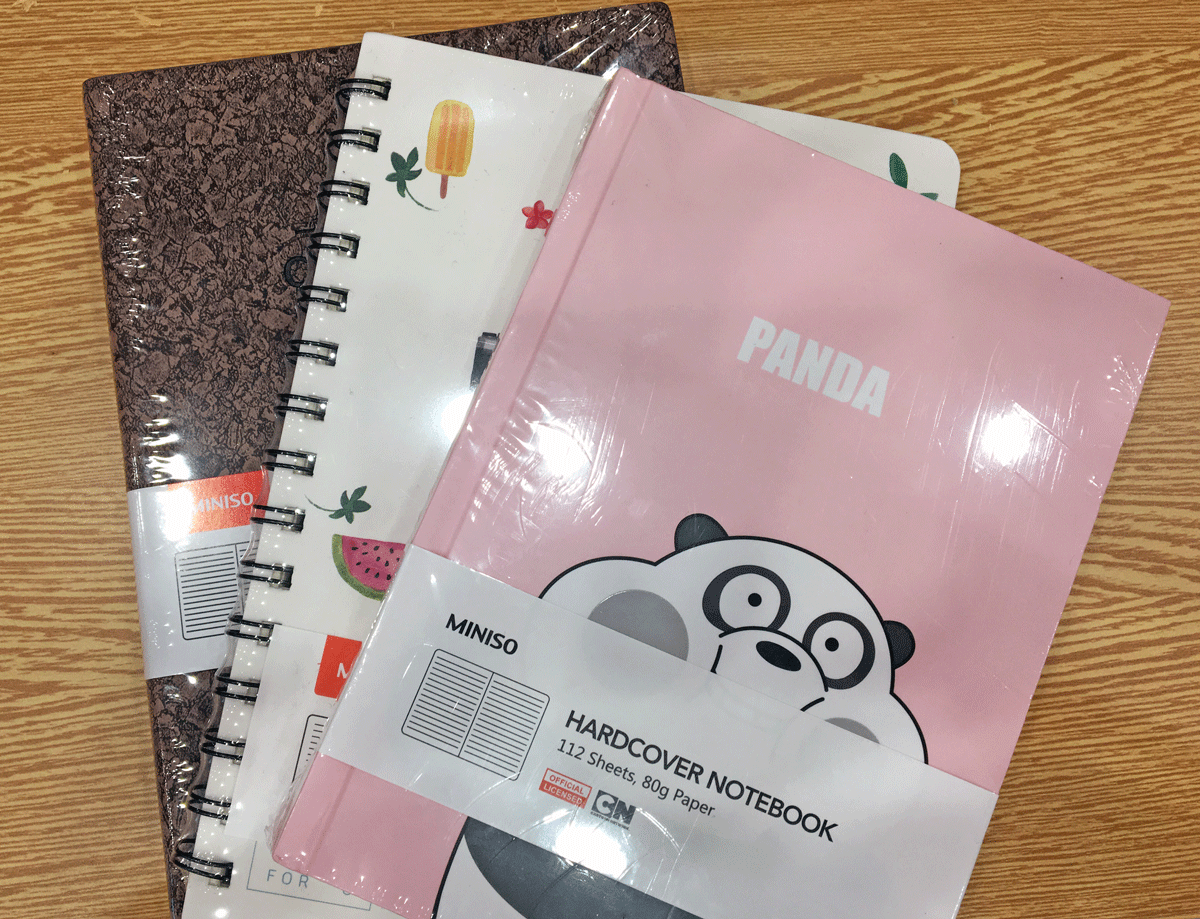 The stationery section is small but filled with pens, markers, stickers and notebooks. The notebooks are $2.99 to $3.99.
Storage Boxes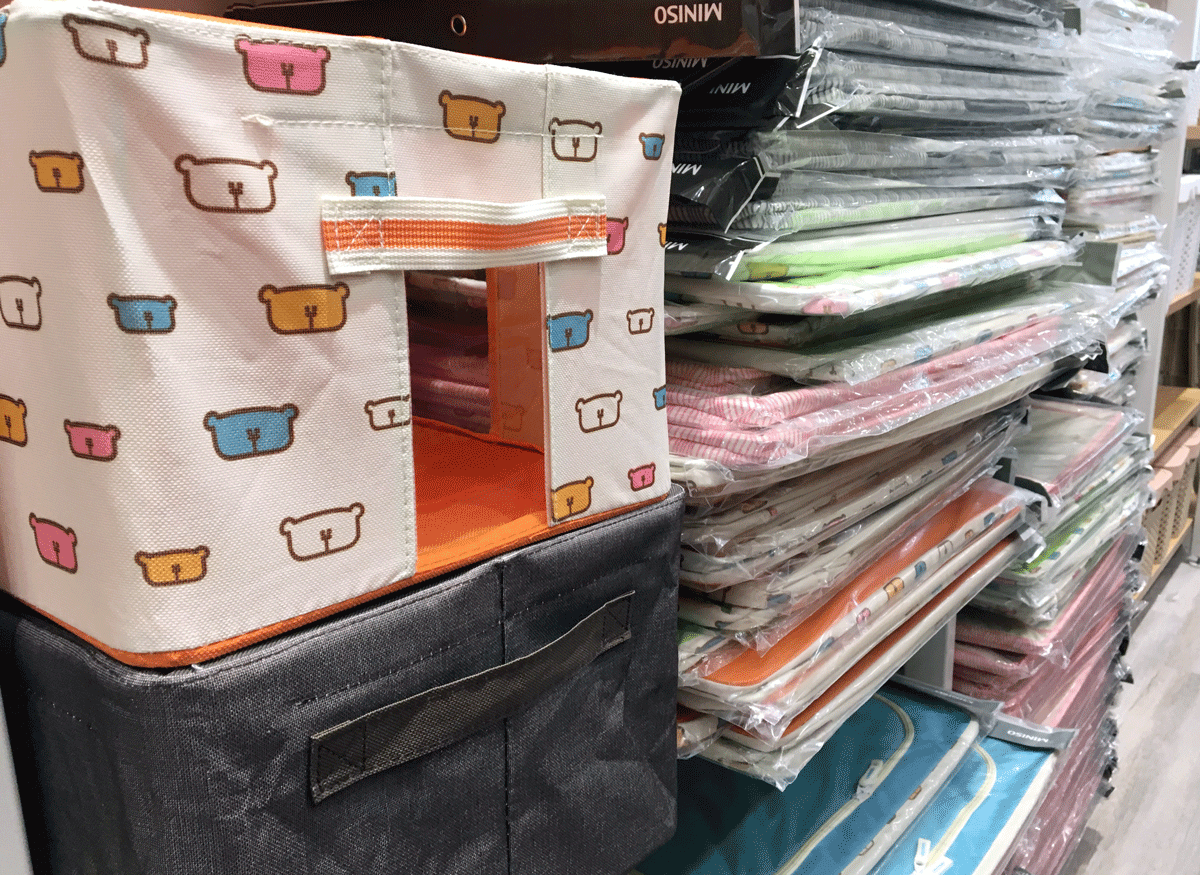 After you buy all your stuff at Miniso, you'll need somewhere to put it. There is an entire wall of storage boxes in all sorts of sizes and colours. These ones are $7.99.
Ice Pack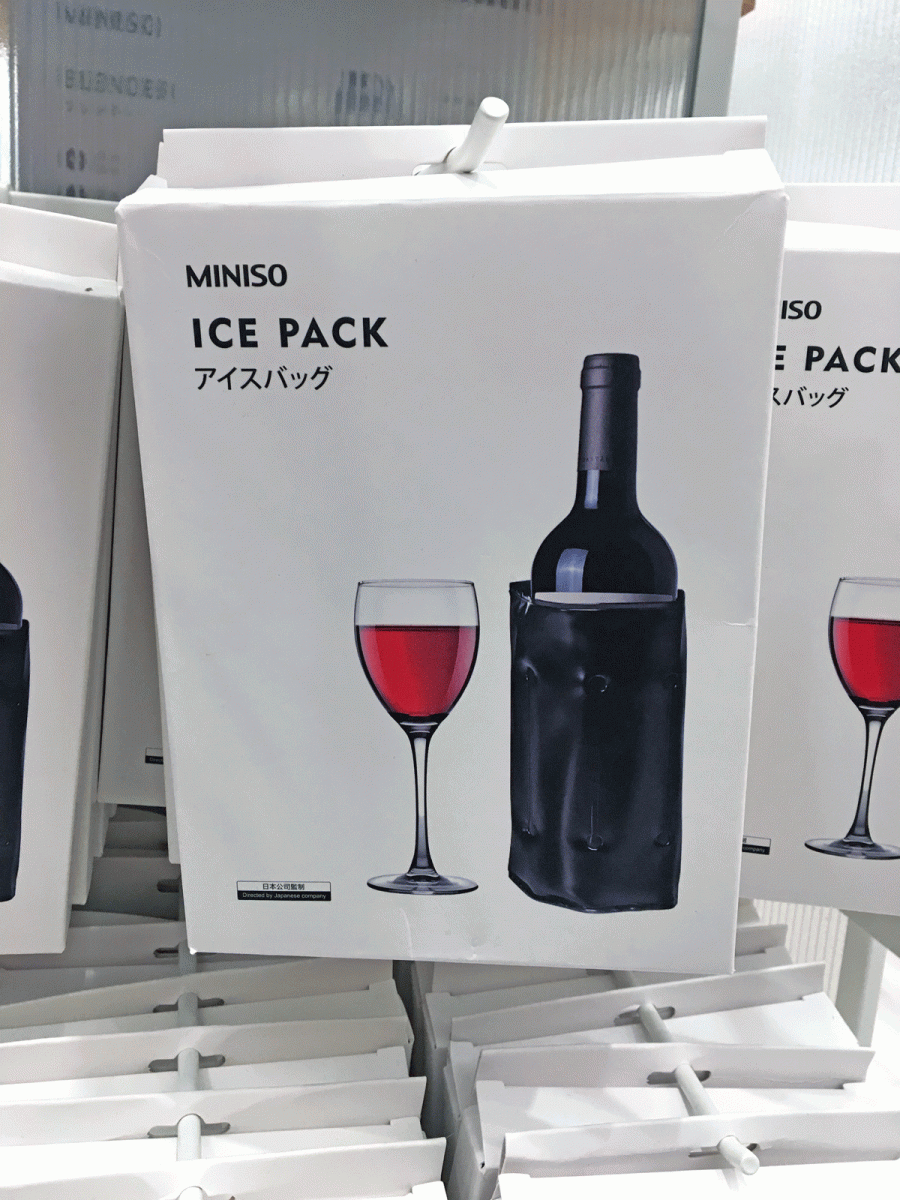 If you are bringing a bottle of wine to someone's house for a backyard barbecue, get an ice pack as a hostess gift to go along with it. It's reusable and will keep your bottle cool. It's only $7.99.
Cutlery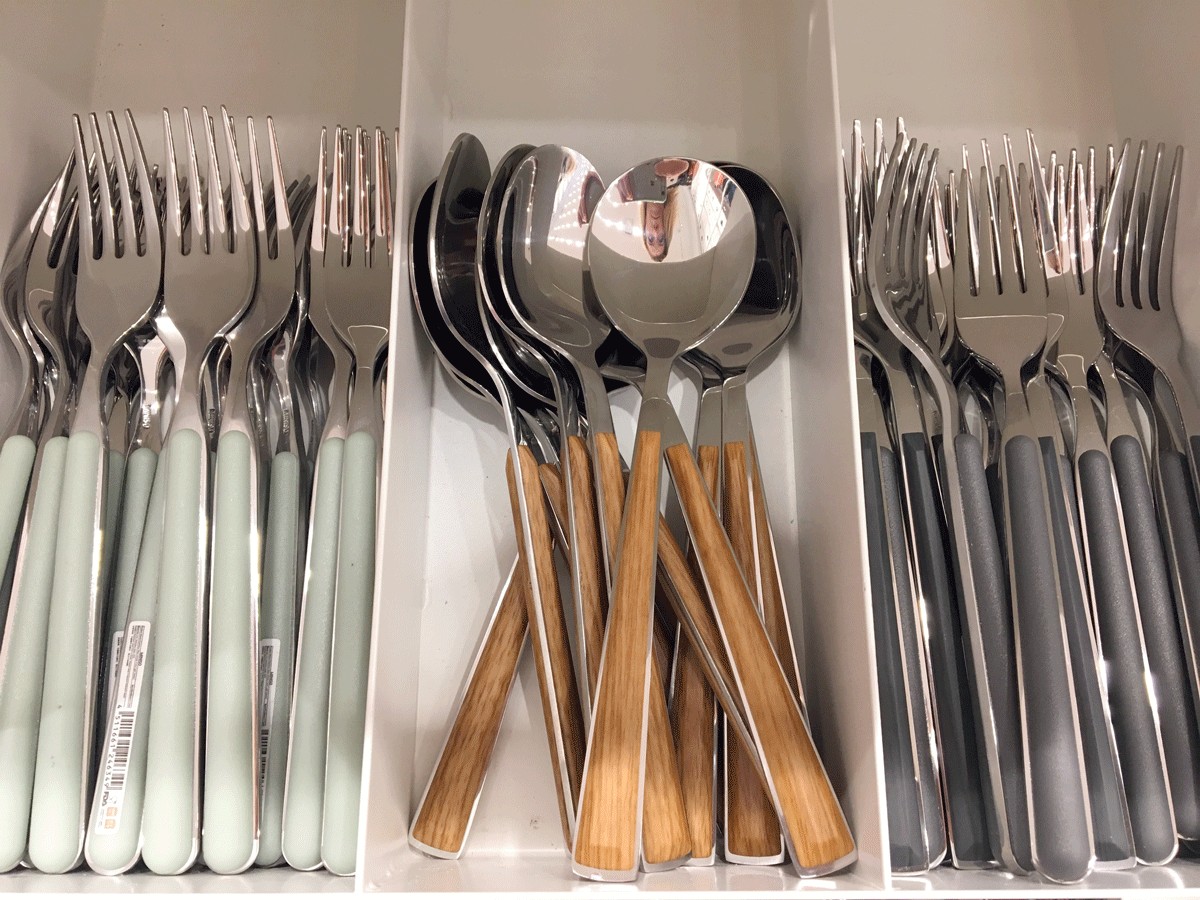 Mix and match this cutlery at two for $3.99.
Ceramic Mug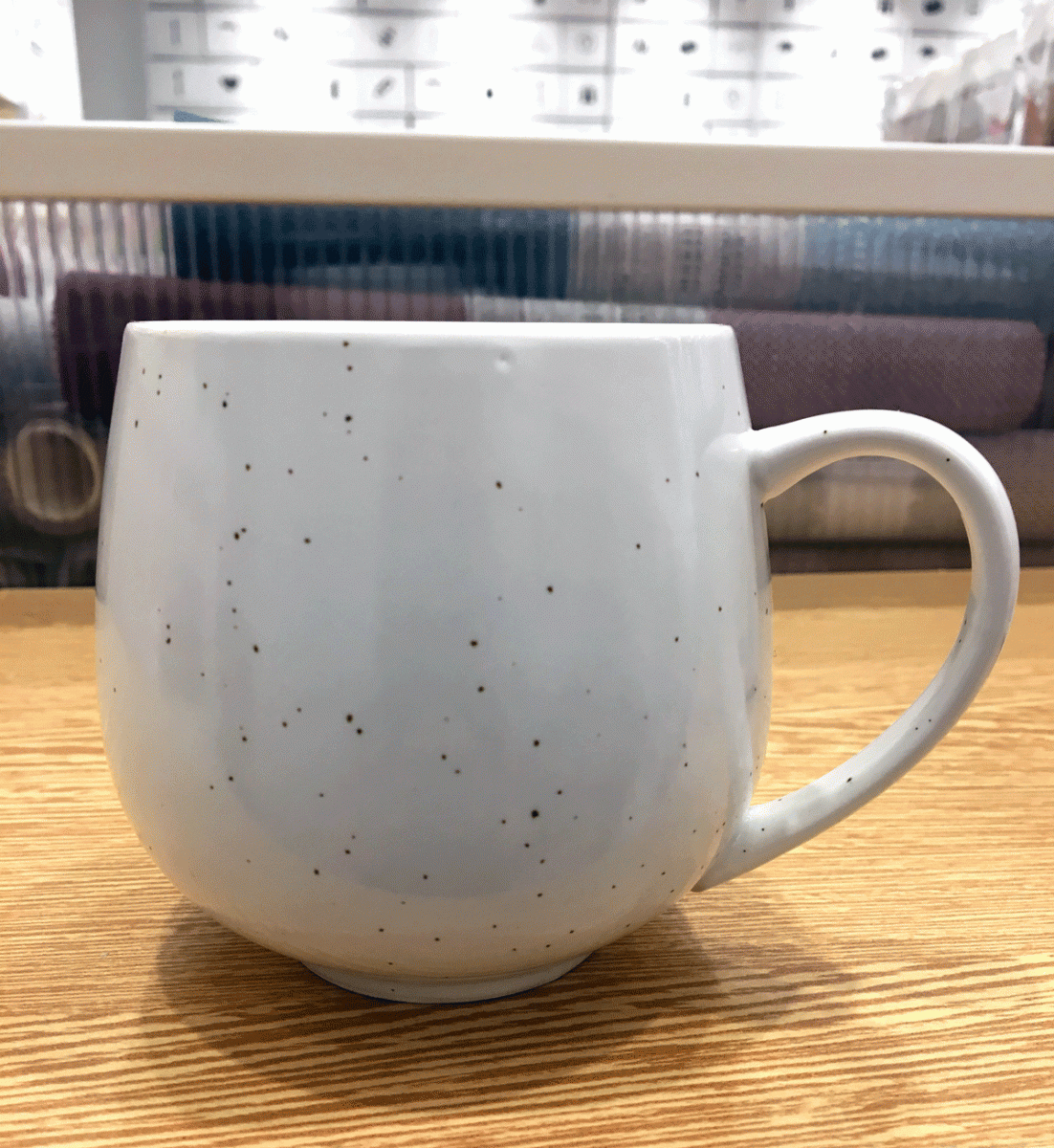 Miniso has a small selection of dishes including plates and bowls. You can also get tea infusing mugs in various patterns and colours or this simple ceramic mug for $3.99.
Water Bottle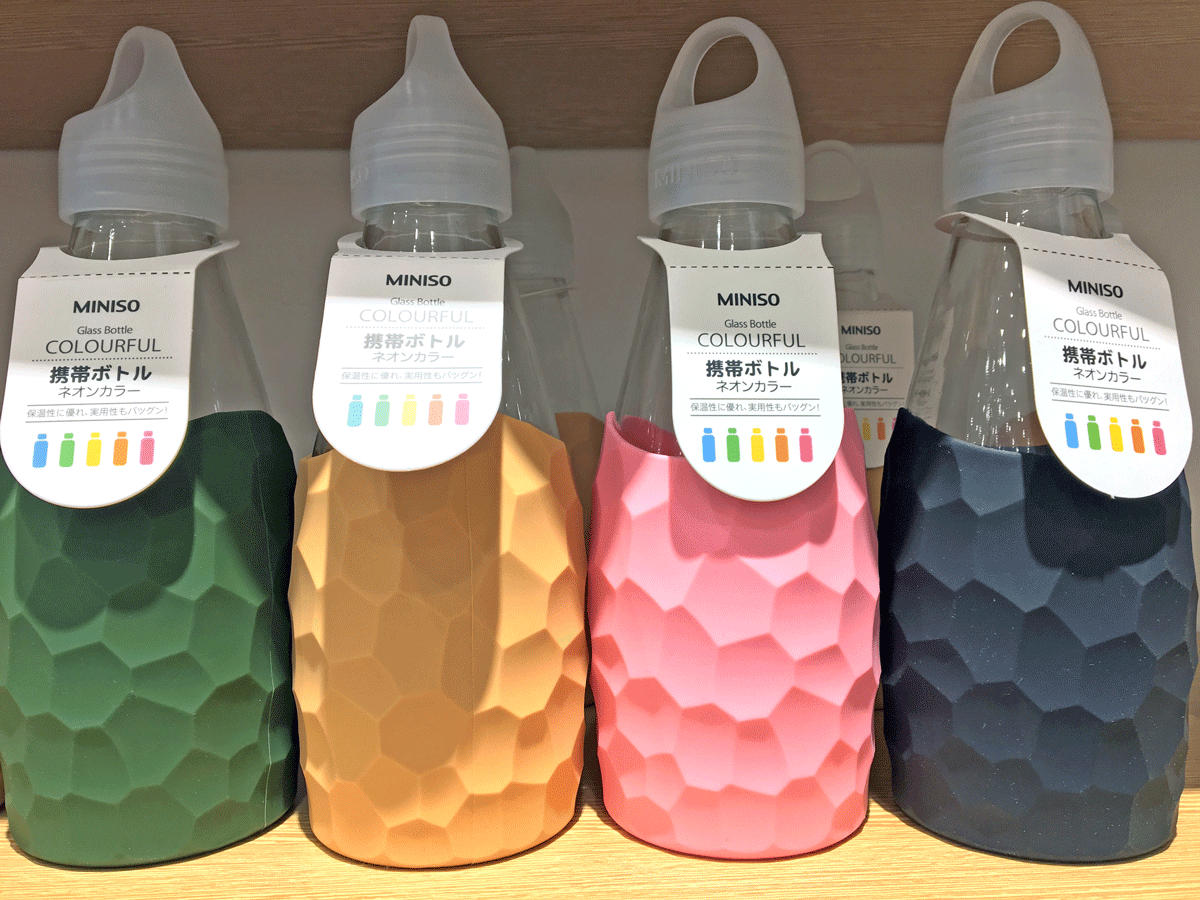 This glass bottle with textured silicon is $3.99.
Washcloths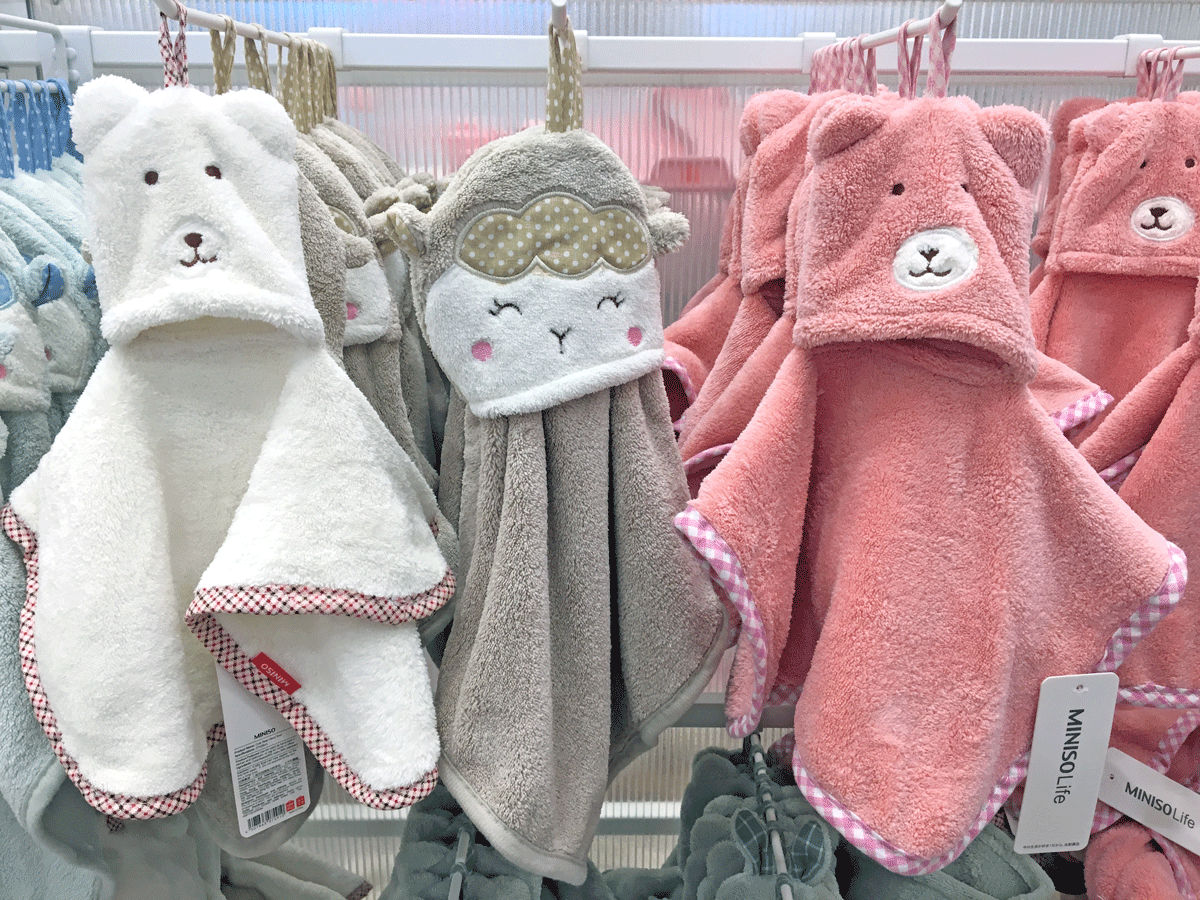 This store is a great place to go if you are looking for an inexpensive baby gift. You could easily gather a few things into a basket or add them on to another gift. The puppet washcloths are $2.99 each.
We Bare Bears Nap Pillow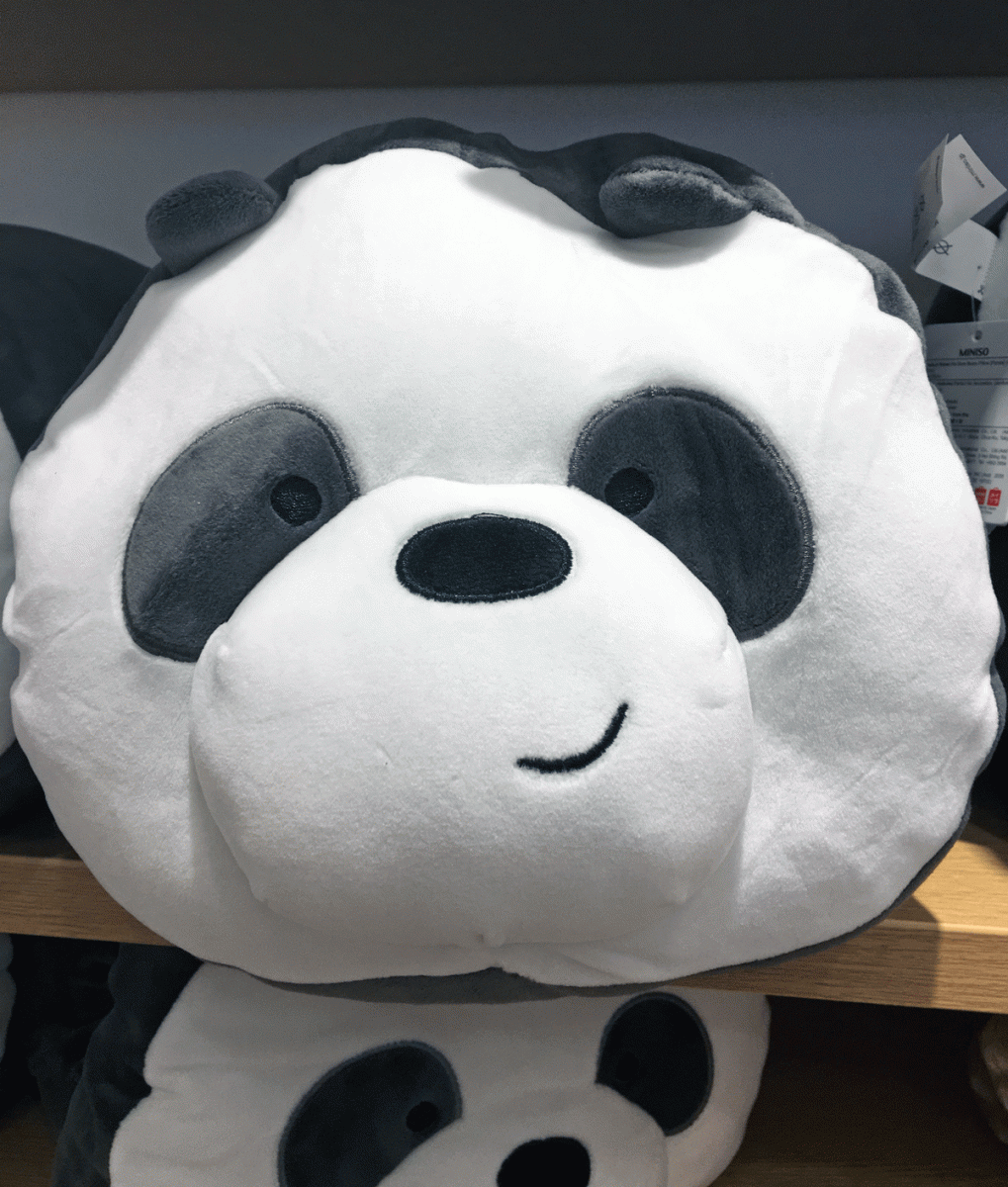 This panda pillow has a hole through the middle that you can weave your arm through when you are curling up for a nap. It is one of the We Bare Bears products.
Plushies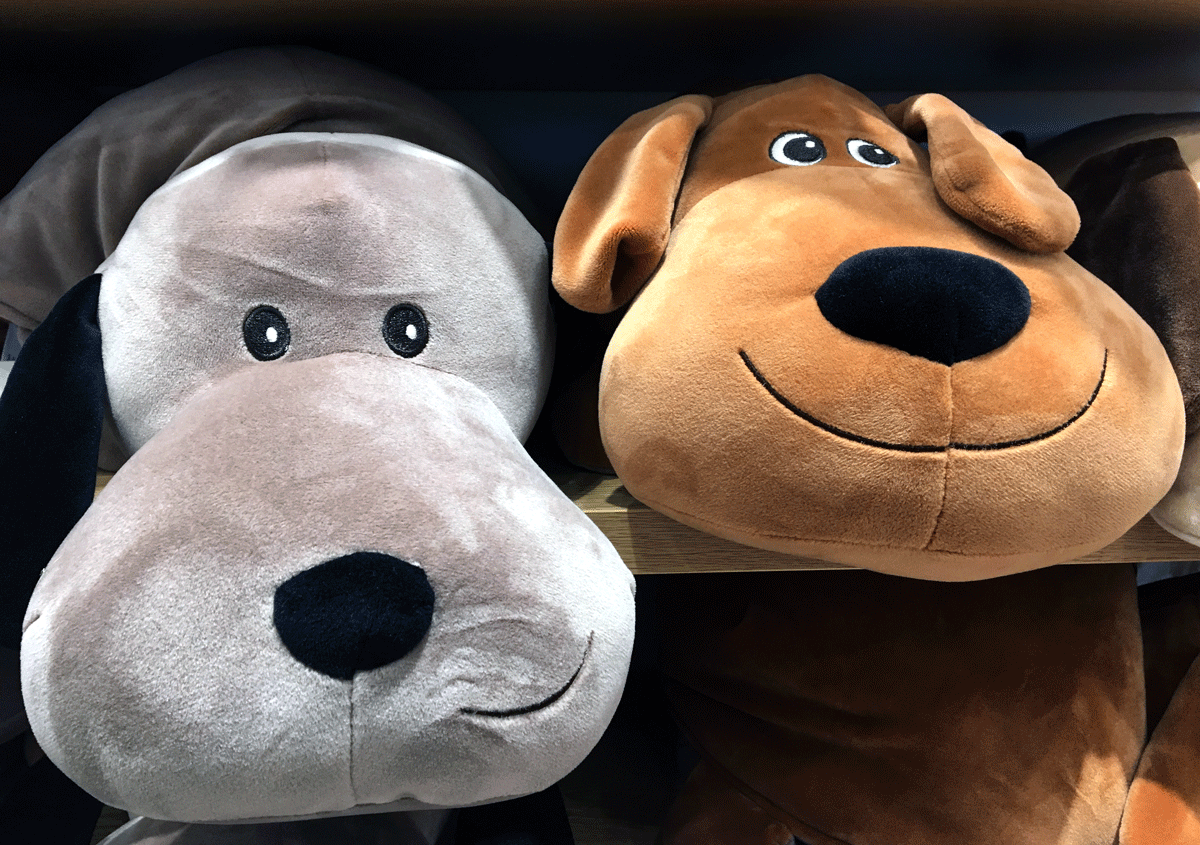 You can find a menagerie of plushies including hippos, elephants and these puppies for $12.99.
Kong Ming Lock Set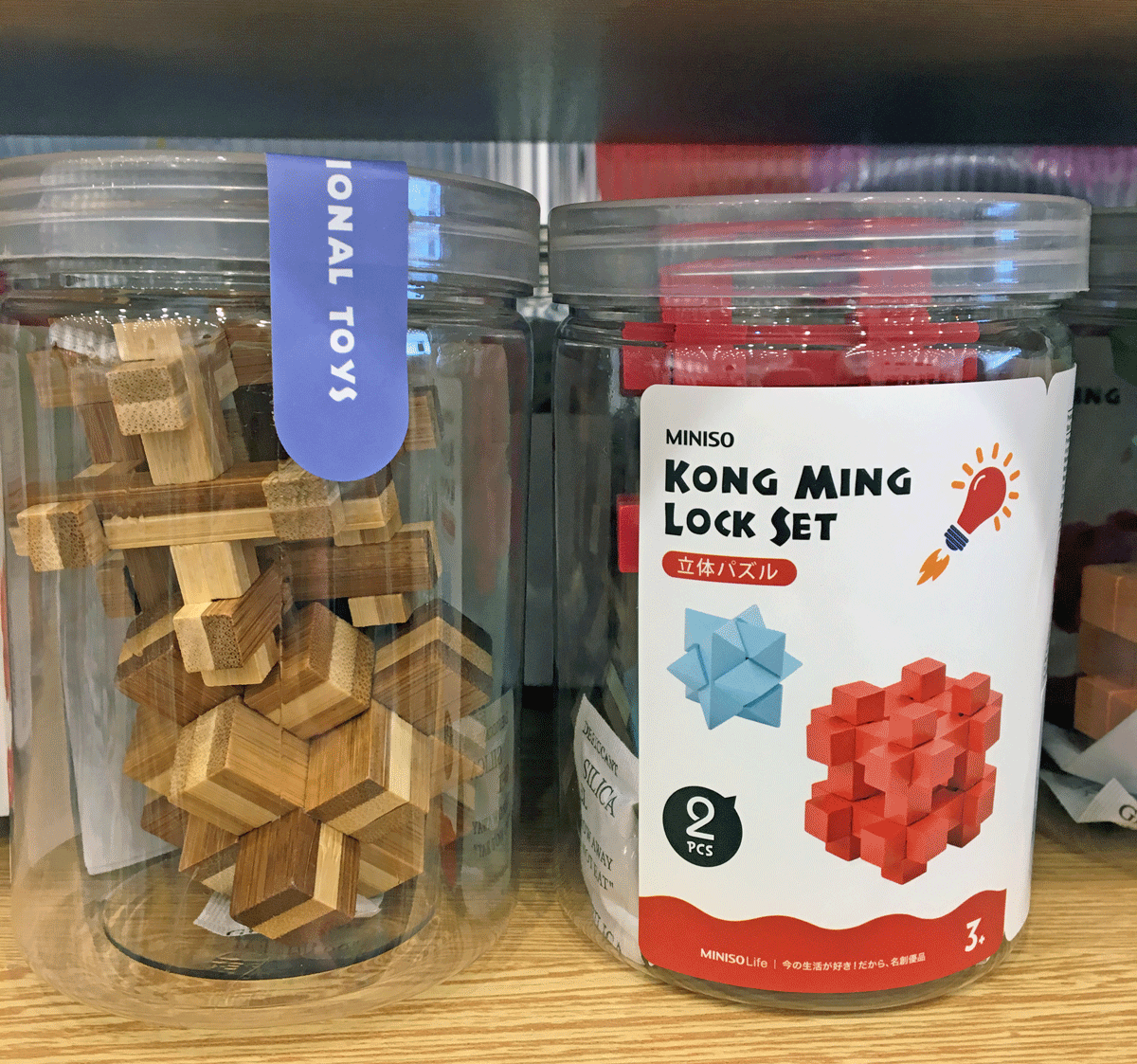 There are a few shelves of toys, including several that involve building or solving puzzles. Kong Ming lock sets are a traditional Chinese toy.
Building Blocks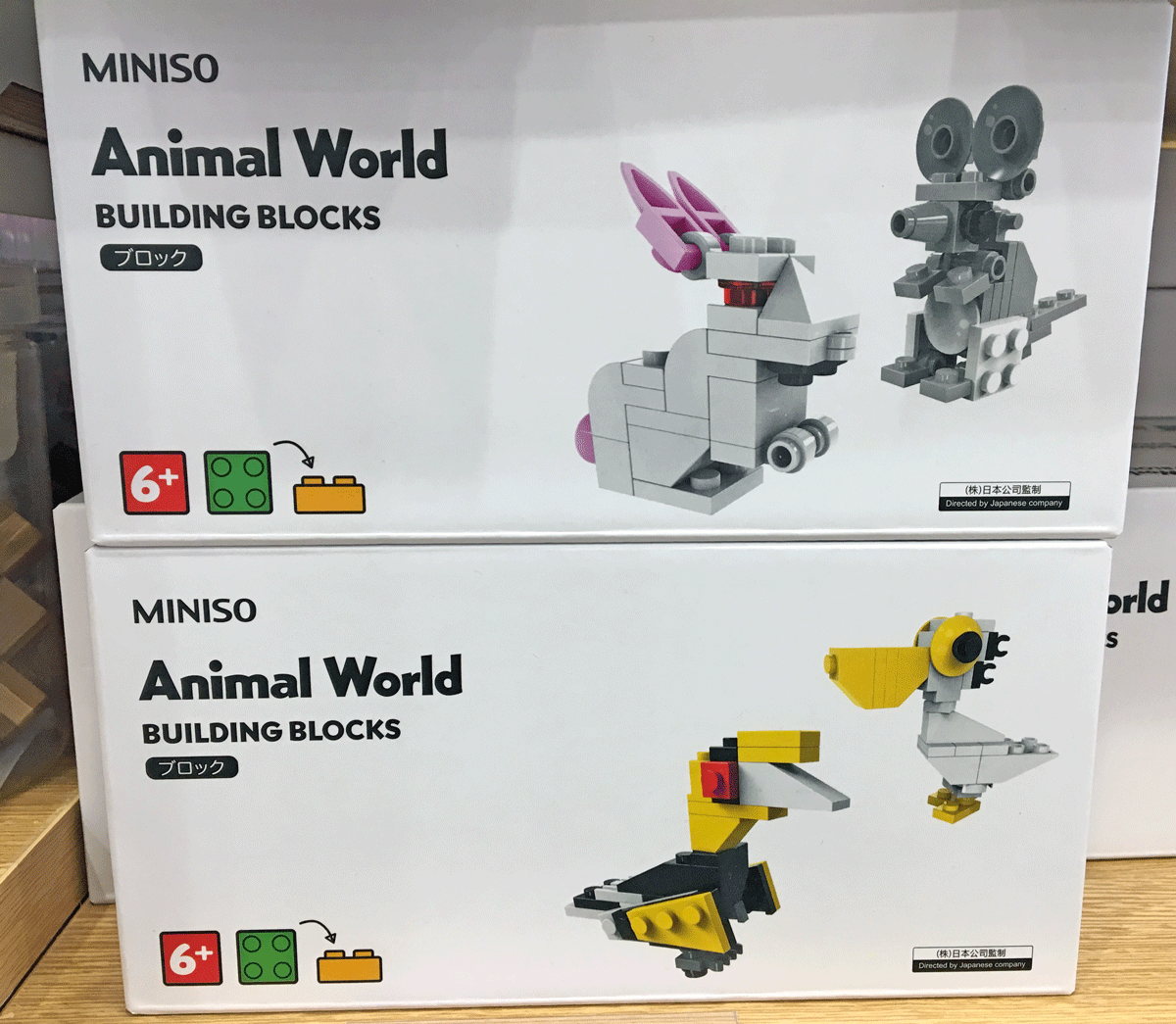 Even the building block sets are cute. These Animal World sets are $2.99. There are also robots and cars, all for less than $10.
Snacks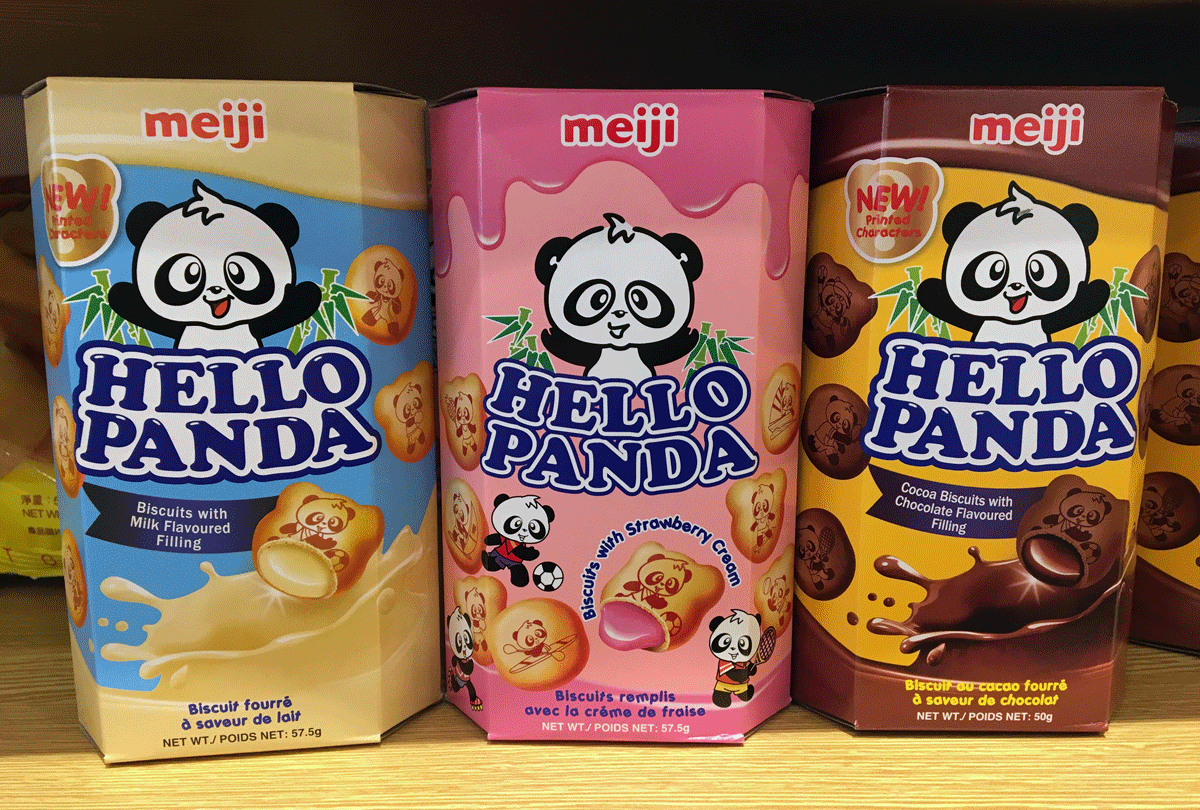 The snack shelves are stocked with treats from across Asia, including Hello Panda cookies from Japan.