Small-space living gets real
Jeff and Regan Bickell live in a three-bedroom, two-bathroom, 1,053-square-foot condo in Mission with their two young daughters. The family originally chose to downsize from their larger detached home in Midnapore to the inner-city neighbourhood of Mission after growing tired of long commutes to work, the maintenance related to owning a house and the resulting lack of time together.
After a stint in Inglewood, they're now back in Mission again. Despite having free parking at work, the couple prefers to walk, run or bike to their offices. For the Bickells, getting to work doesn't exceed 15 minutes these days – a far cry from their previous commute, which could take up to one hour each way.
With the time the family has gained and their ability to navigate Mission by walking, the Bickells can spend more time with their daughters, try the new spin studio around the corner or grab a drink on the weekend without having to worry about finding a taxi.
And, while some might call condo living a temporary or transitional situation for a family, the Bickells see it as an incredible opportunity to invest financially and live in one of the city's best neighbourhoods.
"I'm excited to see the city getting on board with small-space living," says Jeff.
---
A small-space success story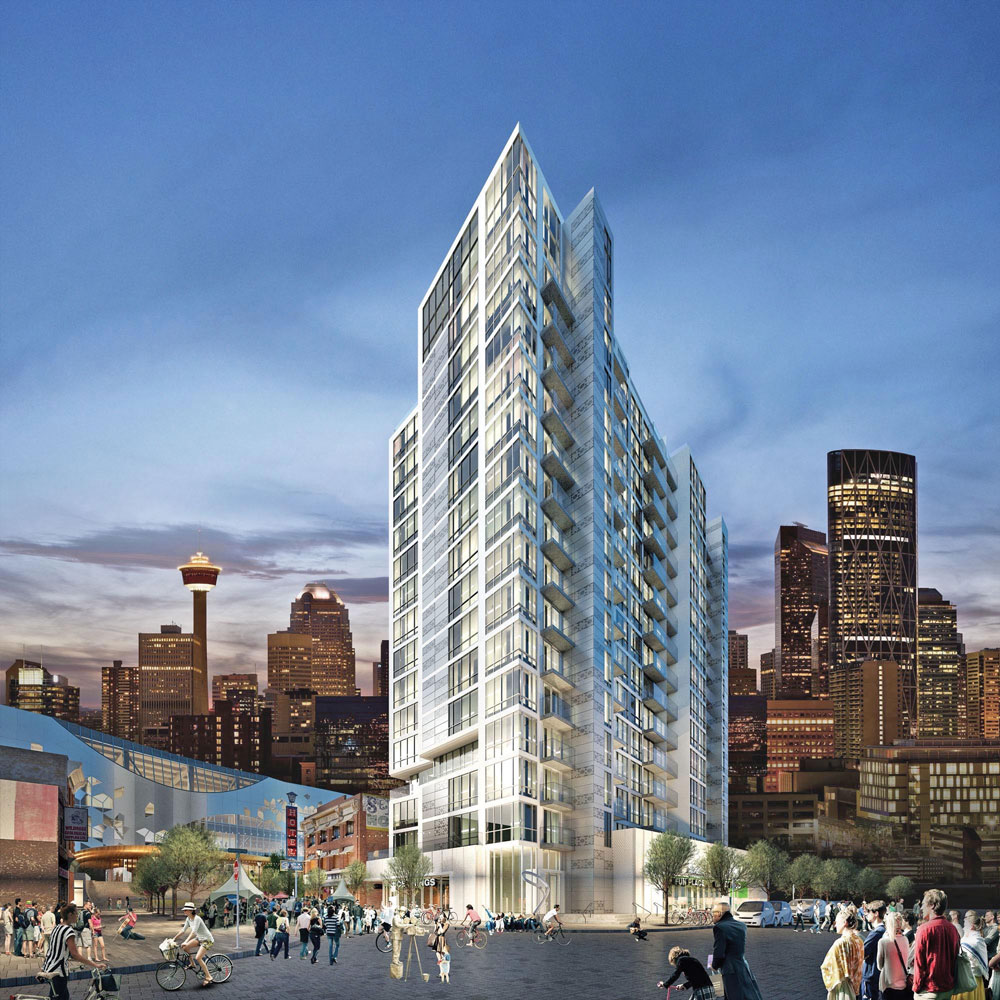 photograph courtesy of knightsbridge homes
N3 in the East Village will be a hub of urban living, with space-conscious floor plans and no titled parking stalls.
With younger generations seeking affordable housing, Joe Starkman, partner at Knightsbridge Homes, noticed a gap in the real estate market. His solution was to develop University City, four towers totalling 727 units, with several floor plan options of less than 400 square feet, starting at $159,000. The complex next door to the Brentwood Village shopping centre was a hit with homebuyers, selling out one tower in just one day.
"There is an interesting change of values and a gradual shift happening in today's housing market," says Starkman.
Another one of Starkman's developments, N3 in East Village, also illustrates this change in values. Expected to be complete in the spring of 2017, the building offers units starting at $199,000 for just under 500 square feet of living space.
Soon to be surrounded by cafs, rest-aurants and a grocery store, N3 will be in the heart of the city – a feature many small-space homeowners find essential. The elimination of titled parking spots reduces environmental impact and lowers unit prices, which are attractive qualities to buyers suited to the inner-city lifestyle.
But small-space living is not for everyone – yet. "Replicating these models in Calgary can be challenging," says Starkman. "There's a limited market where this concept could thrive."
---
Using space (and land) efficiently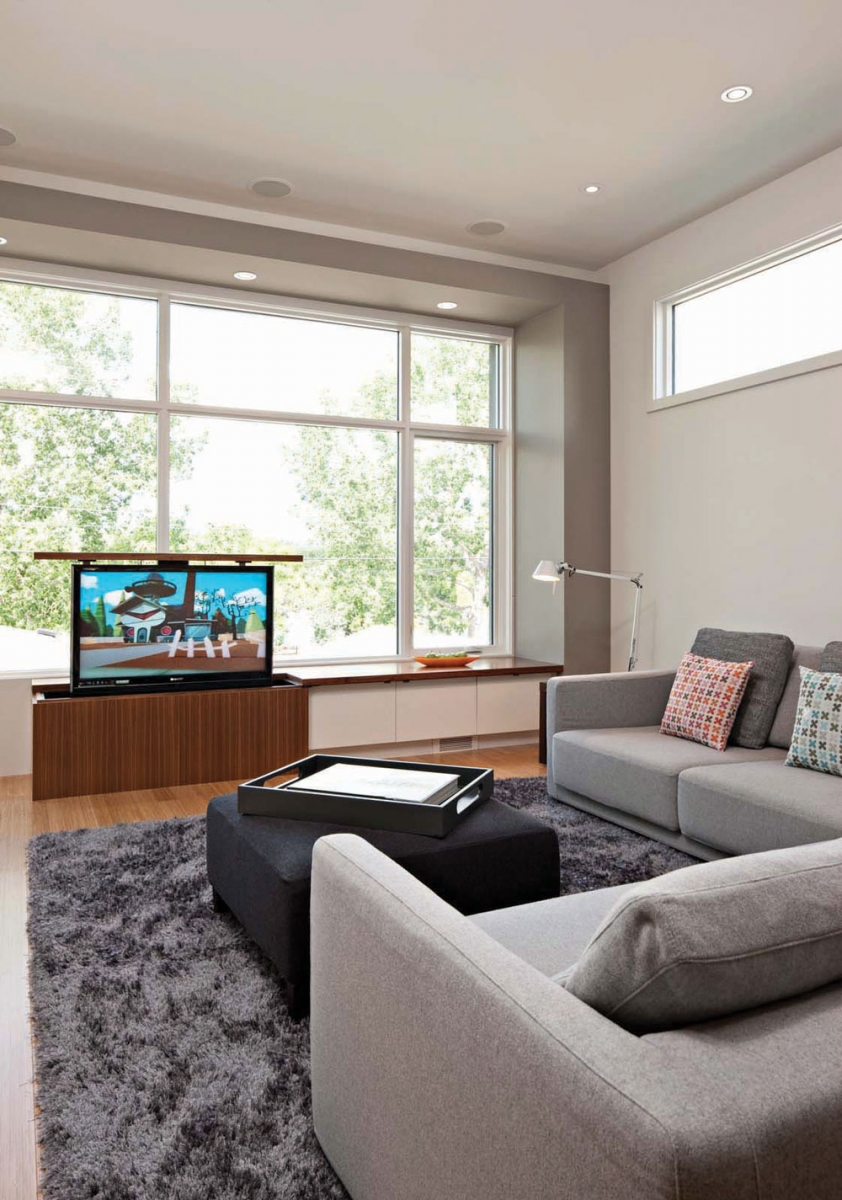 photograph courtesy of housebrand
In this Housebrand-designed space, the television cleverly stows away when not in use, giving the residents a multi-functional space for entertainment and entertaining.
With more homebuyers seeking affordable living space close to the core, John Brown, architect and founding principal of Housebrand, finds he is creating increasingly smaller single-family homes. Additionally, Brown anticipates growth in the demand for downsizing in Calgary.
When downsizing, Brown says, the size of a room should be appropriate for its intended use. "A smaller space should, where possible, be relatively open and adaptable, with each space hosting overlapping activities," he adds.
While some architects tend to solve design problems such as lack of storage or poor layout by adding more space, Brown encourages his clients to seek homes designed properly and to be disciplined with what items they keep in their living space.
Brown's philosophy has some similarity to the tiny house movement (thetinylife.com), a social movement in the United States. that encourages living simply in small spaces. However, while Brown agrees this movement is a step toward getting the public interested in the idea of living in smaller spaces, he says downsizing should always be driven by factors such as increasing urban density. If land is being wasted, he adds, ideas like the tiny house movement become counterproductive.