Favourite Room: A Modern and Airy Bathroom from Designer Stephanie Charest
This interior designer shares why this renovated master bathroom is her favourite room.
By Alana Willerton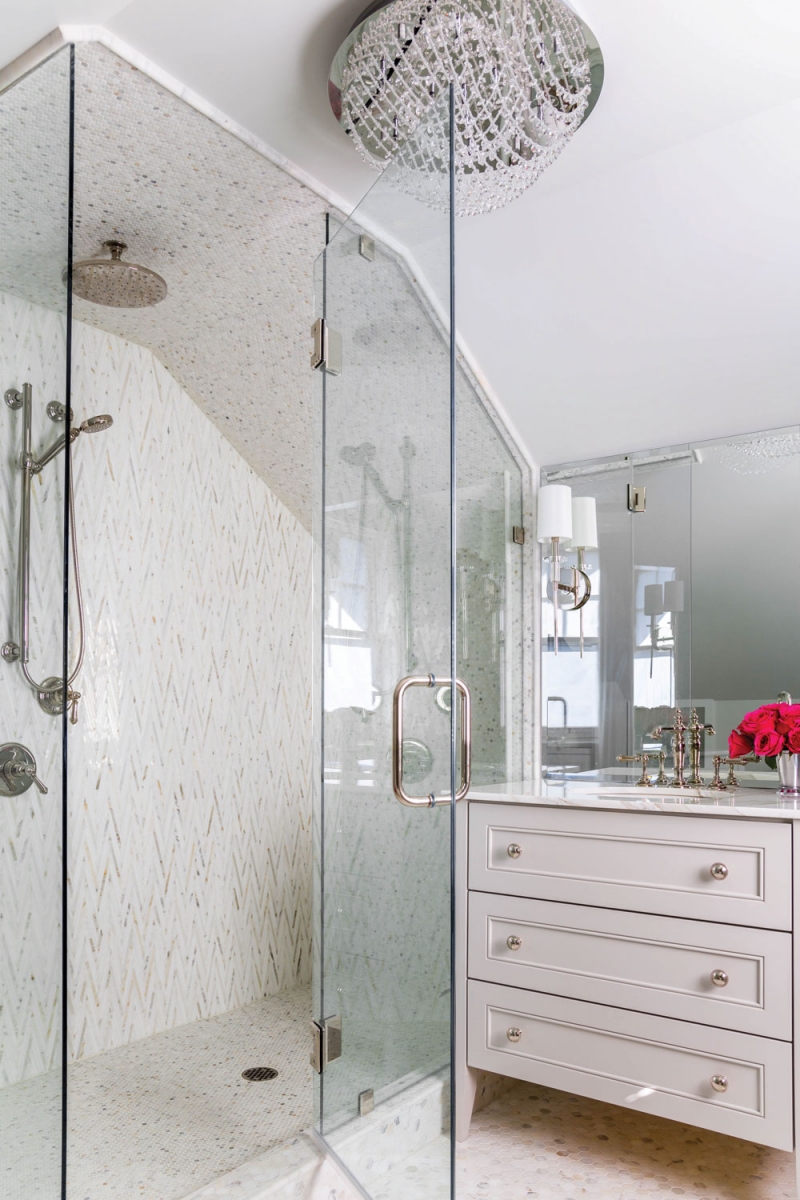 photograph by lori andrews
For interior designer Stephanie Charest, the task was simple: Turn the kitchen and master bath of a 1912 Century Home with 1980s-inspired decor into modern, airy spaces that still respected the home's heritage.
After saying goodbye to the beige bathroom carpet and paint and gutting the room, Charest's vision of a balance between modern and traditional began to appear in the details, from a trio of differently patterned tiles to the classic detailing in the custom vanity.
Increasing functionality was also a priority, as the narrowness of the shower as well as the showerhead's original location on the angled part of the ceiling meant the homeowner, Elaine Honsberger, at nearly five-foot eight, "could barely even fit in there without banging her head," Charest says. Now, the space is a comfortable, bright oasis in which to prepare for the day ahead.
Charest shares four features that she loves about this room.
The Chandelier
"We needed a light fixture that was fairly flush to the ceiling, but we still wanted something that added some sparkle and some drama in the room. Once it's lit up, it gives a lot of light, plus it's just really pretty because it gives that reflection off of the crystal."
The Tile
"I love the tile in the shower and on the floor. There are three different mosaic tiles: there's the hexagon tile on the floor, we have the penny rounds on the shower ceiling, which goes down the wall and then onto the shower floor, and the zigzag-patterned tile on the feature wall. It's always a huge treat when a client has a good budget and they're willing to spend it on something as particular as tile, because not everyone values that. It's modern, but it still looks like it makes sense in a traditional room."
Empire Kitchens & Bath, 4107 11 St. S.E., 403-252-2458, empirekitchenandbath.com
The Vanity
"I like the fact that we have the drawers versus doors, so it does look like a custom piece of furniture or an old dresser that we repurposed, which is really well-suited to a 1912 home."
Lux Woodcraft, 7003 5 St. S.E., 403-252-6768, luxwoodcraft.com
The Mirrors
"We put the light sconces at the top of the mirror just to open up that space and make it look a lot bigger instead of having a framed mirror in there."
Fixtures from The Ensuite Bath & Kitchen Showroom, 224 61 Ave. S.E., 877-689-0957; theensuitecalgary.com
Interior design by Stephanie Charest Interior Design, 403-818-2283, scinteriordesign.com