The addition at Withrow House provides an additional seating area. Here, Matthew Kennedy of Studio North takes advantage of the extra room with Jaspaa the dog.
When Mark Erickson and Matthew Kennedy discovered an old heritage home for sale in Parkdale, they found it hard to ignore its overwhelming potential. The two make up the partnership of Studio North, a Calgary-based design-build architectural practice. As they set out to purchase this craftsman-style bungalow home built in 1911, named the Withrow House after its first owner, Edwin P. Withrow, they realized it wasn't going to be an average house sale.
"We ended up being interviewed by the woman who owned the home. For us, and for our real estate agent, this was a totally new experience," says Erickson. "She was so attached to this place and all of the memories in it. I think she wanted the home to go to someone who respected the heritage behind it."
Luckily, the previous owner had the foresight to get a historic designation for the home so future generations would get to enjoy the strong bones of this property. "By getting the historic designation she actually devalued the lot, but it was obvious that, in the end, she just really wanted the right people to buy it," says Kennedy.
The renovations began in May 2014 and took a little over a year to complete. The Studio North team took their time because they wanted to do it properly. Special attention was paid to maintaining the integrity of the original design and details. Years of renovations had covered up some of the home's best features. A dropped ceiling was stripped away to show an original wood-strapped ceiling, parts of which still featured the original stained and lacquered finish.
Collaboration is key
Before Mark Erickson and Matthew Kennedy founded Studio North, they worked on several projects together while studying architecture at Dalhousie University in Halifax. During this time, they were part of the design-build team for a summer camp near Cabot Beach on Prince Edward Island.
"We had an instant creative connection," says Erickson. "Right away, we started to do a lot of collaborative work, with school work and building furniture on the side."
The two parted ways for a time after that, as Kennedy finished up school with a thesis on laneway housing, while Erickson took a
position as an intern professor teaching architectural technology in The Gambia, West Africa. But, in 2013, the two decided to move back to their hometown of Calgary to start their own company. They saw the momentum of entrepreneurship and design growing in the city and found it to be the perfect place to push creative boundaries.
Erickson and Kennedy are very hands-on with every project they take on, often doing a large portion of the labour themselves. With loads of practical experience, they're able to not only design homes, but also build them. At Withrow House, the team gutted the entire structure and built it back up. They literally "raised the roof" of the house to create a higher ceiling in the attic to create a multi-purpose office/reading room.
Studio North's DIY approach is what makes them different from a lot of other small architectural firms in the city. And, while being one half of a creative partnership can be a challenge, Erickson and Kennedy seem to have found the right balance.
"Our partnership is pretty equal across the board," says Kennedy. "Usually, what happens is that we have a bunch of ideas, we throw them all on the table and filter out the best ideas. We definitely both have restraints, however. I'm more material-oriented and Mark is very conceptual. I think those are strengths when we come together to start a project."
Peeling back layers
The Withrow House has gone through many changes over the years, from being a single-family home to being separated into several units in later years.
The home was originally built in 1911 by Edwin P. Withrow, a branch manager at the Dominion of Canada Guarantee and Accidental Insurance Co. It is one of about a dozen homes left in Parkdale from a housing boom that took place between the years of 1910 and 1913. During this time, the city of Calgary grew at a fast pace, and houses like this craftsman gem popped up across the young city.
Now, the house is returning to its former glory with an office space/den (complete with spiral staircase), and a surprise that awaited Erickson and Kennedy in the basement – during demolition they discovered a massive river-rock fireplace hiding behind layers of drywall.
"Over a hundred years there have been a lot of renovations and changes in this place," says Erickson. "Peeling it back layer by layer, we saw the '50s, '60s and '70s. We got down to the subfloor and the original flooring, and we saw where the original walls were."
Layers of paint patches gave clues to how the space had been divided through the years. Now, along with a complete restoration and renovation, Studio North will also construct a second building on the property, the Withrow Laneway House, which will give new generations a fresh take on urban design.
---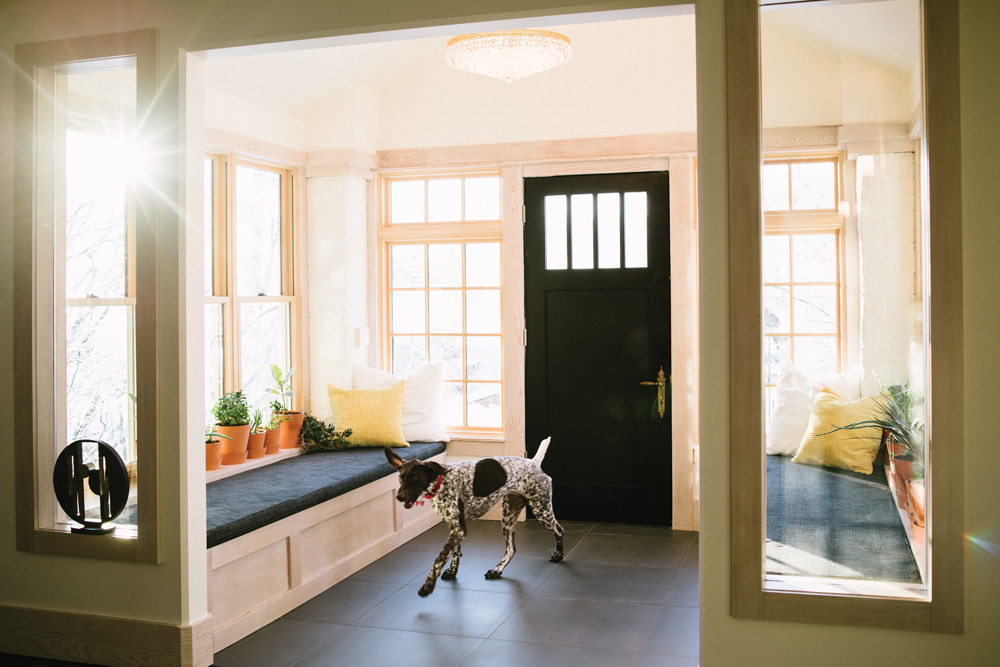 The cozy entryway is part of the original footprint of Withrow House. Studio North has emphasized the sunny and welcoming space with lots of greenery and built-in seating.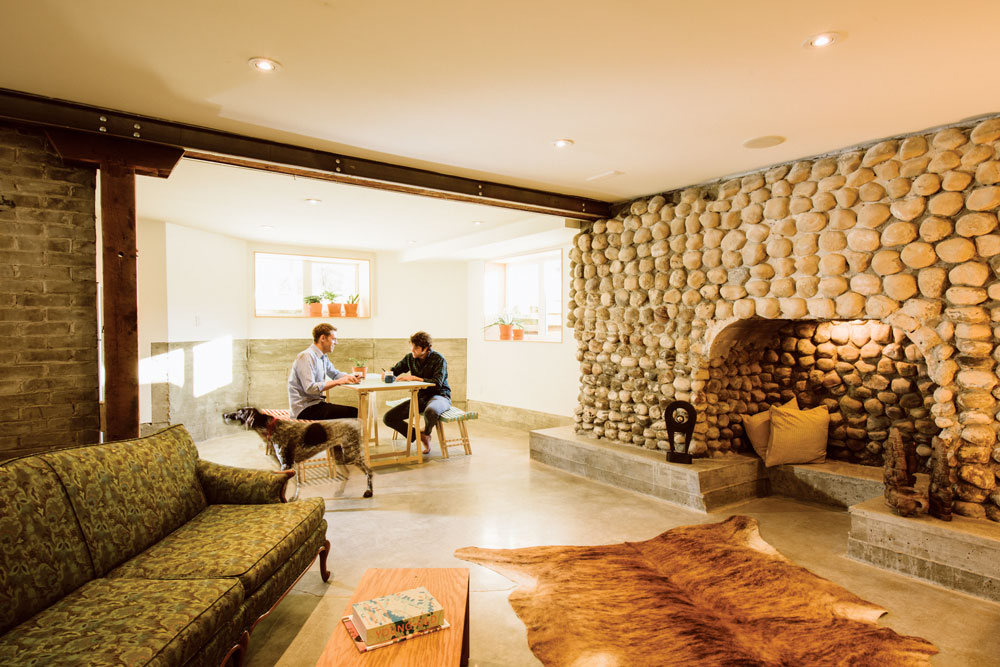 During the demolition process, Kennedy and Erickson unearthed this stunning river-rock fireplace in the basement of Withrow House – just one of the hidden gems in the home.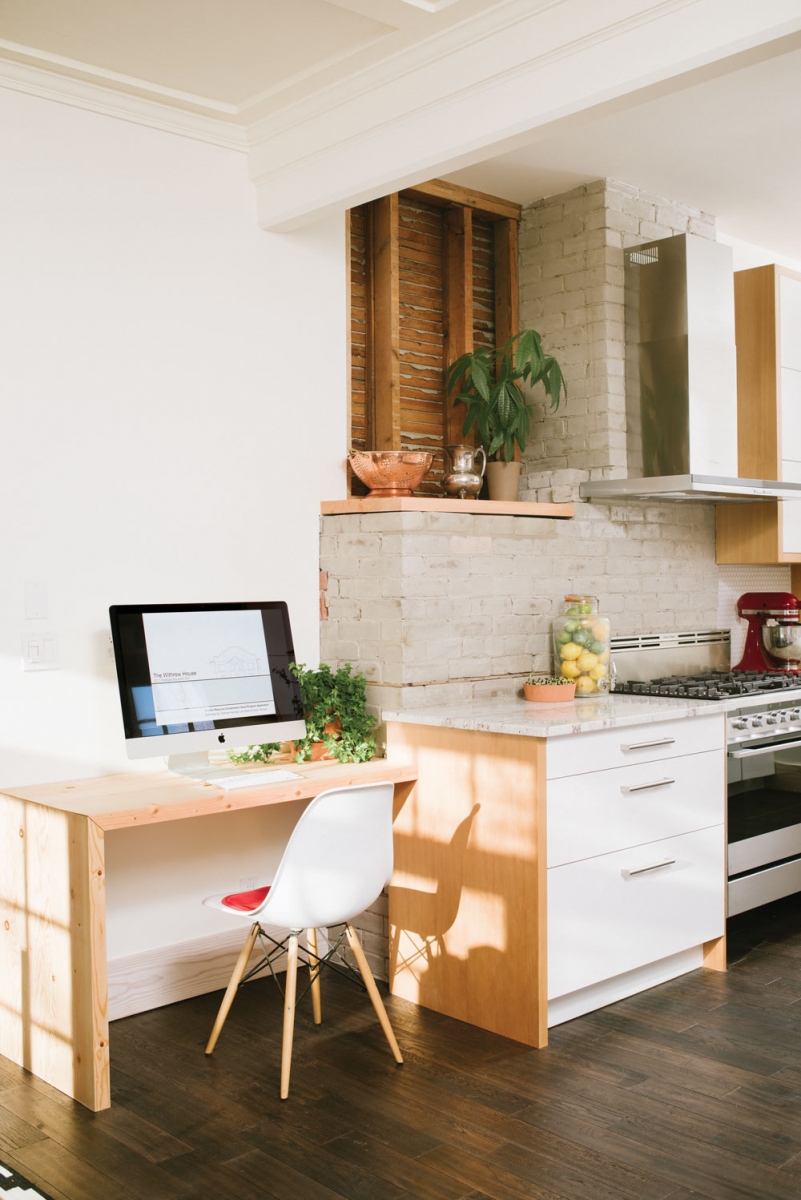 Kennedy and Erickson maximized the space throughout the home by creating small nooks, such as this home office off the kitchen. Reminiscent of a museum installation, they exposed some of the original bones of the home to create visual interest.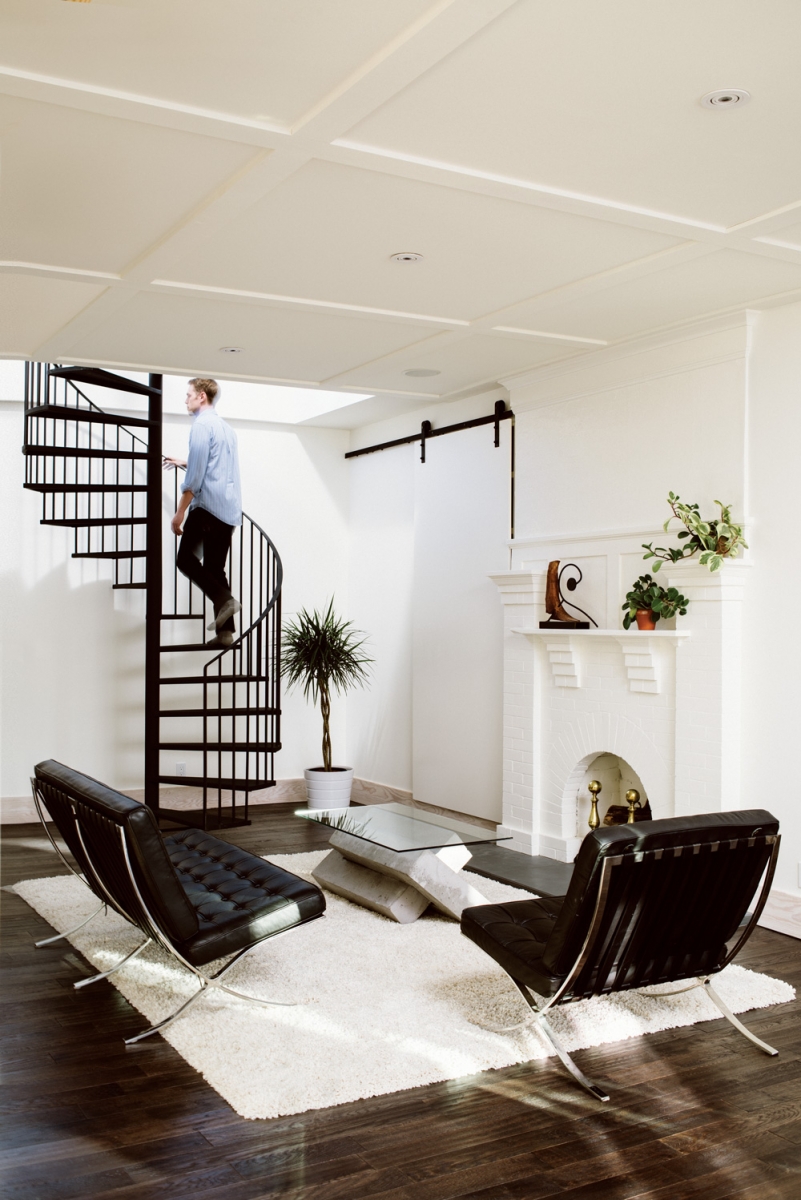 The Studio North team literally "raised the roof" of Withrow House by creating a lofted space accessed by a stunning spiral staircase.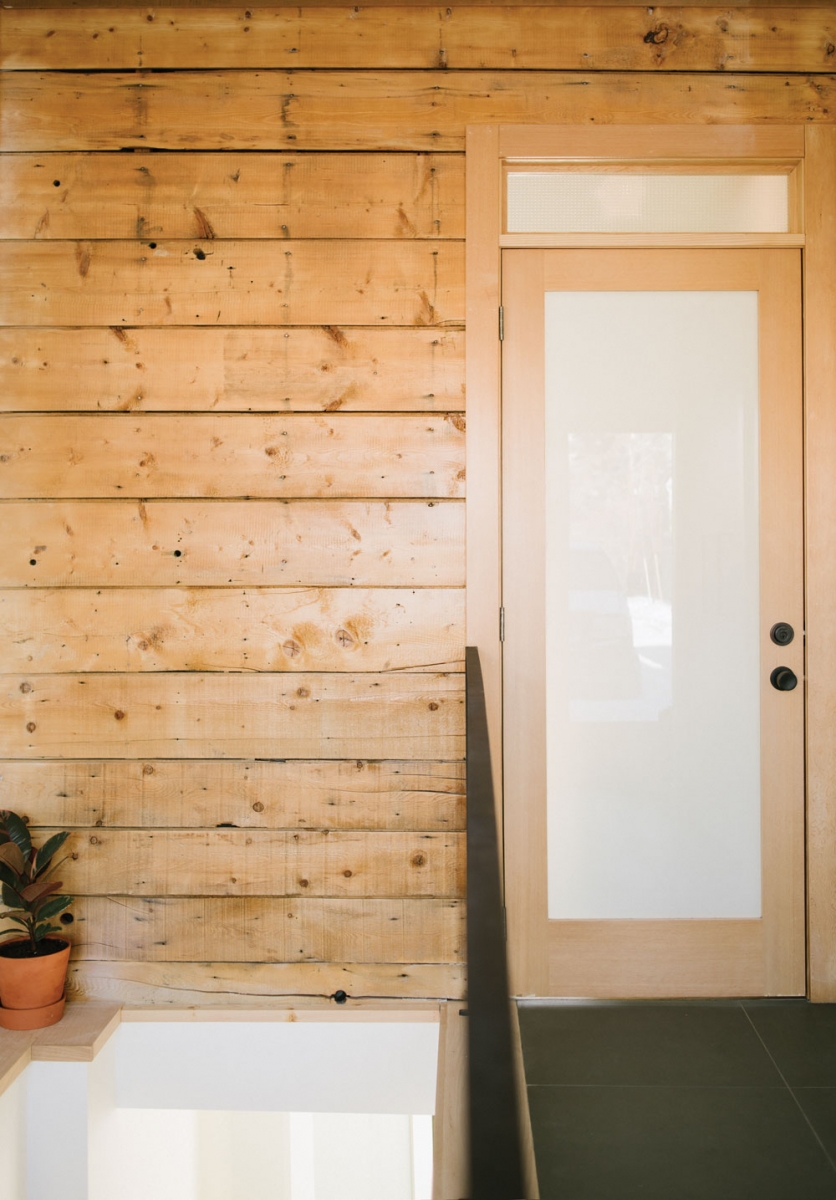 In contrast to the traditional exterior of the front of the house, the exterior of the addition in the back is modern, reflecting Studio North's ability to seamlessly blend two styles.
---
Mark Erickson and Matthew Kennedy share their tips on renovating a heritage home
It's all about character
Determine the existing features in your house that you want to highlight and preserve. For instance, when they realized their house had a big, beautiful brick chimney hidden behind walls, Erickson and Kennedy were determined to expose it and make it a feature. These are the things that older homes have and newer homes try to replicate, so make them stand out to define your home's character, says Erickson.
Be prepared for surprises
There's always something hiding behind walls and under floors that you aren't expecting, like structural issues, mould or rot, or even a cool old fireplace.
Wabi-sabi
Wabi-sabi is a traditional form of ceramics in Japan based on the idea that imperfection is what makes things special. In that sense, it's the imperfections that make your old house special. Don't expect anything to be square or plumb. Embrace all the creaks, cracks and character.
Restoration, not replication
Restore the old elements that are worth keeping and don't try to make anything new that you add look old. Faux finishes are a faux pas and will take away from the authenticity of your house.
Smart intervention
Choose your interventions wisely. Small interventions can have big impacts, but the opposite can also be true.