Many a fan of the performing arts may have toyed with the idea of actually performing themselves. As it happens, Calgary is flush with choirs, community theatre companies and other organizations where aspiring actors, dancers, singers and musicians can explore their artistic inclinations, either on stage or behind the scenes.
As for those who are more than happy to keep their bums in the seats, remember that, just like their professional counterparts, amateur performers feed off the energy of the audience. Consider becoming a patron of the amateur performing arts this season and taking in one (or more) of these groups' upcoming shows.
---
So you want to be an actor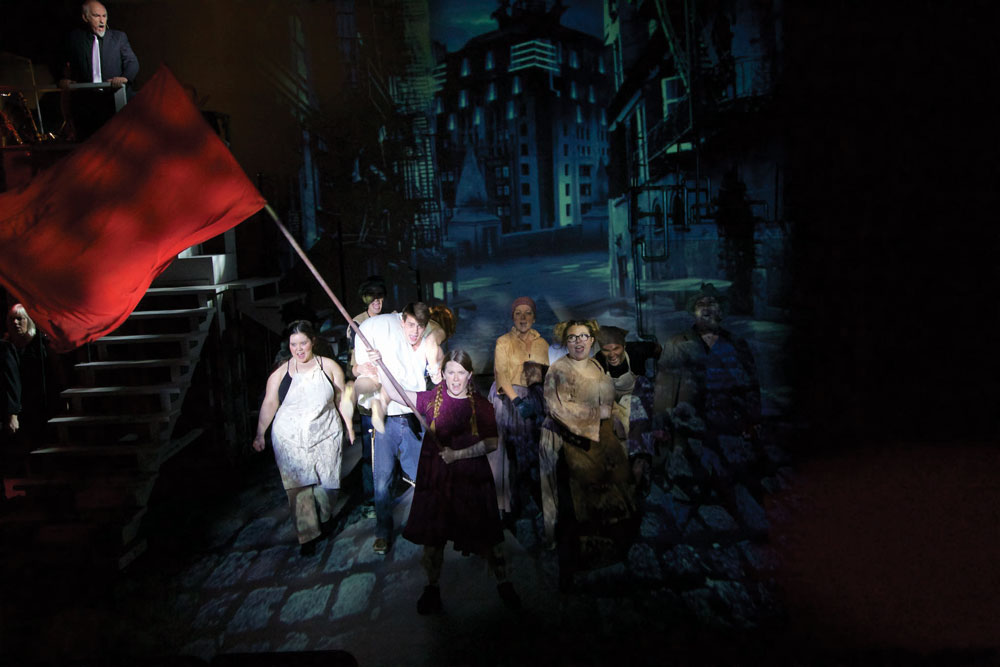 photograph by andre Goulet
Front Row Centre Players' Urinetown: The Musical, January 2015.
If you drive your friends crazy by singing along to every word of The Sound of Music, check out Front Row Centre Players, a friendly, supportive group that focuses on musical theatre. All budding actors, singers and musicians are welcome to audition. There are also plenty of opportunities to volunteer behind the scenes and a mentorship program for those who would like some more formal training.
Audition/Registration: Apply online.
Time Commitment: Approximately 250 to 300 hours per show (three-and-a-half months of rehearsals, followed by a two-and-a-half-week run of shows). Four shows per season.
Location: Rehearsals and performances at Beddington Heights Community Arts Centre, 375 Bermuda Dr. N.W., 403-246-8505, frontrowcentre.ca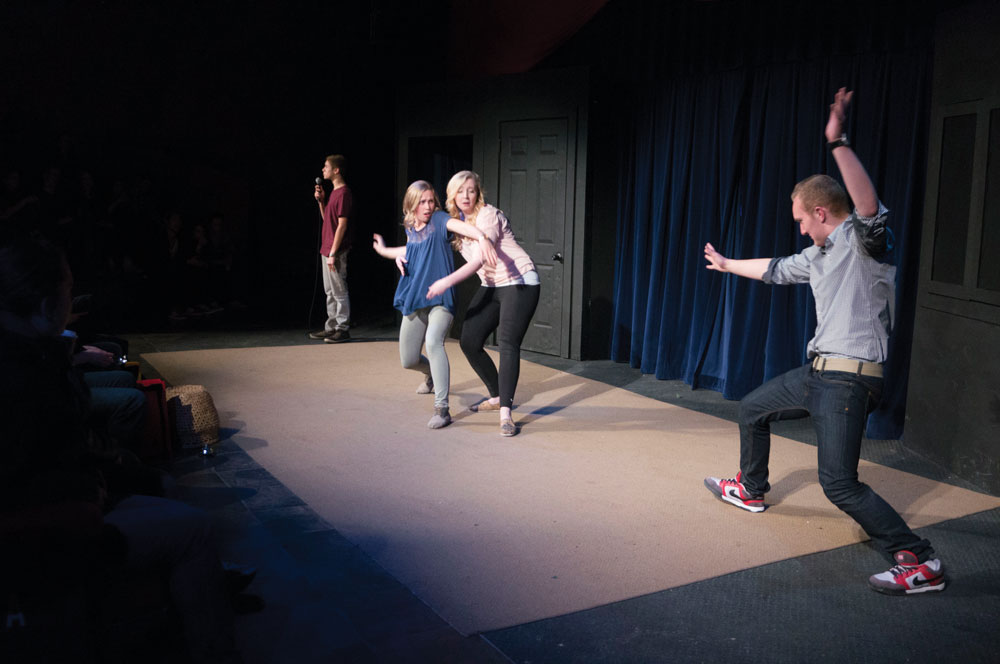 photograph courtesy of loose moose theatre
Performers in Loose Moose's annual High School Theatresports.
Are you one of those fast-thinking, funny and fearless folks who have always wanted to try their hand at improv? Loose Moose Theatre is for you. The long-standing company provides instruction in exchange for volunteer hours working front of house or backstage at the weekly shows. Once trainees feel ready, they can take the stage themselves. Some performers have been with Loose Moose for decades, while others are recent additions.
Audition/Registration: It is recommended to take in a show first, then sign up for an orientation session.
Time Commitment: Participants progress at a pace that works for them. Performance opportunities occur on a weekly basis.
Location: Loose Moose Theatre at Crossroads Market (2nd Floor), 1235 26 Ave. S.E., 403-269-1444, loosemoose.com
If it's an all-around stage experience you seek, look no further than Morpheus Theatre. A typical season for the established community theatre group includes a comedy or farce, a pantomime or family Christmas show, a drama and a Gilbert and Sullivan operetta. Those interested in acting are welcome to audition – no experience necessary – while those who would prefer to remain behind the scenes can take on a backstage or front-of-house role. Morpheus also hosts regular acting workshops that are open to the public.
Audition/Registration: September, November/December, May and August.
Time Commitment: Rehearsal period ranges from six to 12 weeks and typically includes three rehearsals per week, plus two to three full weeks of performances.
Location: Rehearsals at Morpheus Rehearsal Centre, Parkdale Community Centre basement, 3512 5 Ave. N.W.; performances at Pumphouse Theatre, 2140 Pumphouse Ave. S.W.403-246-2999, morpheustheatre.ca
---
So you want to be a dancer
Whether you're a complete beginner with two left feet, someone who wants to impress their date at a wedding or are looking for ballroom competition and performance opportunities, Alberta Dancesport has something for you. Professional dancers teach the full spectrum of ballroom styles – everything from rumba and salsa to tango and swing. Try a registered class or simply show up at the popular Friday night workshop/dance party, an hour-long lesson followed by three hours of dancing to music provided by a DJ. Alberta Dancesport also offers competition training and performance opportunities with Salsa Rica, the professional arm of the company.
Audition/Registration: Register online or in person at the first class. Friday night workshop/dance parties open to all ($8 drop-in cover charge).
Time Commitment: Weekly 55- to 85-minute classes run four or five weeks.
Location: Vecova Recreation Centre, 3304 33 St. N.W., 403-217-0000, albertadancesport.com, salsarica.ca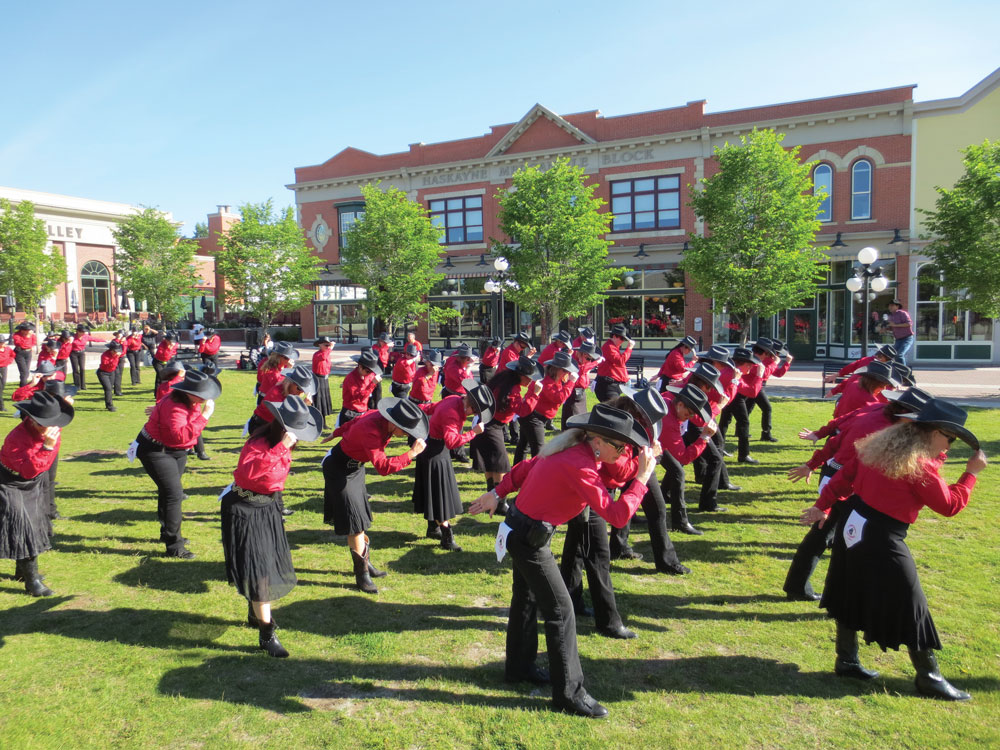 photograph courtesy of chinook country line dancers
Chinook Country Line Dancers.
If your idea of bliss is to have it be Stampede all year long, the Chinook Country Line Dancers can keep things a little bit country. Don't worry if you've never line danced before as this very friendly group will teach you everything you need to know. The membership is a mix of men and women ranging in age from 20 to 80. Classes begin in September and participants can begin performing after a year of instruction. The group is in high demand during the Stampede, showing up at barbecues, breakfasts, Rope Square and the Saddledome. There are performance opportunities during the rest of the year as well, so those cowboy boots won't get a chance to gather dust.
Audition/Registration: E-mail classes@cclinedancers.ca for information.
Time Commitment: Weekly one-hour classes with optional extra practices, plus performances.
Location: Tuesday-evening classes at Strathcona Christie Aspen Community Hall, 277 Strathcona Dr. S.W.; Thursday-evening classes at Cedarbrae Community Centre, 11024 Oakfield Dr. S.W., 403-988-0973, cclinedancers.ca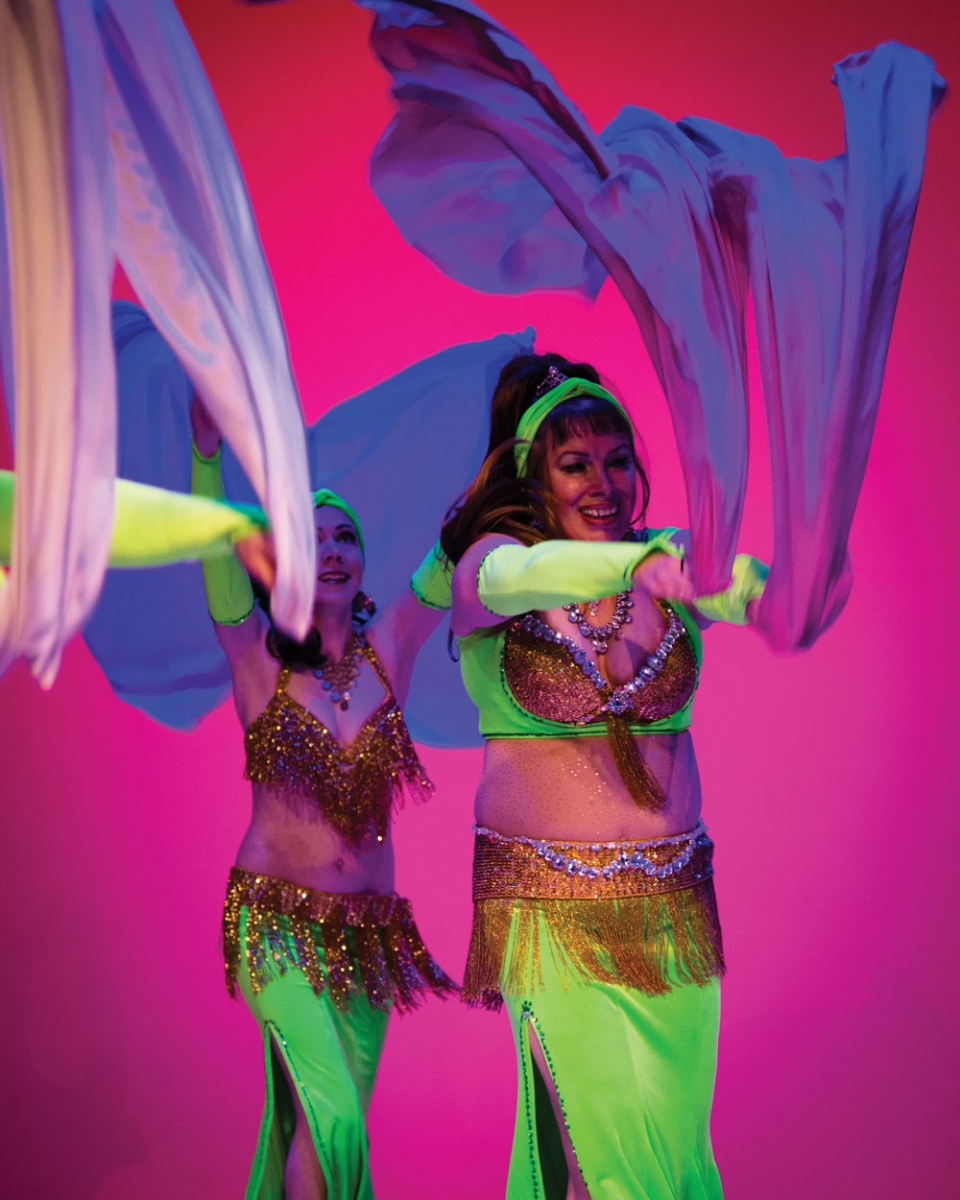 photograph courtesy of daughters of the nile
Daughters of the Nile's Nile Odyssey at the Leacock Theatre at Mount Royal University.
Daughters of the Nile is your gateway into the world of gyrating hips, dramatic makeup and bare midriffs, offering instruction and performance opportunities in a supportive atmosphere. Many students come to the studio looking for a fun workout and end up discovering a passion for belly dancing, with some even going on to become professionals with the performance troupe. The studio offers a wide array of performance opportunities for dancers of all levels and puts on Calgary's largest student belly dance show each year. In spite of what the name might suggest, men are welcome, too!
Audition/Registration: Forms available online; performance troupe by invitation only.
Time Commitment: Weekly one- or two-hour classes, plus performances.
Location: Classes and rehearsals at Vecova Recreation Centre, 3304 33 St. N.W., 403-560-6416; daughtersofthenile.ca
---
So you want to be a singer
Drinking … singing … drinking … singing … Having a hard time choosing between your two favourite pastimes? You don't have to, if you join Cum Vino Cantus (Latin for "with wine, comes singing"). The group brands itself "Calgary's hippest choir" and, considering they serve wine at rehearsals and after performances, that may be right. The friendly choir promises to push the boundaries of its members and audiences with repertoire that is "eclectic, traditional, novel, ancient and multicultural." This is a group for singers with some experience as it moves through new music at a brisk pace.
Audition/Registration: No auditions; those interested in joining should attend the first two rehearsals of the fall season.
Time Commitment: Monday-evening rehearsals, occasional additional rehearsals, plus spring and fall performances.
Location: Rehearsals at St. Gerard's Parish, 8944 Elbow Dr. S.W., cumvinocantus.ca
This is a serious choir. That isn't to say they don't have fun; rather, it's the technically advanced works they select that qualify as serious. The diverse membership is from all walks of life – some have been part of the group for 30 or 40 years, while other members haven't even been alive that long. Repertoire ranges from classical works to world music, jazz and other genres. They also host a regular "sing-in" for those who would love the choir but can't make a regular commitment.
Audition/Registration: Open rehearsal held each September, or contact the artistic director at 403-246-1636.
Time Commitment: Tuesday-evening rehearsals, some Saturday workshops and extra practices before performances. Three major performances per year.
Where: Rehearsals at Arts Commons, 403-294-7400, thefestivalchorus.com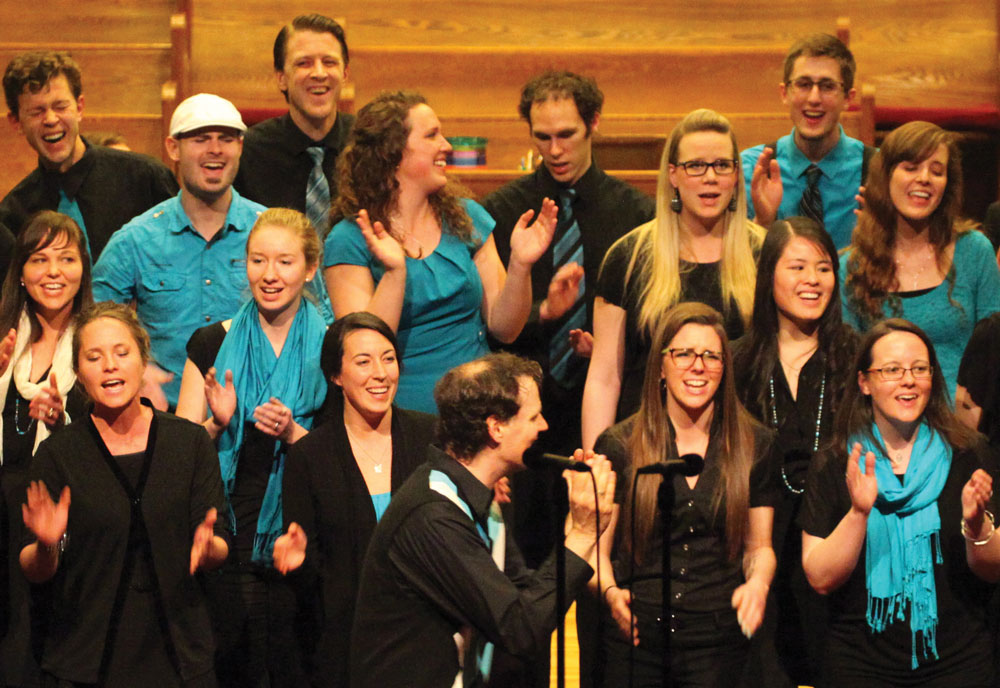 photograph by rick erlendson
Harmony Through Harmony at First Baptist Church.
If you're a young person (age 18 to 35) struggling to make time for both music and activism, Harmony through Harmony is a choir that offers a unique solution. Members write songs about social-justice issues and stage performances of these songs (and other works) to raise money for a variety of causes. The goal is to inspire audiences and raise awareness, as well as develop leaders in social-justice activism. This is a close-knit group that gathers weekly to share a meal, rehearse and educate themselves. Previous choral experience is an asset, but not mandatory. The group is based in the Christian faith, and, while it is not necessary to identify as Christian, participants must come with the understanding that Harmony through Harmony leadership will be expressing Christian perspectives and philosophies.
Audition/Registration: September (interview required).
Time Commitment: Weekly Tuesday-evening rehearsals starting in October and additional workshops periodically; one to three monthly performances, with major shows in the winter and spring.
Where: Multiple ensembles rehearse in various locations; all ensembles rehearse together once a month at Heritage Christian Academy, 2003
McKnight Blvd. N.E., harmonythroughharmony.com
---
So you want to play an instrument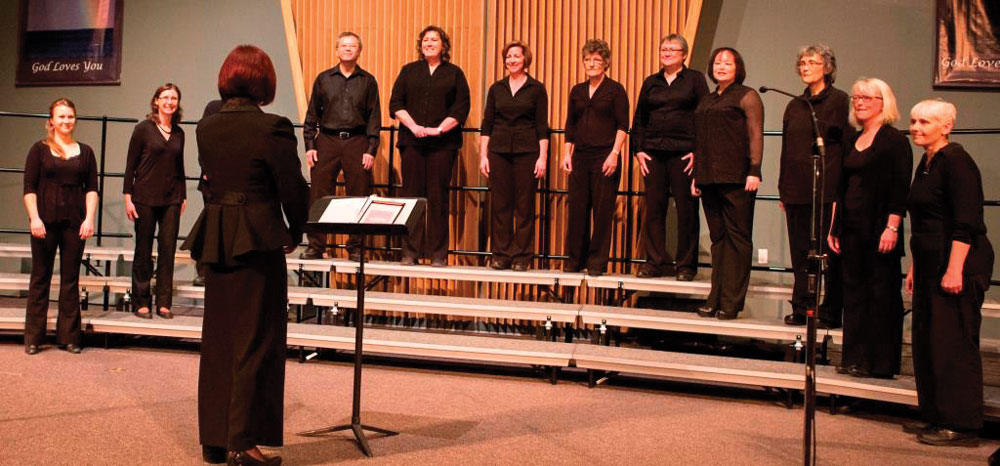 photograph courtesy of westwinds music society
Westwinds Music Society's Green Choir, directed by Erica Phare-Bergh.
Whether you're still kicking yourself for dropping out of junior-high band class, or you're an experienced musician in search of an ensemble, consider the Westwinds Music Society. Calgary's largest adult music society (you must be 18 or older to join) has a range of instrumental and vocal ensembles suitable for all levels – from rank beginner all the way up to accomplished musician. The society offers structured rehearsals and multiple performance opportunities for all ensembles, proving it's never too late to make your stage debut.
Audition/Registration: Auditions required for advanced jazz and advanced choir ensembles. For other ensembles, register online or at the open house on Sept. 9 at William Aberhart High School (3009 Morley Tr. N.W.).
Time Commitment: Two-hour rehearsals once a week from September to May; multiple performances per year.
Where: Performances and rehearsals in multiple locations. 403-255-3485, westwindsmusic.org