If you've always dreamed of a career in the circus as a trapeze artist, this summer is your first chance to try and fulfill that dream right here in Calgary. Rocky Mountain Flying Trapeze, an outdoor trapeze located across the road from Calaway Park in the Wild Wild West Event Centre, had a test season last summer to gauge interest but it opens fully to the public with classes and series and drop-in events this summer. And if you're sticking around Calgary this summer, you're going to want to put it on your to-do list.
Lucy Hyndman, the owner of Rocky Mountain Flying Trapeze, has been working on bringing a trapeze experience to Calgary for a couple of years now. But, it might come as a surprise that the trapeze isn't something she's been doing for years. Hyndman is a Calgary physician who first tried trapeze at a Club Med resort in Mexico three years ago. After one vacation, she was hooked.
Hyndman says that hardest part of starting Rocky Mountain Flying Trapeze wasn't finding the apparatus. Hyndman got in touch with Josh and Dany Munden, who owned a trapeze that was just in storage while they were working in Fort McMurray. The business now uses that trapeze and the Mundens are both instructors. Rocky Mountain Flying Trapeze has five trained instructors and there are 12 more instructors-in-training.
Hyndman says this is the only trapeze in Alberta – the next closest is in Vancouver. This summer, the facility is open to all interested in learning how to "fly."
We tried it out. Here's what you can expect.
What the experience is like
You don't need to have been a gymnast or an acrobat or a climber earlier in life to try the trapeze. You don't need to be fearless when it comes to heights. You don't even need to be all that strong. In a nutshell, the trapeze is open to just about everyone. (There are age and weight restrictions.)
After you sign your waiver, the first thing you'll do is head to "ground school." This is where a trained instructor shows you the basics at a bar that is barely off the ground. You'll start with a basic trick called the knee hang. Here, you'll learn how to hold the bar and how to get your feet up so you can hook your knees and let go of your hands.
Once you're comfortable on the ground bar, you'll get fitted with a safety harness around your waist and you'll learn the calls you'll hear while up in the air from the instructor on the ground. (If you hear "hep" you let go – don't think twice.)
After you've learned all the basics, you'll climb up a ladder to the trapeze platform – it sits about 30 feet above the ground. You're attached to a safety line the entire time you climb and once you reach the platform, a trained instructor will clip you into a new safety line. You'll get set you up with the bar and the instructor will make sure you jump off that platform. Then, you're flying.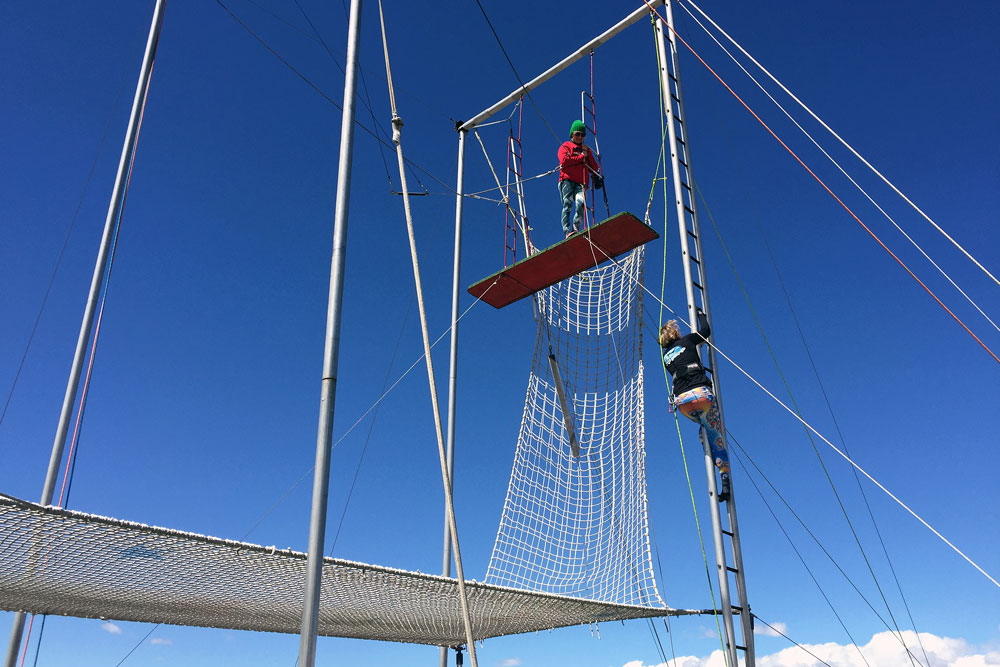 As you're swinging, you'll listen to the instructions from the ground instructor so you know when to try and hook your knees on the bar. You'll try your best to use the momentum to actually make it happen. If you get the timing right after a few tries, you'll let go of the bar with your knees and hands to be caught by a different instructor. If it's just a practice, you'll reposition your body so you're only hanging by your hands and then, when the instructor lets you know, you'll let go. If you're a real daredevil, you can do a flip before landing on the net. Really.
Then, you do it all again. And again.
The basics
What's on offer:
Depending on how serious you want to get about your trapeze tricks, there is a range of class options for you. You can spend two hours learning all the basics – and maybe even be caught mid-air by a qualified instructor – in the introductory class, the first of which is on June 3. If you want to improve quickly and already have some trapeze experience, register for the 90-minute Progressive Flyer series that begins in early June. If you're super serious about trapeze fun, you might be approved for the 90-minute Intensive Flyer series that starts in August.
If you're a little scared of heights and aren't sure you're ready to commit to a full class or series, choose to attend Rocky Mountain Flying Trapeze's "Open Fly " instead. Think of this as a drop-in session. You don't need to have taken a class to attend Open Fly as the instructors will go through the basics with you. If you're not a beginner, you can use this time to learn some new tricks.
Cost:
The drop-in Open Fly costs $15 for one turn and $5 for each turn after that. The two-hour introductory class costs $45. The more advanced classes cost a little more, starting at $200 for a four-week session.
You can also try out the bungee trampoline during Open Fly hours. It costs $10 per turn.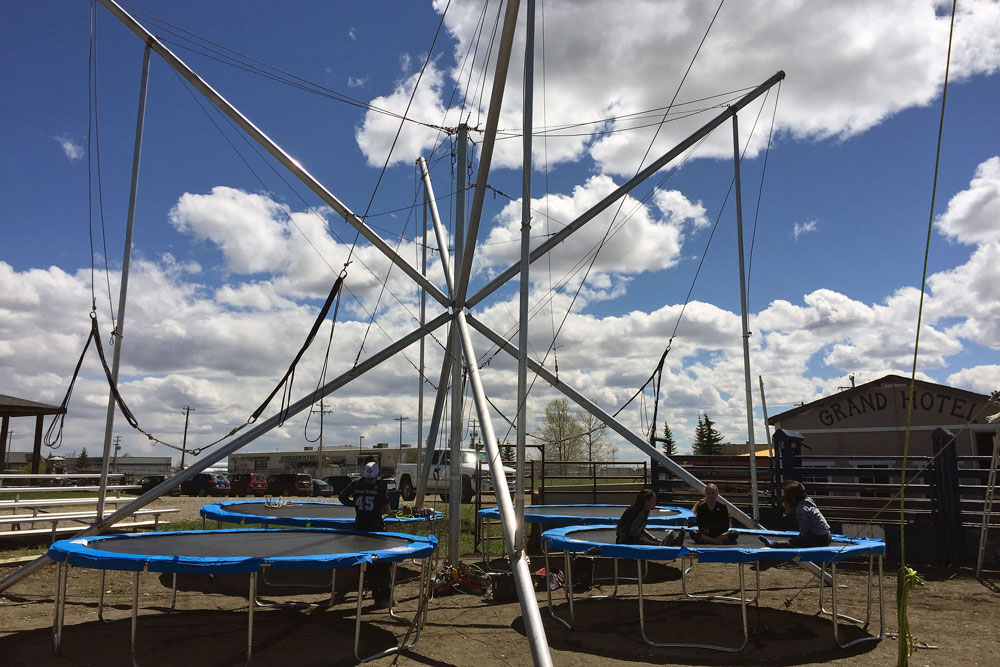 Hours:
Opening weekend is this weekend (May 20) and you can be one of the first in Calgary to try it out during an "Open Fly." Over the May long weekend and the final weekend in May, Open Fly runs from 12 p.m. to 4 p.m. Open Fly hours differ in June, July and August. The classes kick off in June and are currently scheduled to run through to the end of August.
Class times vary depending on the day, the month and what kind of class you're interested in taking.
Hyndman says that, depending on the weather, the trapeze might be open past Labour Day too.
What to bring
Stretchy pants
You're going to try to lift your feet to your hands and hang from your knees. You can't do that in restrictive pants. Wear athletic gear because things get acrobatic here.
Chalk
You're going to be 30 feet above the ground. That's really high, and initially, you might get those nervous sweats. Even though you're tied to safety lines the entire time, your palms might get a little clammy and sweaty. If you think sweaty palms could interfere with your trapezing, bring along a chalk bag to keep in the on-the-ground seating area.
A friend to record your athletic feat
Make sure you have someone on the ground recording your moves. (Or your shrieks, as the case may be.) You can use it as evidence of the cool experience you had on the weekend.
Things to keep in mind
Safety comes first here. If it's rainy or snowy or really windy, Rocky Mountain Flying Trapeze won't be open and running.
Wild Wild West Event Centre, 67 Commercial Crt., rockymountaintrapeze.ca