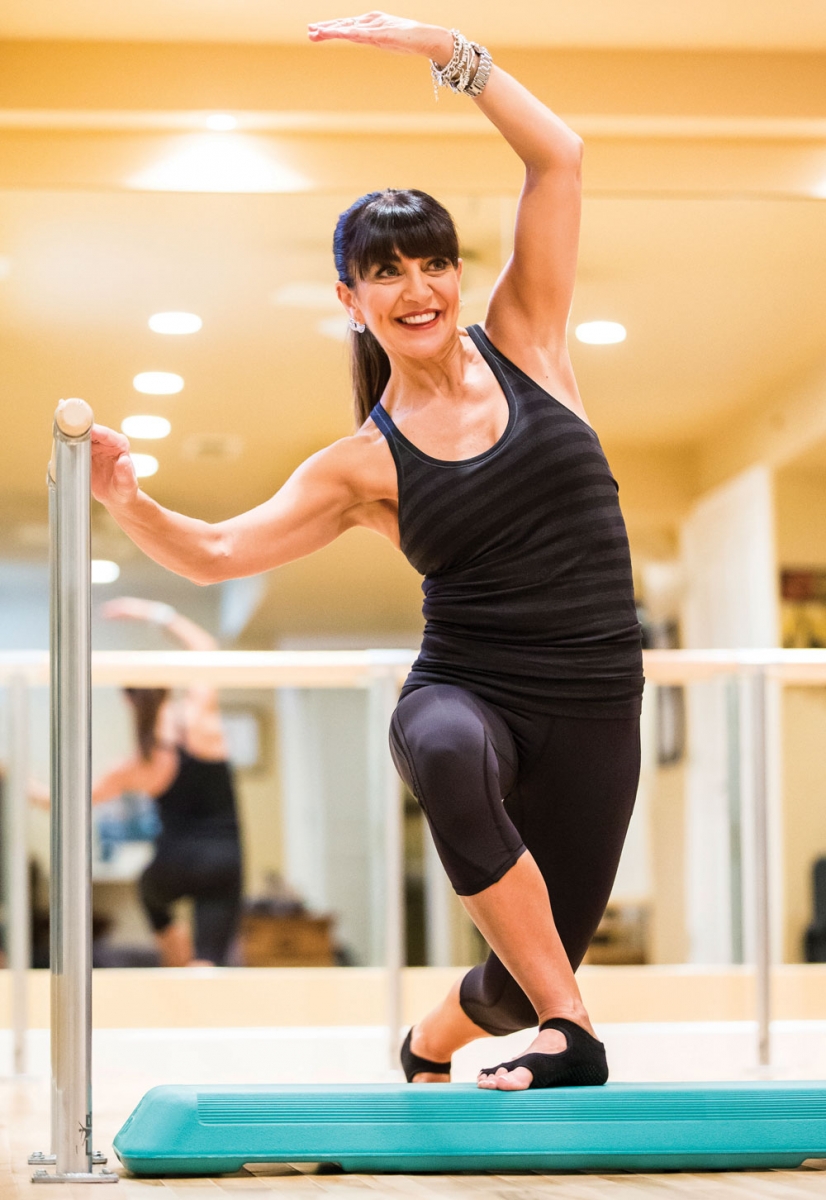 photograph courtesy of S2 Barre and fitness studio
Susan Simpson, owner of S2 Barre and Fitness Studio .
From a growing interest in traditional ballet classes to the wildly popular barre workouts being offered around the city, doing a little dance has become one of the hottest fitness trends around these parts since, well, hot yoga.
Barre workouts are ballet-inspired fitness classes in which the long wooden barre traditionally used by dancers to stretch and warm up is used for support as you lunge and squat your way to a dancer's physique. Just a few years ago, the classes were only offered at select boutique studios in Calgary. But, judging by the number of new studios and classes that are now available, it seems more and more Calgarians just wanna dance with somebody. And why wouldn't they? Barre is a fun way to work out. It's set to music (oh hi, Beyonc), absolutely no prior dance experience is required and, most importantly for the fit-focused, it delivers results.
"Barre is essentially the cross-training that you do as a dancer," says Jill Belland, host of Breakfast Television Calgary and co-owner of one of Calgary's newest studios, Barre Belle. "It's about building muscle, toning and lengthening."
As Barre Belle co-owner Kristi Stuart aptly sums it up: "You have a good time and you work your ass off." To work said ass off, many barre classes incorporate weights, resistance bands and aerobic steppers. Others, like Barre Belle's Barre X class, also rely on bursts of high-intensity cardio to turn up the sweat factor.
While Barre Belle and other inner-city studios tend to attract trendy urbanites, barre's appeal has reached far beyond that demographic thanks to exercises that are easily adaptable to suit people of all ages and fitness levels. Susan Simpson, the 59-year-old owner of S2 Barre and Fitness Studio and creator of its Step Up To The Barre program, says her clients range in age from 19 to 65. She describes barre as a good "middle-ground workout" that appeals to those looking for something more strenuous than yoga, but less intense than boot camp.
"Barre is a blend of ballet-, yoga- and Pilates-inspired movements," Simpson says, adding it makes for complementary training, no matter the sport you're into. "It's a great option for people who want to have more fun with their fitness."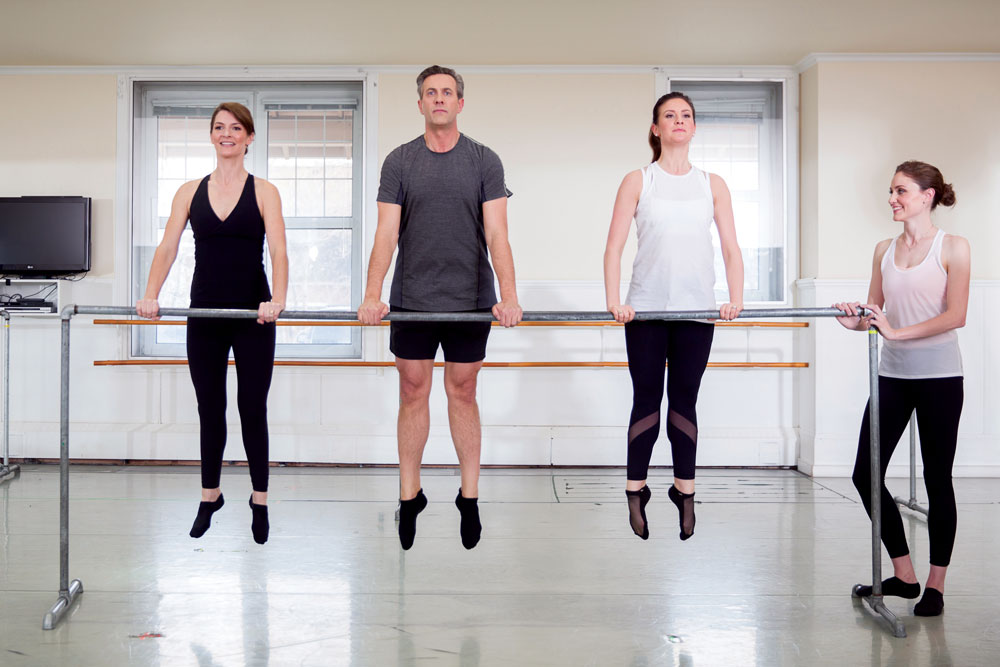 Photograph by PMGimage
Hattori/Williamson School of Ballet.
Others are raising the bar, so to speak, and taking actual dance classes, not because they aspire to be professional dancers, but because it's more fun than counting bicep curls at the gym. Whether someone has danced in the past or has two left feet, today there are a slew of recreational dance classes for adults (as in, you will not be surrounded by kids in tutus).
Yukichi Hattori, an Alberta Ballet dancer who retired earlier this year, recently launched a dance studio with fellow former company dancers Galien Johnston and Tara Williamson called the Hattori/Williamson School of Ballet. They've been teaching classes in a temporary space since September and have their sights set on opening at a new location in May 2017.
In addition to their professional ballet school, the retired pro dancers are offering "classes for everybody" – adult ballet and, come May, a class they're calling "ballet fitness." Ballet fitness, says Hattori, is much like barre class – toning and building muscles to give you a dancer's body – while adult ballet class teaches the dance essentials. This is where you'll get to know things such as turnouts, plies and hand positioning, he says, and you'll gain a lot more than just skills. "Dancing builds lean muscles and flexibility, which actually leads to generally healthy bodies," says Hattori. "You'll be less injury-prone, more mobile, and your walk and posture will improve. In daily life, you'll obtain a certain grace that can up your social status altogether."
With grace, strength and flexibility as just a few of dancing's many perks, it's no wonder demand for classes is on the rise. Maria Crothers, head of open division for the School of Alberta Ballet, says the school has seen an increase in adult enrolment over the last couple of years. "It may well have to do with the barre phenomenon, but we've also increased our programming, so there are more options for our clients," she says. The beginner levels, Crothers adds, have been particularly popular. How beginner is she talking? "Absolutely zero experience whatsoever," she says.
Whether you're a newbie or a seasoned dancer, traditional ballet classes at the School of Alberta Ballet feature live classical piano accompaniment. "We have a piano player in every class," says Crothers. "I enjoy that it's not more contemporary, panicked music. You have something calm to listen to that's more therapeutic." (Hey, Beyonc isn't for everyone.)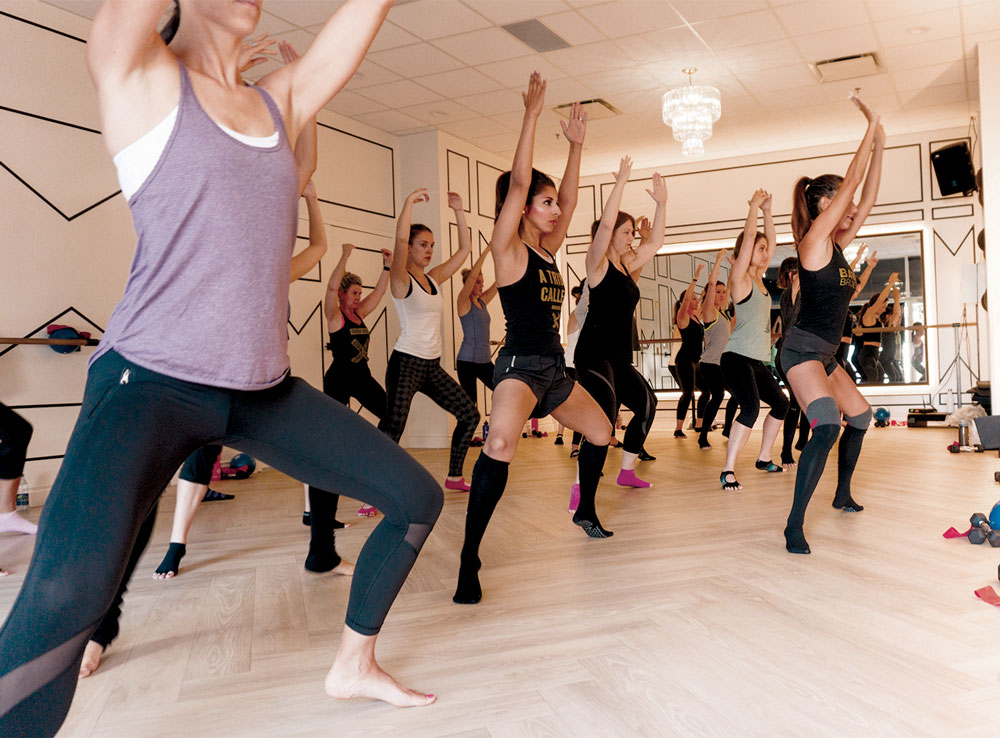 photograph courtesy of barre belle
A class at Barre Belle.
And neither is ballet, which is why Decidedly Jazz Danceworks' new 40,000-square-foot facility is now home to more than 80 classes per week (up from 60) with some available at lunchtime. Classes range from West African and Bollywood to hip hop, tap and, yes, barre. Dance centre and marketing manager Kirstin Anderson says 80 per cent of DJD's programming is for adults and is designed with all skill levels in mind.
As for the mind, that's perhaps one of the best things about dance classes. "That mind-body connection is really there with dance. You have to engage your brain, think about what you're doing and use all of your fine motor skills," says Anderson. "You can have a different experience than you would on the treadmill or in the weight room."
This is something that more men are catching on to, as well, say the studio owners. While most barre and dance classes are primarily filled with women, male attendance is definitely on the rise. "Spin classes kind of opened the door for men," says Belland, adding the guys that come to their barre classes find the concentrated holds, pulses and high repetitions challenging. "They're in puddles, because it's not like anything they've done before."
Whether dance fitness takes off with men or not, the classes won't be going anywhere soon. As Simpson says, "This trend is here to stay."