Before there was a rodeo, there was a secret elevator.
The month-long theatrical extravaganza known as the High Performance Rodeo debuted in 1987 as the Secret Elevator Experimental Performance Festival. It was "secret" because it was being staged on the sly in the administration offices of presenting theatre company One Yellow Rabbit (a space most definitely not zoned for that sort of thing). The "elevator" part was because those offices were on the eighth floor (or the fifth floor, or the sixth floor, depending on who's telling the tale) of a downtown 1950s-era building. There were five shows in the lineup. Audience members assembled at a meeting point in the alleyway and, from there, were shepherded into the elevator and taken up to the office-cum-performance venue. The room seated 30 to 35, give or take, not including the two-person tech crew operating the sound and lights from the closet.
The alley, the elevator, the squatting, the whole thing was totally gonzo, and just what you'd expect from the creative mind behind it – One Yellow Rabbit ensemble member Michael Green.
The following year, the Rabbits renamed the festival the High Performance Rodeo and expanded the lineup to 14 shows presented in the company's legit Secret Theatre space in the Calgary Centre for the Performing Arts (later branded the Epcor Centre and now Arts Commons).
For the next eight years, the festival shuffled around the calendar before settling into its regular January time slot in 1995, providing a jolt of energy to the city's arts scene at a time of year when it was most needed.
This month marks the 30th edition of the Rodeo in 29 years (in 1991, there were two Rodeos held in March and December). Rodeo rosters have been diverse and varied, incorporating major local players like Theatre Calgary and Alberta Ballet as well as indie counterparts like the Old Trouts and the Green Fools. There have been Governor General's Award-winners, art luminaries of the New York underground, European absurdists, performance provocateurs, contemporary dance mavens, cult musicians and even the Kids in the Hall.
The Rabbits themselves have also been integral Rodeo performers, showcasing some of their most memorable solo and ensemble creations, from daring dance works by Denise Clarke to mind-bending plays penned and presided over by Blake Brooker.
It's unlikely those elevator riders back in 1987 thought the festival would still be around three decades later. They would certainly be saddened to know that the event's live-wire impresario wouldn't be around to witness the milestone, having passed away the previous winter in a tragic car accident on a snowy Saskatchewan highway.
There's no doubt Michael Green's absence will be felt at this year's Rodeo, but there has always been an energy to this festival, bigger even than the creative tour de force at the helm – a feeling that the audience, the performers, the patrons, the festival staff and the volunteers were in on the secret, together, to make something weird happen, and, just possibly, something transcendent.
---
High points in High Performance Rodeo history
A look back at some great moments from the Rodeo, as told by those who were on stage, backstage and in front of the stage.
Sheri-D Wilson
Poet; Calgary Spoken Word Festival founder and director, 2003 to 2014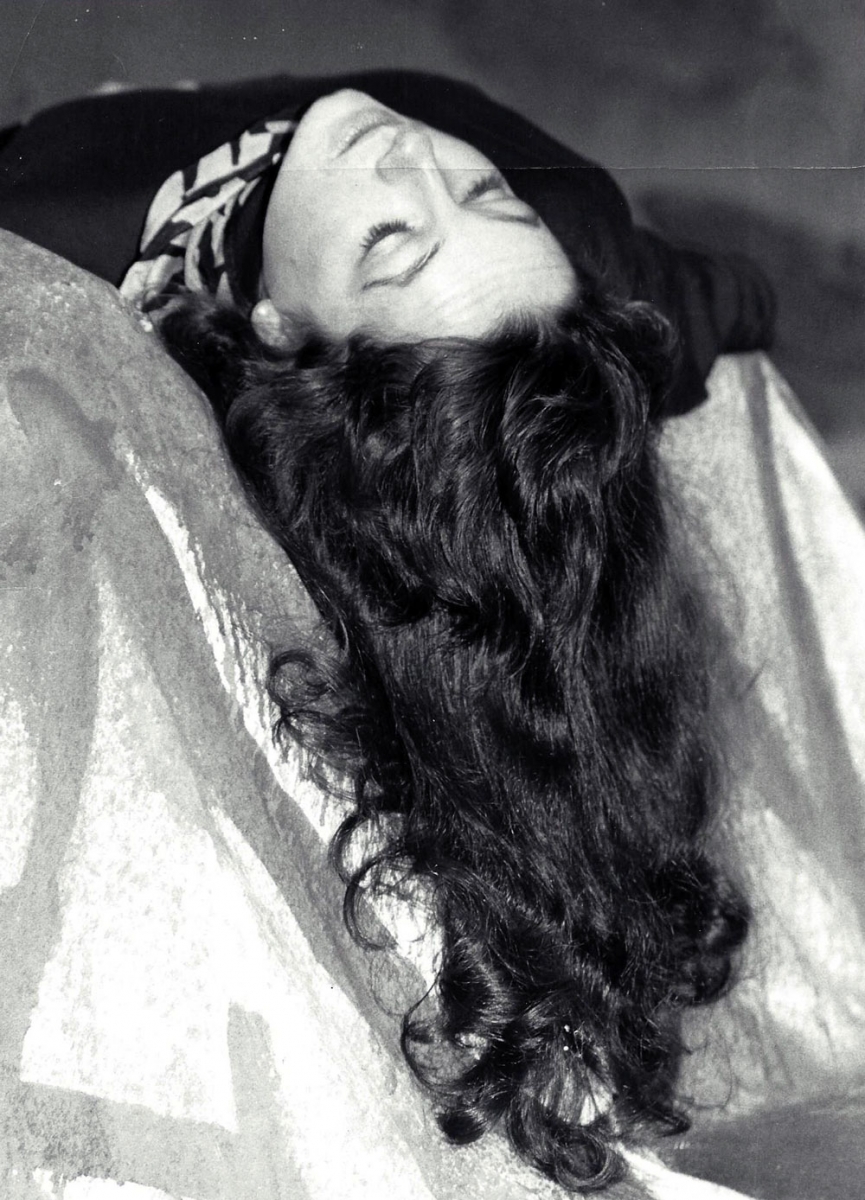 "For the first festival, I wrote a piece called Dying to Be Famous, which I performed with Laura Parken on the rooftop outside of the One Yellow Rabbit offices. The audience had to crawl out a window to experience the poetic death I had envisioned. Laura and I were rehearsing on the rooftop when the window accidently closed and we were trapped outside. Darkness fell and we wondered how 'secret' the location really was."
Ralph 
Christoffersen
Director, One Yellow Rabbit; High Performance Rodeo technical director/production manager, 1987 to 1992
"One highlight from over the years was Dean Bareham of the Green Fools lying concealed in a large box full of mud and dirt in a corner while the audience filed in. Once they had settled in their seats and the lights dimmed, he kind of materialized out of the dirt in a way that spooked many folks in the space."
 Kimberley Cooper
Artistic director, Decidedly Jazz Danceworks
"My first full-length dance-performance piece, Popular, was presented in the Rodeo in 2002. I created it with the idea that for the first half of the show, the audience would move around the theatre, so performances took place right inside the door, in the bar area, at the top of the balcony, on the tiny ledge at the back of the stage, etc. Because it was January and the audience had to stand on the stage sometimes, we got them to wear paper hospital booties over their shoes.
This was the year that One Yellow Rabbit acquired their bleacher seating though, and to accommodate more audience, we had to set them up at the end of act one. This feat became part of the show (I think we got it down to six minutes).
It was a wild piece, created in a fury, with thrift-store costumes, a lot of fake moustaches and blind trust that it would all be great. It was one of my favourite creation/performance experiences ever."
Kirk Miles
Original general manager and performer, One Yellow Rabbit; High Performance Rodeo associate producer, 2003 to 2005
"If you have ever performed on the Max Bell Theatre stage you know it is huge. Intimate shows don't do well there, as the stage is so hard to fill. In 1997, HPR brought in Carbone 14, a theatre-dance company out of Montreal. Their show, Les mes Mortes (The Dead Souls), at Max Bell Theatre was spectacular, with dreamlike sequences and dancers in old-fashioned flowing dresses hanging from pegs three storeys high. You could look out from the upper balcony and see the dancers' faces. The show was so grand and eloquent, yet it made the stage seem so intimate, you felt you could reach out and touch it."
Mark Hop
kins
One Yellow Rabbit administrative assistant, 2007 to 2011; High Performance Rodeo associate producer, 2011 to 2013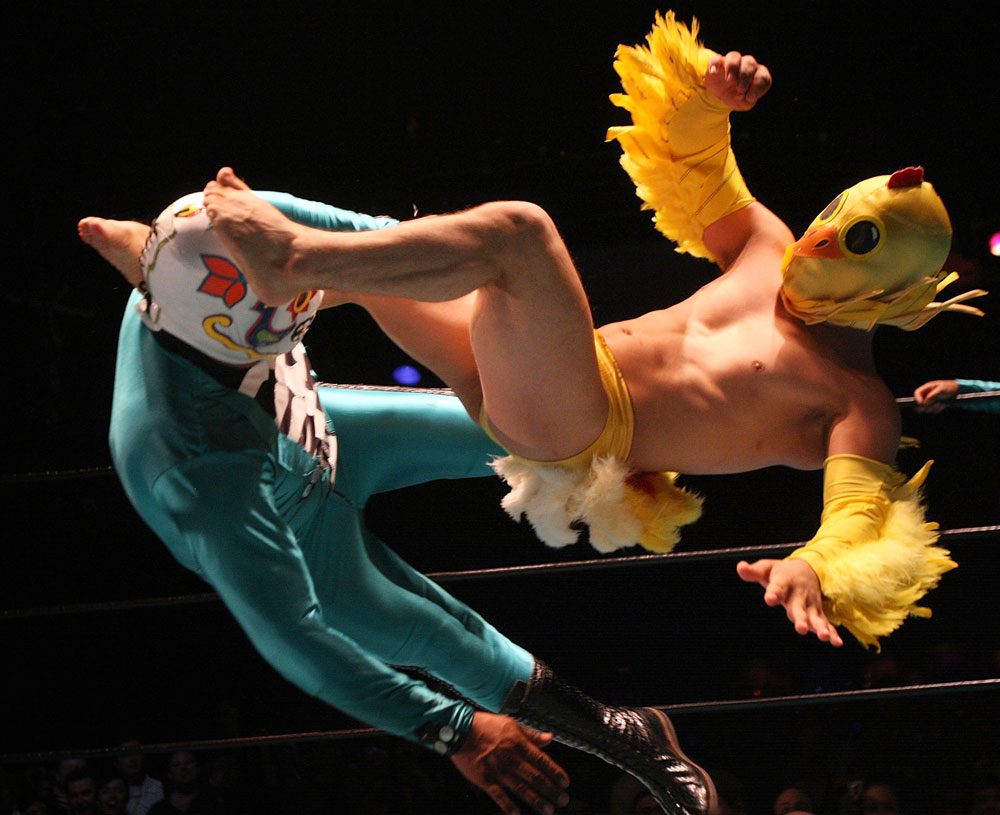 "On the first night of Lucha VaVoom [2012] – the Mexican wrestling/burlesque show we produced at the Big Four Building on the Stampede grounds – near the climax of the show, Cassandro (an openly gay, cross-dressing luchador) climbed up a utility ladder at the edge of the room and dove onto his opponent from two storeys up as nearby audience members scattered. I was immediately swarmed by Stampede staff who made it abundantly clear that this was not allowed. After the show, I took Cassandro aside and made him swear that it wouldn't happen again. The next night, he did it again."
 Judd Palmer
Co-founder, Old Trout Puppet Workshop
"Our first show was at the High Performance Rodeo in the year 2000. Michael Green (bless him) had taken a leap of faith on us and gave us a slot, despite the fact that the show didn't exist yet, or even the company. That's the kind of behaviour that made that man such an enormous gift to the whole community – if he hadn't given us that chance, I'm not sure the Old Trouts would have ever come to be.
So, knowing that we were going to have to have some kind of show ready, we holed up on the family ranch to think it up and build it. It was a strange winter, hacking puppets out of old fence posts and huddling for warmth around a coal stove, but we managed to come up with some semblance of a show, The Unlikely Birth of Istvan, which we performed for the first time in the bunk house to an audience of cowboys and Hutterites from across the river. (The Hutterites liked the show more than the cowboys did. Might have been the first experimental puppet show for adults they'd ever seen, so maybe they weren't as critical as the cowboys.)
The next night we were supposed to be loading the show into the Big Secret Theatre, but in the fray of getting the show together nobody had thought about how we were going to get it to Calgary. The Hutterites volunteered to help and so we loaded the whole catastrophe into their horse trailer and headed into town, one Hutterite driving, me perched on the gear shift, and another Hutterite (who had never been to Calgary) with his face pressed against the window, pointing at things in amazement: "Is that the Calgary Tower?" "Is that the Saddledome?"
We pulled into Olympic Plaza and started to unload our show. And one particular moment has stayed with me: one of the Hutterites, Reuben I think, was standing at the bottom of the stairs in the rotunda, looking up at Michael Green, who had come to greet us and was standing above, majestically attired entirely in black leather with some kind of deranged moustache on his face.  One guy dressed in black regarded the other.
"Is that a Calgarian?"
Well, yes, in a way, I guess, maybe not quite, but actually… man, it's kind of hard to explain…. Yes. That's a Calgarian.
He nodded, and proceeded to carry an enormous set-piece up the stairs over one shoulder, thinking the city was full of people like Michael Green. Of course it isn't. There has only ever been one of him, and only ever will be. But it was a beautiful vision, a city full of skinny madmen whipping up weird wonders on every corner, and I figured I might as well let that vision linger awhile, for both of us.
A little bit more about that night: we loaded the show in, tracking hay from the cuffs of our jeans all over the Centre, and bid goodbye to the Hutterites.
And then, God help us, here came show time.  We were scrambling to get it all ready and I remember running up to the dressing room to put on my costume as the audience took their seats. There was some terrible smell in the dressing room and first we blamed Pete [Balkwill, fellow Trout]. But then I realized somebody's sweater was next to one of the dressing-table light bulbs and had caught fire. We were going to be responsible for burning down the entire Centre for the Performing Arts.
I grabbed the sweater, but it had melted right onto the light bulb, spewing some kind of hideous black smoke, so I looked around in desperation for the light switch. In my panic, I thought the bare wires of some broken light bulb sticking out of the dresser must be the switch, so I grabbed them, and there was a terrible frying sound as my whole arm went numb. Couldn't work my fingers. Had to perform the show with one arm.
Apparently they were finding hay throughout the Centre for weeks.
The truth is the Rodeo was absolutely central to my whole world, especially as a young fellow. Going to see a show felt like knowing the secret password to some kind of frightening Bohemian orgy-world. It ruined me for real life, I think."
Eric 
Moschopedis
Calgary theatre artist; Mutton Busting festival producer, 2002 to 2006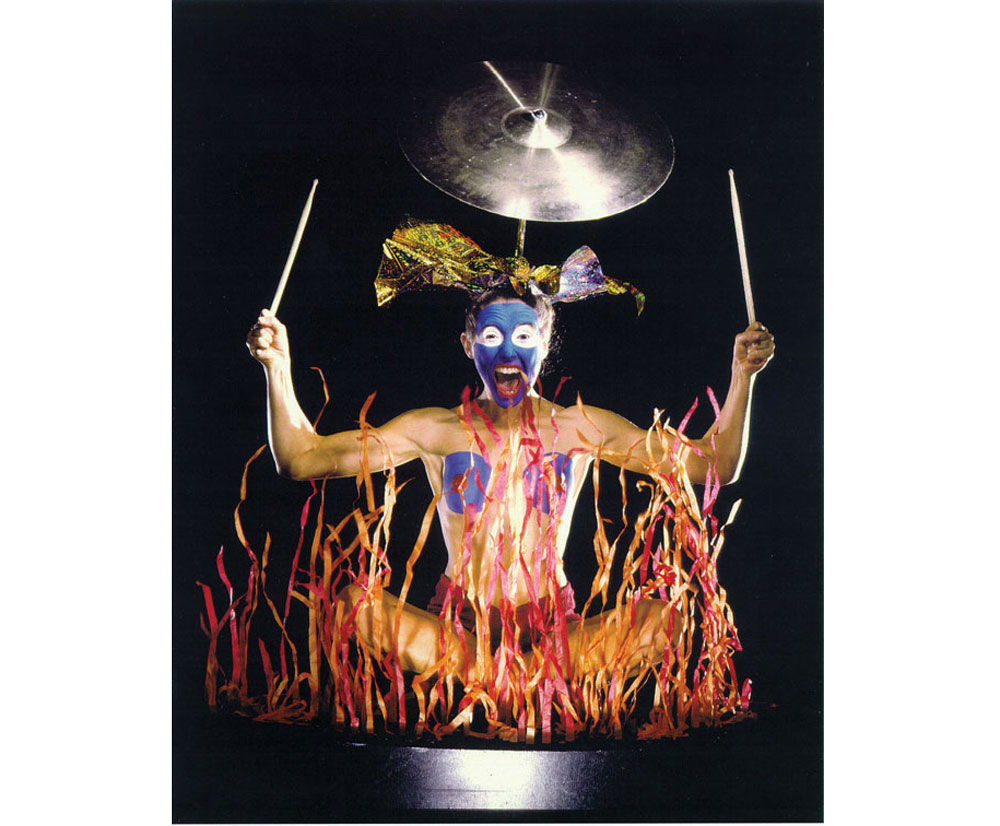 "My first Rodeo was the 2001 edition, and it convinced me to stay in Calgary. I remember sitting in the Max Bell Theatre watching Compagnie Marie Chouinard's Les Solos and it blew my mind. There was this one part where a woman sat cross-legged on a round platform that was being pulled across the stage with fake flames made of ribbon somehow dancing around her. The dancer's face and breasts were painted blue, and she was frantically smashing a symbol that hovered over her head like a halo. Truly, seriously, it made me stay in Calgary."
Former One Yellow Rabbit artistic director associate
"The first year I was hired as One Yellow Rabbit's artistic director associate, one of my tasks was to be the wedding planner for Annie Sprinkle, an American woman who wears many hats: sex educator, former prostitute, feminist stripper, pornographic actress, cable television host, porn magazine editor, writer and sex-film producer. This 'yellow wedding' was to be one in a series of multiple weddings that would act as both political statement and performance-art event.
At the time, I was in my early twenties and had very little knowledge of the world she came from. I got a serious crash course in both wedding planning and sex-positive work! I brought in as many artist friends as I could to help – musicians, visual artists, filmmakers, costume designers, drag queens, spoken-word artists, dancers – and I said: 'I don't know what I'm doing but let's do this together.' It became one of the most authentic collaborations I have ever endeavoured, and it stands to this day as a miracle of event production.
I reconnected with Annie years later and she said that though she and her now-official wife Beth Stephens have celebrated many weddings since, our "yellow wedding" still stands as her favourite. And that's on top of the fact that our Calgary yellow wedding was where Annie and Beth were legally married as the U.S. still had not legalized gay marriage."
 Daniel MacIvor
Playwright and performer of six High Performance Rodeo shows between 1990 and 2013
"I loved performing Monster for the very first time before an audience when I had no idea if the show was going to work or not. (It worked!) I really hope I'll be back again and again, though I'll miss Michael Green's introduction each night. It was the only place in the world where I was known as 'Big Dan MacIvor.'"
Gr
ant Burns
High Performance Rodeo producer, 1988 to 1999
"New York performance artist Penny Arcade came to the HPR in 1993 with a controversial work combining erotic dancing, comedy, improvisation and audience participation on themes of AIDS, pornography, censorship and prostitution. It was such a big hit, we used the Theatre Calgary rehearsal hall, cramming in 200-plus people. We sold tickets in the Plus-15 and brought audiences up in the freight elevator in groups of 20 at a time (Michael Green loved this as it was just like the very first Secret Elevator Festival). I was so busy selling tickets, doing head counts and going back and forth trying to shoehorn audiences in, that, at one point, I had a packed elevator and took them to the wrong floor."
 Naomi Campbell
Director, artistic development Luminato Festival
"Bringing Mammalian Diving Reflex's production of White Mice to the Rodeo in 2002 felt like an amazing accomplishment. We all felt like we'd 'made it' by performing there."
 Kelley McKinlay
Dancer, Alberta Ballet
"One of my favourite HPR experiences (other than performing) is going to the Rodeo Bar. It's such a unique space where the artists can mingle and get to know one another. As a performer you rarely get an opportunity to do something like that."
Christopher Davis
High Performance Rodeo corporate sponsor (Christopher Davis Law)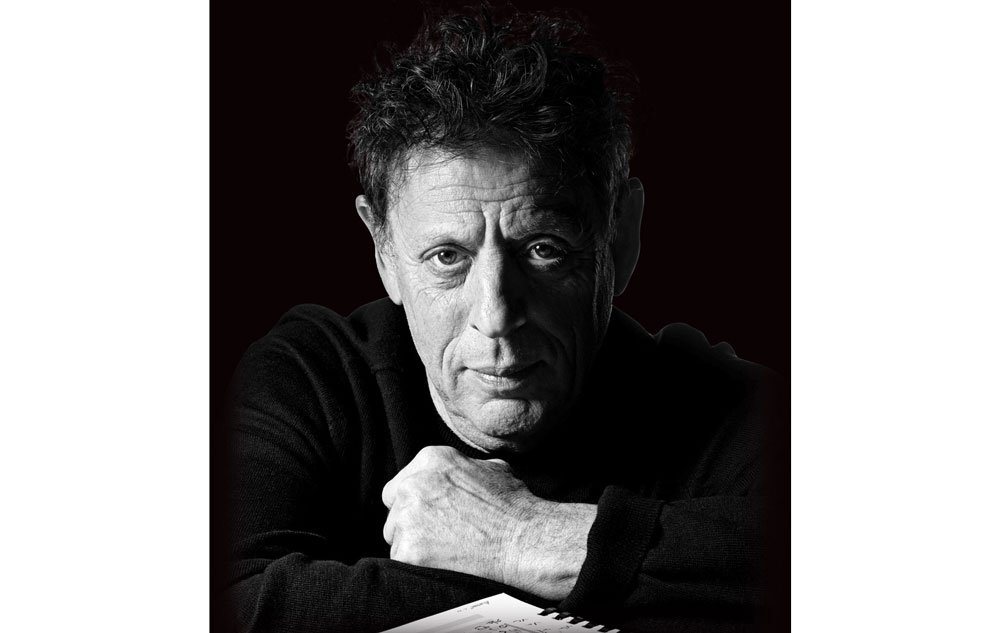 "Securing Philip Glass [in 2009] was a coup. There were several events – one featuring the CPO [Calgary Philharmonic Orchestra], a solo event, a dance event, etc. It was electric. I remember the entire audience and the performers standing for a collective ovation following the conclusion of the Glass/CPO performance. Little Calgary and little OYR punched well above their collective weight on that one."
 Tim Neis
Vice President of Swizzlesticks SalonSpa, Rodeo sponsor since 2003
"TheatreLabour's Absurdesque was one of the most hilarious pieces of absurdist theatre I have ever seen. I felt like I was watching One Yellow Rabbit's German doppelgngers."
Naheed 
Nenshi
Calgary mayor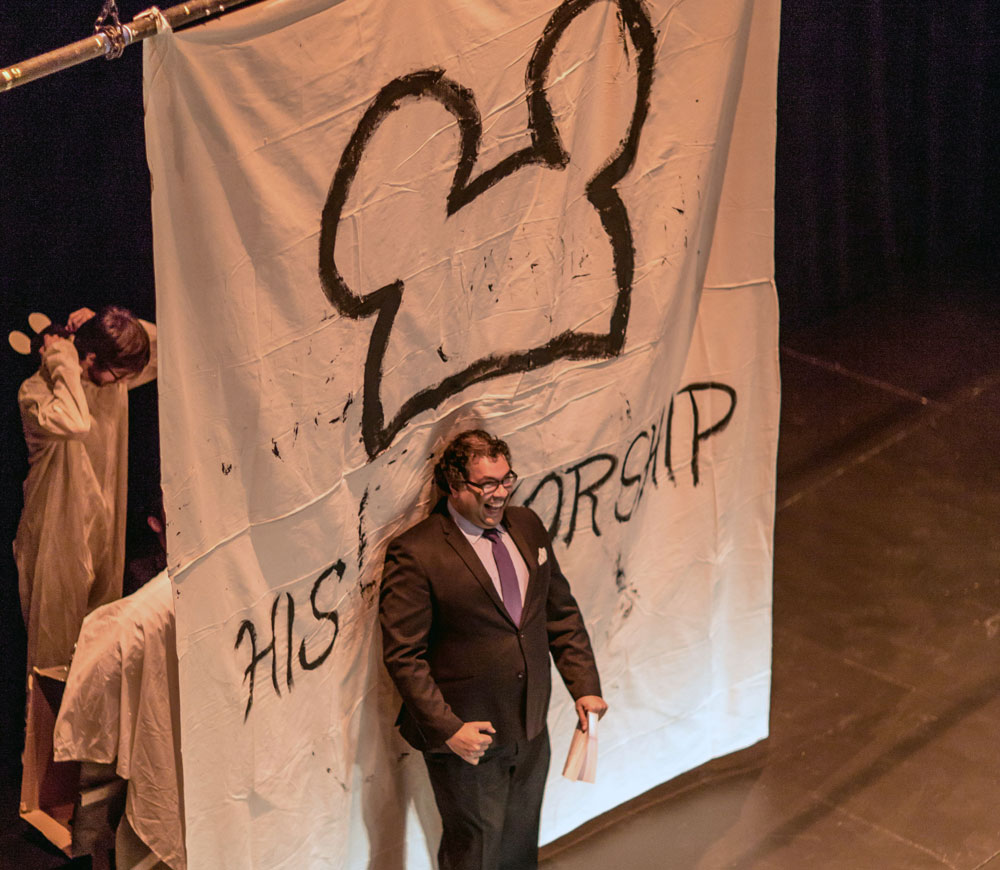 "The highlight for me every year is the 10-Minute Play Festival, but nothing beats actually hosting the 10-Minute Play Festival, which I did in 2015. As the host, you have to come up with the theme and props, so my co-host, Julie Orton, and I ended up using random lines of bureaucratese from an old city council agenda and the props were things from my office. It was a great evening, and I want to submit my resum to be the permanent host of that event."
D
enise Clarke
Associate artist, One Yellow Rabbit
"Alejandro Escovedo [2002], playing at 4 a.m. at the Rodeo bar."
 Jason Wordie
Longtime Rodeo patron and supporter
"The late-night cabarets that started at 11:30 p.m. and went until 1:30 a.m., and ended with everyone on stage enjoying an impromptu party – I've seen so many unique and fantastic acts on these nights, from burlesque shows, to bizarre 10-minute acts with disturbing, thought-provoking monologues.
And then there was Denise Clarke as her Electric Goalie character, walking off stage with her bare ass showing, saying, 'what do you think the Order of Canada would think of this?' (Probably, 'nice bum!')"
 Onalea Gilbertson
One Yellow Rabbit Ensemble member, 2002-2009
"The High Performance Rodeo changed my life – almost impossible to say which moment out of a sea of memorable moments is the most definitive. Watching culture from around the world, being able to commune with friends, performing for the first time at the Big Secret Theatre in the cabarets. Opening shows as an ensemble member with One Yellow Rabbit (in particular Sylvia Plath Must Not Die), performing with the Land's End Chamber Ensemble on Berlin to Hollywood at the Beatniq and selling out our run. Michael Green believing and supporting my work as an original artist.
Premiering my piece about homelessness Requiem for a Lost Girl (2010) and hearing backstage we had sold out the show – the standing ovation that the audience gave this difficult and definitive piece of work after we collectively bared our souls stands out as a particularly poignant moment.
Stephen Schroeder
High Performance Rodeo producer, 1999 to 2010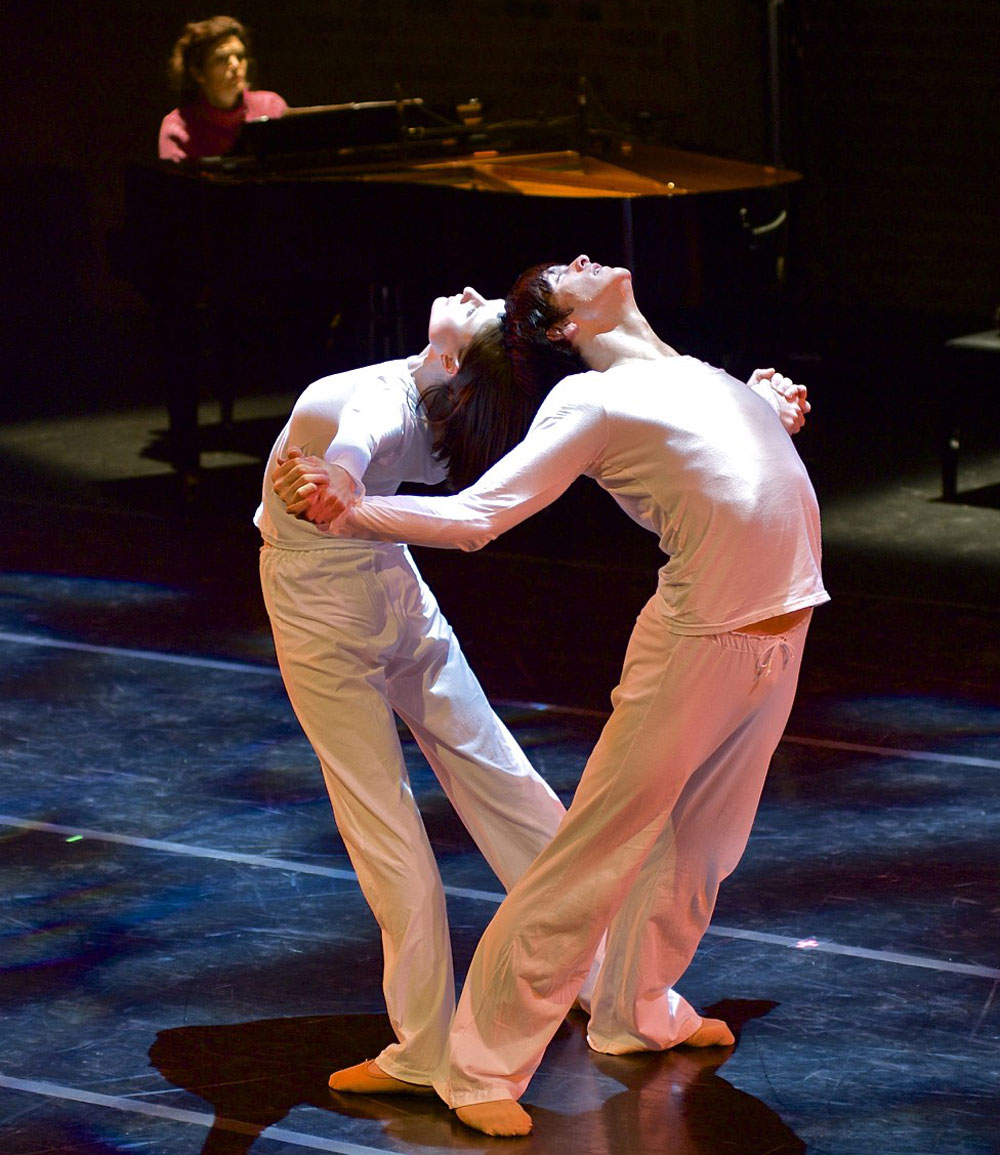 "Michael Green had a genius for envisioning huge, ambitious and, frankly, insane performance experiences that – while beautiful and deserving – were often impractical and without logistical form. Frequently, my job as festival producer was to pull these things out of the realm of inspired imagination and into the reality of time, space and budget. One such project was Tubular Bells, a gorgeous and unconventional ballet he envisioned being choreographed and performed by Alberta Ballet, accompanied live on stage by four concert pianists playing a fresh arrangement of Mike Oldfield's famous, experimental score on four concert pianos at the Grand.
"There were a thousand ways this show wasn't going to work. The venue wasn't a typical ballet venue. The spacing would be tight. The logistics were close to impossible. Calgary didn't have four such pianos available. The pianists came from three different continents and, despite the leadership of the amazing Marcel Bergmann as musical director, there was no guarantee they would jell. The timeline was incredibly tight: if the pieces didn't all fit together in perfect harmony, there would be no time to correct it. Few things have ever felt as satisfying as when it all came together for a mesmerized full house that spontaneously and immediately leapt to its feet on that magical opening night."