The One Yellow Rabbit ensemble's new show Live Your Prime, With Damien Frost kicks off the 33rd High Performance Rodeo (HPR). The show follows the Frost family, led by self-help guru Damien — played by esteemed playwright and actor John Murrell, who collaborated with the Rabbits to create the show. The show uses the device of an unseen documentary crew to pull back the curtains on the family's troubles, asking questions about aging, branding and honesty in the process.
While the authenticity of guru-dom is one of the play's concerns, Denise Clarke stops just short of calling the Live Your Prime philosophy — wherein followers are encouraged to think of themselves of masters of time, not slaves to it — cult-like. The self-help principle espoused by the titular character of the play is more in line with the likes of Tony Robbins or Marianne Williamson than someone like Jim Jones or Keith Raniere, she says.
Clarke plays Dragomira "Darlene" Frost, an expatriate Russian who's been married to Damien for more than 20 years. "She took one look at Damien and said, 'Well, that's the guy for me,'" she says. "She likes his kind heart, that he's big and brave and… that he's a capitalist."
Clarke says that despite the obvious fact that self-help idols like Robbins and the fictional Frost have made millions upon millions in a "capitalist scheme," there are a "gazillion" people who swear by these kinds of teachings and, as such, Live Your Prime should not be confused with a condemnation. "You're constantly having to evaluate who you call a charlatan and what you call a cash grab, and what a lot of other people call a lifesaver," she says.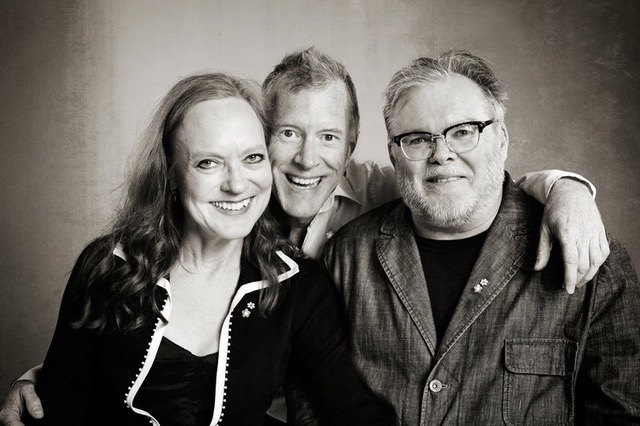 Now a senior citizen, Damien concerns himself with being the patriarch of a highly dysfunctional family and managing his riches. But despite gaining fame and fortune during his decades-long career as a charismatic guru and author, it seems his wisdom isn't helping the people who rely on him most — son Damien Jr. (Andy Curtis) and his step-mother Darlene are anything but the enlightened, contented sort.
After a cataclysmic betrayal committed by the younger Frost, the clan reluctantly faces its demons despite everyone but Damien's best efforts to maintain a veneer of cold indifference. We were fortunate to be invited to observe an open rehearsal by the ensemble less than a week before opening night, and can safely say the results are both unflinchingly raw and drenched in dark comedic relief.
"Unless I'm completely mistaken, it's funny and freaky in the best One Yellow Rabbit tradition," says Clarke. "No matter how famous and amazing a guru is, his family can still be a colossal s—show."
She goes on to explain that the levity in the show is in line with one of the overall goals of this year's HPR. "The main theme for the programming is joy. This a dark time, and I think everybody's feeling overwhelmed… we wanted to make the festival kind of provocative still, but also to really rely on the joy piece."
Live Your Prime, With Damien Frost opens with a preview on January 9, and runs nightly at 7:30 p.m. through January 19 at the Big Secret Theatre inside Arts Commons. No show on Monday, January 14. Tickets and High Performance Rodeo flex passes are on sale now.