Mix paint and pinot at Vin Gogh
If you've never put brush to canvas, painting class can be an intimidating space. To take the edge off, try one of Vin Gogh's paint-and-sip nights. Patrons are provided with all the materials (and liquid courage) they need, and an instructor provides step-by-step guidance during each session, ensuring you'll come out with a beautiful painting to call your own.
118, 7004 MacLeod Trail S.E. 403-475-4644, vingogh.ca 
Try improv
Calgary is home to a number of improv groups, most of which offer classes. The grand-daddy of the local improv schools, Loose Moose, is recognized worldwide for its techniques. You can also check out Calgary Improv, which offers courses co-produced by local performing groups The Kinkonauts and Obviously Improv. Whether you're looking for a foundations class or complete mastery of all things funny on the fly, they've got a class for you.
calgaryimprov.org/school, loosemoose.com
DIY your new terrarium
Want to combine creativity and your budding green thumb? The terrarium workshops at Plant will place you in a group of eight to 12 people and teach you how to decorate a beautiful glass home for your newest flora. They provide all the supplies (though you can bring your own container, if you so choose), you just have to register and show up.
1327 9 Ave. S.E., 403-585-4226, plantterrariums.ca
Volunteer with an arts group
Many arts organizations in Calgary rely on volunteers to keep everything running. Vertigo Theatre, Calgary Opera, the Calgary Philharmonic Orchestra and others have volunteer positions such as ticket taker or usher, that you can take on in exchange for the opportunity to experience their productions for free. It's a great way to experience the performing arts if you're on a tight budget.
Learn to knit or crochet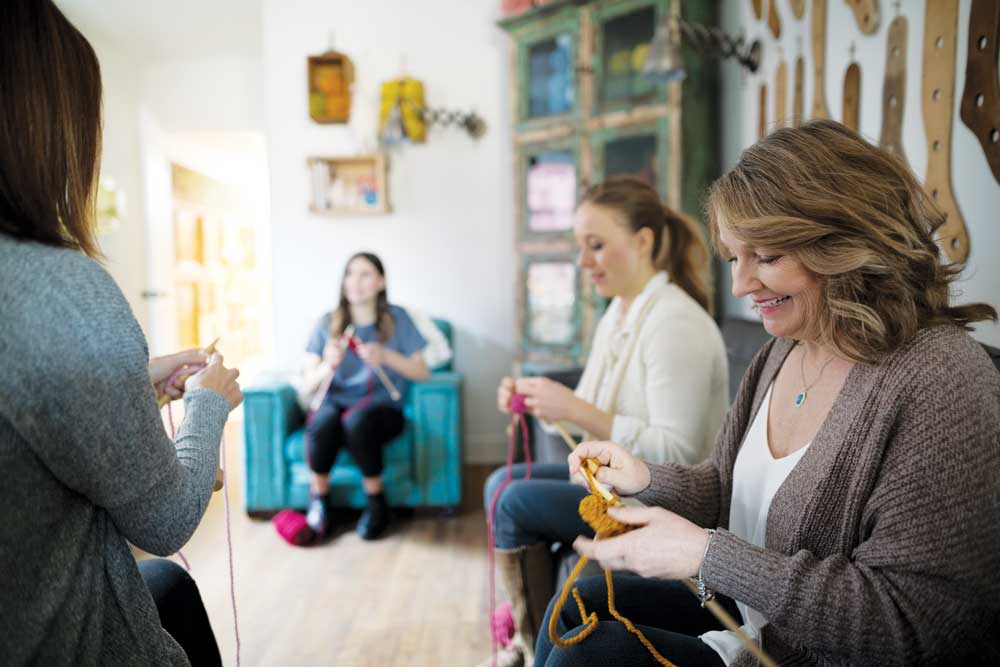 photograph by hero images
The Learn to Knit class at Stash Needle Art Lounge.
If soft and cozy is your style, then a knitting or crochet class could be the perfect way to indulge your creativity. At Stash Needle Art Lounge, knitters and crocheters of all levels are welcome. Take the Learn to Knit class if it's your first time picking up needles, or get hooked on the Learn to Crochet class. Once you've mastered casting on, purling and cabling, there are more advanced classes available as well.
1237 9 Ave. S.E., 403-457-0766, stashlounge.com
Join a Meetup group
Odds are that if there's something you're interested in doing, other people are already doing it and some of them have formed a Meetup group based around that activity or hobby. There are groups centered around writing, learning new languages, board games and ball games, so sign up and discover your latest passion in a welcoming, likeminded environment.
meetup.com/cities/ca/ab/calgary/
Borrow an instrument from the library
One of the biggest hurdles to learning a new instrument is the cost of the instrument itself. This past summer, the Calgary Public Library introduced a number of instruments to its collection, which patrons can borrow for three weeks at a time from the Memorial Park Library branch. The collection includes guitars, banjos, violins, keyboards and various percussion instruments. While you're at it, borrow a book or DVD on learning to play the instrument and maybe teach yourself some new tunes.
calgarylibrary.ca/borrow-a-musical-instrument/
Turn glass into art
At Artopia Studios, you can turn old into new with kiln-fired glass – the process of fusing glass at high temperatures. Melting multiple bits of colourful glass together creates a piece that is completely unique. Mold anything from bowls to wine racks, or take a shot at crafting a glass clock. The class includes equipment, tools and an endless supply of glass. Drop-ins are welcome anytime the studio is open and no previous experience is required.
106 61 Ave. S.W., 403-238-5055,  artopiastudiosinc.com
Sing your heart out with an amateur choir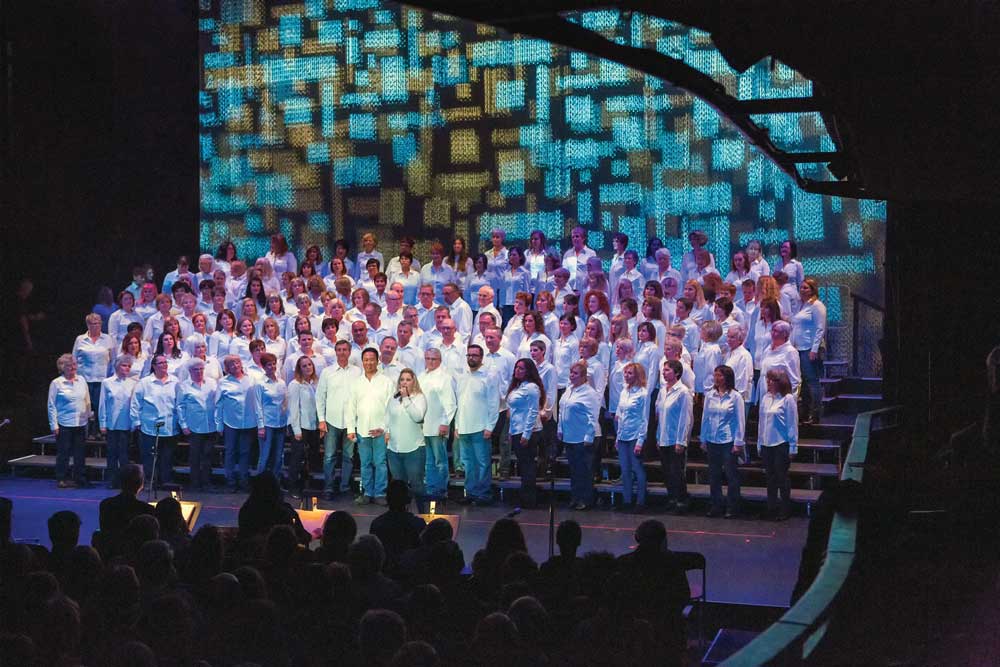 photograph by buhler's world photography
A performance featuring the Up2Something and She's Up2Something amateur choirs.
If you're looking to find your voice but don't have a lot of confidence, you can join one of the city's many amateur choirs for camaraderie and encouragement. Groups like Vocal Latitudes, Up2Something and Second Chants (the adult recreational division of the Calgary Youth Singer) are all non-audition choirs that accept beginners as new members and hold regular rehearsals.
vocalatitudes.org, up2something.org, youthsingers.org/programs/second-chants/
Make your own jewellery
Are you missing a staple piece in your jewellery box? Stop searching through etsy and make it yourself at Beadles Beads & Jewellery. With thousands of beads to choose from, you can be as outlandish or minimalist as you please. Design bracelets, necklaces, earrings, or any jewelled piece your heart desires. They offer free daily drop-in classes you can take when you purchase your supplies from the store, as well as hour-long classes where you can learn to bead, make Mala necklaces or  create bead looms.
1606 7 St. S.W., 403-245-1562, beadlesbeads1.ca
Find a space to create
If you're a creative type but don't have a space to pursue your projects, spacefinder.org is worth a visit. The international site lists available spaces, classified into sections such as performance, exhibition, rehearsal and screening, to help you find the right space for whatever you want to do.