Editor's note: This article was updated on June 2, 2017.
If you love spending time in the great outdoors, spend the day in Bragg Creek. The town is located right by Bragg Creek Provincial Park where you can spend the whole day hiking, mountain biking and exploring. While one of the main reasons for coming out here is to get outside, you'll also want to visit for the great German and Italian food, games of paintball and a few big summer events like Bragg Creek Days.
---
Getting there
45 kilometres from the Calgary Tower | West on Hwy 8
---
What to do
Bike or hike the trails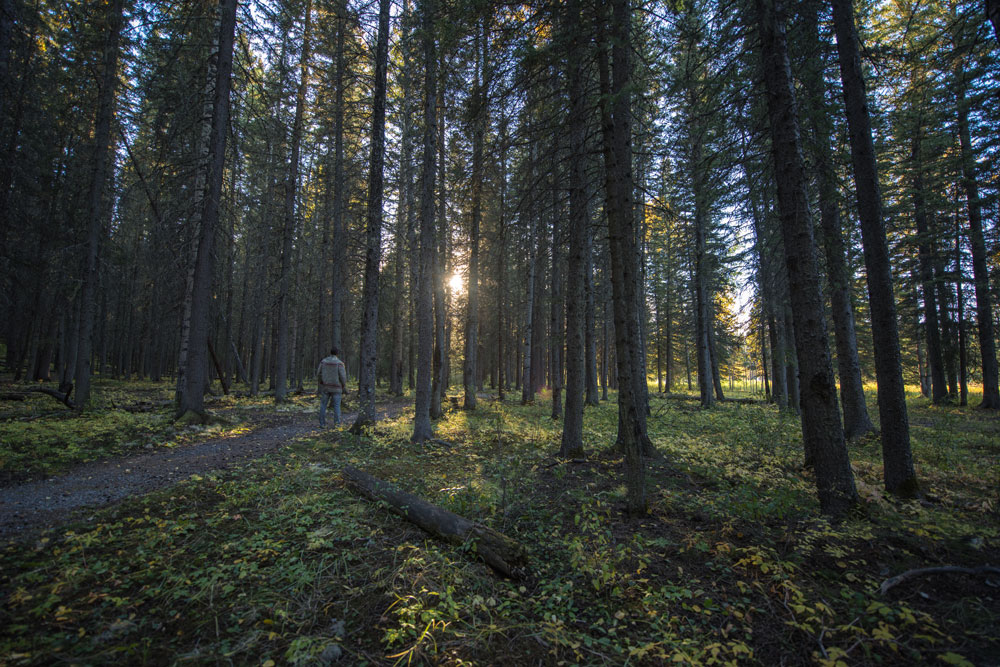 Hiking in Bragg Creek Provincial Park.
A trip to Bragg Creek pretty much requires that you spend some time in Bragg Creek Provincial Park. Bring your mountain bike in from Calgary and spend a few hours exploring the trails in the West Bragg Creek Recreation Area. Or choose a trail ahead of time that you'd like to hike. Trail maps of the area are available from a range of Calgary locations, including MEC, Ridley's Cycle and Bow Cycle. There's also a Bragg Creek trail app you can download onto your iPhone. Be sure to check trail reports and weather reports before leaving.
Paintball is kind of like hide and seek, except messier and louder and with way more adrenaline – this game involves goggles, coveralls and paintball guns. Teams try to eliminate players on the opposite team by hitting them with dye-filled pellets. As well as the paintball course, this venue has propane barbecues on-site that are free to use and 60 picnic tables. After a game of paintball, stick around the area to prepare your own barbecue dinner. Throughout the summer (June 1 to August 31), this recreation venue is open every day from 10 a.m. to 9 p.m.
2221 Highway 22, 403-282-8079, thebraggcreekpaintball.com
This performing arts organization is a registered not-for-profit charity that currently presents five concerts each year. Concerts are by professional performers of all genres and are organized by volunteers. The concert season opens in the fall and runs until the early spring. Upcoming concerts this fall include Don Ross and Calum Graham and MonkeyJunk.
Bragg Creek Community Centre, 23 White Ave., 403-949-4114, braggcreekperformingarts.com
If you're looking to get a game of golf in while you're spending time in the Bragg Creek area, plan ahead and make a reservation at the Redwood Meadows Golf and Country Club. Public tee times for the 18-hole course are available by calling the pro shop two days in advance.
100, 1 Tsuu T'ina Dr., 403-949-3663, redwoodmeadows.com
Shopping in Bragg Creek
Wander through downtown Bragg Creek and spend some time window-shopping. You'll want to make a point to stop in at Archer's Antiques to admire restored artifacts, Bragg Creek Oil and Vinegar Market for special oils and vinegars, and Smack Cycles for bike products, bike rentals and group rides in the area.
---
Where to eat
You'll find authentic German and Austrian food at this restaurant, as well as excellent service and a cozy room. Opt for the traditional dishes here. Start with the goulash soup and order the wiener schnitzel or German sausages as your main course. This restaurant also has an impressive patio – it's quiet and partially shaded, with a forest view.
75 White Ave., 587-318-3577, thebavarianinn.com
Cinnamon Spoon
This caf is just off of Highway 22 and is well worth a stop after spending the day exploring Bragg Creek Provincial Park. It's also well worth a stop if you haven't been out exercising all morning – its cinnamon buns alone are worth the drive from Calgary. As well as sweet treats, Cinnamon Spoon offers a range of lunch items, cold drinks and coffees. If you're the kind of person who bikes out to Bragg Creek, this caf is a must-stop. There are a few seats outdoors on the side of the caf where you can relax in the sun, replenish those energy stores (with a cinnamon bun, of course) and still keep an eye on your bicycle.
1 White Ave., 403-949-4110
This bistro is open for breakfast, lunch and dinner, and also offers Sunday brunch from 10 a.m. to 2 p.m. Stop here for comforting, filling food before or after a day of outdoor activities. There's everything from burgers to pizzas to salads.
20 White Ave., 403-949-3361, creekersbistro.ca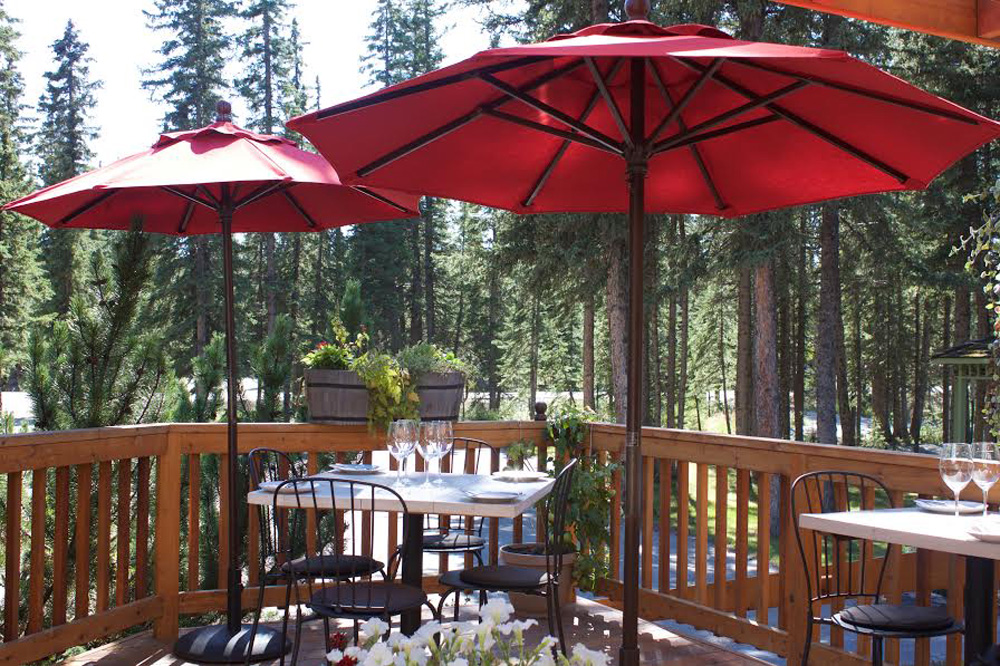 You'd be wise to make reservations at this rustic Italian restaurant if you're hoping to eat here on the weekend. This popular spot has a range of tasty Italian dishes, including pastas, pizzas and antipasti. The interior is beautiful and decorated to have a comfortable, home-y feel – there are tables in different rooms throughout the space and picnic-style, wooden benches. If you can, try to have lunch or dinner on the Italian Farmhouse's sunny patio.
20 Balsam Ave., 403-949-2750, theitalianfarmhouse.ca
You can get carnival food whenever you want, regardless of the time of year, if you make a stop at Snack Mania. Fusion hot dogs are on the menu here – try the Korean-inspired Bulgogi Dog or the Prawn Tempura Dog. There are also other summery essentials, like twist potatoes (that's basically chips on a stick) and funnel cake.
7 Balsam Ave., 403-949-3021, facebook.com
---
Big events
July 21 to 23, 2017
This year marks the 50th annual parade at Bragg Creek Days. The parade itself is on July 22 but the rest of the three-day festival includes an outdoor market square, midway games and activities like face painting, live music, a dunk tank and beer gardens and food vendors. You'll want to come early enough to catch the pancake breakfast, too.
July 28 to 30, 2017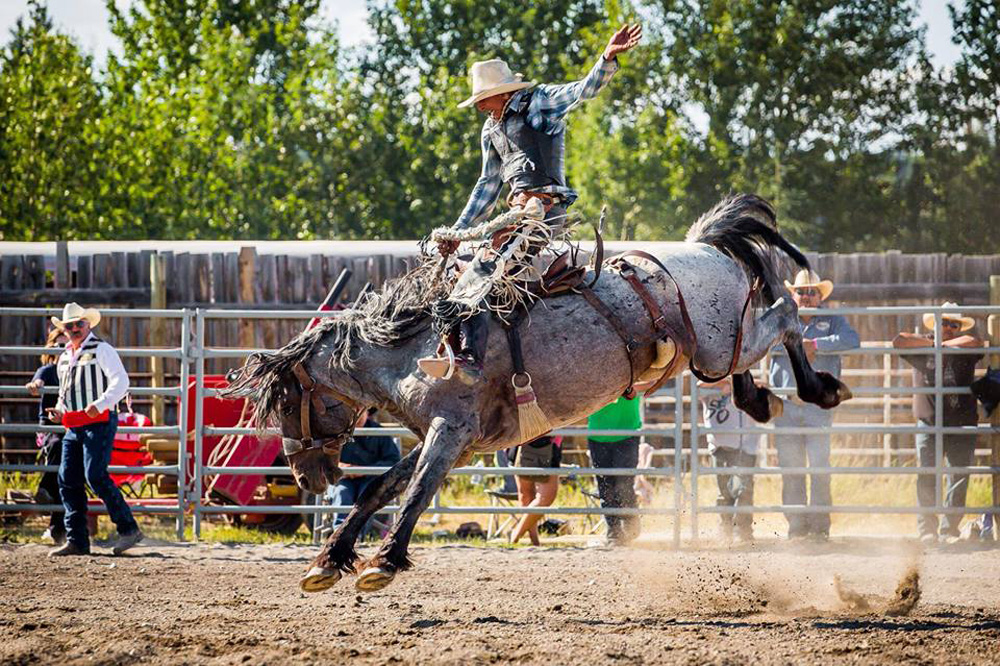 Taking place just outside of Bragg Creek at the Redwood Fair Grounds, the annual Tsuu T'ina Pow Wow and Rodeo is a chance to see high-level athletes at a close-to-Calgary, small-town rodeo. Each year, this rodeo attracts First Nations competitors and musicians from across Canada and the USA. There are rodeo events, a pow wow each day, fireworks and plenty of food and shopping.
August 26, 2017
This event is a popular running race for the hard-core trail running types out there. There are 16 kilometre, 29km and 42km trail running routes at the Moose Mountain trail running race. Racers running 29km and 42km will run up and down Moose Mountain. The 16km runners run a trail called the Telephone Loop. This is an intimate, grass-roots race – it's capped at 150 runners for all three distances. Your registration fee includes a shirt, lunch and entry into the draw prize.