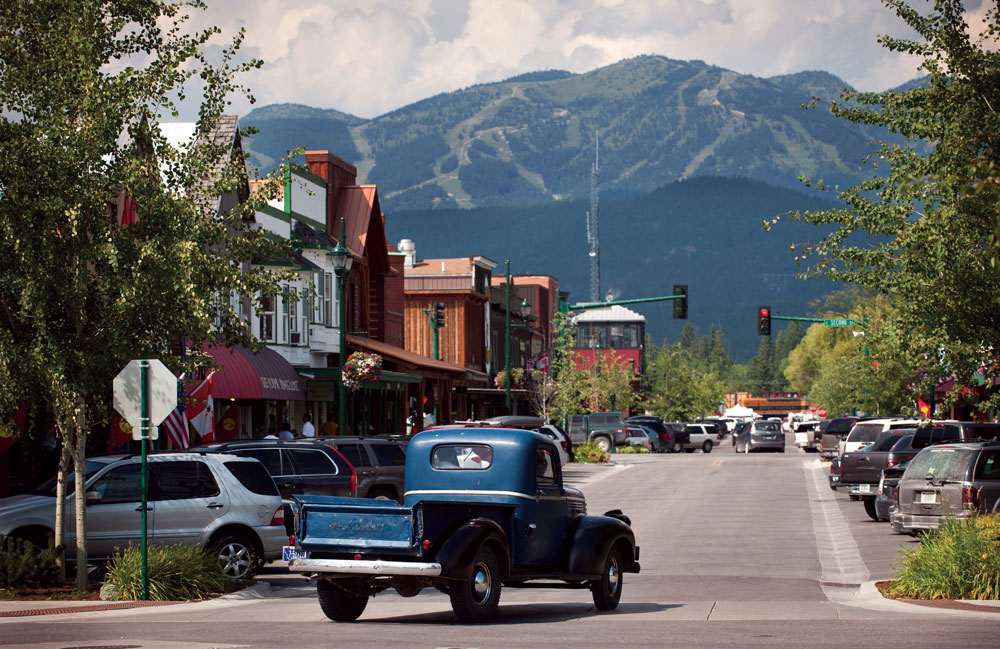 photograph courtesy of Glacier Country Tourism
Central Avenue in Whitefish.
Not all mountain towns are created equal. Some don't have a lake. Some don't have much going on in the summer. And some don't let their hair down and revel in their unpretentious, Wild West ways. But, if you're looking for a mountain town that has all these things (and quite a bit more) put Whitefish, Mont., on your radar.
Situated at the north end of the Flathead Valley, approximately five hours south of Calgary, Whitefish (population 6,864) is a town with many virtues. Naturally, many of those virtues involve outdoor recreation. Aside from that, Whitefish exudes an unpretentious charm that spills out of the rustic downtown area where you'll find an eclectic mix of art galleries, cafs, pizza joints, craft breweries and souvenir stores. The friendly, down-to-earth locals also make Whitefish the kind of place where "the everyman" can chill out, spill beer on his shirt, blend in and recreate. Whatever you do, just don't try to be something you're not, because that's about the only thing that doesn't work in Whitefish.
---
Things to do in Whitefish, Montana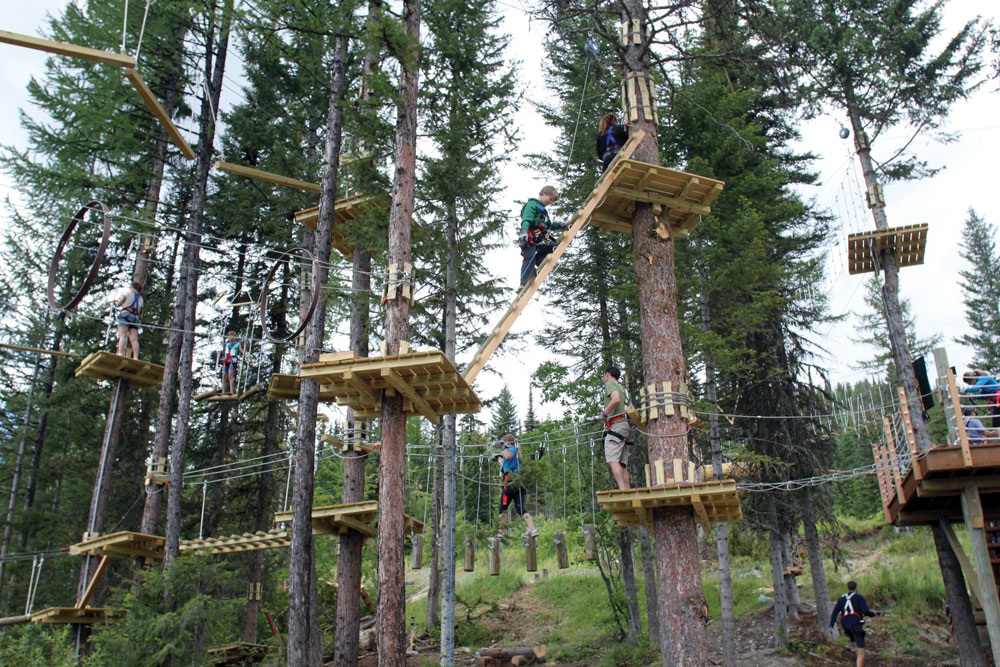 photograph courtesy of Whitefish Mountain Resort
Whitefish Mountain Resort, a 15-minute drive up from the inviting Western facades of the town, is the trump card when it comes to on-the-mountain good times. A skier's paradise spread out over 1,214 hectares with legendary snow dumps and beautiful backside bowls, the resort is also a sweet place to be in the summer. The new Aerial Adventure Park (think obstacle course high in the trees) has been an overwhelming success. And it's not even the only tomfoolery in the trees you can get up to. The Walk in the Treetops, a two-hour nature walk on a suspended boardwalk high in the forest canopy, was the first of its kind in the United States, and is one of only a handful of similar experiences in North America. The route, which takes you as high as 25 metres above the forest floor, is fully guided, and participants must wear safety harnesses. You'll learn about the area's history and ecology as you saunter along at an easy pace.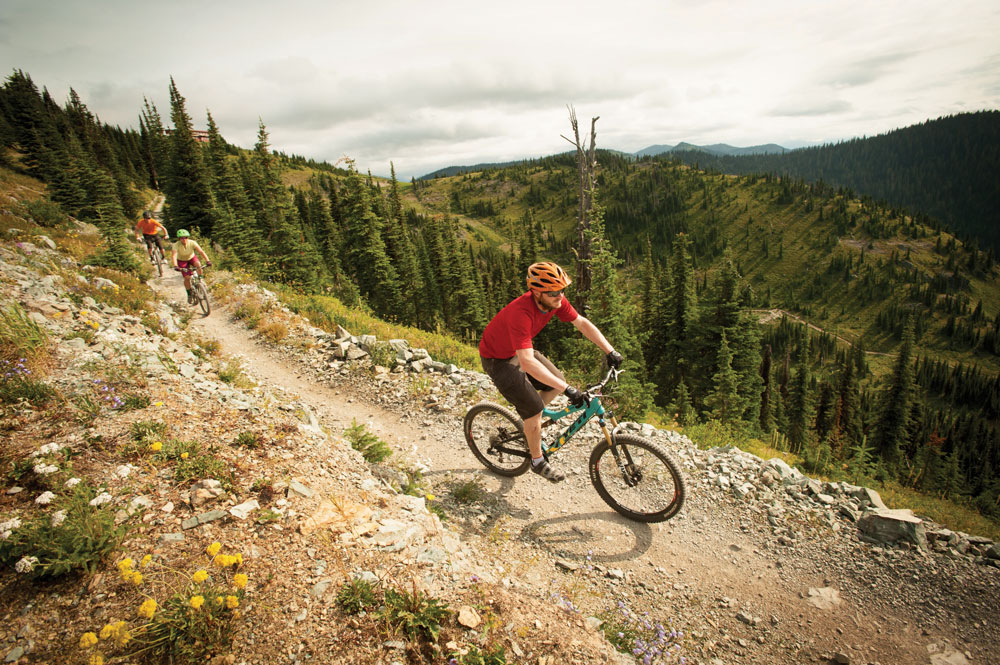 PHOTOGRAPH COURTESY OF WHITEFISH MOUNTAIN RESORT
Mountain biking has also seen significant growth at the resort. More than 48 kilometres of scenic mountain biking trails (both downhill and cross-country) zigzag through the rugged terrain. Intense top-to-bottom runs like Kashmir and Runaway Train are epic expert rides. For those who don't want white knuckles when they bike, the new Whitefish Trail network is a family-friendly zone that features plenty of easy riding. Bikes, helmets and protective padding are available for rent at Village Rentals in the resort's upper village.
Stand-up paddleboarding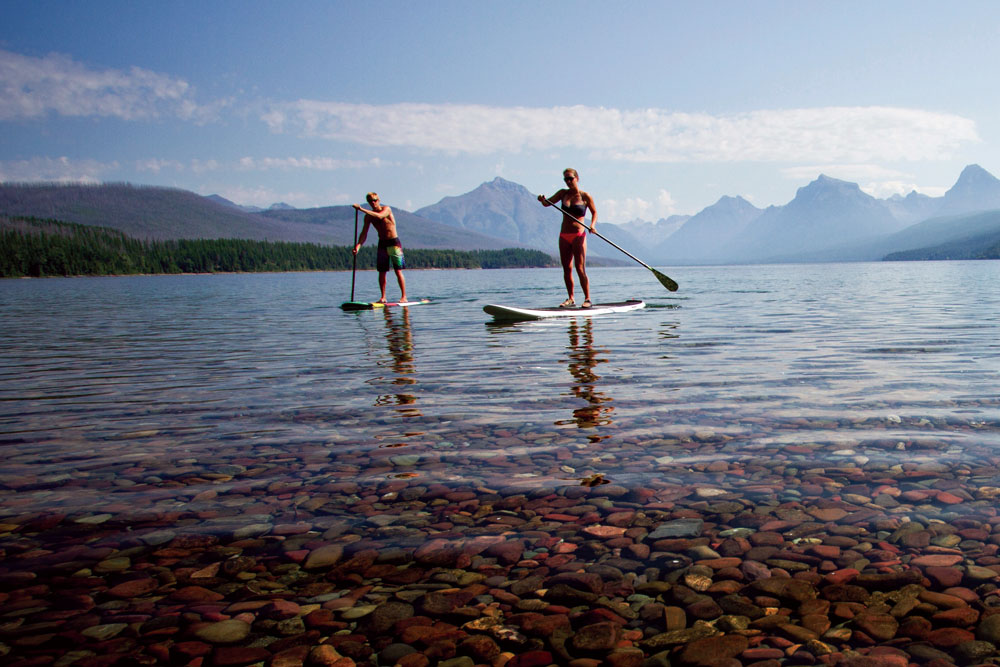 Photograph by Noah Couser
Shimmering on the western side of town, Whitefish Lake has boating, beaching, lakeside resorts and cozy cabins and cottages that nudge up against its serene shoreline. As in many other waterside towns, stand-up paddleboarding has become a popular pastime here. The clean, refreshing water of the lake and the beautiful scenery make it a perfect place to paddle. If you don't have a board, you can easily rent one through Paddlefish Sports.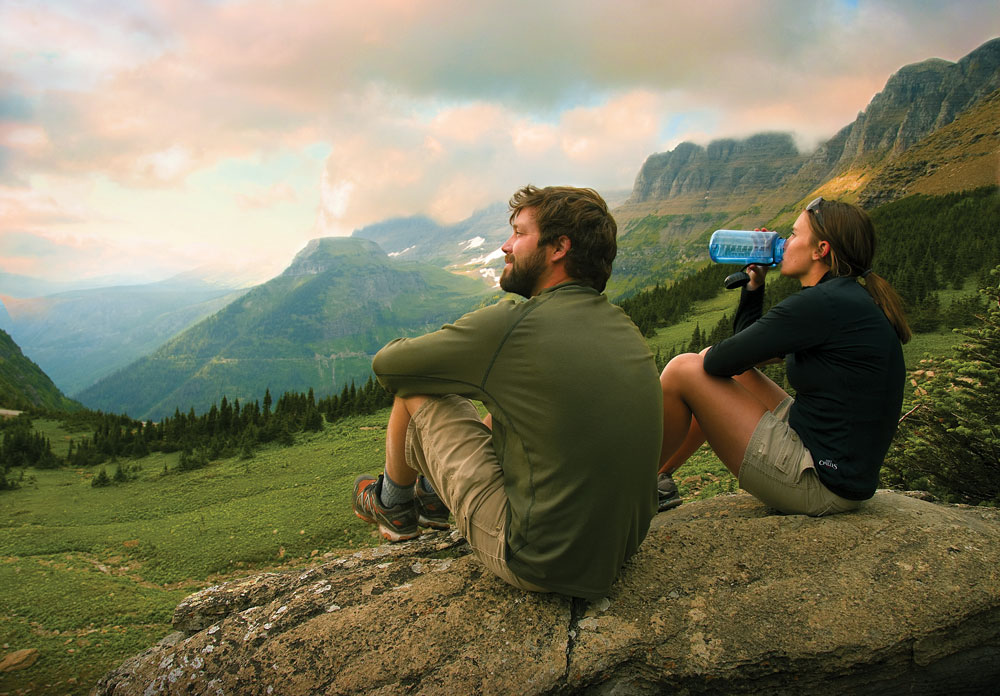 photograph courtesy of Glacier Country Tourism
Whitefish is also the gateway to Glacier National Park, one of the oldest national parks in the United States. The park, located approximately 35 minutes from downtown Whitefish, is known for its chiselled, glacier-carved peaks, stunning hiking trails, baby-blue lakes, historic lodges and one of the narrowest, twistiest and most spectacular mountain highways ever built. Indeed, the Going-to-the-Sun Road, which is only open for a few months during the summer (check the park's website for up-to-date status reports), can be a bit harrowing if you're not used to driving at such heights. However, for people travelling to Whitefish from Calgary, it offers the most direct route. Keep in mind that you must obtain a park pass to drive the road.
If you're one for chasing around golf balls, the 36-hole Whitefish Lake Golf Club is where you want to be. The South Course, featuring holes that parade along Lost Coon Lake, is scenic and fun. The North Course – call it classic parkland golf – is even better. The best part? The beer is cheap and the food at the esteemed Whitefish Lake Restaurant in the Clubhouse is spectacular.
---
Where to eat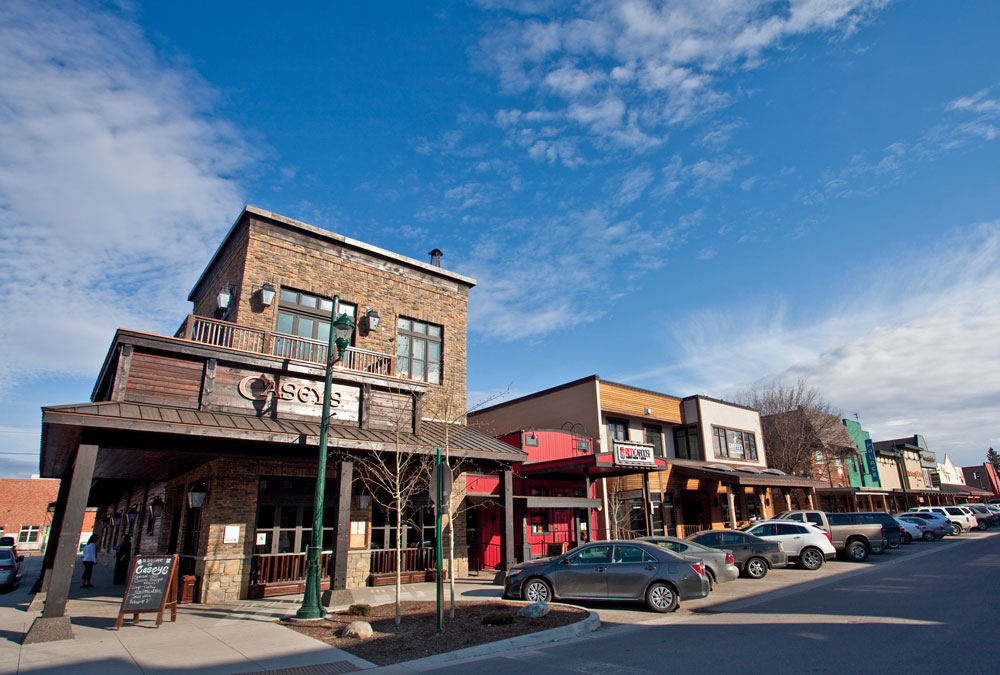 photograph by andrew penner
Shared plates, locally sourced ingredients and live entertainment are the order of the day at Casey's, one of the hot spots in downtown Whitefish. With multiple levels and bars, you can choose the right type of atmosphere to match your taste (speaking of taste, the elk chili and pepper-crusted grilled sirloin are both winners). There's also a late-night takeaway window run in collaboration with Second Street Pizza, serving up tacos and slices, Fridays and Saturdays, from 11 p.m. to 2:30 a.m.
For a casual meal in town, Loula's is the place to hang your hat. Famous for its fruit pies (it makes between 3,000 and 4,000 every year), Loula's also cooks up hearty burgers, does Friday night fish tacos and makes a crazy-good chicken pot pie.
---
Where to stay
For both luxury and convenience, Whitefish Downtown Suites is first-rate, with five beautifully appointed suites of various sizes and configurations. This is the newest lodging option in the area, and it boasts an ideal location in the heart of historic downtown Whitefish.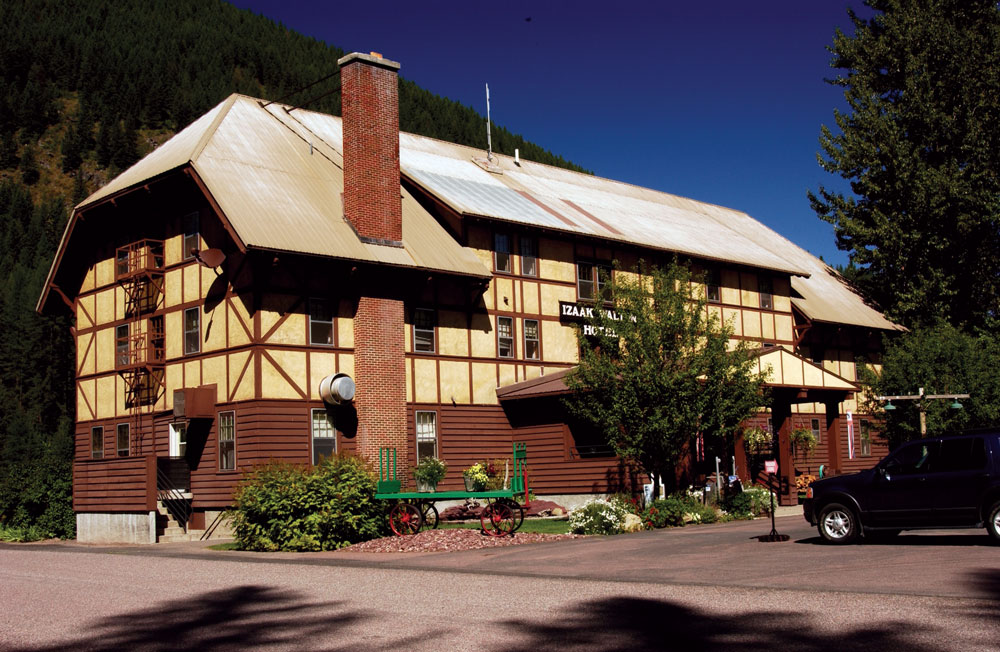 photograph courtesy of Donnie Sexton/Montana Office of Tourism
Railroading enthusiasts from around the world know about the Izaak Walton Inn, a historic lodge that also features several restored caboose cars and luxury rail cars as guest cabins. Completed in 1939, the inn is located in Essex, 85 kilometres east of Whitefish on the boundary of Glacier National Park.
---
Travel tips from a Calgarian
Outdoor enthusiasts Chris and Julie Kohlruss and their five-year-old son son, Rylan, head down to Whitefish every chance they get. They own a second home just south of town and visit the area six to 10 times a year.
"We just love the small mountain-village feel and the abundance of opportunities to be active in the outdoors," says Julie, a phys-ed instructor. "Our son is a go-getter, and we're game to try just about any sport or activity out there."
In summer, the couple does a lot of hiking and biking. "The Lion Mountain trails are close by and we're there a lot. Les Mason State Park is perfect for a lakeside picnic," Julie says.
Visitors rave about the delicious and inexpensive food in town. The Kohlruss family favourites are "the Craggy Range for their amazing mac 'n' cheese, Casey's for its fantastic rooftop patio, Ciao Mambo for quaint Italian and Sweet Peaks for their delicious ice cream," says Julie.