6 Romantic Ways to Spend Winter in the Mountains
Wintertime in the mountains is the most romantic season for those who are up for a little adventure.
By Lisa Monforton
Lake Louise
Photograph courtesy of the Fairmont Chateau Lake Louise
Nothing stokes the romantic fires like an invigorating day in the mountains (which is especially true if that day ends beside an actual roaring fire). Grab your main squeeze and go play outside together with one of these feel-good winter pastimes.
Go for a walk in the clouds by trying heli-snowshoeing
Heli-snowshoeing offers a whole new twist on the mile-high club. You'll feel like royalty as you duck beneath the spinning blades of your sky chariot to be whisked away above towering peaks before touching down in a winter wonderland. Rockies Heli Canada offers a variety of snowshoe tour options, which can be customized to fit any wish list (how does an end-of-day bottle of bubbly sound?).
The company operates two heli-pads, one off the Trans-Canada Highway at the Stoney Nakoda Casino, the other about 15 minutes from the Icefields Parkway along the David Thompson Highway. If you don't want to snowshoe, that's fine, too; stay aloft and enjoy the ride.
Try a sleigh ride
Dashing through the snow in a one-horse open sleigh is indeed fun. Brewster Adventures in Lake Louise operates a two-seat cutter sleigh for romantic jaunts during the day or the evening, at a rate of $375 per hour. It's best to reserve in advance, especially if you have your heart set on taking the cutter out on Valentine's Day.
Take your date dogsledding
It doesn't get more Canadian than dogsledding: snuggling beneath a wool blanket and sheepskin throw as a team of huskies pulls you across a snowy trail under silvery moonlight. If you're the adventurous type, you can opt to drive the sled yourself after a brief lesson with Canmore-based Snowy Owl Sled Dog Tours, one of several dogsledding companies in the Bow Valley. Take its Legends of the Snow Moon adventure to nearby Spray Lakes, which includes a bonfire at the end of the trail with hot drinks, hors d'oeuvres and sweet treats. It's best to book ahead, as the twice-a-winter trips sell out fast.
Go ice skating on a picturesque frozen pond
Lake Louise is among the most spectacular natural ice-skating spots in the world. The frozen surface is maintained by staff from the Fairmont Chateau Lake Louise and features an ice castle at the centre. If you don't have skates, the Chateau's sports shop rents them for $11 for a half-day or $15 for a full day.
Closer to home, The Pond in Canmore is a picturesque natural ice surface where the community gathers for events such as the annual Skate with Santa.
Spend a winter night stargazing
Long winter nights are stellar for stargazing. Any remote spot away from the city lights is good for a little celestial soiree, or you can pair your night-sky viewing with the guided after-dark ice walk through Johnston Canyon offered by Discover Banff Tours. The popular summer hiking spot located just west of Banff is a magical show of frozen waterfalls and glistening icicles during the winter.
On a clear night be sure to stand still, remove your headlamp and look way up to spot the constellations Andromeda (the Princess) and Draco (the Dragon), or a slice of the Milky Way.
Enjoy a cozy winter getaway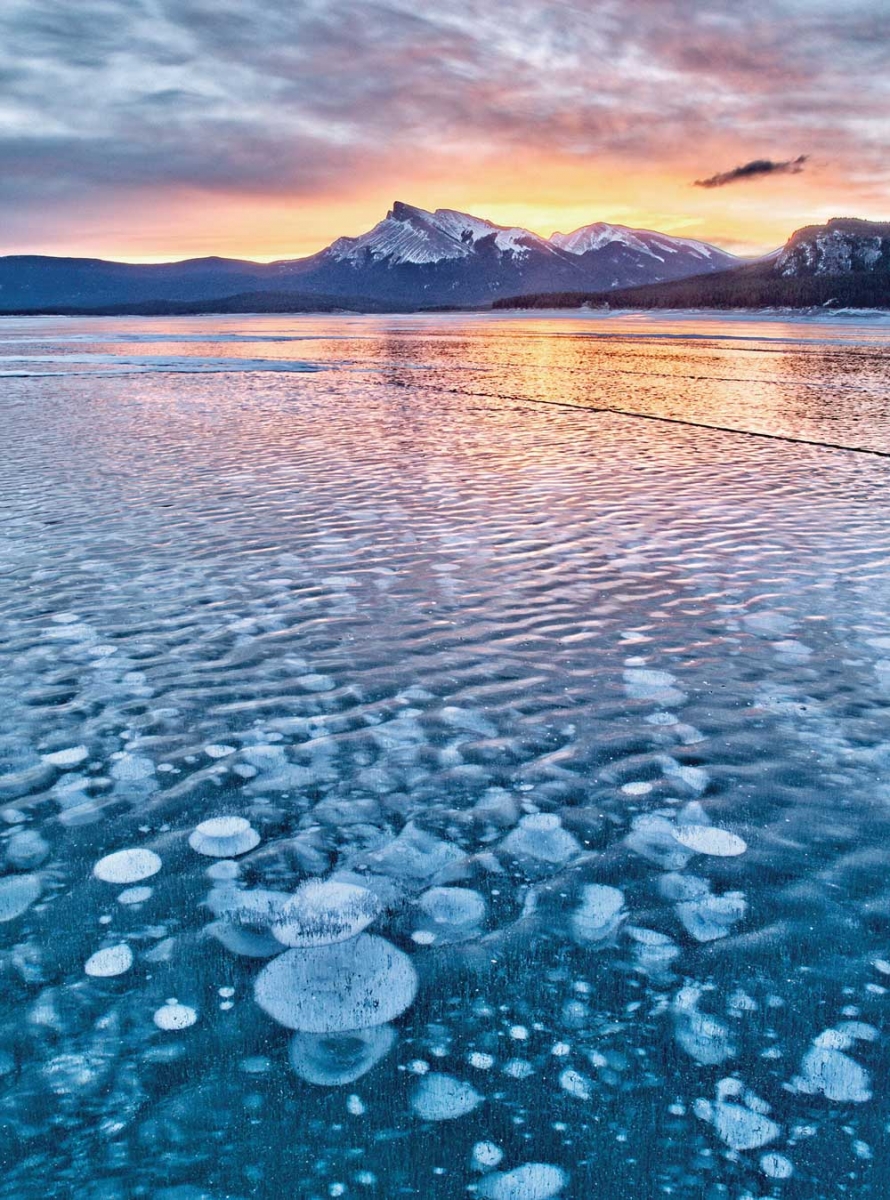 photograph by Alan Ernst, courtesy of Aurum Lodge
Abraham Lake at Aurum Lodge.
Mountain lodges are a quintessential wintertime escape, giving visitors their snowy outdoor time and their cozy fireside time, too. At Mount Engadine Lodge in Kananaskis Country, you can get the blood pumping on the nearby Nordic skiing and snowshoe trails, then come inside for aprs-ski tea time – a service of tea and other beverages with a sideboard of sweet treats or savoury cheeses. Just don't get too cozy by the stone fireplace unless you plan to settle in for the night.
A little farther afield, along the David Thompson Highway, Aurum Lodge overlooks expansive Abraham Lake, which becomes a canvas of bubbles and fissures as it freezes in the winter, attracting photographers from all over who come to capture the intriguing formations.