The essential Banff National Park experience
Do the Johnston Canyon Walk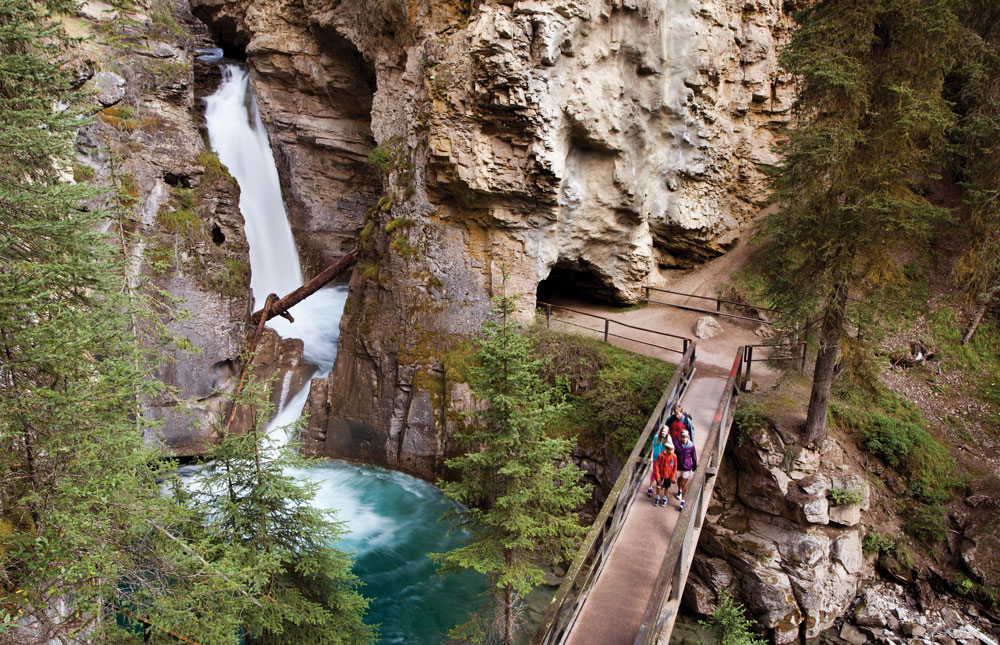 The seven spectacular waterfalls that plunge into sapphire-blue pools of water on their churning path through Johnston Canyon have made this walk one of Banff National Park's top attractions. Jaded locals may say that the canyon has become a tourist trap, but purely in terms of ROI (that's "return on investment" for you non-financial types), there's a substantial payoff for putting up with the throngs of selfie-stick-toting sightseers.
From the trailhead, a wide path leads to a series of staircases and catwalks that ascend into the narrow gorge. Along the way, multiple viewpoints provide photo ops of the fast-flowing water cascading from pool to pool and pouring over rock walls in an angry torrent. Almost equally impressive are the steel walkways that hug the limestone cliffs. These walkways, in places, are simultaneously suspended under sections of overhanging rock and over the turbulent water of Johnston Canyon Creek. The idea that danger lurks above and below certainly makes for an extra-thrilling experience.
The iconic 2.6-km trail to the Upper Falls – an engineering feat in itself – grants you access to a natural wonder that would otherwise be accessible only to hardcore rock climbers. The crowds thin out somewhat past the Lower Falls, as visitors who arrive by tour bus don't usually have enough time (or stamina) to go the extra mile to the Upper Falls. You can avoid the crowds altogether by walking the trail in the early morning, or by taking advantage of long summer daylight hours and strolling the path in the evening. Either way, the light will be better for taking photos, and your chance of spotting wildlife will increase.
The one downside of an evening hike, however, is that you may miss your chance for an aprs-hike soft-serve from the Johnston Canyon Resort's ice-cream concession, which is only open from noon to 7 p.m. (May 15 to Oct. 4). For long-time Calgarians who have been doing the canyon since they were kids, it's like the equivalent of getting a hot dog at Coney Island; in other words, foregoing a cone may not be up for discussion. -L.K.
---
 5 more amazing summer experiences in Banff National Park
Ride the four-person gondola to the top of Sulphur Mountain for the best view in town, then check out the brand new mountaintop interpretive centre that tells the story of Banff National Park.
The stunning Stanley Thompson-designed course at the Fairmont Banff Springs is on every duffer's bucket list. Keep your eye out for resident elk and other wildlife while you're driving balls toward the surrounding mountains. The course opens for the 2017 season on May 12.
Brewster Adventures' popular lake cruises allow you to see the park from a different perspective. The 2017 tour season starts on May 12.
The site of Banff's original hot springs, which inspired the formation of Banff National Park, the Cave and Basin is now a National Historic Site with a revamped interpretive centre and engaging community plaza.
Sunshine is famous for staying open long after other ski resorts have shut down for the season. This year, you can carve turns in slushy corn snow, drink aprs-ski beers on the sunny Trappers patio and admire bluebird views of the Continental Divide through May 22. -L.K.
---

Where to stay in Banff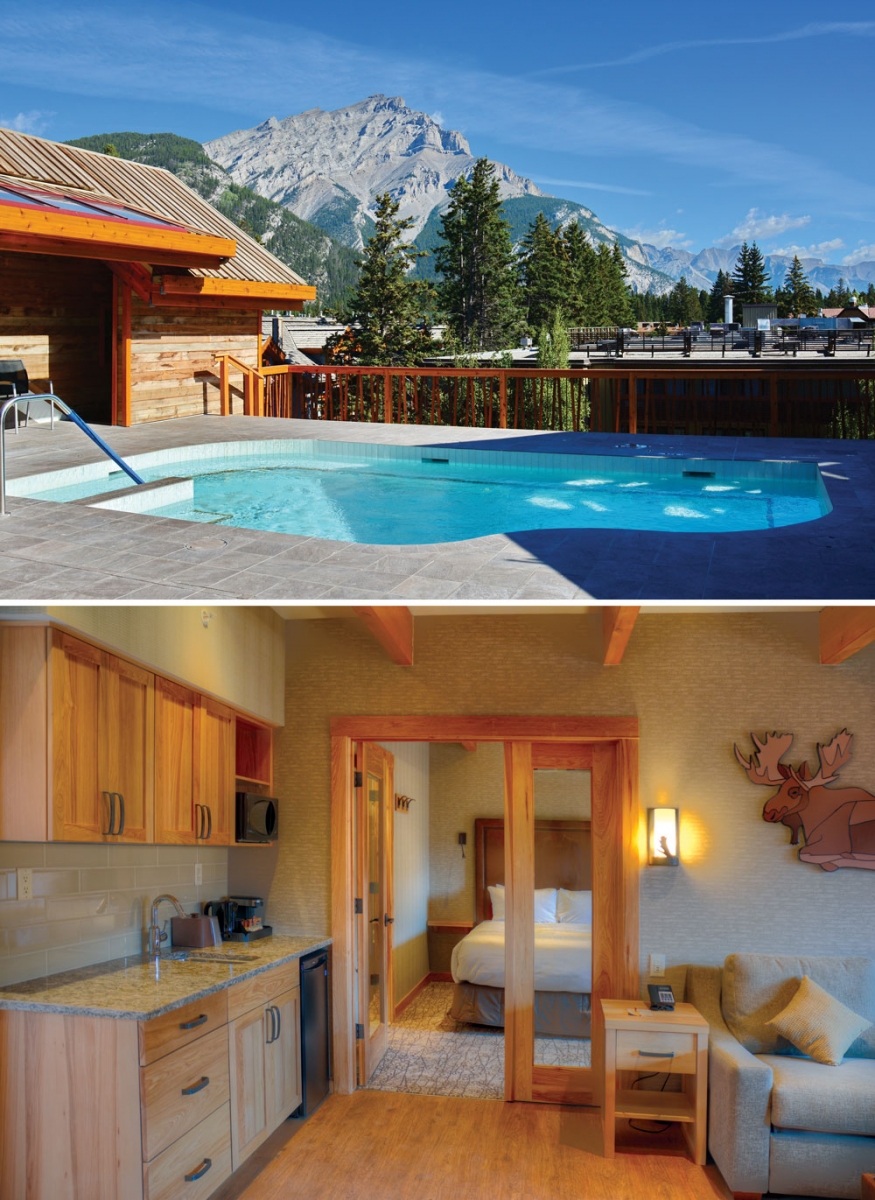 (Top) Rooftop pool at the Moose Hotel and Suites in the heart of Banff. (Bottom) Inside a suite. 
New on the Banff scene, the Moose Hotel and Suites is conveniently close to the heart of town but still feels like an escape with its exclusive rooftop hot pools. The hotel's sustainability initiatives include two charging stalls for Tesla automobiles. -S.A.
345 Banff Ave., Banff, 403-760-8570, moosehotelandsuites.com
---

Where to eat in Banff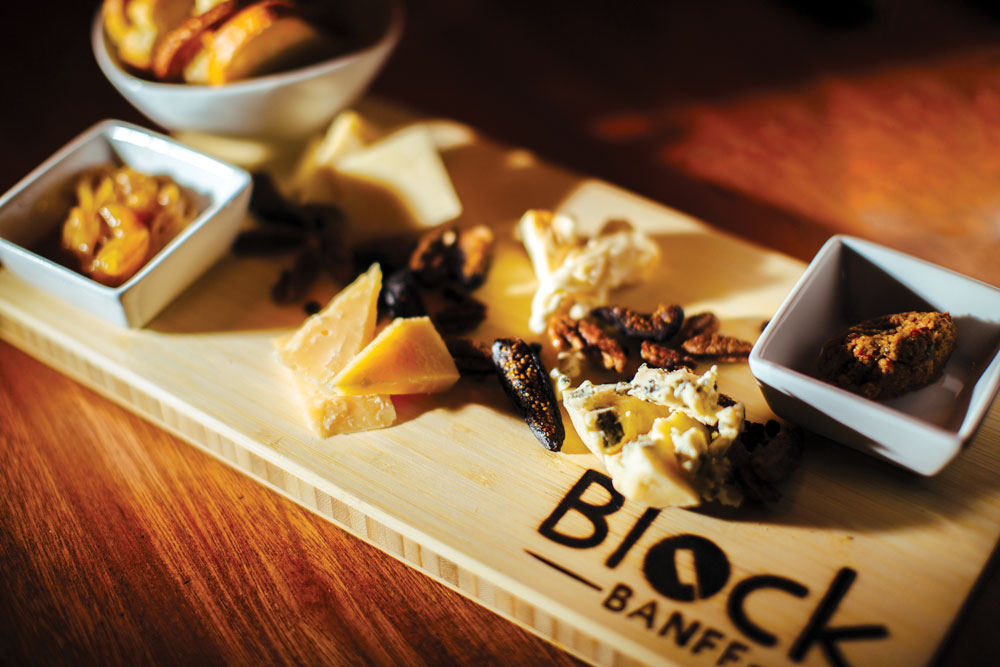 World cuisines collide in this eclectic little joint with an entrance just off Banff Avenue down Caribou Street. It's a small space – line-ups are to be expected during high season – but the flavours are huge when it comes to the unusual dishes. Block's menu draws inspiration from a range of global locales including Japan, India, Italy and Thailand and creates unexpected fusions, such as a simple sandwich made over as a "naanwich," using the soft Indian bread as an edible folder around pork belly, vegetables, house-made pickles and spicy Asian sauces, or a flatbread topped with golden beets, tangy sumac and earthy za'atar. Wash it all down with something from the wine or beer list or, better yet, one of the creative, handcrafted cocktails that provide their own unexpected spins on tradition.
Town Centre building, 201 Banff Ave., Banff, 403-985-2887, banffblock.com
Harkening back to a bygone era of first-class train travel and fine-dining cars, Eden at the Rimrock Resort Hotel offers a refined experience with classic dishes expertly prepared, impeccable service and a spectacular view.
300 Mountain Ave., Banff, 403-762-1865, banffeden.com
The "lovers and hedonists" history and exotic menu items (shark, alligator, et al) are part of local lore, but the real reason Grizzly House (and its decor) have stuck around over six decades is the enduring appeal of its cheese, meat and chocolate fondues.
207 Banff Ave., Banff, 403-762-4055, banffgrizzlyhouse.com
A well-curated menu featuring seasonal ingredients – some grown by the restaurant itself – keeps guests well fed no matter the time of day, while the wall of windows showcases the natural beauty of Banff and beyond.
1 Juniper Way, Banff, 403-762-2281, thejuniper.com
In beef-crazy Alberta, Nourish offers up the unconventional: a completely vegetarian menu made up of sometimes surprising ingredient combinations – think nachos topped with everything from diced dill pickles to strawberries – that even a meat-eater can love.
110, 211 Bear St., Banff, 403-760-3933, nourishbistro.com
Literally translated as "house in the forest," this cottage-style building set behind the Fairmont Banff Springs offers German-influenced cuisine (schnitzel, sptzle and fondue) in a rustic and cozy space. -G.R.
405 Spray Ave., Banff, 403-762-2211, fairmont.com/banff-springs