A ski vacation doesn't have to mean downhill skiing. Mountain-bound folk who would rather spend their days gliding through a snowy meadow on a perfectly set track than racking up chairlift runs can still enjoy all the dining and amenities that world-class ski destinations have to offer, plus a few more benefits as well. Vigorous cross-country skiing can burn upwards of 600 calories per hour, so you can guiltlessly enjoy your aprs-ski dinner, and since Nordic-skiing trail passes cost significantly less than downhill lift tickets, it's all the more reason to splurge at the spa.
Here are four not-too-distant spots where cross-country skiers can get the best of everything.
Canmore
Alberta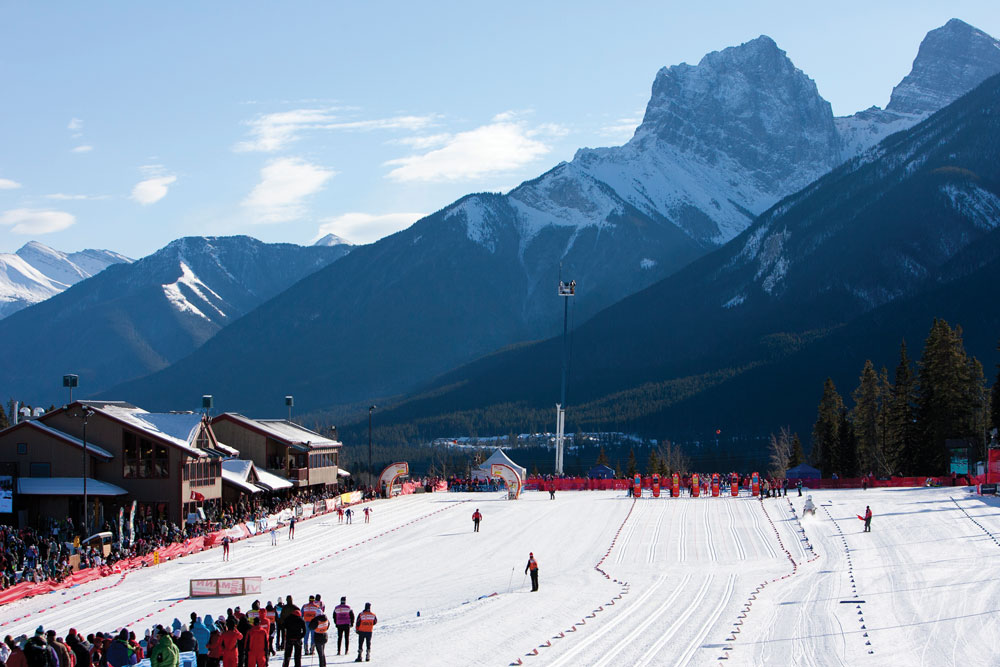 This charming mountain town just 90 km down the Trans-Canada from Calgary's western limits is a cross-country ski mecca, home to the Canmore Nordic Centre Provincial Park, originally built for the 1988 Winter Olympics. These days, the centre hosts regular world-cup and national races and continues to be a training ground for the Canadian team as well as a popular spot for recreational skiers.
For the ideal Canmore cross-country weekend, book your accommodations at Silver Creek Lodge and head out early enough on Friday evening to dine at Silver Creek's Wild Orchid Bistro & Sushi Lounge before relaxing with a glass of vino in your luxury condo. The Canmore Nordic Centre is a good place to start if you're new to the sport – rental skis are available on site from Trail Sports and there is a nice, flat, 10-lane practice area in front of the day lodge to test your skills. Single-day trail-use fees during the winter range from $9 for youth to $15 for adults. Once you've got your stride-and-glide going, you can tackle the Centre's 65 kilometres of trails, starting with the rolling 11-km Banff Trail loop.
If you're ready to go beyond the Nordic Centre, the Goat Creek Trail is a beautiful ski that sets out from a trailhead eight km south of Canmore and threads through animal-track patterned terrain to end at the Fairmont Banff Springs. At nearly 20 km one way, Goat Creek is a pretty long haul for an out-and-back, so plan to hop on the Roam Banff-Canmore bus to return to Canmore. After a day like that, you'll certainly be ready for a hearty meal at the much-loved Crazyweed restaurant.
Golden
British Columbia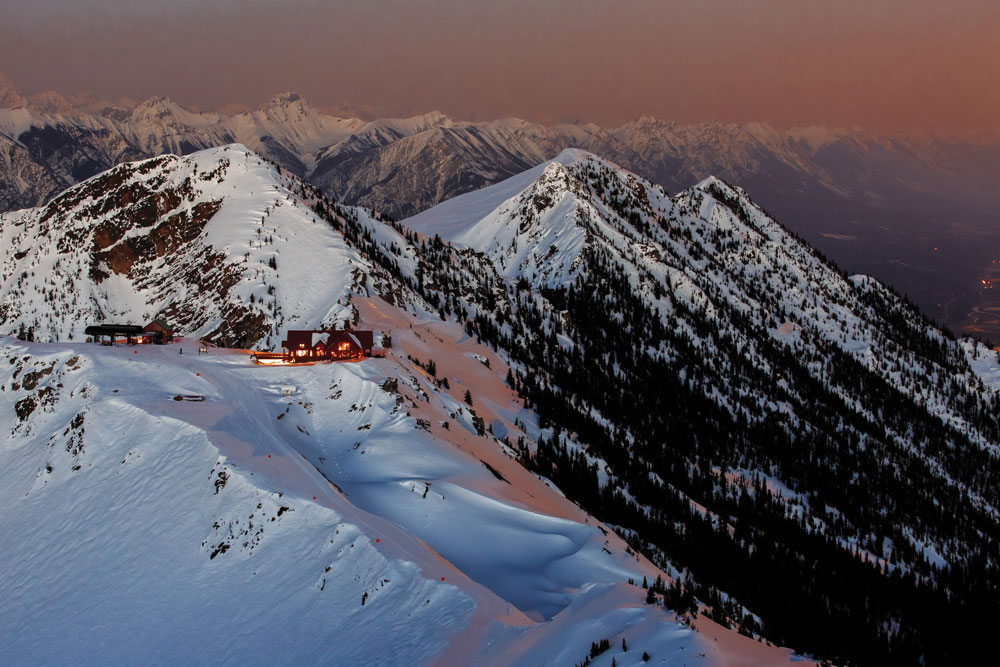 Skiing in Golden, B.C. is synonymous with Kicking Horse Resort. However, just a three-minute drive from the resort, you'll find the Dawn Mountain Nordic Centre, with 33 km of groomed trails for both classic and skate skiing (a more vigorous style that uses a skating motion on a wide, flat track). The trails are well marked, from green (easiest) to black (most difficult), and present opportunities for skiers to challenge themselves with higher-difficulty routes that loop off the easier trails. All the trails eventually loop back to the base so you can't get lost.
Dawn Mountain charges trail fees that range from $5 for kids to $12 for adults ($30 per family), collected via an honour box if there isn't someone present at the day lodge. Tickets can also be purchased online for those who don't carry cash. Ski and snowshoe rentals are available on weekends and rental fees are surprisingly inexpensive considering the quality of the gear.
Back at Kicking Horse Resort you'll find a wealth of on-hill accommodations, ranging from lodge-style suites to freestanding luxury chalets. The ultimate dining experience at Kicking Horse is the Eagle's Eye Restaurant, which sits atop the resort at an elevation of 7,700 feet, accessed via the gondola. At the other end of the gondola, Corks Restaurant + Bar in the Copper Horse Lodge is a cozy spot with a menu that includes comfort-food preparations of proteins like beef and elk along with wines from the Okanagan Valley.
SilverStar Mountain Resort
British Columbia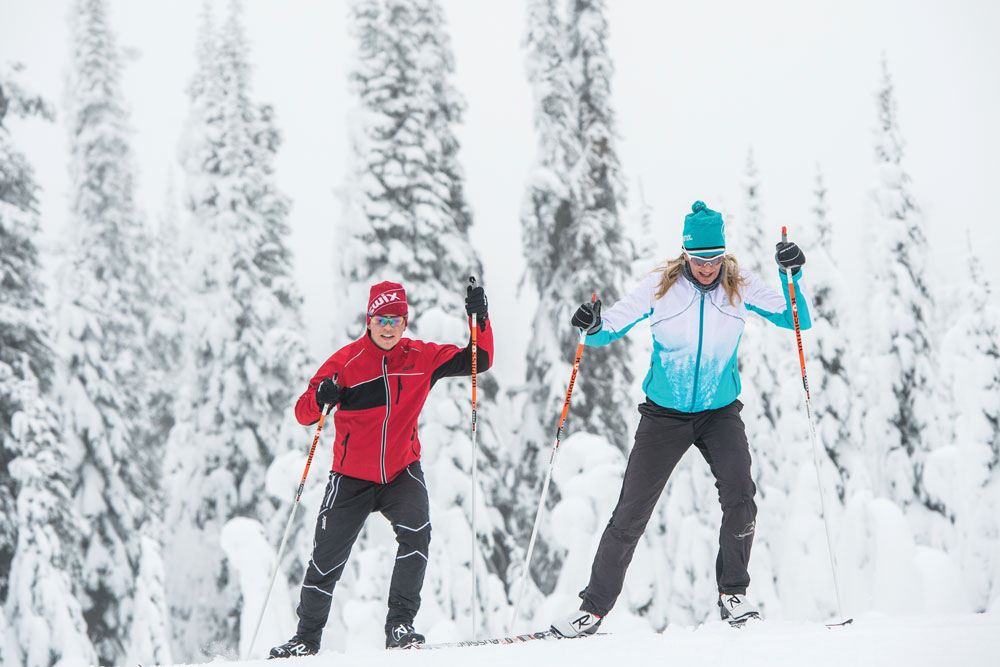 This alpine resort near Vernon is B.C.'s third-largest ski area. What started in 1958 as a ski hill for locals has since become a noted destination resort with an international clientele. Even so, with its quaint, mining-town-styled village painted in bright colours and its friendly, relaxed vibe, SilverStar maintains the charm of a local's hill. Averaging over seven metres of snow annually, the resort's claim to fame is that it's "100 per cent natural" – no snowmaking required.
The Nordic skiing offerings at SilverStar are nothing short of exceptional, with more than 55 km of groomed trails within the resort boundaries. The resort trails connect to another 50 km of trails at the neighbouring Sovereign Lake Nordic Centre, creating the largest daily groomed cross-country network in Canada. Single-day cross-country trail fees range from $10 for kids to $17 for adults for just SilverStar trails, or $15 to $23 for a "Dual Mountain" pass that includes the Sovereign Lake trails (passes include lift access to the upper trails at the resort). SilverStar also has four km of lit track, offering Nordic night skiing Fridays and Saturdays after 5 p.m. for $10.
Most accommodations at SilverStar are a quick walk (or ski) from where you need to be. There are nine hotels and lodges in the village as well as a variety of rental chalets and condos to suit almost every budget. Main Street is where you'll find everything you've forgotten, as well as rentals. Thirty metres from the end of Main Street you are slapping on the boards and taking to the trails. Walking along Main Street to the trails is a good opportunity to plan where you're going to go for lunch, aprs and dinner. If you're up for it, visit the 1609 Restaurant & Lounge for late-night cocktails and nibbles.
Sun Peaks Resort
British Columbia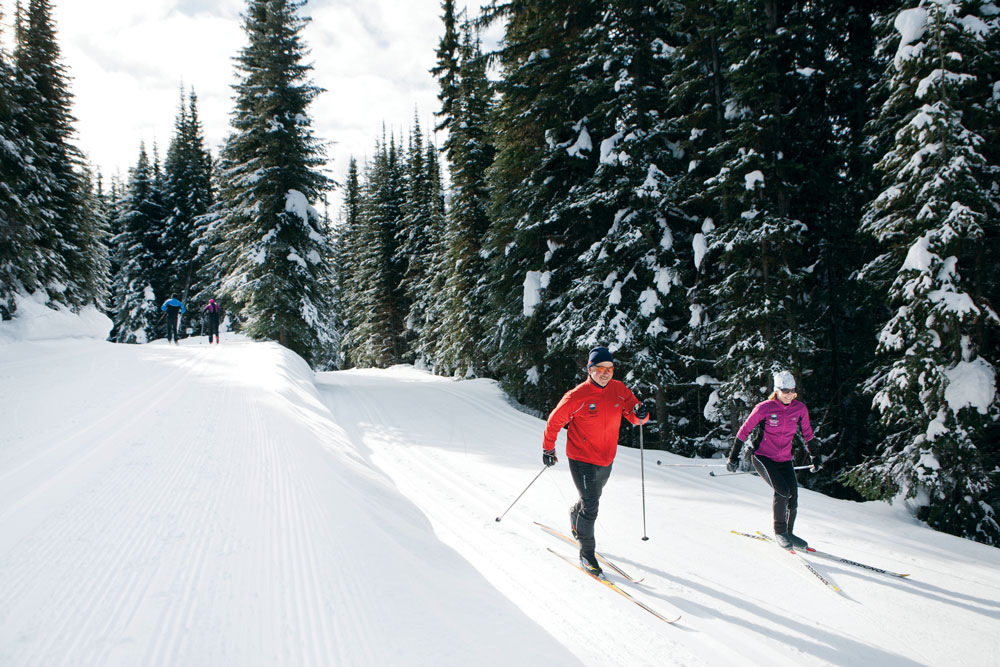 Sun Peaks Resort near Kamloops has answered the call of the skinny-ski crowd in a big way, improving and increasing the amount of groomed cross-country trails and building some new digs where you can wax and relax.
The second-largest alpine resort in B.C., Sun Peaks has 37 km of groomed and track-set trails, mostly maintained on a daily basis. A new Nordic centre is open daily up at Parking Lot 5, where you'll find trail information as well as a warm-up area, boot-change area and waxing bench. The centre also offers rentals and lift-ticket sales on weekends.
Nordic passes range from $10 for kids to $19 for adults, and each pass is good for two rides up the Morrisey Express chairlift – that's 1,260 vertical feet in one fell swoop – to the backcountry terrain on the ski resort's Holy Cow Trail. ("Holy Cow!" is what people tend to say as they gaze out at the awesome view from the top, and when they're ripping down the steep and winding trail back to the base.)
Sun Peaks has a reputation as a great family resort, so it makes sense they would consider furry family members as well. The McGillivray Lake trail is designated dog-friendly, so Rover can also experience the thrill of being out in the backcountry on a snowy day. The trail leads to the McGillivray Lake Outpost, a warming hut with washroom facilities open daily until 3:30 p.m.
Sun Peaks has daily Nordic clinics for beginners in both classic and skate skiing as well as ski-and-stay specials. The resort was designed as a Tyrolean-style alpine village and has more than 7,000 beds spread out over a variety of hotels, lodges, hostels and chalets that can be accessed by skiing to the door. Before you ski back to your lodgings, though, be sure to make a stop at Bottoms Bar & Grill in the Coast Sundance Lodge, the perfect pub for an aprs-ski pint.