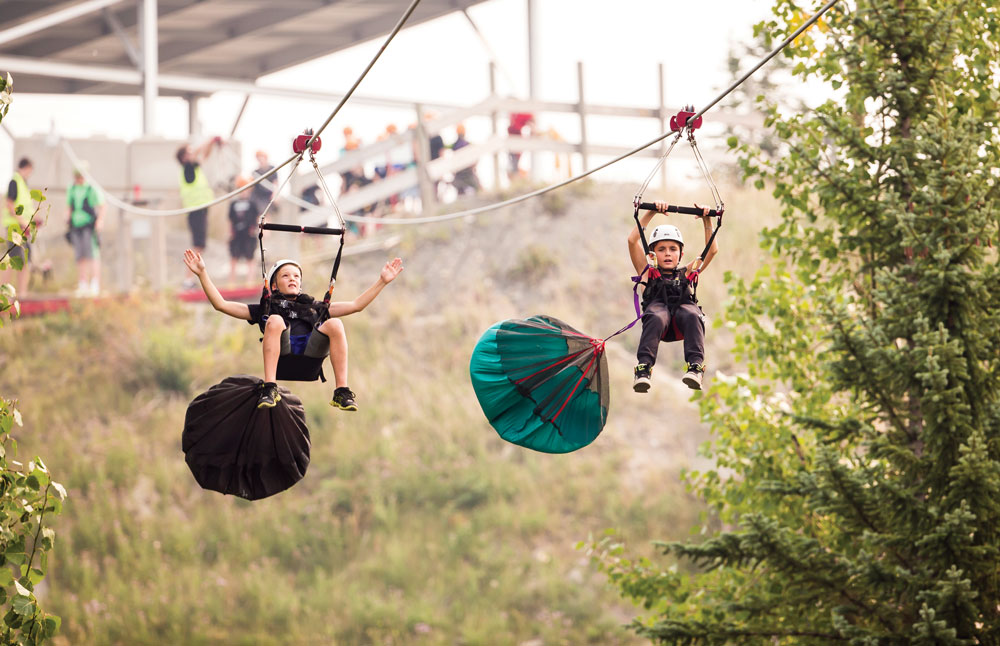 photograph courtesy of winsport
The place Calgarians of all ages go to learn to ski is also the place they can get their first taste of lift-accessed mountain biking. The park has cut an impressive network of trails into its slopes and offers mountain biking camps throughout the summer months. Other summer activities include ziplines, mini-golf and a children's activity area with climbing wall, spider web and Eurobungy apparatus (those harnessed trampoline things).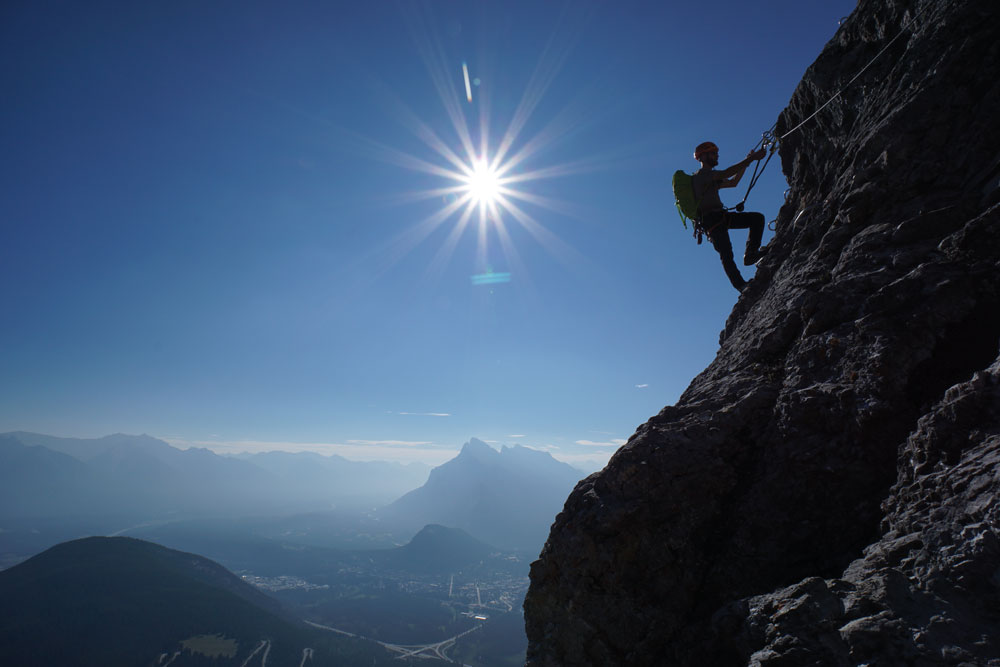 photograph courtesy of mount norquay
Norquay via ferrata.
The smallest of the Banff National Park alpine-resort trifecta is the only one to offer via ferrata – a form of rock-climbing aided with handholds, suspension bridges and ladders. Norquay's summer programming also includes sightseeing chairlift rides and mountaintop dining at the Cliffhouse Bistro.
Sunshine in the summer is all about hiking in the Sunshine Meadows zone. The resort village sits at an elevation of 7,200 feet and has striking views of the peaks of the Continental Divide, including photogenic Mt. Assiniboine. Hikers can explore the terrain independently or join up with professional naturalist/guides for hikes of up to 12 kilometres, based on ability.
photograph by Chris Moseley
Whitehorn Bistro.
The summer offerings at Lake Louise include gondola-accessed sightseeing and interpretive hikes in the alpine areas, as well as dining at the mid-mountain Whitehorn Bistro, where an expansive patio looks out over the valley, providing striking views of jewel-toned Lake Louise and the Victoria Glacier beyond. With grizzlies known to be active in the area, there's a very real possibility of spotting one while you sip your cold beer or glass of wine from your safely elevated perch.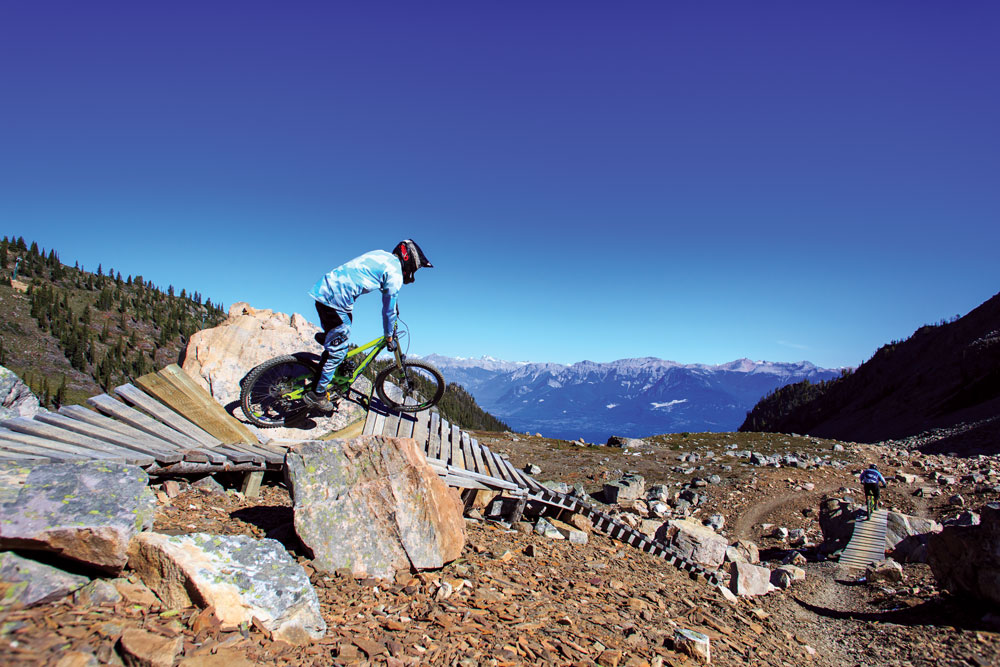 photograph by Dave Best
The vert-endowed resort towering over the town of Golden, B.C., has a lively summer scene that includes a mountain bike park with more than 30 trails, including a new high-alpine cross-country trail. There are also hiking trails that can be done independently or with a guide and two via ferrata courses, complete with suspension bridge. Sightseeing options include interpretive tours of the Kicking Horse Grizzly Bear Refuge – the largest enclosed grizzly bear habitat in the world and the home of Kicking Horse's resident grizz, Boo. The gondola-accessed Eagle's Eye restaurant is also open throughout the summer, offering diners spectacular views at 7,700 feet.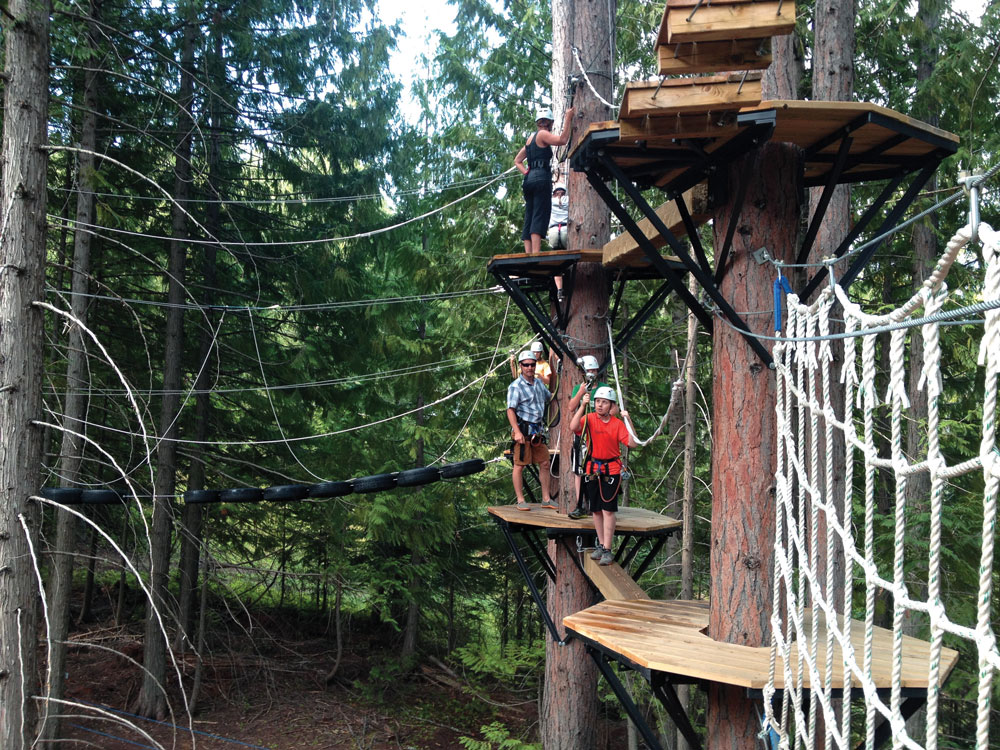 photograph by Cali Sammel
Aerial playground.
Nestled in the East Kootenays just across the Alberta-B.C. border, Fernie has a wide range of on-mountain accommodations and a packed lineup of summer activities, starting with its chairlift-accessed mountain bike park offering everything from flowy beginner trails to technical steeps. (If you're brand-new to the concept of riding a bike downhill, take the three-hour Discover Mountain Biking lesson to learn the basics.) There's also lift-accessed sightseeing and guided hikes and an Aerial Playground – a treetop obstacle course that includes three ziplines – as well as a single mega zipline that you can ride without having to bother with all the tree stuff.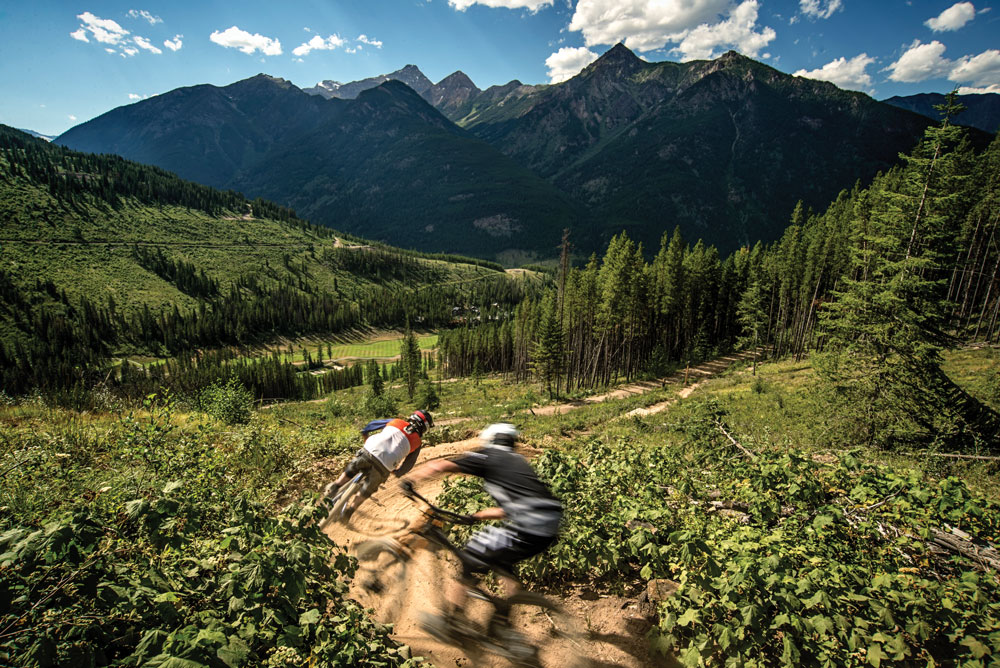 photograph courtesy of panorama
Like Fernie, Panorama has great on-mountain accommodations and a wide range of summer activities. Along with downhill and cross-country mountain biking trails, sightseeing and hiking, the resort also has tennis courts, yoga classes and a new archery program, at its Adventure Centre, with sessions for kids and adults.
---
Farther Away (But Worth the Drive)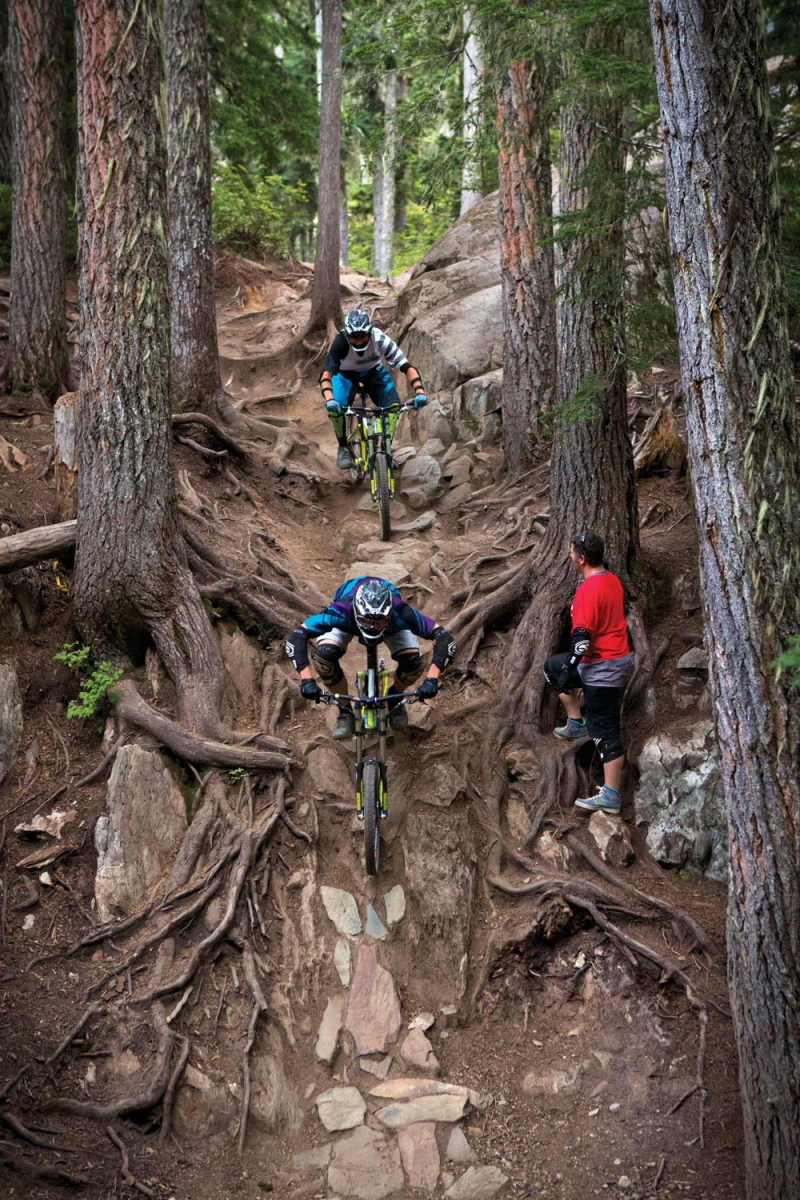 photograph by justa jeskova
Whistler Blackcomb, which is celebrating its 50th anniversary this year, is well worth the hefty 11-hour drive if you're a serious mountain biker. The Whistler Mountain Bike Park is in a league of its own, with 68 trails, five skill-centre/park areas and new riding terrain (for advanced and expert riders) accessed by the Creekside gondola. Time your visit with the annual Crankworx festival, Aug. 12 to 21, to see the world's top mountain bike pros in action.
Aside from its renowned mountain biking, Whistler Blackcomb also has lift-accessed hiking and sightseeing in the summer, as well as snow skiing on the Horstman Glacier. For an only-in-Whistler summer experience, ski a few runs in the morning, hit the bike park in the afternoon and cap off the day with a dip in one of the local lakes.