Clear air, evergreen forests, views that fill your heart and blow your mind – there's nowhere quite like the mountains to make you feel alive. So it makes sense to head for the hills if you're looking to do a wellness getaway or retreat. You certainly won't be starved for choice as many alpine lodges and hotels are tapping into the burgeoning wellness movement and offering programs as a way to fill rooms during the spring and fall shoulder seasons. Whether you're looking for some "me" time, a regimented health-and-fitness retreat or a yoga retreat, here are just some of the ways you can get mindful in the mountains this year.
The Yoga Retreat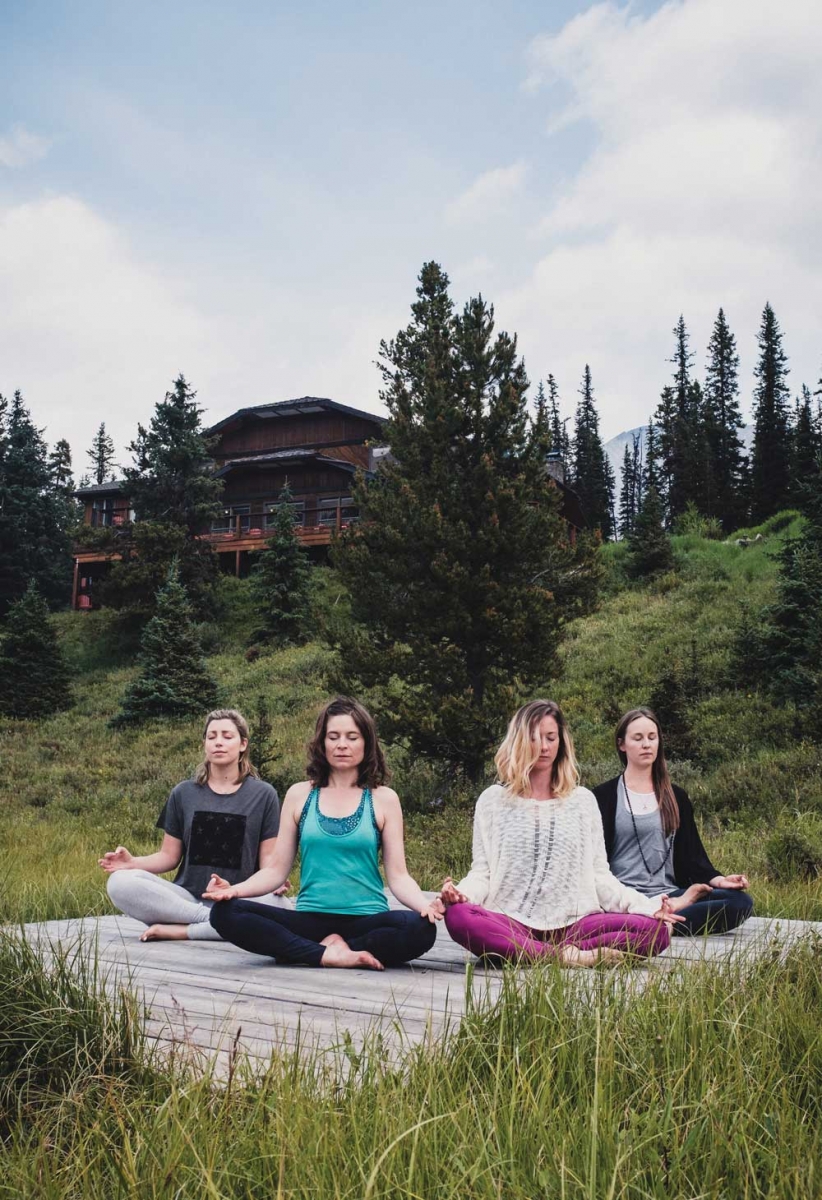 Sarah Harvie yoga retreat at Mount Engadine Lodge, Kananaskis Country.
Canmore-based yoga teacher Sarah Harvie is right at home in the Rockies. Raised in Calgary, Harvie has extensive training as a wilderness leader and incorporates that love of the outdoors and the natural environment of the Bow Valley into her yoga retreats. For those who want to rough it a bit (relatively speaking), Harvie offers a spring Wilderness Yoga Retreat at Camp Chief Hector in K-Country where participants stay in tipis or shared cabins. A couple more rungs up the luxury ladder are Harvie's retreats at Mount Engadine Lodge, a Swiss-style alpine inn on the Smith Dorrien Trail, the unpaved stretch that connects Canmore and Peter Lougheed Provincial Park.
Yoga is the clear raison d'tre for these retreats, which Harvie teaches in an intuitive style that owes much to her other career as a craniosacral massage therapist. Mount Engadine's remote setting on a rise overlooking a marshy plain surrounded by jagged peaks allows participants to immerse in not just the physical aspects of yoga but the spiritual and emotional sides as well. You can expect a lot of crying during the group sharing sessions in which retreat attendees are free to reveal personal details about themselves and elaborate on their reasons for wanting to sign up.
The lodge's design also encourages introspection. The cabins and lodge rooms, while comfortably appointed, are without televisions; the dry sauna also suits a more contemplative state (as opposed to, say, a rowdy hotel hot tub). The inviting common room with its wood-burning river-stone fireplace is full of comfy spots to relax and tuck into a selection from Harvie's personal library of books on yoga philosophy and practice (during the afternoons you can sip tea and nibble on one of Engadine's famous charcuterie plates while you do).
You'll strengthen, you'll stretch and you'll do some soul searching, too.
The Creativity Retreat
Zen in the Art of Writing at the Fairmont Chateau Lake Louise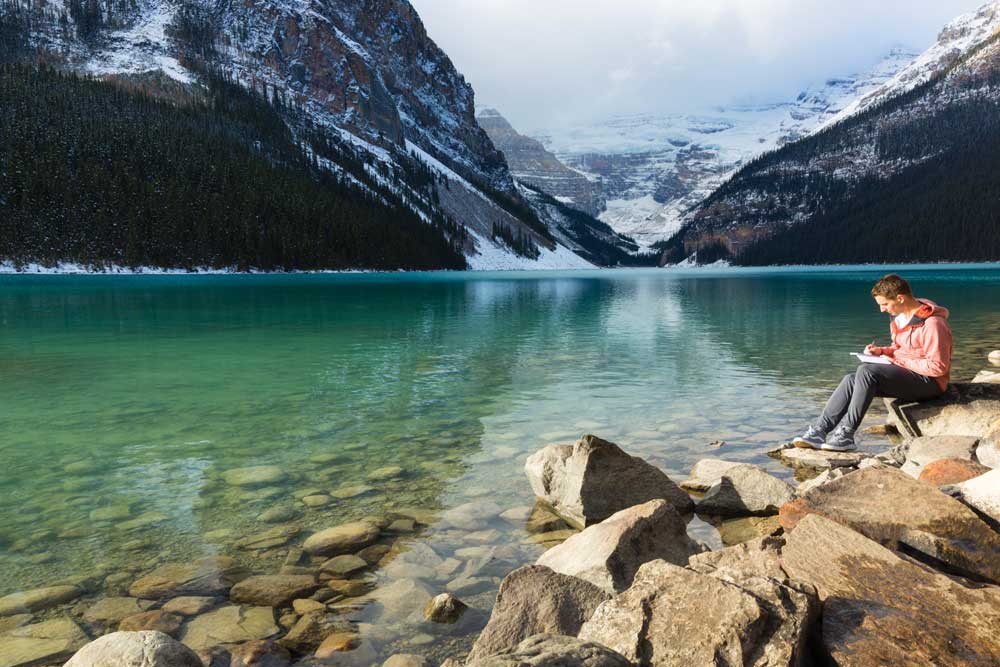 Zen in the Art of Writing retreat at Lake Louise.
The shoulder season at Lake Louise can be unpredictable when it comes to weather. A tenacious winter can keep trails impassable through the spring for average-ability hikers while an early-season snowstorm has the same effect in the fall. Late- or early-season ice on the lake can similarly put a crimp into plans to go canoeing.
Regardless of what's going on weather-wise, though, the natural beauty of Lake Louise makes it an ideal spot to step away from the demands of daily life and spend some time looking inward, something the Fairmont Chateau Lake Louise has responded to by offering a program of transformative wellness retreats during the spring and fall months. The hotel will host 12 retreats in 2018 (six in March-April and six in October-November).
While many of the retreats incorporate yoga, the programming is focused less on yoga specifically and more broadly on mindfulness and personal growth. The 2018 lineup kicks off with the return of Zen in the Art of Writing, a five-day retreat for those who want to enhance their writing process, whether for professional or personal reasons. The retreat is led by New Mexico-based author Sean Murphy and his partner Tania Casselle, a writer and teacher, who take participants through exercises designed to heighten sensory awareness, such as guided mediation, haiku composition and free-form journaling. The writing workshops are all presented in an atmosphere of non-judgement and the majestic setting of Lake Louise provides endless inspiration to remedy even the most severe case of writer's block.
The Me Time Retreat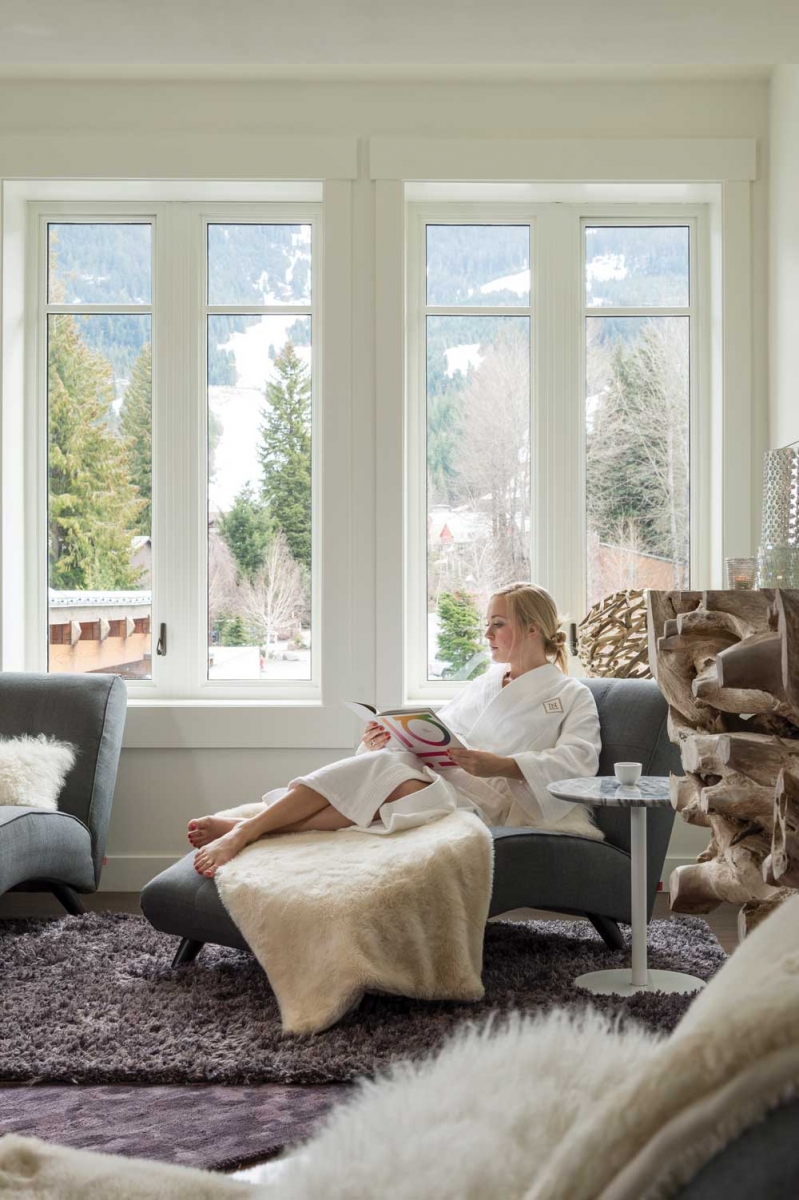 Relaxation lounge at the Spa at Nita Lake Lodge.
The only lakeside hotel in Whistler, B.C., Nita Lake Lodge makes an ideal D.I.Y. wellness getaway. The lodge's location in the Creekside neighbourhood provides the alpine-chic property with some remove from the hustle and bustle of Whistler Village, though if you do want to stroll the village a hotel shuttle makes it easy to do that, too.
Once you settle in, however, you might not see much reason to leave – unless it's for a walk or run along the trails that follow the shore of the mountain lake on your doorstep. During the warm-weather months, lodge guests can also make use of complimentary kayaks and stand-up paddleboards that are kept tethered to the hotel's dock during the day.
Start your stay on the right foot with a Kundalini massage treatment at the in-house Spa at Nita Lake Lodge, an intimate space decorated in contemporary west coast style of fresh whites and soothing greys with natural-wood elements. The head-to-toe Kundalini treatment recalls ancient practices of weary travellers having their feet washed when they arrive at their destination by starting with an invigorating foot scrub (particularly invigorating for those with ticklish feet). That's followed by gentle massage work on the back and, the best part, a soothing facial massage using argan-rose oil. Afterwards, you can lounge on the lodge's rooftop garden and enjoy views of the surrounding peaks from one of the two hot tubs. Nita also has an independently run yoga studio on the premises, Loka Yoga, which offers daily restorative classes.
If you do venture beyond the lodge, keep the wellness vibe going at Scandinave Spa Whistler. The Norwegian-style outdoor spa recommends following a cycle that begins with heat (a stint in a steam room, sauna or hot pool), followed by a cold plunge or shower and a session of relaxation in either the outdoor or indoor lounge areas. Built into the landscape of the mountainside, Scandinave has a no-talking-no-cellphones rule, which allows you to tune out in a way that is increasingly rare in a hyper-connected world, while tuning in to the beauty of the alpine setting.
nitalakelodge.com; scandinave.com/whistler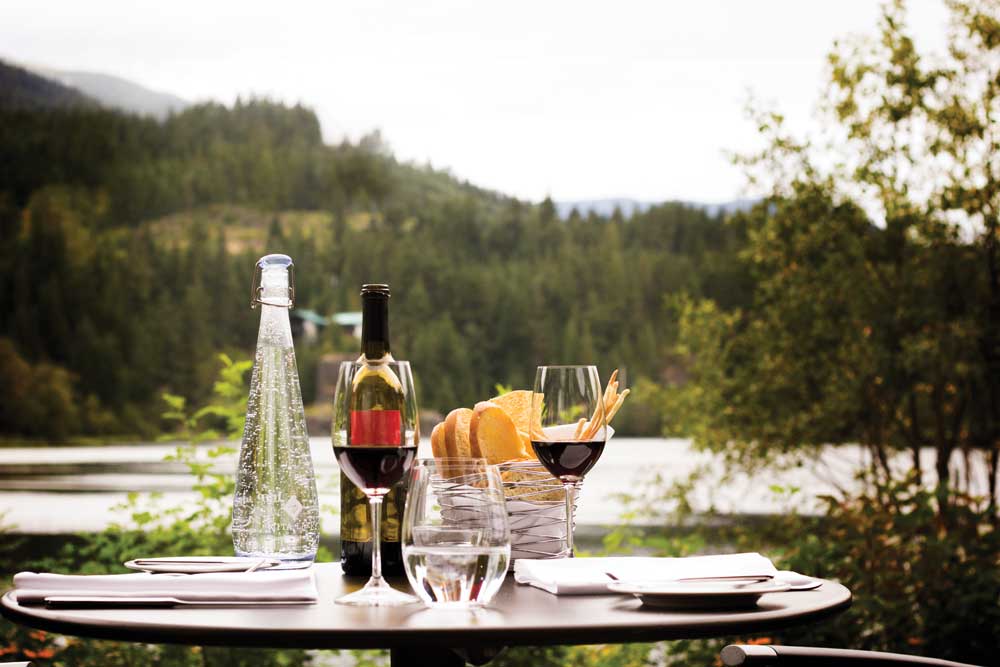 Nita Lake Lodge's Aura Restaurant and Cure Lounge both offer al fresco lakeside dining during the warm-weather months.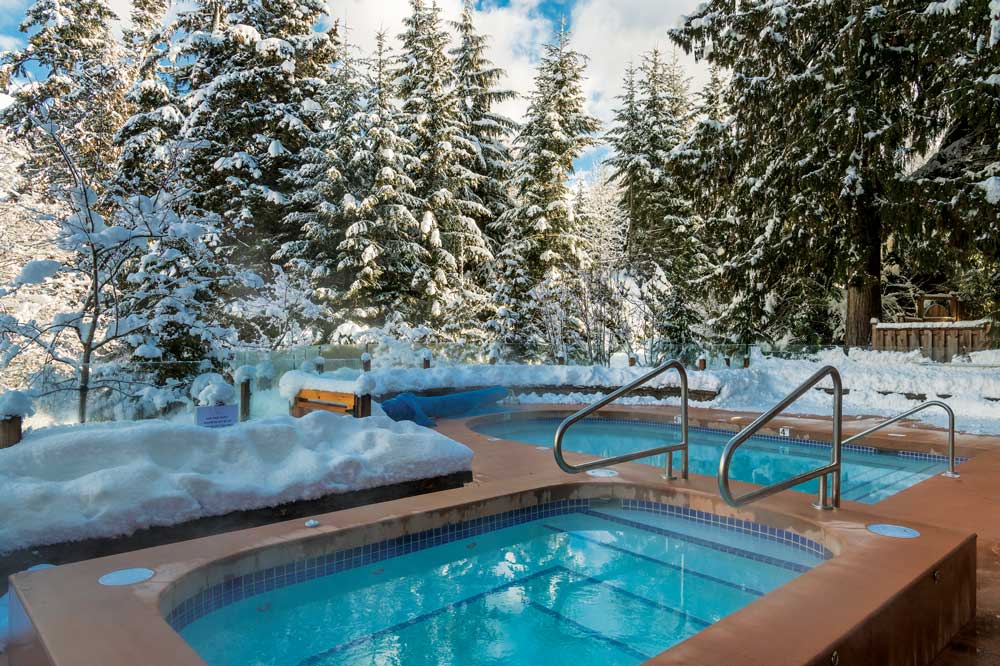 In addition to the two hot tubs on the roof-top garden patio, the lodge also has a lakeside hot tub and plunge pool.
The Healthy-Living Retreat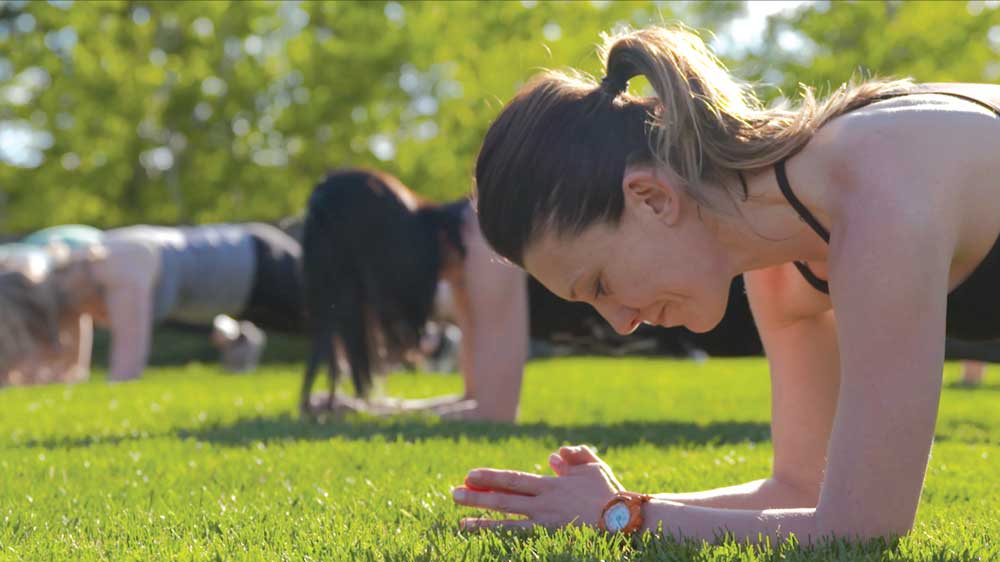 The Evolve Retreats programming includes group fitness training and workshops on nutrition and healthy eating.
Conceived by Calgary physician Ingemaud Gerber, Evolve Retreats are immersive multi-day experiences that incorporate fitness, adventure, wellness and clean eating. It's kind of like sleepaway camp for grownups who want to be their most fit and healthy selves.
Unlike your standard sleepaway camp, however, at an Evolve Retreat you don't have to sleep in a bunkhouse. The retreats are held at upscale venues such as Azuridge Estate Hotel in the foothills southwest of Calgary, The Crossing at Ghost River northwest of Cochrane and Baker Creek Mountain Resort near Lake Louise.
Days at an Evolve Retreat start with sunrise yoga and amp up from there with fitness-training sessions and outdoor activities such as alpine hiking, canoeing and kayaking. Things wind down in the late afternoon and evening with more yoga, restorative massage and workshops on subjects pertaining to general wellness, such as how to get the best quality sleep.
Evolve's holistic approach to health extends to "clean eating," as well, with a menu created by chef Alan Wichert, a gregarious Aussie with almost three decades of health-retreat cooking experience under his belt. The retreats also include nutrition workshops and cooking demos in which you learn how to make your own nut milks, vegan sushi rolls and other clean-eating staples.
While the high-end accommodations are certainly a soft touch, don't expect to sleepwalk through your Evolve experience. The fitness component draws on the expertise of celebrity trainer Tommy Europe, while the outdoor-adventure programming presents physical and personal challenges. Those who sign up for the advanced-level guided hikes can expect to tackle trails such as Nihahi Ridge in Kananaskis Country, which has sections of steep side-hill terrain and an exposed high-alpine finish featuring a short scramble. Add in the risk of inclement weather and the result is one of those "I can't believe we all made it"-kind of bonding experiences that certainly get the blood pumping and make the end-of-day massage treatments extra sweet.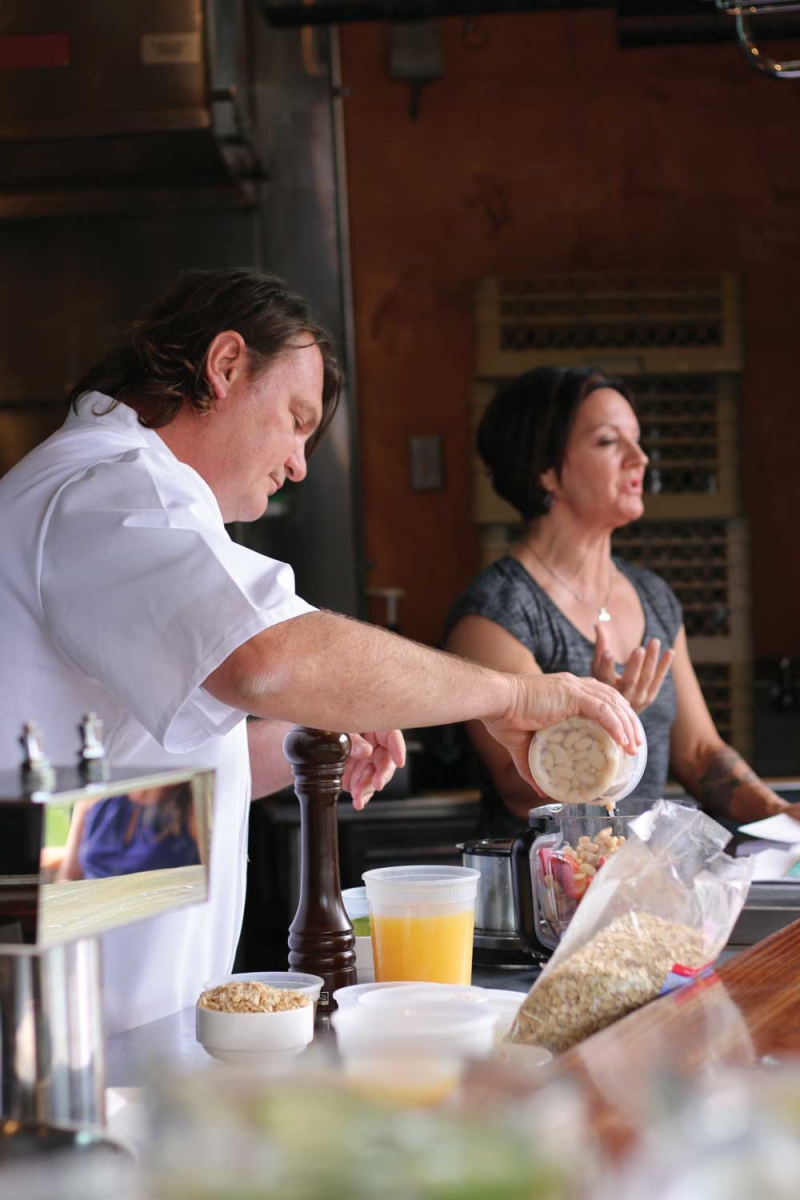 The Evolve Retreats programming includes group fitness training and workshops on nutrition and healthy eating.