Known as the "gentle giant of the Rockies," Jasper National Park sits along the eastern slopes of the Canadian Rocky Mountains. The park's star attractions are its glaciers, rivers and wildlife, though the stars are also an attraction – particularly in October during the Jasper Dark Sky Festival, an annual celebration of the night sky.
Coming to Jasper in the fall means you can avoid the summer crowds, spot elk and moose moseying around town and see the stars like you've never seen them before.
What to Do
Over the course of two consecutive weekends in October (October 13 to 15 and 20 to 22), outdoor enthusiasts, scientists, astronomers, night photographers and amateur stargazers gather in Jasper to celebrate the wonders of the night sky within an official Royal Astronomical Society of Canada Dark Sky Preserve (DSP). The society recognizes a DSP as a place where no artificial lighting is visible and active measures are taken to reduce light pollution.
Jasper was officially named a Dark Sky Preserve on March 26, 2011, and is currently the second-largest DSP in Canada at 11,000 square kilometres. In 2016, nationalgeographic.com reported that more than 80 per cent of the planet's land areas – and 99 per cent of the population of Europe and the United States – are under skies where the Milky Way is "virtually invisible" due to man-made light pollution, which makes having a DSP of this magnitude within five hours' drive from Calgary (via the spectacular Icefields Parkway) that much more meaningful. As a condition of the designation, the town of Jasper is changing its street lamps to cast downward.
While the festival's celebrity speakers are always a huge draw – past guests have included Canadian astronaut Chris Hadfield, actor-activist George Takei, Bill Nye "The Science Guy," NASA engineer Bobak Ferdowski and science journalist Nadia Drake – there's much more to do outside of the keynote events. At the Big Bang Expo, the Telus World of Science – Edmonton hosts science demos under a big white tent, where you can purchase a model rocket kit to build and launch in Centennial Field. The pop-up Jasper Planetarium (a heated inflatable dome theatre in the parking lot of the Marmot Lodge) features telescope viewings of the sun and other objects in the daytime sky under the guidance of experts such as Peter McMahon. The award-winning science journalist and star buff takes you "through the universe in 35 minutes," and his entertaining presentation will indeed transport you across time and space as you encounter constellations and 360-degree views of the Northern Lights captured around Jasper.
Stargazing at Lake Annette is a free evening activity where public shuttles transport you to and from the site. Pros and amateur star buffs will let you peer through their telescopes, and there's music and storytelling around a huge bonfire. For a more luxurious experience, the Fairmont Jasper Park Lodge hosts Symphony Under the Stars, a ticketed outdoor concert by the Edmonton Symphony Orchestra Strings.
The beauty of this relaxed festival is that you can peel away for your own quiet stargazing session (good spots include Pyramid Lake and Island, Medicine Lake and Old Fort Point) or stick with the crowds. Incredible as it is to see the shimmering Milky Way with your naked eye or through an impressive array of telescopes, there's an intangible energy that comes from being in a crowd of people gazing at the stars together under the glow of the moon. Whether you're out at the Lake Annette site or on the visitor-centre lawn in the middle of town, you'll feel utterly small, yet universally connected to something bigger.
Where to Eat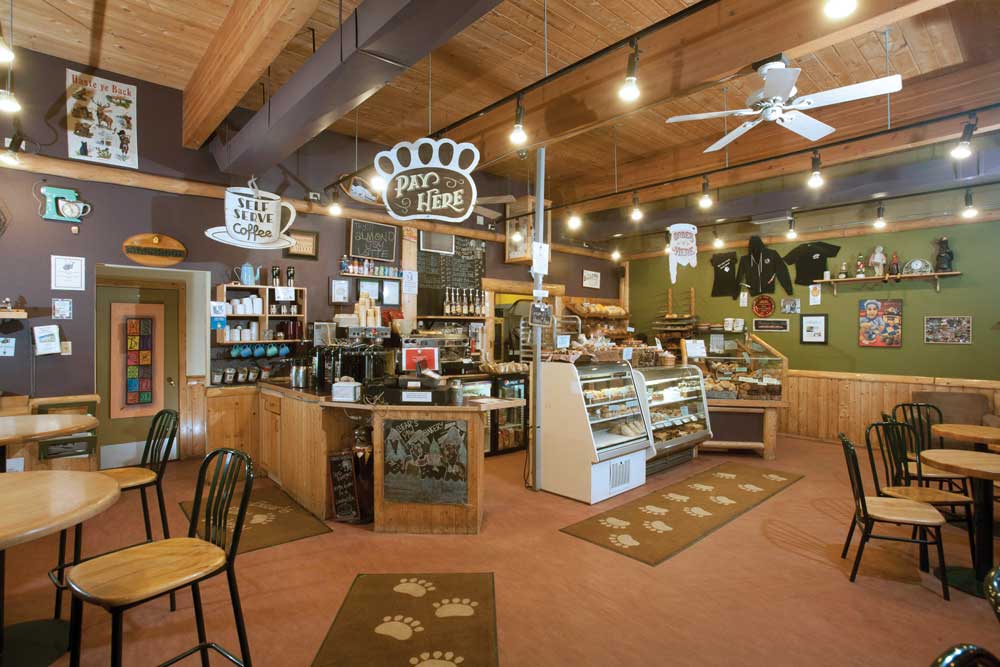 photograph by Different angle photography
Bear's Paw Bakery.
Locals are known to line up at this bakery as early as 6 a.m. for its fresh loaves of bread and mountain-roasted coffee. First-timers will stand agog at the display case packed with made-from-scratch European-style pastries such as white-chocolate raspberry tarts, hearty muffins, Danishes, scones and cookies, but the sticky cinnamon buns are a sure bet. There's a second location a few blocks away called The Other Paw Bakery Caf, but this is the original.
4 Pyramid Rd., Jasper, 780-852-3233, bearspawbakery.com
Floor-to-ceiling windows in a grand room with a rock fireplace provide epic views of Lac Beauvert and Whistler's Mountain while you sip on a cocktail and nosh on gourmet burgers, seasonal salads and entrees such as steak frites.
Old Lodge Rd., Jasper, 780-852-3301, fairmont.com/jasper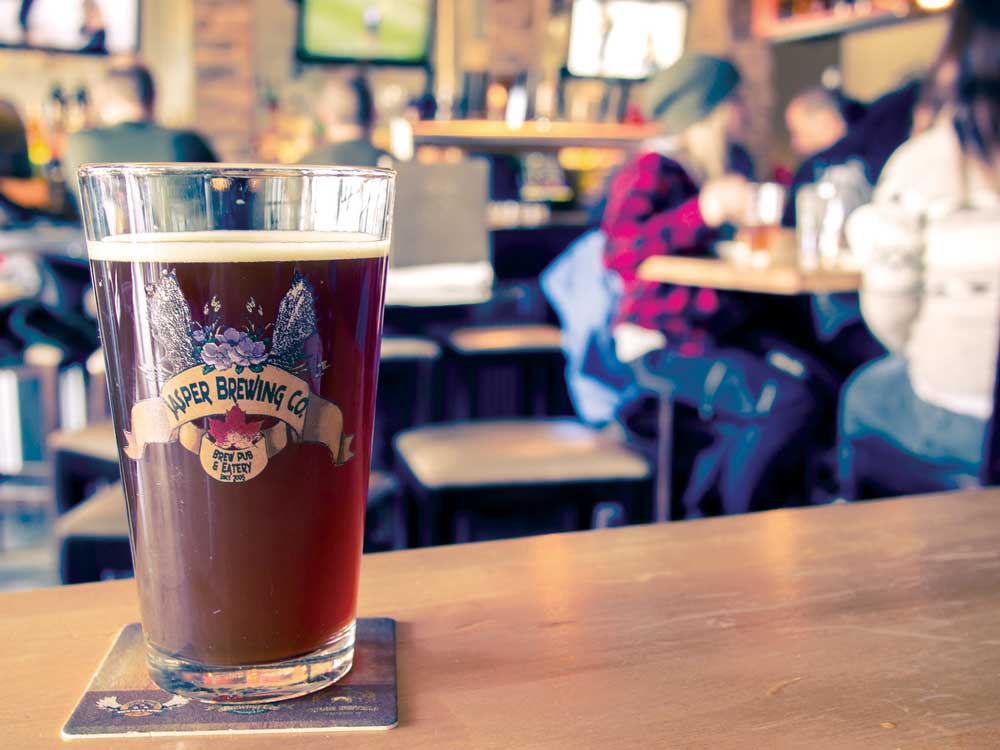 photograph by ryan bray, courtesy of jasper tourism
Jasper Brewing Company.
This casual brewpub, which opened in 2005, was the first to open in a national park in Canada and is still one the liveliest spots along Connaught Drive (Jasper's main street). The menu goes above and beyond usual pub fare, offering dishes such as flavourful elk meat loaf with seasonal vegetables, mushroom gravy and gaufrettes (crispy fried potato waffles). Signature beers such as Jasper the Bear Ale, named after the town's iconic mascot, are brewed on-site, so ask for the free brewery tour if you want to see how it's done.
624 Connaught Dr., Jasper, 780-852-4211, jasperbrewingco.ca
photograph by lynda sea
O'Shea's Restaurant and Sports Lounge.
Inside the historic Athabasca Hotel  (a.k.a. the "Atha-B") is O'Shea's, a place that promises the best breakfast in town and lives up to the hype. The dated-but-bustling dining room accented with antique knick-knacks, vintage equine decor, old-fashioned street lamps and photos of historic Jasper means your morning meal comes with a side of kitsch, but with the selection of breakfast skillets, omelettes, eggs Benny and Belgian waffles you're guaranteed to leave feeling satisfied.
510 Patricia St., Jasper, 1-877-542-8422, athabascahotel.com/restaurant
Where to Stay
You can't beat Mount Robson Inn's location – stroll a few blocks down Connaught Drive and you can hit the downtown shops and restaurants in minutes. Pillow-top beds, flat-screen TVs and sitting areas offer a cozy home base to regroup after your outdoor adventures, and for your morning fuel-up, there's a free continental breakfast buffet.
902 Connaught Dr., Jasper, 780-852-3327, mountrobsoninn.com
Located approximately six kilometres outside Jasper, this well-appointed alpine resort offers tranquility on the southeast shores of kidney-shaped Pyramid Lake. Soak in the panoramic views of the lake and Pyramid Mountain from the dock, which is just steps from the cozy chalet-style rooms equipped with fireplaces and kitchenettes. You'll also find kayak, canoe, paddleboat and bike rentals onsite and hiking trails nearby.
Pyramid Lake Rd., Jasper, 587-802-3644, mpljasper.com/hotels/pyramid-lake-resort
Two more must-do experiences in Jasper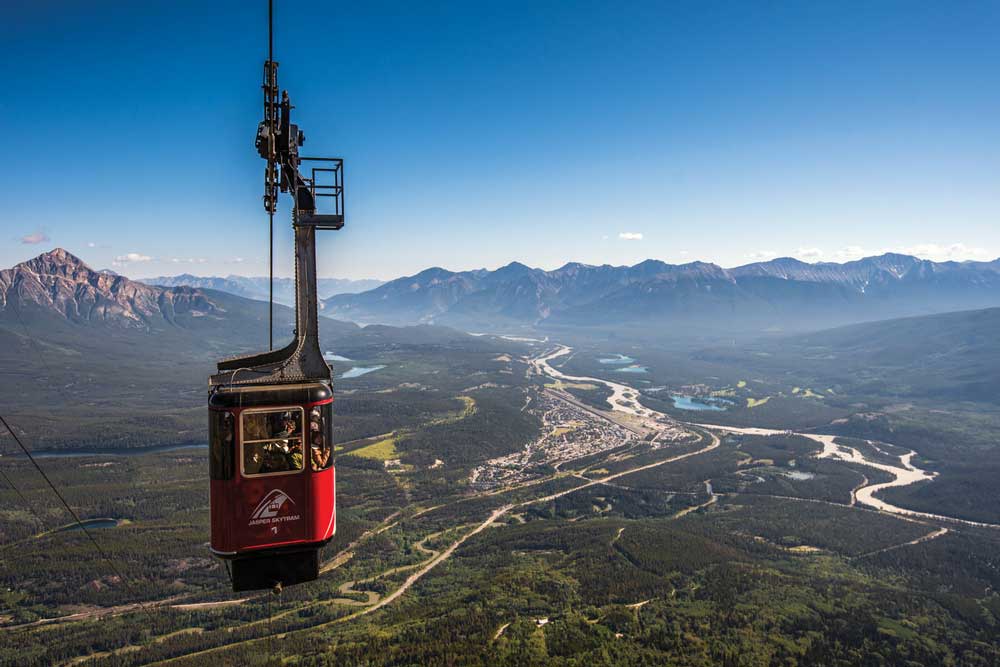 photograph by jeff barlett, courtesy of tourism jasper
The Jasper SkyTram.
A seven-minute tram ride whisks you up Whistler's Mountain, while a guide points out mountain ranges and glacial lakes below. Once you reach the top, you'll have time to wander the high-alpine Upper Station via boardwalks or take the 45-minute trail to the summit. On a clear day you can spot Mount Robson, the highest peak in the Canadian Rockies.
Hike at Maligne Canyon