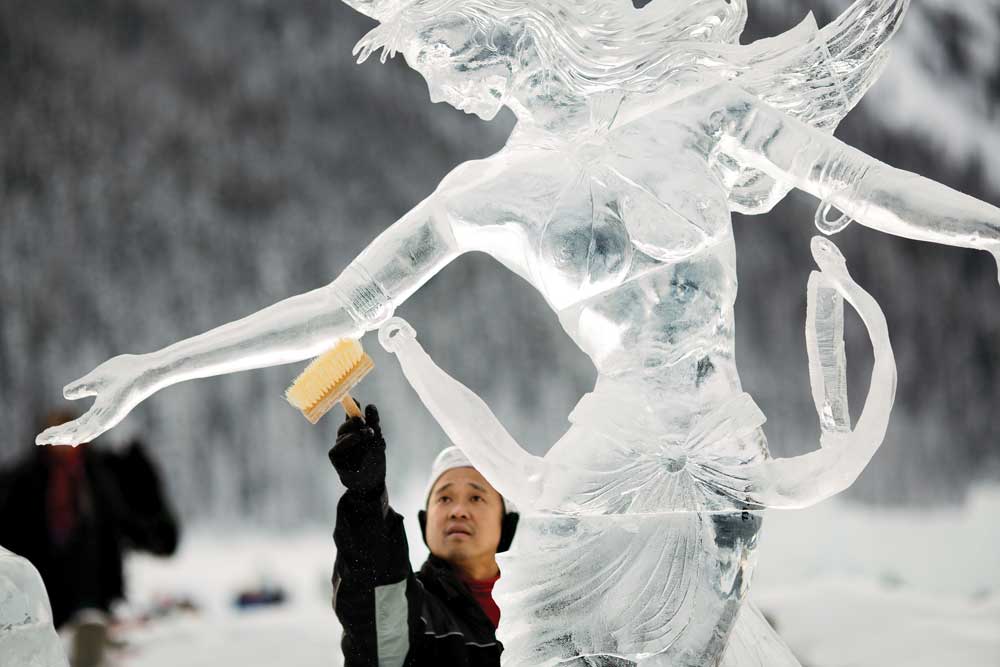 The Ice Magic Festival in Lake Louise brings in world-class ice-carving artists.
Every year in January, internationally renowned ice-carving artists convene on the grounds of the Fairmont Chateau Lake Louise to work 300-pound blocks of solid ice into elaborate creations. The invitational competition and the resulting ice-sculpture garden are the basis of the annual Ice Magic Festival in Lake Louise. Over the course of two decades, Ice Magic has become one of the top winter attractions in Banff National Park. It's so popular that those who wish to visit the site during peak-volume weekend hours must take a ticketed shuttle that runs from the parking lot of Samson Mall in Lake Louise Village (during non-peak times, such as mid-week, visitors are free to drive up to the site).
In addition to the festival sculptures, Lake Louise's other icy attractions include outdoor skating on the lake and an ice bar run by the Chateau where you can warm yourself from the inside out with mulled wine. -S.A.
Ice Magic Festival in Lake Louise 2018 runs January 18 to 28, banfflakelouise.com/ice-magic-festival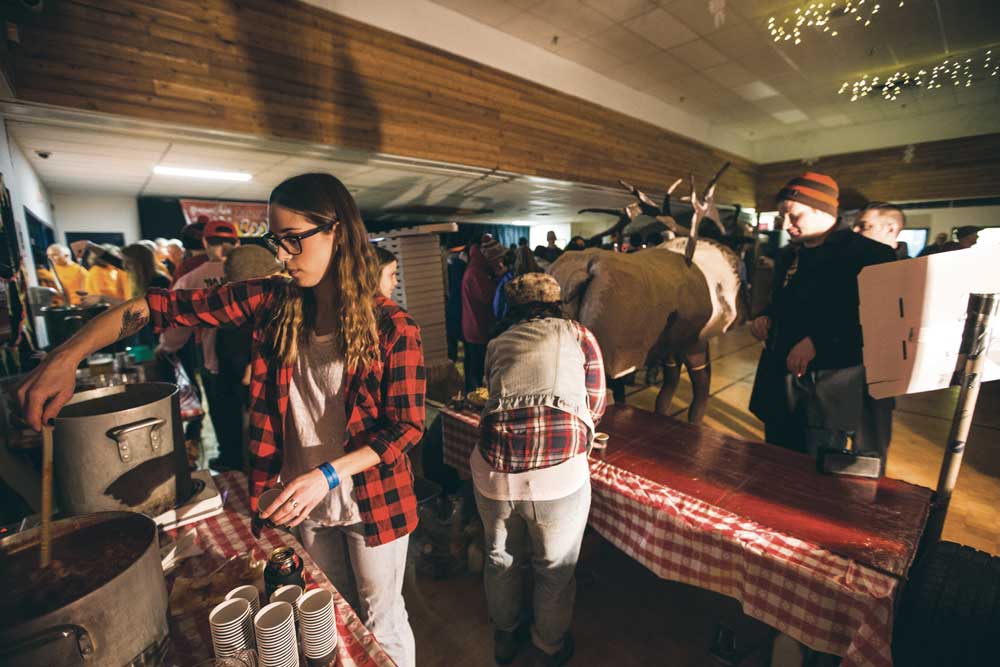 The annual Chili Cook-Off is one of the most popular events at Jasper in January.
There's no such thing as the winter blues during the Jasper In January festival, when the town of Jasper throws a big party that extends over three weekends and includes arts, food and outdoor activities.
The festival, entering its 29th year in 2018, includes free and ticketed events – everything from live music and fireside storytelling to dark-sky snowshoeing (Jasper National Park is an official Royal Astronomical Society of Canada Dark Sky Preserve, so the stargazing is stellar, so to speak). You'll also find fat-bike races, dogsledding and even winter survival lessons. During the festival's second weekend, restaurants across town offer $15 meal-and-drink pairings as part of the Food-a-Palooza culinary crawl, or you can skip straight to the drinks with Wine in Winter, an evening of international wine tastings and hors d'oeuvres.
If you really want to party like a local, Mountain Park Lodge's famous Chili Cook-Off is a must-attend. The competition pits dozens of teams against each other for both their chili recipes and their themed costumes and booths – last year's event saw Batman, the cast of Netflix's Stranger Things and a circus booth (complete with a life-like camel costume), to name a few. The Cook-Off predates Jasper in January by a year, celebrating its 30th anniversary in 2018, and has become one of its biggest events. The winners in each category get prizes (and serious bragging rights) and once the last dregs of chili are packed away, the 18-plus licensed event turns into an old-school dance party that lasts until midnight. -M.F.
Jasper in January 2018 runs January 11 to 28, jasper.travel/January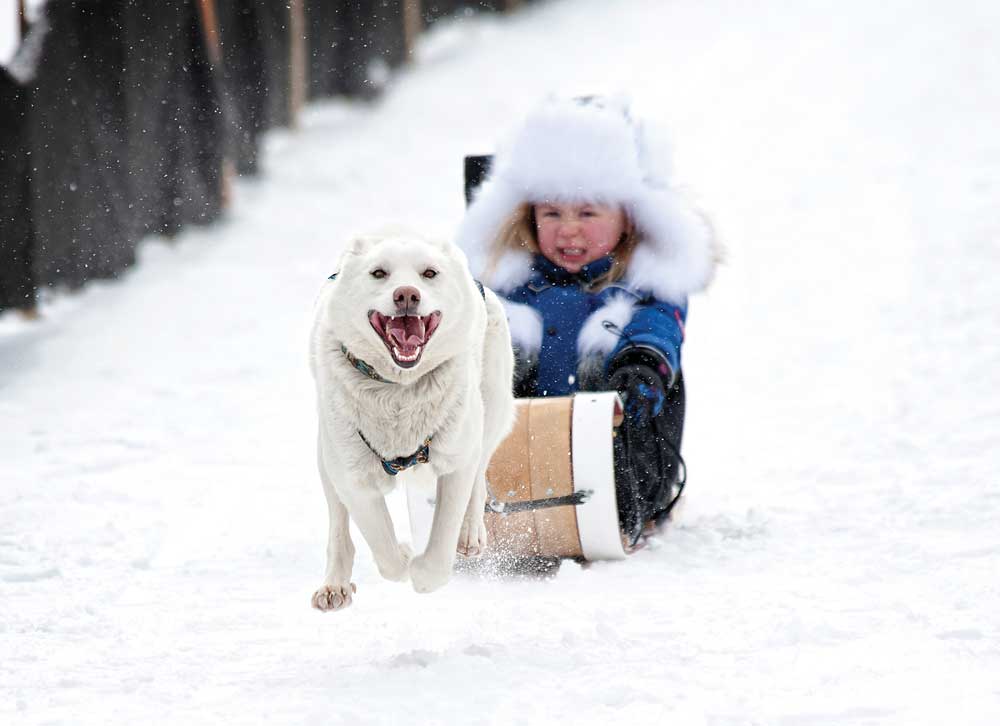 The Kid N Mutt races at the Canmore Nordic Centre are a popular event at the Canmore Winter Carnival.
Gorgeous, outdoorsy Canmore is an ideal spot to celebrate all the best things about winter, which is what happens each year at the Canmore Winter Carnival. The annual February festival organized by the Town of Canmore dates back more than two decades and features a roster of events including ice-carving, competitive log-sawing and outdoor-skating parties.
This festival also has a unique canine component. The Kid N Mutt races, where junior entrants pilot sleds pulled by real sled dogs down a track at the Canmore Nordic Centre, are a Carnival highlight, as is the annual "Pooch Parade," where local dogs strut their stuff in winter finery.
If anything will define the 2018 edition of the Carnival, however, it will be the good old hockey game. Canmore is a hockey town at heart. In addition to providing the location for the 1999 Hollywood hockey movie Mystery, Alaska starring Russell Crowe and Burt Reynolds, it's home to the Canmore Eagles AJHL club and the Carnival usually includes street- and pond-hockey events. But the big news for 2018 is that the Rogers Hometown Hockey Tour is coming to Canmore Feb. 10 and 11, which just so happens to be the Carnival's final weekend. Hosted by Ron MacLean and Tara Slone, the live-broadcasted series examines the local hockey culture and will feature free family activities and appearances by NHL alumni. -S.A.
Canmore Winter Carnival 2018 runs February 2 to 11, canmore.ca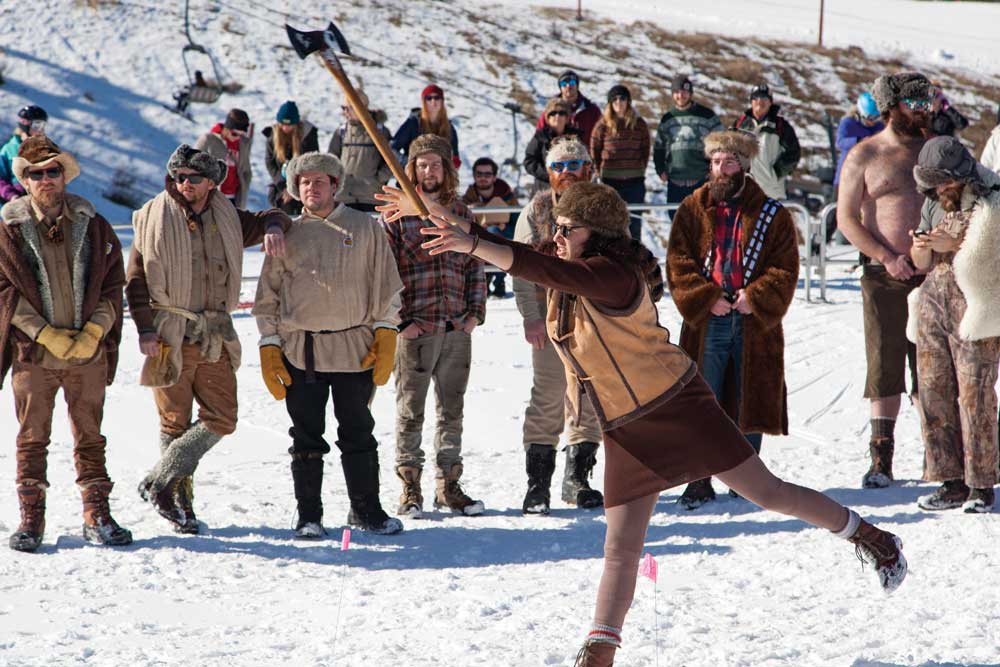 Fernie Griz Days includes axe throwing, appearances by The Griz mascot and the Dummy Downhill event.
Every ski town needs a legend and Fernie's legend of The Griz is a doozy that culminates in a festival every March. The mythic story involves a baby boy born long ago in a grizzly bear cave, who fought the beast for his life. As he grew, he morphed into a bristly, grizzly-coat-and-hat wearing bear of a man believed responsible for bestowing the mountain town with the epic powder for which it's renowned. According to lore, The Griz wanders the jagged teeth of the Lizard Range high above Fernie Alpine Resort and periodically shoots a musket into the clouds, which respond by dumping fluffy white stuff on all the runs.
Griz Days is an annual tribute to Fernie's powder benefactor, put on to ensure he keeps blessing the town with snow. The festival packs in fun for all ages. For families, there's skiing with The Griz mascot, a pancake breakfast and a main-street parade. There's a bacon-eating contest, live-music events and a rowdy pub crawl (for those who don't have kids in tow). There's also a lumberjack show, fireworks and a "dummy downhill" that sees dummies on skis launched off a jump. But the best tradition by far, is the Extreme Griz Competition, where strong women and men compete for the title of Fernie's Extreme Griz by throwing axes and demonstrating their prowess through other tests of strength. -L.K.
Griz Days 2018 runs March 2 to 4, ferniegrizdays.com