Edmonton's favourite pub and brewery tour, Urban Pedal Tours, is offering tours in Calgary starting June 7. Founders Carol and Matt Gosse bring their 15 passenger bike to Cowtown for boozy tours all summer long.
The Gosse's decided to bring Urban Pedal Tours to Alberta after participating in similar tours in Portland and Seattle. Met with raving popularity in Edmonton, the Gosse's announced their official expansion to Calgary in April.
Urban Pedal Tours currently offers two scenic city tours: the Beltline Tour and the Manchester Brewery Tour.
The tours are two hours long and stop at three local breweries and pubs. The Beltline tour includes Millstreet Brewery, Trolley 5 and Last Best. The Manchester tour stops at Annex Ale, Banded Peak and the brand new Born Colorado. At each stop, you can purchase your own drinks and enjoy them before pedaling to the next stop.
The growth in the Calgary's local craft brewery is a key factor that drew the couple to city, says Matt. The ability to support the local market and provide people with a good time – and good drinks – is something the two look forward to bringing to the city with their huge, 15 passenger bike.
The bike itself is a force to be reckoned with. Five meters long, the bike holds 10 pedaling seats, two non-pedaling seats and a three-seater bench. Passengers sit in a U-shape facing each other, pedaling the bike down the road at a smooth 10 kilometers an hour while a host in the middle steers.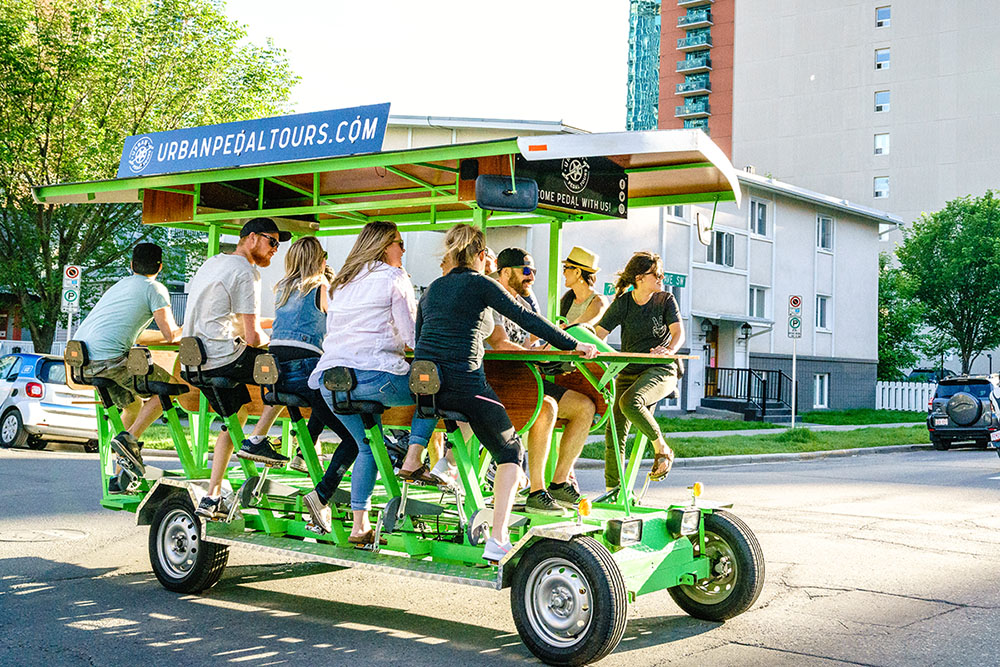 Urban Pedal Tours' 15-passenger bike rolling down the streets of Calgary ahead of their first official tour in Cowtown.
This boozy, pedaled tour has won over locals and tourists alike. While the expedition across the city is perfect for newcomers, the unique transportation, local drinks and fun company make the tour great for people from the city as well.
"The social aspect of being on the bike is just so fun, because everybody is facing each other, and on the bike that's the key, right?" Matt said. "You see everybody pedaling. You're working hard, they're working hard, everyone has to work hard to get there. I think that just brings people together."
Bookings for Urban Pedal Tours in Calgary are open now on their website. Reservations are available for single people or groups at $38 per person. They also have private bookings available for parties and large groups with eight or more people.