SPECIAL ADVERTISING SECTION
Welcome Home
From the inner-city to amenity-rich suburbs, discover some of Calgary's exciting new communities you may just want to call home.
LUXURY LIVING DESIGNED FOR YOU
Since 1923, Melcor has remained committed to building master-planned communities where people of all ages and stages in life can live, work, shop and play. With Melcor's two newest communities, you can enjoy estate living with unbeatable views or rural living in a community with a nature-focused design.
PRISTINE VIEWS AT THE PINNACLE ESTATES IN SUNSET RIDGE
The Pinnacle Estates is a new community in Cochrane that offers countless reasons to call it home, starting with the incredible views. "These are estate lots with unobstructed mountain and valley views that are absolutely gorgeous," says Ruth Price, project coordinator with Melcor. The views aren't just at a distance either; bordered by an environmental reserve, residents can step out of their front doors and be greeted with sweeping greenery.
Nestled in the established community of Sunset Ridge, The Pinnacle Estates also provide all of the amenities and community-connection residents could need or want. With more than five kilometres of scenic paths, various parks and a six-acre park, it's easy to get outside and get active with family and friends. A new community centre is also planned for Sunset Ridge, which, subject to market conditions, is tentatively scheduled to be constructed in 2025. The community centre will provide even more ways to be social and get active. Outdoor amenities of a new skating rink, playground, outdoor seating areas and more are tentatively scheduled to be constructed in 2024.
With sun-drenched mountains and amber skies, find out more about making The Pinnacle Estates home at thepinnacleestates.com.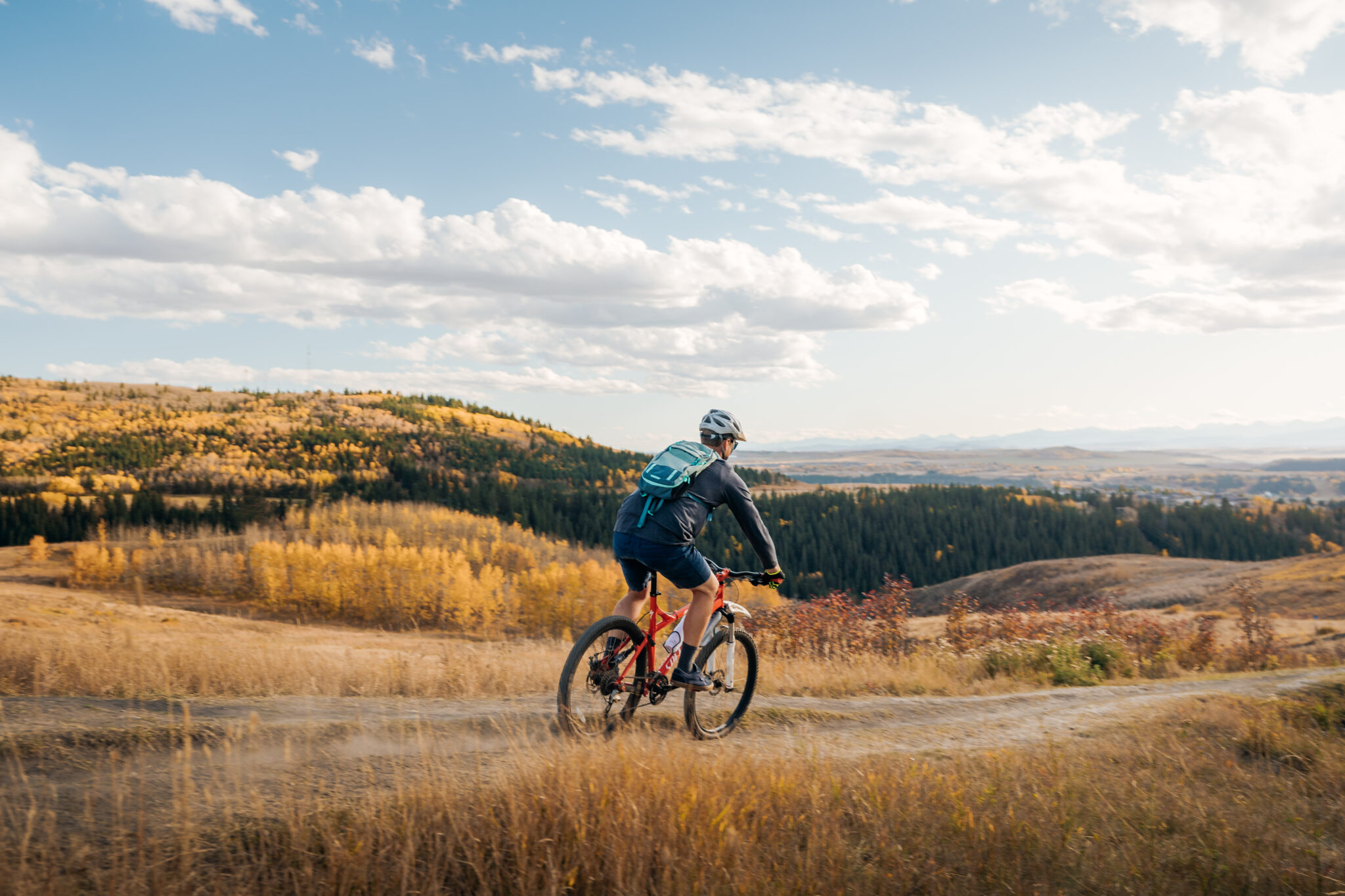 PRAIRIE ESTATE LIVING
Melcor's second new community, located west of Balzac, brings all the appeal of prairie-estate living with a focus on naturalized design. The soon-to-be-named community will feature connected cul-de-sacs, sizeable lots and a walkable pathway system designed to build connection between neighbours. Spacious estate lots in this community offer ample opportunity for customization, offering residents the chance to build a home with all the features they dream of. As an added feature, the homes will offer options for net-zero living with solar panel options and energy-efficient features so you can enjoy greener living inside and out.
Living here will offer residents the sweeping outdoor space they crave within close proximity to the city and all its amenities.
"It's a really exciting community that offers a great starting price point of $700K to $1M+, with the opportunity for more space in a rural community," says Price.
For more information, email inquireyyc@melcor.ca.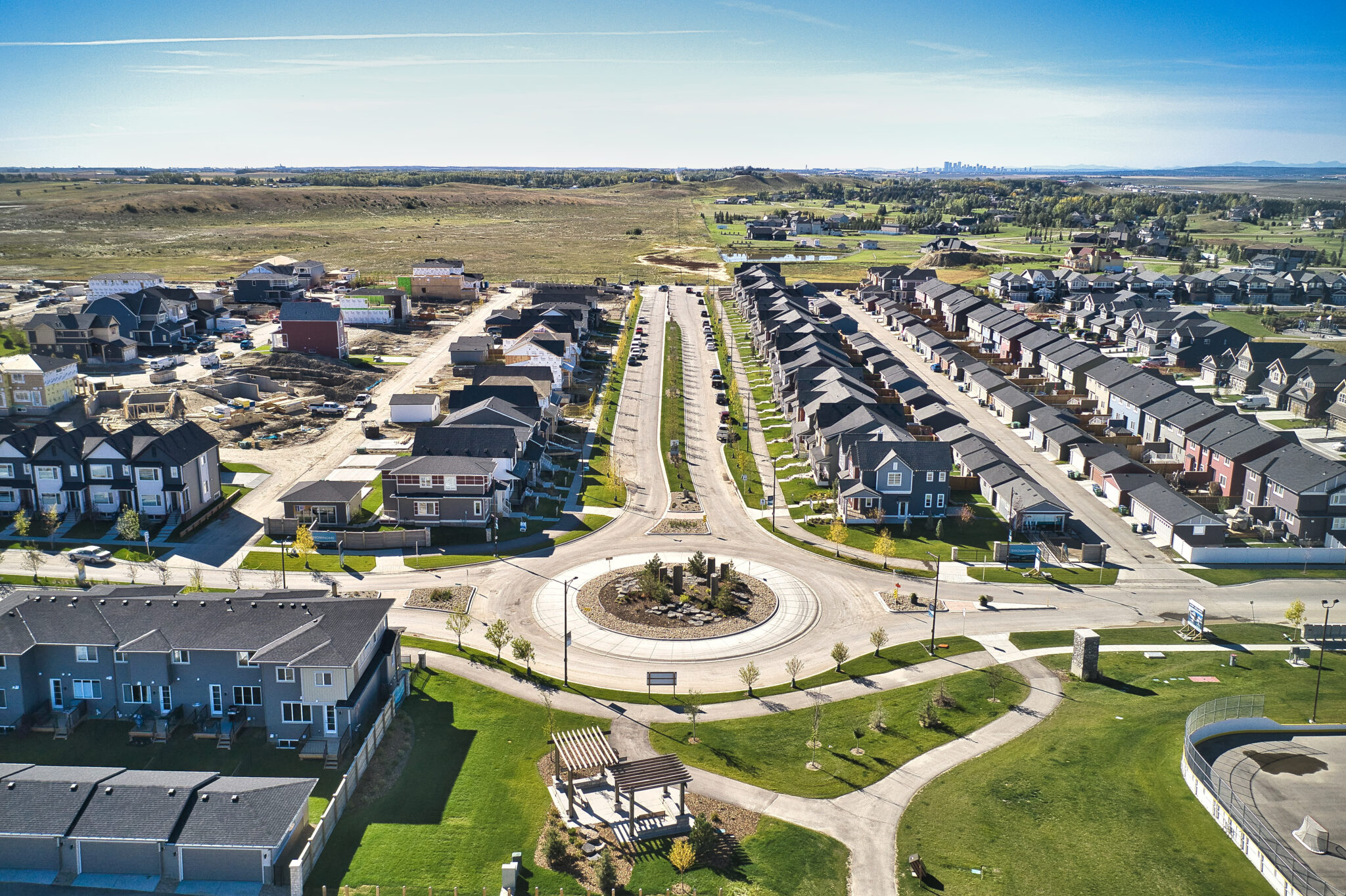 MORE TO LOVE
In 2023, Melcor will celebrate 100 years in the business of building communities designed to enrich Calgarian's quality of life. Even in its established communities, Melcor continues to be dedicated to advancing neighbourhoods and boosting living experiences. Here, Melcor's Ruth
Price shares more about some of the new projects the developer is working on:
"Our Greenwich community offers New York-style living in northwest Calgary. This community features condos and townhomes within walking distance of the Calgary Farmers' Market West that is set to open in August 2022."
"Live big and set your roots down in Lanark Landing. Located on Airdrie's east side just south of King's Heights, Lanark will feature a September opening of Airdrie's first pump track."
"Come home to calm in the Cobblestone Creek community. Located on Airdrie's west side just south on 24th Street off Yankee Valley Boulevard, Cobblestone is Airdrie's newest community focused on simple, serene living. Kilometres of planned pathways and boardwalks along the creek promote an active lifestyle and a connection to nature."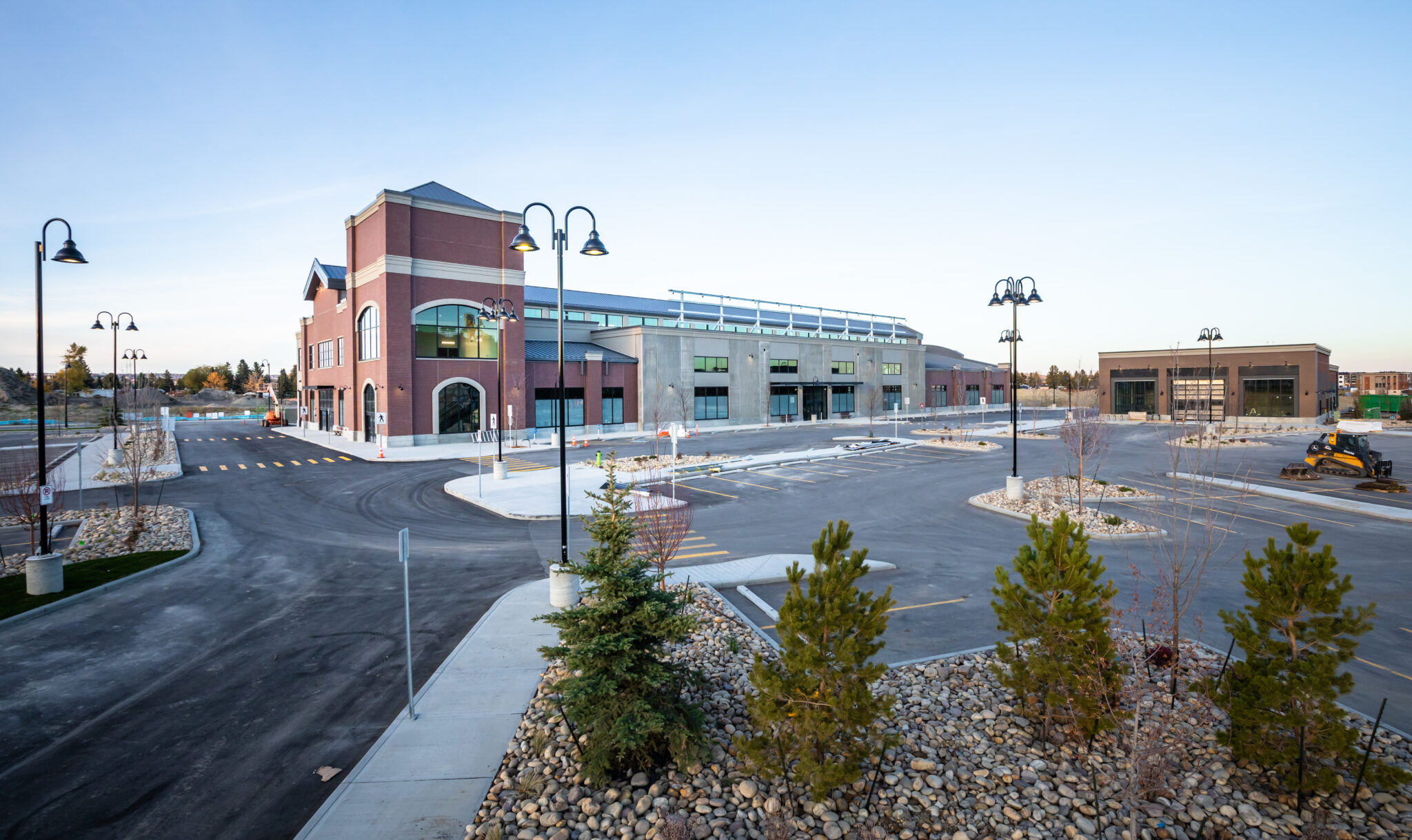 RETHINKING HOME
Currie's flexible housing options offer solutions for the changing family.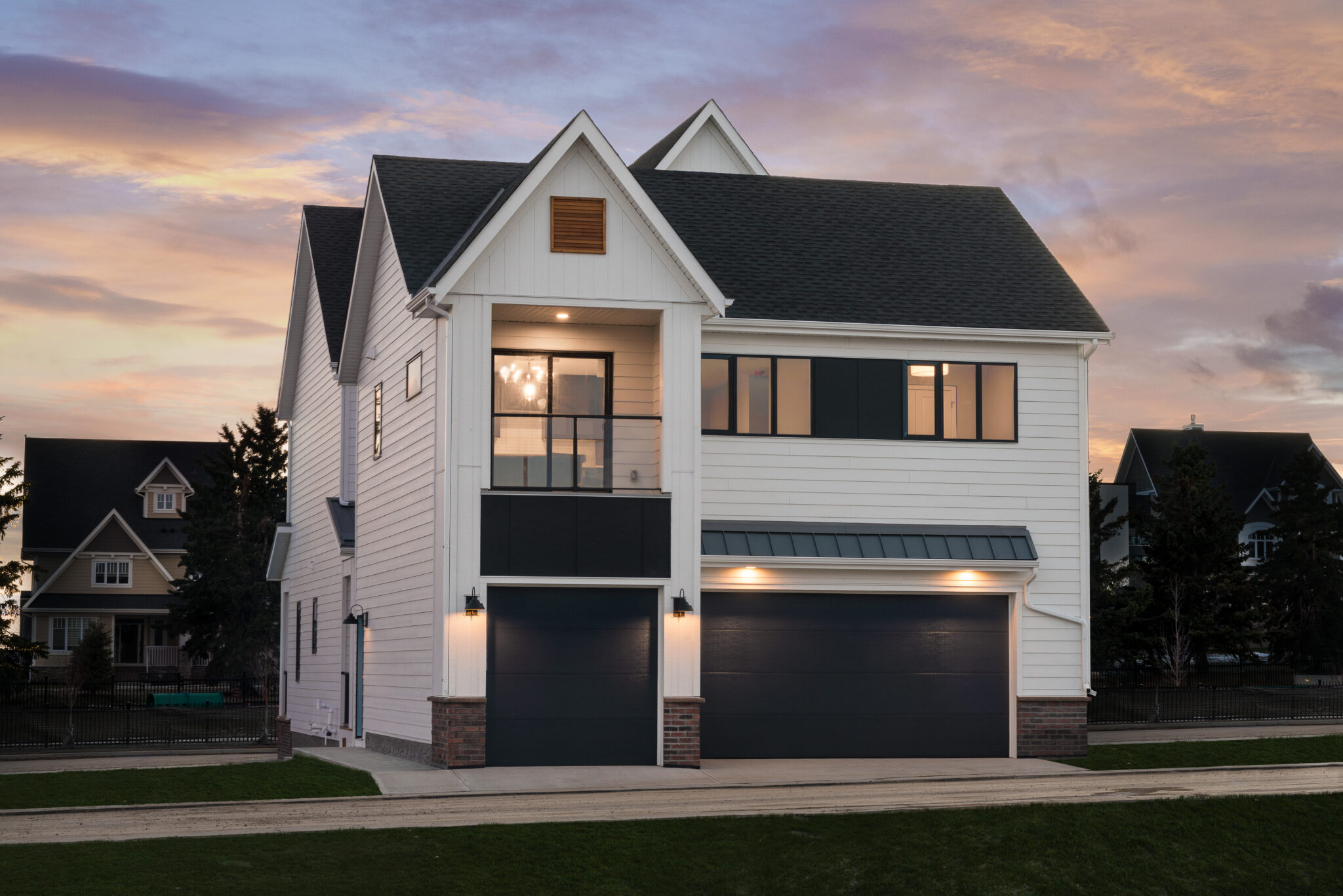 Over the past few years, Canadians have been rethinking how they use their homes. Even before the pandemic accelerated these trends, more people have been working from home, living with multiple generations of family, renting out portions of their house for extra income, and co-buying with friends and extended family. With the definition of both "home" and "family" evolving, the innovation of neighbourhoods is changing too.
Currie is a southwest inner-city community built on the historic Currie Barracks, a former Canadian Armed Forces Base. Master-planned by Canada Lands Company, Currie keeps the history vibrant and alive while offering a community with solutions for households. Currie uses a broad range of municipal land uses that allow for flexible home configurations so families can envision living spaces that work for their unique circumstances. Buyers can run a home business out of the house, build a laneway or secondary suite for rent or provide housing for family and create multi-generational options to keep loved ones nearby. Currie is about giving families homes that fit and adapt to their lifestyles.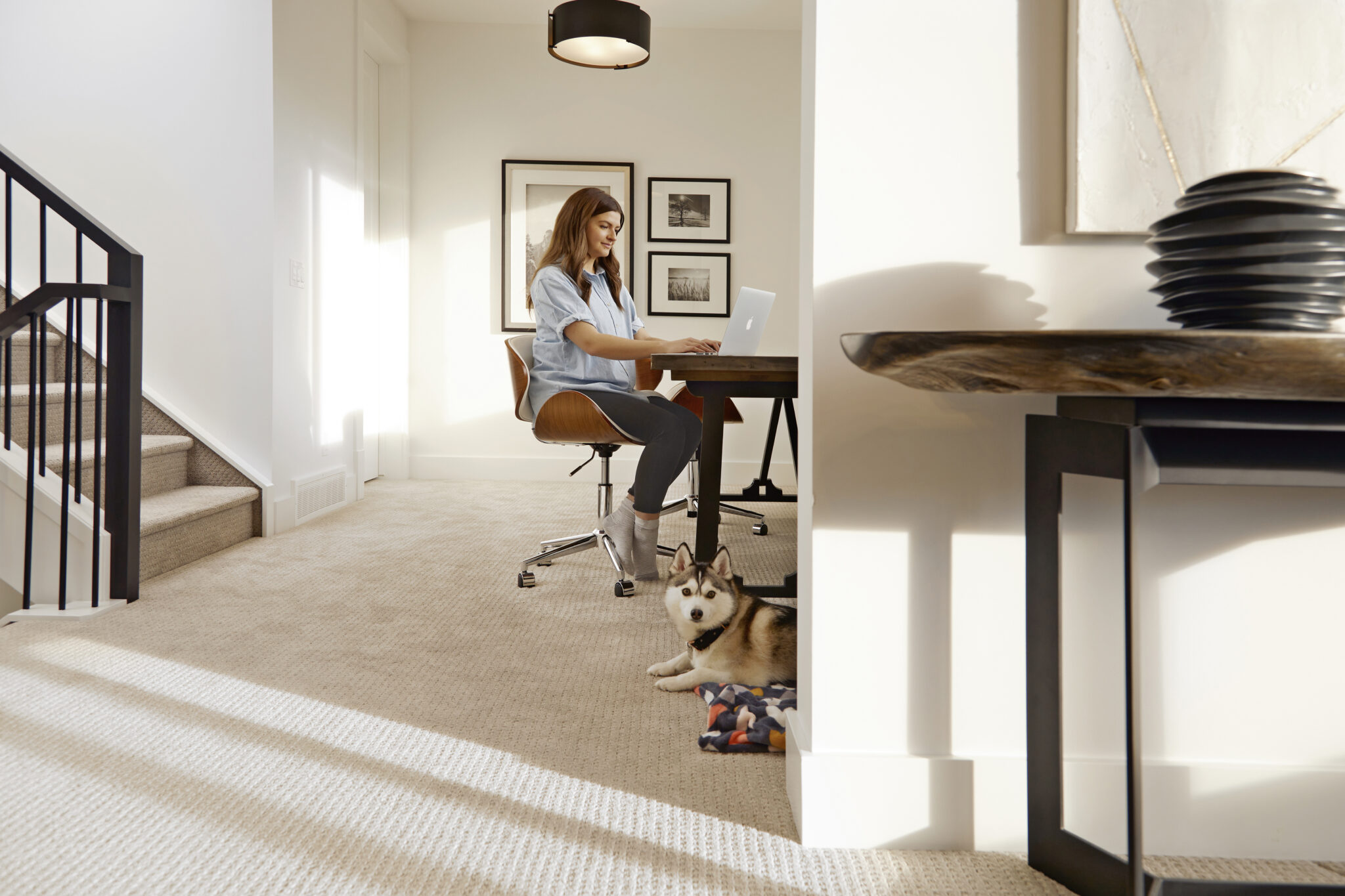 "The needs of people's homes have changed. The pandemic has taught us that the home needs to serve as a workplace, a school, and everything else, often with many generations living together," says Teresa Goldstein, senior director of real estate for Canada Lands Company.
"Families coming into Currie want their homes to work harder for them." Currie's flexibility also makes it appealing to many people from Calgary and across Canada.
Currie's flexibility also makes it appealing to many people from Calgary and across Canada.
Calgary's reasonable housing prices (especially in comparison to markets like Toronto and Vancouver) and reputation for comfortable liveability are already key draws for newcomers to Currie.
Currie's proximity to downtown, schools, Mount Royal University, recreation spaces and the mountains attract residents looking for a better quality of life. The community also offers lifestyle perks, such as plenty of green space and shared outdoor space, walking trails, access to Calgary's bike trail network and the possibility of not needing to own a car.
"I tell people to ask themselves what they need and dream of from the design of their home today and beyond," Goldstein says. "When buying a home, the design elements are captivating, but savvy consumers are looking beyond the granite counters or the height of the ceiling and rethinking how their life will evolve in the home."
The home offerings in Currie give families the flexibility to evolve.
Learn more about Currie at currielife.ca.
A NATURAL REFUGE IN THE HEART OF THE CITY
Jayman BUILT's Les Jardins offers inner-city living in a beautiful garden setting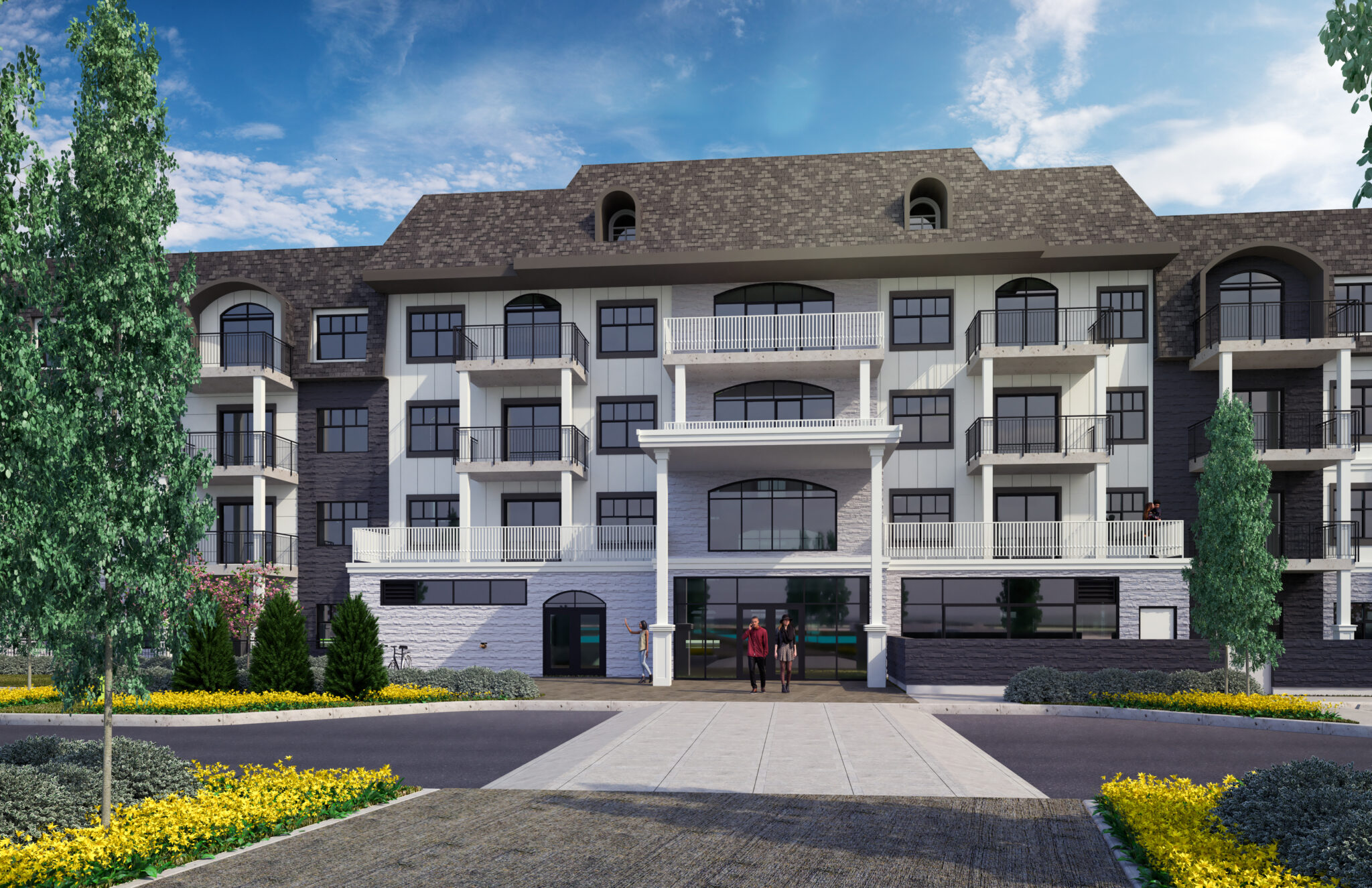 Imagine waking up in Calgary and looking out at a classically styled French garden every morning. That fantasy is now a reality for homeowners at Les Jardins, a distinctive new townhome and condo development from Jayman BUILT. Located minutes from beautiful Quarry Park, residents in this southeast community can enjoy the best of inner-city living and serene outdoor amenities.
With its unique layout, Les Jardins features 120 townhomes encircling a two-acre French-inspired garden, complete with impeccably maintained hedges, quiet pergola-covered seating areas, community gardens, separate dog-friendly spaces, and a majestic grand central fountain. One end of the development will soon include a 103-unit condo building, complete with a fitness facility and other amenities to be enjoyed by both townhome and condo owners. Les Jardins is a quick commute from downtown (with no need to use Deerfoot to get to the city's core). It's also within walking distance to many shops and services and close to not only Quarry Park and the Bow River, but also Carburn and Fish Creek Parks. Despite its accessible location, Les Jardins feels like a peaceful refuge in the heart of the city.
"Jayman always envisions its communities by looking at the amenities first and building out from there," says sales manager Jordan D'Haese. "The garden is the biggest outdoor feature within Les Jardins, but there is also access to the other parks and plenty of walkability. The location is something you don't often get with this size of development."
The homes are just as impressive as the outdoor features and amenities. Les Jardins' townhomes are available in a range of floorplans, with two- to three-bedroom units. Each townhome has a private yard, driveway, and a one- or two-car heated garage. The condos come in one- or two-bedroom configurations, some with the option of a den, all with spacious balconies and patios. The diversity of options makes Les Jardins a popular choice for downsizers, young families, and single professionals looking for maintenance-free living and a healthy work-life balance.
As with any Jayman home, owners get access to the best-of-the-best when it comes to interior design and high-end estate-level finishings. Both home styles come fitted with smart home technology, making Les Jardins living even smoother.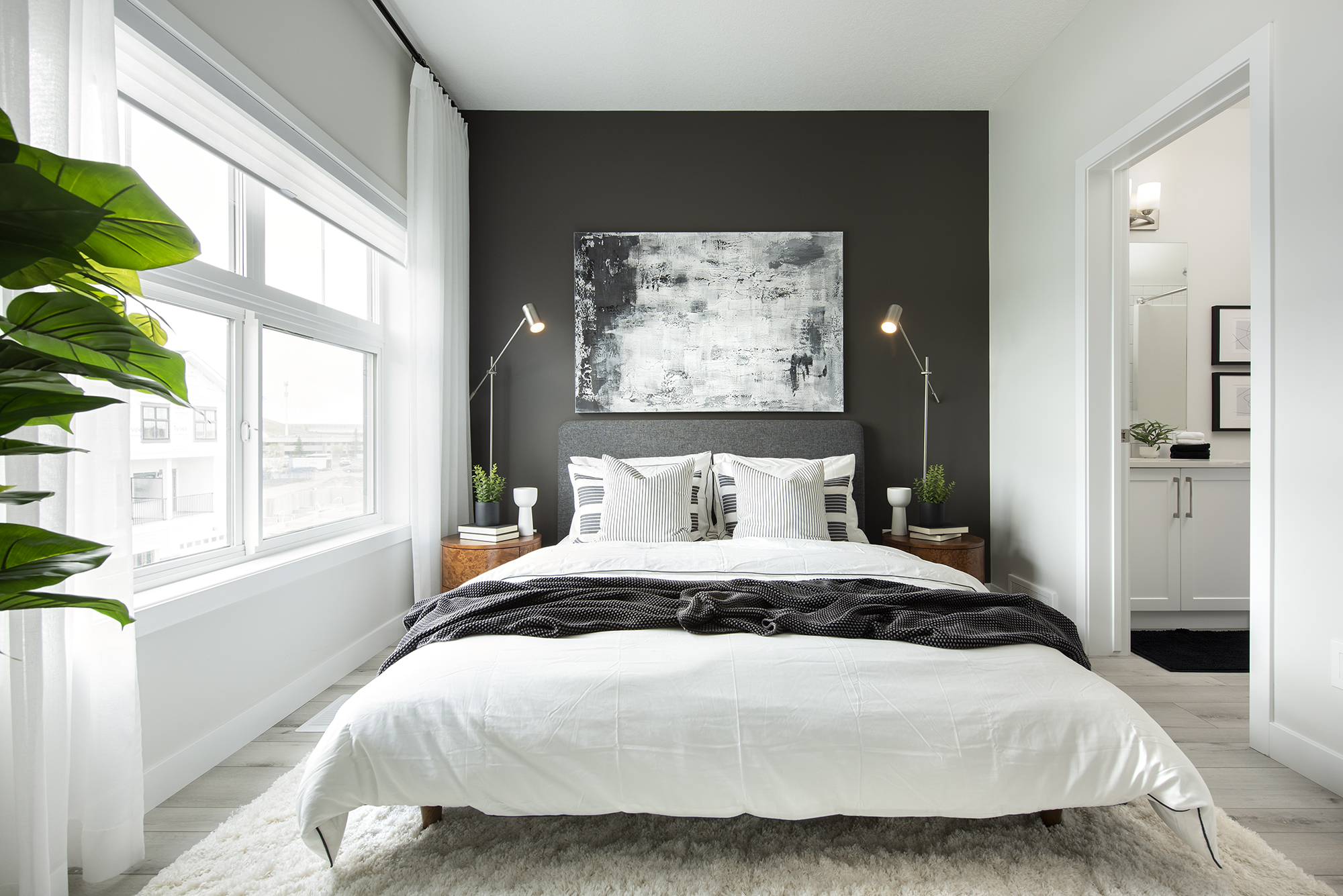 Les Jardins also represents Jayman BUILT's commitment to moving towards net-zero living, with solar panels on both the townhomes and the condo building. Garages are also fitted with optional outlets specifically calibrated for electric vehicle chargers so that homeowners will be ready if they drive an electric vehicle now or plan to switch to one for their next purchase.
"Whether it's our single-family homes or multi-family projects, Jayman is always striving towards that path of net zero," D'Haese says. "When it comes to energy efficiency, we don't just meet the building codes — we exceed them."
Townhome owners have already moved into Les Jardins, and there are units available for relatively quick possessions. The townhome units start in the mid $400s plus GST. Construction is underway on the condos, with those homes starting in the high $200s plus GST.
For more information, visit the Les Jardins sales centre at 10808 18th Street SE or jayman.com/lesjardins.
LUXURIOUS LAKESIDE LIVING
Discover year-round resort living at The Streams of Lake Mahogany by Jayman BUILT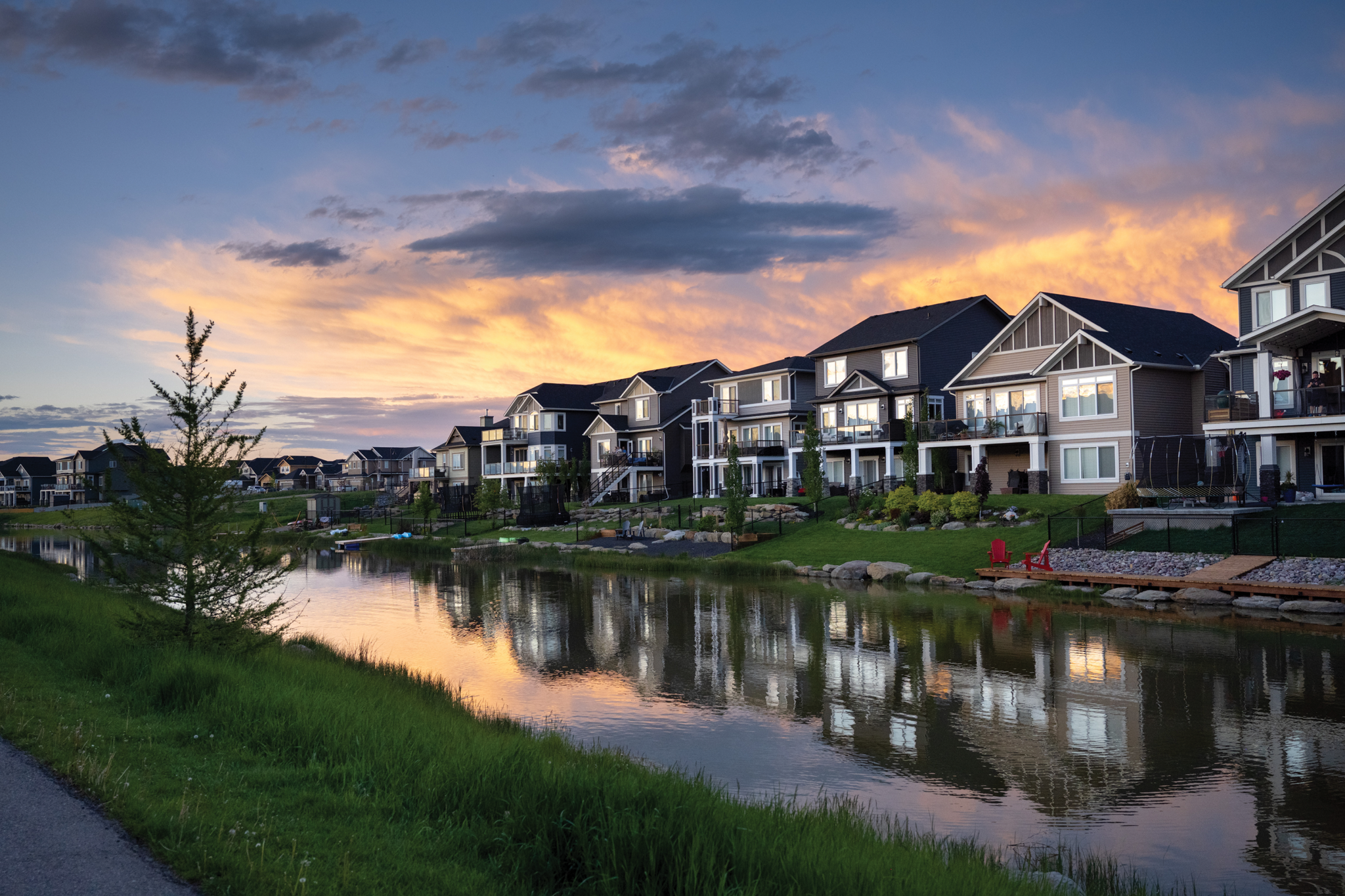 Calgarians already know that Lake Mahogany, with its recreational amenities and close proximity to shops and restaurants, is a great place to live. Jayman BUILT's latest luxury development, The Streams of Lake Mahogany, gives potential homeowners a new option for relaxed lakeside living, with the added benefit of some of the most beautiful maintenance-free landscaping in the entire city.
The Streams is a "neighbourhood within a neighbourhood" in the Mahogany Lake community. The development is designed to look and feel like an exclusive resort and consists of 80 villa-style duplex bungalow homes as well as nine lakeside "Reflection" estate condominium buildings, each featuring six single-level stacked condo units. The unique configuration of homes is perfect for anyone who doesn't want to worry about constantly going up and down stairs while also allowing easy access to The Streams' enviable outdoor amenities.
The community's namesake streams are a literal feature. In addition to full access to beautiful Mahogany Lake, homeowners at The Streams can enjoy four distinct green spaces with cascading streams weaving throughout the grounds. Pergola-covered seating areas, outdoor fire pits, additional water features, and communal barbecue facilities sit just steps away from each home, allowing residents to wander out for some outdoor solitude or to enjoy coffee and conversation with neighbours. The Streams is also a short walk away from Westman Village, where residents can browse retailers and services or indulge at restaurants like Chairman's Steakhouse or Alvin's Jazz Club.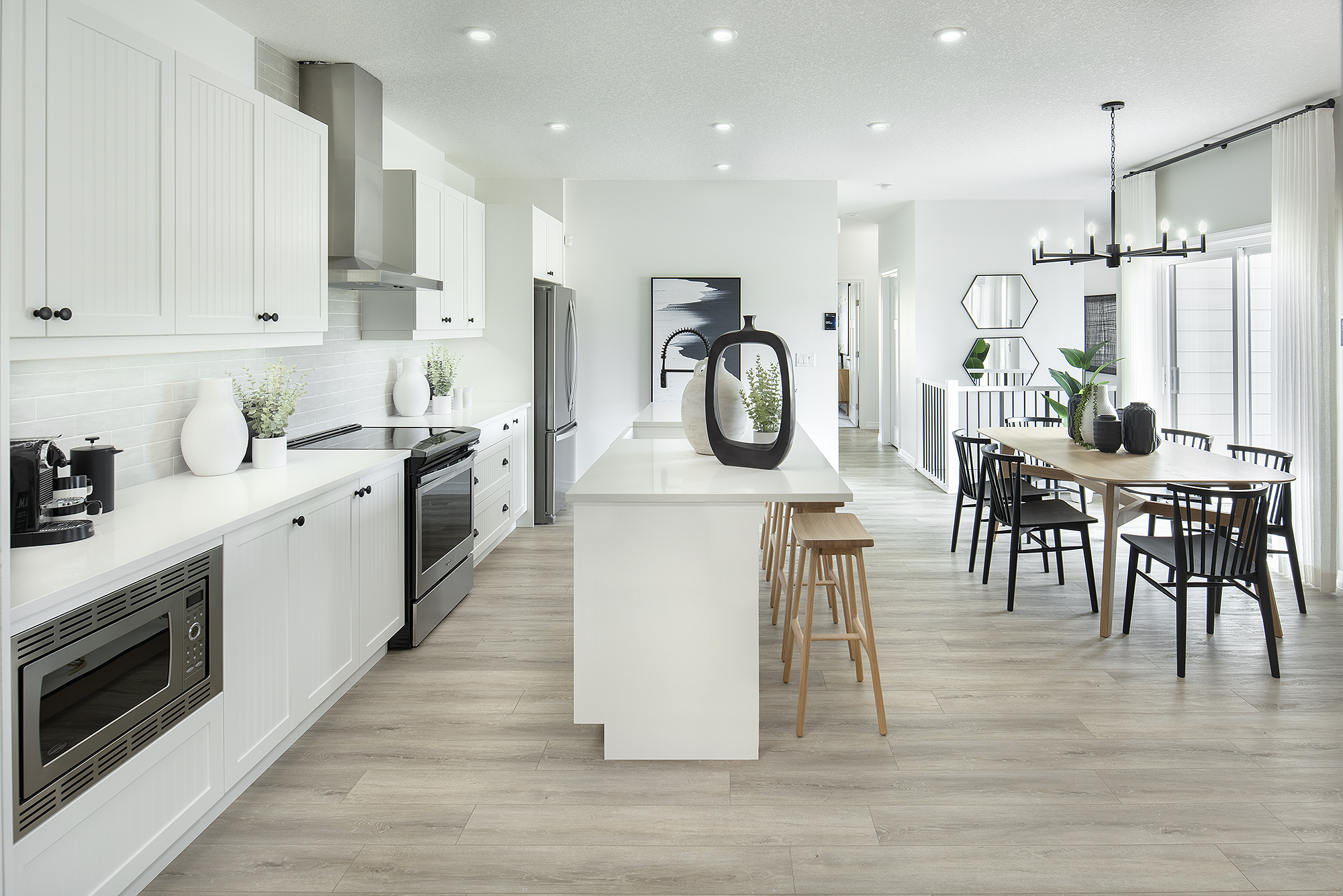 "The inspiration for The Streams is that we want residents to feel like they're on vacation even when they're at home," says sales manager Jordan D'Haese. "The Streams feels like a resort within a lake community. The owners are a tight-knit group, with full access to everything Mahogany has to offer with the lake, the beach clubhouse and all the shops."
Both the bungalows and Reflection homes are more than worthy of their retreat-like surroundings. With multiple floorplans to choose from, the bungalows come with one bedroom upstairs and the option to develop the basement, with one- or two-car garages available. The Reflection units all come in two-bed/two-bath configurations, with private garages and elevator access to the units on the upper levels.
Jayman BUILT has a reputation for its high-end design-savvy interiors, and bungalow homeowners at The Streams can personalize their homes to an unprecedented level with full access to the Jayman styleMagicTM Centre. Both the bungalows and Reflections buildings are also fitted with solar panels and electric vehicle-ready charging outlets as part of Jayman's commitment to moving towards net-zero living. The homes also feature a full suite of Smart Home technology.
"With these bungalows, we've taken an approach that matches and mirrors our single-family products where the purchasers meet with our professionally designated interior designers to make their selections, everything from flooring to countertops, cabinets and paint colours," D'Haese says. "Customers have the ability to personalize their home further by choosing a flex room option, to have extra bedrooms in the basement, add a wet bar or anything else they may be looking for in their basement development."
New showhomes at The Streams of Lake Mahogany are coming soon, and bungalow units are available to move into as early as this fall. The bungalows start in the $695,000s, with the lakeside reflection units starting in the $903,000s.
For more information, visit The Streams of Lake Mahogany presentation centre at 188 Mahogany Gardens SE or jayman.com/thestreams.
A GENESIS LAND COMMUNITY IS A PLACE TO LIVE, TO BE AND TO EXPERIENCE.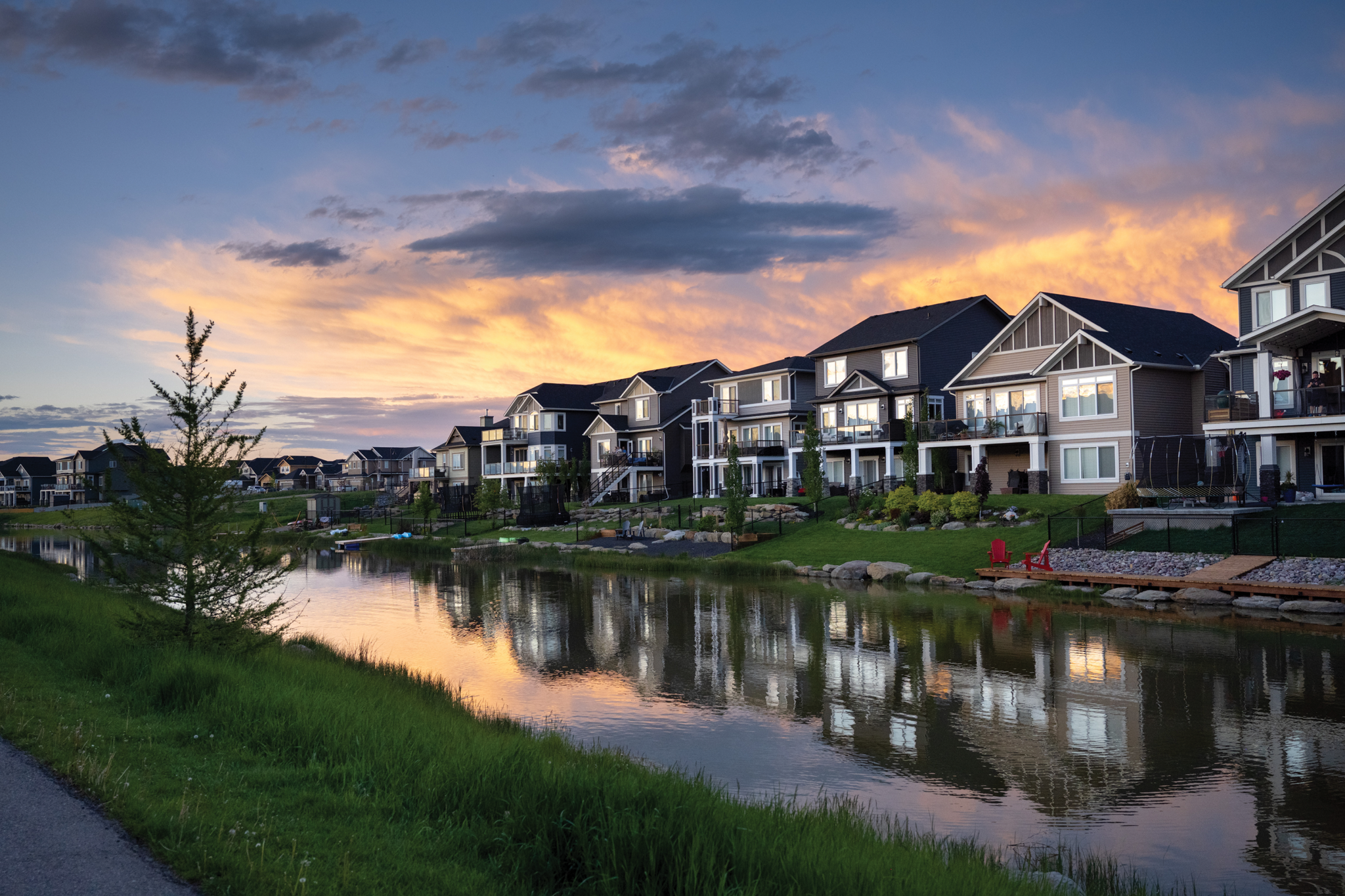 For more than 30 years, Genesis Land has been developing innovative, award-winning communities designed to complement a diverse range of lifestyles, so that people from all walks of life, and at all stages of life, can flourish in the neighbourhood they choose to call home.
We are passionate about creating inspired, welcoming places where modern conveniences and natural surroundings exist in perfect balance. Places where people can make the most of things like ample green space, expansive trail networks and scenic water features while also having close access to shops and services. After all, the best measure of a successful, vibrant community is seeing its residents actively engaging with it — enjoying its amenities, visiting with one another and building meaningful connections that can last a lifetime.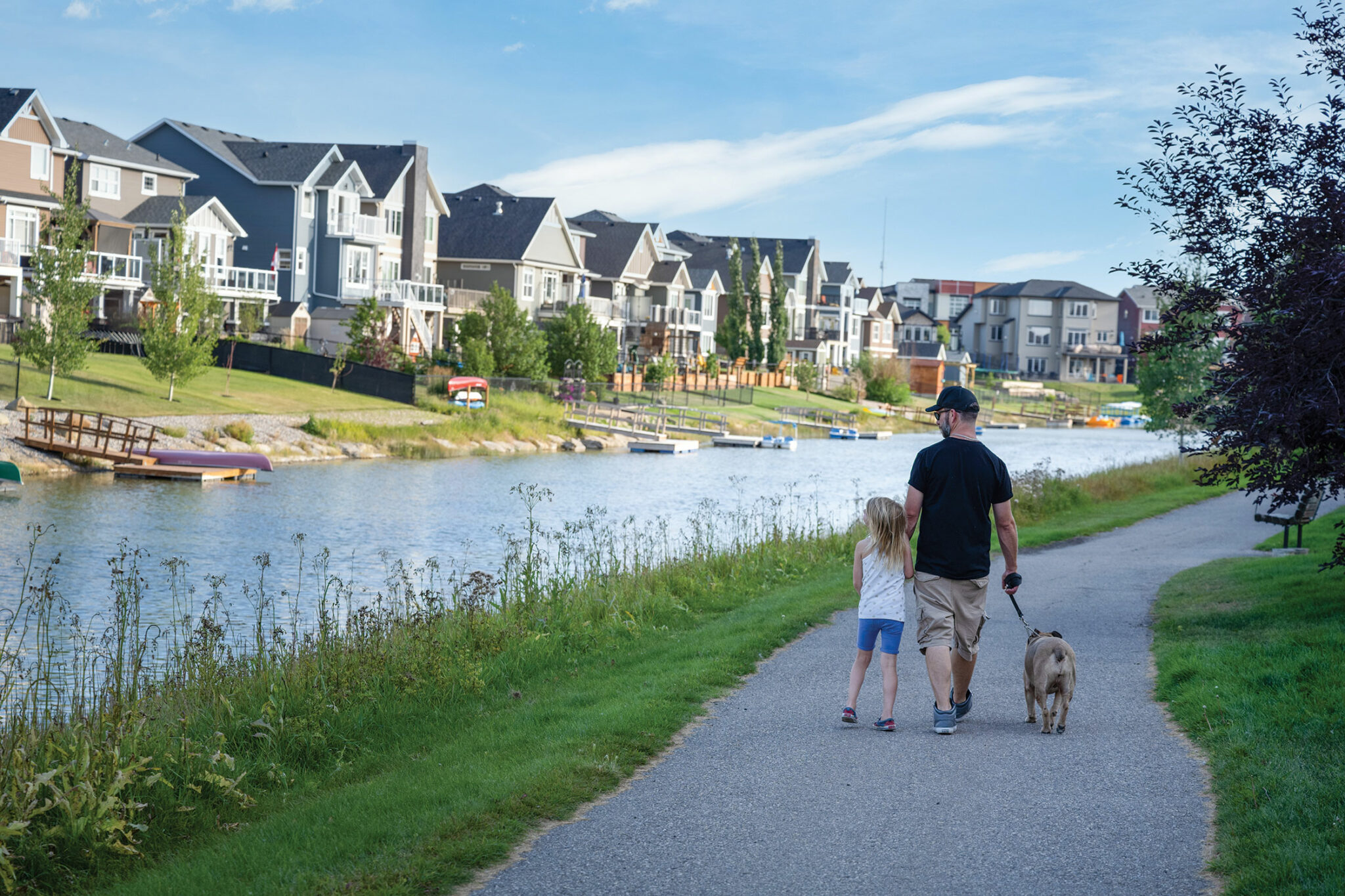 GUIDED BY MOTHER NATURE
Since our inception in 1991, Genesis Land has created seven residential communities in Calgary and four in Airdrie — each with its own vibe and style. In envisioning, planning and ultimately building each new community, we make it a priority to honour the environmental features of a yet-to-be-developed parcel of land, finding the area's sweet spots and making them shine.
This principle has led to some of the things we're most proud of in our neighbourhoods, from the extensive canal system that winds through our Airdrie communities to the way we've embraced the rolling topography of Sage Meadows or Sage Hill Crest (northwest Calgary) in order to showcase the all-natural spaces nearby.
COMMITTED TO COMMUNITY
Of course, a community doesn't thrive on its natural environment alone. At Genesis Land, we know that communities will only truly prosper if the people within them feel engaged and supported. That's why we actively create initiatives and donate to causes that aim to make a difference in and around our neighbourhoods.
At Genesis Land, we believe in the importance of building up our communities long after we've built them. We put our heart and soul into every place we create, honouring our surroundings, encouraging connection, and thinking — always — about how to improve, enhance and enrich the lives of our residents.
No matter what kind of home you're looking for or what lifestyle goals you want to attain, you'll find everything you need — and more — in a Genesis Land community.
FIND COMMUNITY AND CONNECTION IN UNIVERSITY DISTRICT
Settle into an award-winning Calgary community designed to help you thrive in all walks of life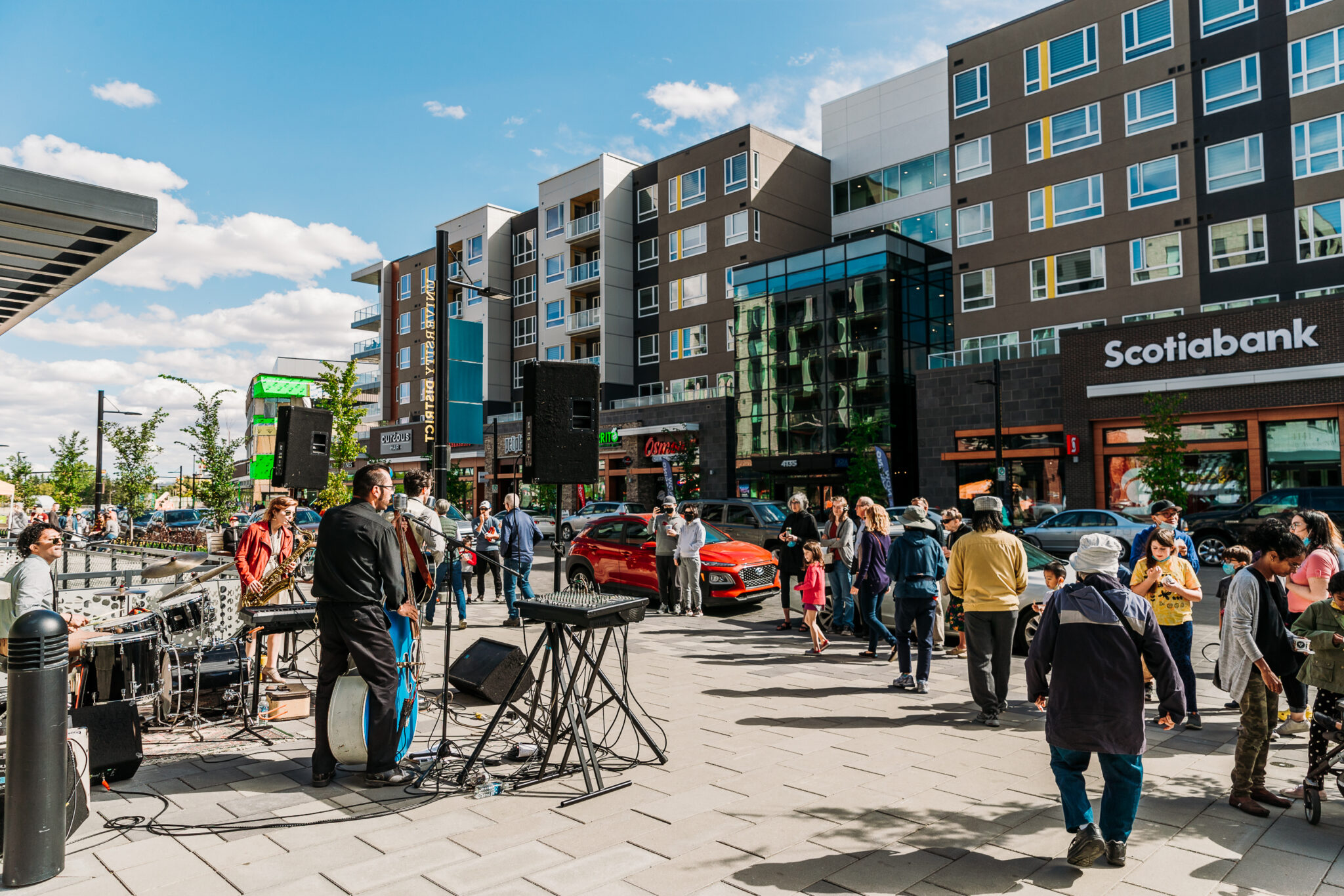 Much like a home is made up of many different parts, each supporting one another, a good community is a collaboration of people from all walks of life. In University District (U/D), you'll find that community and connection are ingrained in every aspect.
Spread across 200 acres of mixed-use offerings, U/D provides everything from residential options, retail, office and green space, lively events and more, all maximizing what urban living is about. Designed with multi-mode travel in mind, residents can walk, scooter, or bike across 40 acres of green space and 12 kilometres of interconnected pathways, while easily accessing the University of Calgary, Foothills Medical Centre and Trans-Canada Highway.
Right in the heart of the community is the Retail Main Street, which alongside popular brands, offers more than 25 unique retailers, including The Alley Bubble Tea, Village Ice Cream and Calgary's first premium dive bar, The Banquet. Set to open in Fall 2022, Central Commons Park will offer up year-round seasonal fun spread across three acres with picnic spots, splash pad, ice skating in the winter, concerts and more.
And it's not just the community that is full of life; the people of U/D add vibrancy to the community. Since welcoming its first residents in 2018, U/D has only continued to grow with over 2,000 residents ranging from downsizers, young professionals and seniors. Combining its people, unique design and variety of offerings, U/D is a community designed to be a place where people can thrive.
NEW COMMUNITIE BRING 'HARMONY' BACK INTO YOUR LIFE
A place to relax, unwind and explore; Harmony is a place to find balance in your home Balance is a key aspect of everyday living, from hobbies like bike riding, maintaining a healthy diet or balancing work and fun. So, when it comes to finding balance in your home, settle into a community designed to bring harmony to your life.
"What sets Harmony apart is the feeling of arrival. The immediate feeling of connection to the vision of a community filled with amenities and space to gather and the strong sense of community," says Laurel Campbell, marketing manager for Bordeaux Developments.
From leisurely strolls on the more than 12 kilometres of pathways, sunny days spent on the beach or year-round fun at the Adventure Park, Rocky View County's Harmony is balanced around preserving community spirit and bringing people together. Year-round, resident-centric events include Movie in the Park during the summer months and Santa Skate around Christmas. Future amenities in the growing community include a vibrant village centre with restaurants, retail, schools, a beach club and much more. The dynamic vibrancy of Harmony is also reflected across its diverse housing options, including townhomes starting from the $500s, front-drive and rear-laned homes from the high $700s, and estate homes from $1.2 million, with lakeside living from $1.3 million. For families, young couples or retirees, Harmony has a home for everyone.
"As developers, we have designed a beautiful place to live, but the residents have made it a welcoming and supportive home," says Campbell.
For more information, visit liveinharmony.ca/community.
BUILDING A MODERN HOME AND LASTING LIFESTYLE
Family-focused living in Ambleton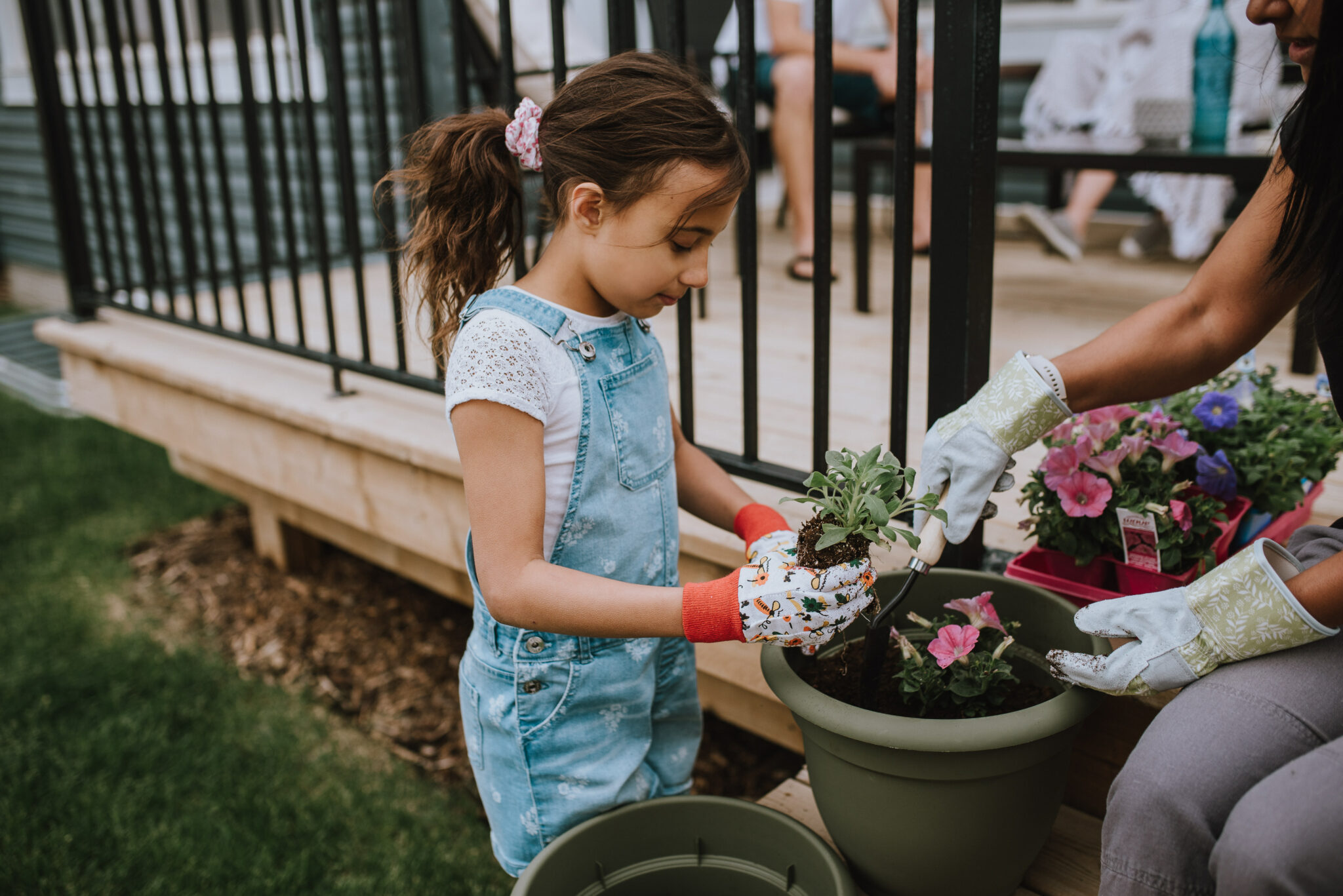 Since opening in June 2021, Ambleton has continued to grow as a Calgary community that offers new, modern living options in a neighbourhood that feels well-established. Located just north of Evanston, Ambleton residents enjoy both easy access to ample retail amenities and schools alongside open green spaces with over seven kilometres of pathways and five parks planned for Ambleton. Thanks to its ever-growing popularity, Qualico Communities has launched phase three lots earlier than expected, with new lots offering laned, duplexes and front garage homes. Work is underway on new community hubs, including a storm pond and park area with a large playground, open spaces and a pop-up Owner Association-operated skating rink for winter fun.
Visit liveinambleton.com for more information.
SMALL CITY LIVING IN DAWSON'S LANDING
Spread across 276 acres in West Chestermere, Dawson's Landing offers all the appeal of city living but without the hustle and bustle. "Dawson's Landing is similar to Ambleton in a way that it has everything you could ever imagine," says Nina Wulder, marketing and communications coordinator at Qualico Communities Calgary. "There's Chestermere Lake, a golf course, skate park, shopping plaza, school sites and, of course, the community itself."
Dawson's Landing is also welcoming phase three, which will add a second Stormwater Kidney system™ along with a new playground and outdoor space boasting connected pathways, added seating for get-togethers and much more. New showhomes open in late fall, including duplex, laned and front garage homes. 
Interested phase three buyers can now buy by reaching out to the builders at liveindawnsonslanding.ca/contact.
This content was produced in partnership with the advertiser by RedPoint Media for commercial purposes.