The Dress
Minimalist Statement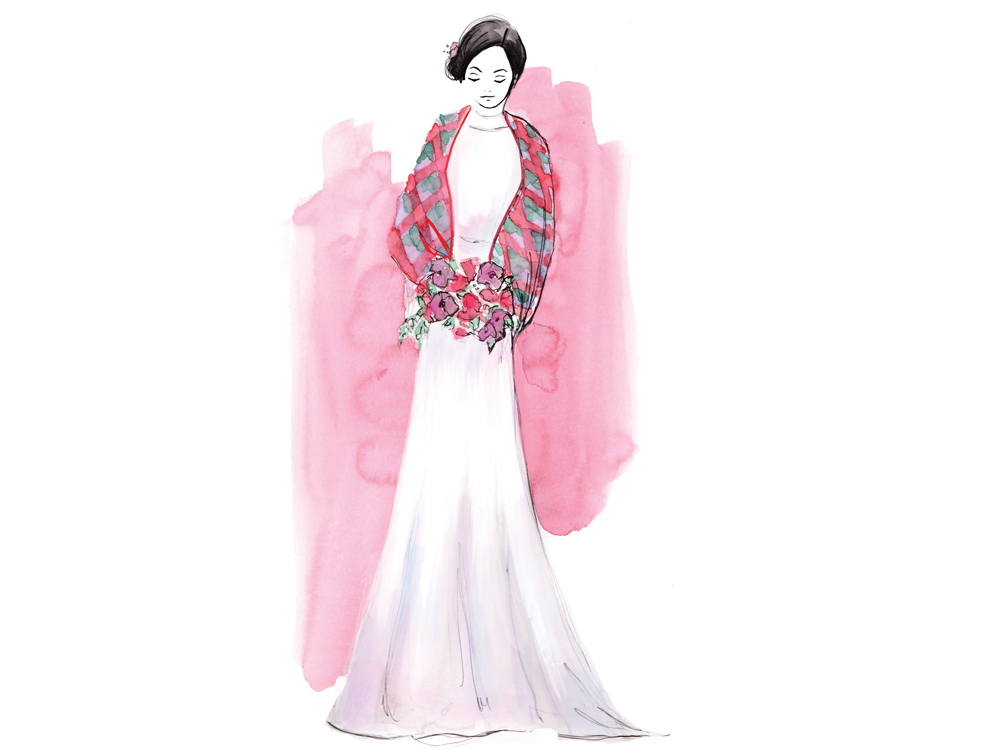 ILLUSTRATION BY STEPHANIE ANNE MCKAY
Let your personality shine through with a minimal, elegant and simple gown accessorized with tasteful details that make the look uniquely yours. "Keep it sleek," says Stacie Lee Heron, owner of SLH Personal Stylists. "You're not going to do a big  oral pattern or crazy embroidery. I think for fall, everything leans more to that minimalistic look."
Things to consider
"We live in Canada and plaid is a huge thing," says Heron, who says that brides can incorporate the season's coziest pattern through a poncho, caplet or bomber. If plaid is not up your alley, Joyce Tai, owner of Urban Vogue Weddings & Events, suggests making a statement with a simple, elegant dress that incorporates a pop of colour in the accessories. "Bring in a jewel-tone accessory that's not over-the-top but gives your look more of an autumn feel without overpower- ing the dress," says Tai.
403-404-7496, slhpersonalstylists.com; 403-891-2669, urbanvogueweddings.com
Where to find it
David's Bridal, 7337 Macleod Trail S.W., 403-386-3250, davidsbridal.ca
Fall plaid accessory 
Shawl, sash, scarf or ribbon from Highland Scottish Gift Shoppe, 390 85 St. S.W., 403-286-1932, highlandshoppe.ab.ca
---
The Makeup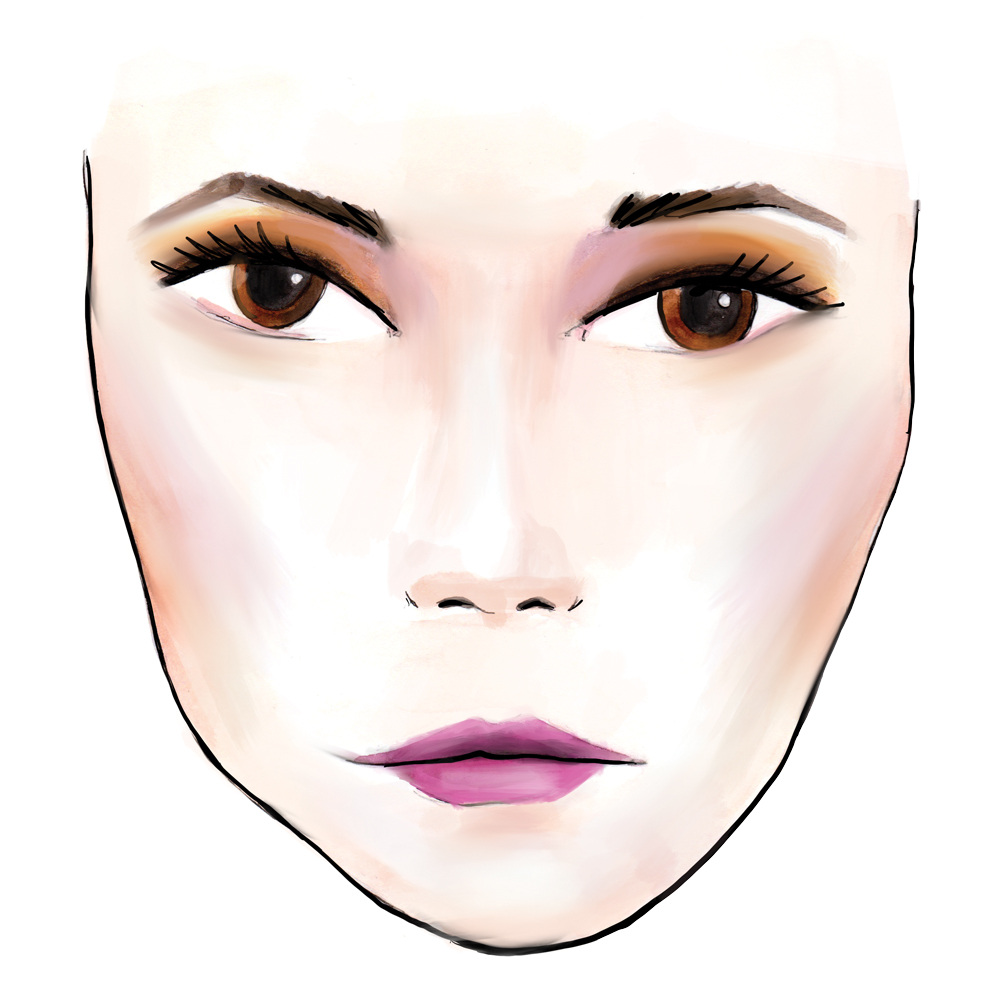 ILLUSTRATION BY STEPHANIE ANNE MCKAY
"For the fall wedding, trends tend to be more bold with deeper shades such as cold berry tones and a more dramatic eye. If you were doing a smoky eye I would add copper eyeshadow to the centre of the eyelid to give it more of a pop. It also plays up the autumn colours."
-Sandra To, beautybus.ca
The Venue
Capacity: 40 to 70 seated, 80 to 100 for cocktails; upstairs library: 22 seated, 40 for cocktails
Fee: The minimum-spending fee  fluctuates based on the date. Contact venue for details.
Why we love it: Deane House is arguably one of Calgary's most beautiful locations to host your union. With historic architecture, a revamped interior and a delectable menu, this intimate venue is the place where wedding dreams come true.
806 9 Ave. S.E., 403-264-0595, deanehouse.com
Medium: The Shawnessy Barn
Capacity: 115
Fee: Barn rental is $600; other fees apply. Contact venue for details.
Why we love it: A charming venue, the Shawnessy Barn's wood-panelled interior creates an inviting setting for couples to personalize the space for their special day. The outdoor scenery at Shawinigan Park creates an equally enchant- ing and complementary aesthetic.
224 Shawmeadows Rd. S.W., 403-254-1012, shawnessy.ca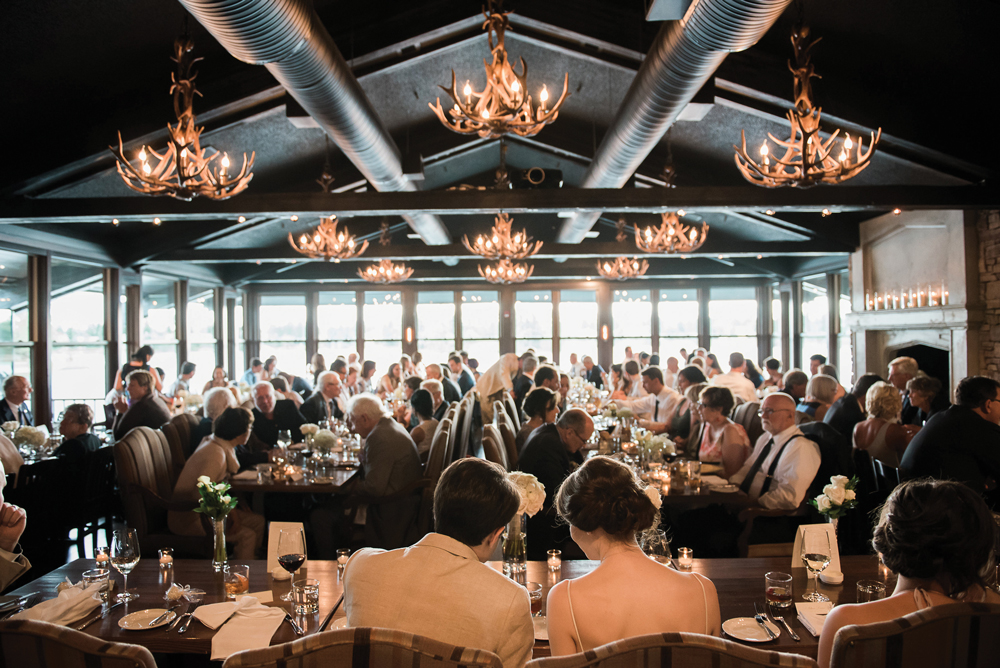 The lake house photograph by abby + dave photography
Capacity: 180 seated, 250 for cocktails.
Fee: Minimum spending commitment ranges from $12,000 to $20,000 (before GST and gratuity) depending on the date.
Why we love it: The view of Lake Bonavista from the  floor-to-ceiling windows is a striking backdrop to the rustic yet elegant room, with elk-antler chandeliers, a grand  replace and a refurbished bar originally built in the 1800s.
747 Lake Bonavista Dr. S.E., 403-225-3939, lakehousecalgary.com
---
The Food
For fall weddings, it's all about the harvest, says Dennis Jeffery, chef and proprietor at Fork + Farm Catered Events. "Communal tables and serving family-style meals is popular these days, really taking advantage of all the wonderful produce that western Canada has to offer."
Jeffery says his company takes inspiration from seasonal vegetables to create autumn menu items, such as honey-and-chili glazed hakurei turnips. "In terms of proteins, we are very big on sourcing from local farms, so using 4K Farms and Broek Pork Acres meats and stu  like that," he says.
During the fall season, Je ery says popular proteins also include venison, duck – a favourite he says could be paired with a black- berry-and-ginger gastrique – or rack of elk.
Jeffery's company, which employs seven chefs and does all its own pickling, preserving and charcuterie, aims to get a feel for what clients are looking for when creating a menu. "It's such an important and special day, it should be tailored to them," he says. "So we really take the time to bring the clients in, sit them down and talk about the food that they love."
920 28 St. N.E., 403-457-9931, forkandfarmcatering.com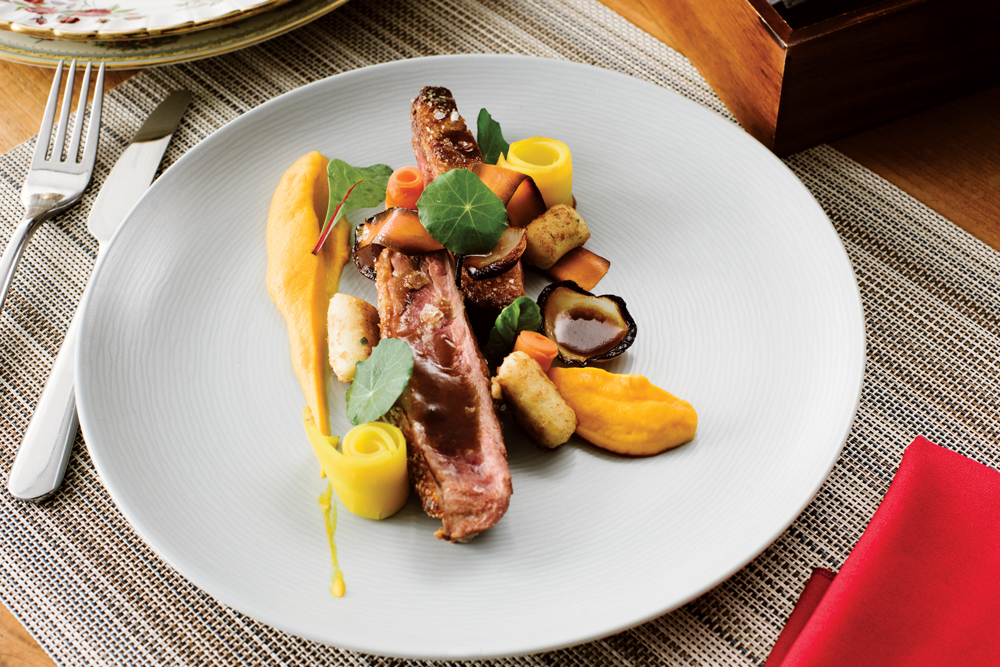 photograph by jared sych
Forno roasted Alberta duck breast with Poplar Bluff Organics fermented carrot puree, charred chipolini hearts, winter herb gnocchi and fig jus.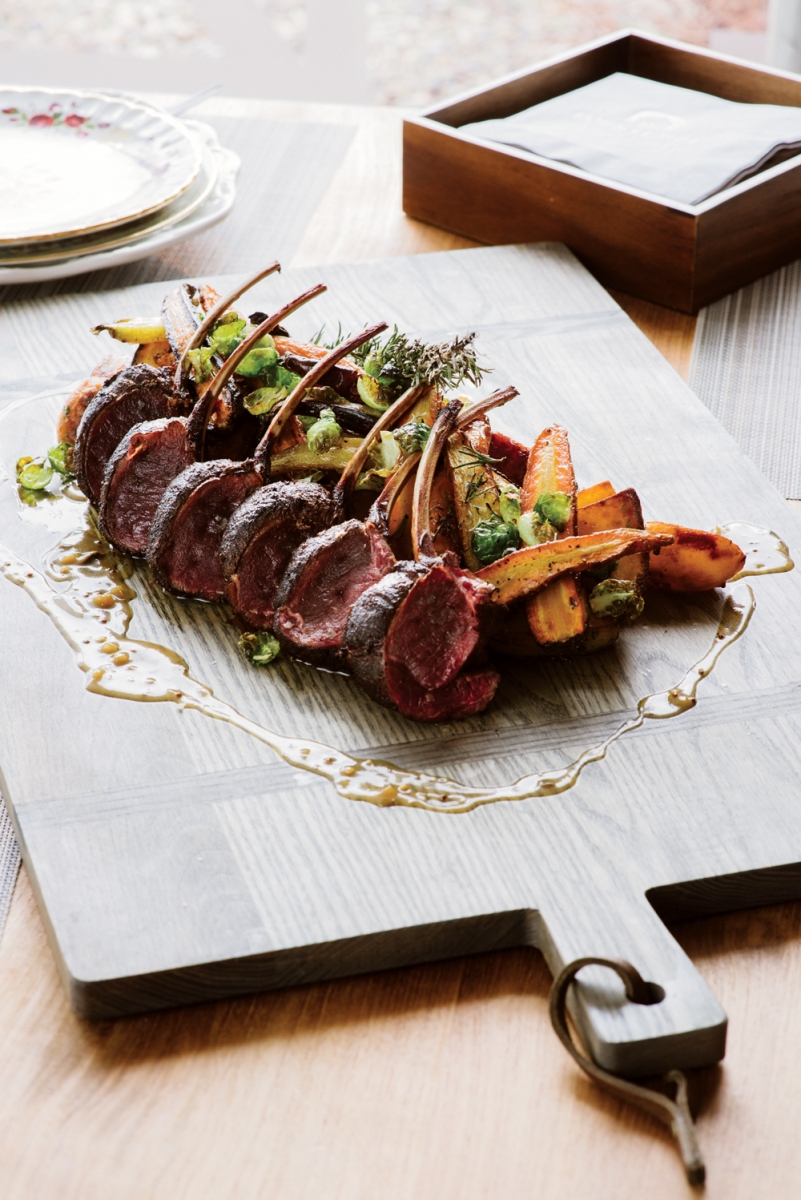 photograph by jared sych
Rosemary-smoked Alberta venison rack with agria pomme salardaise, house cured bacon, hestia brussels and Poplar Bluff roasted carrot.
The Dessert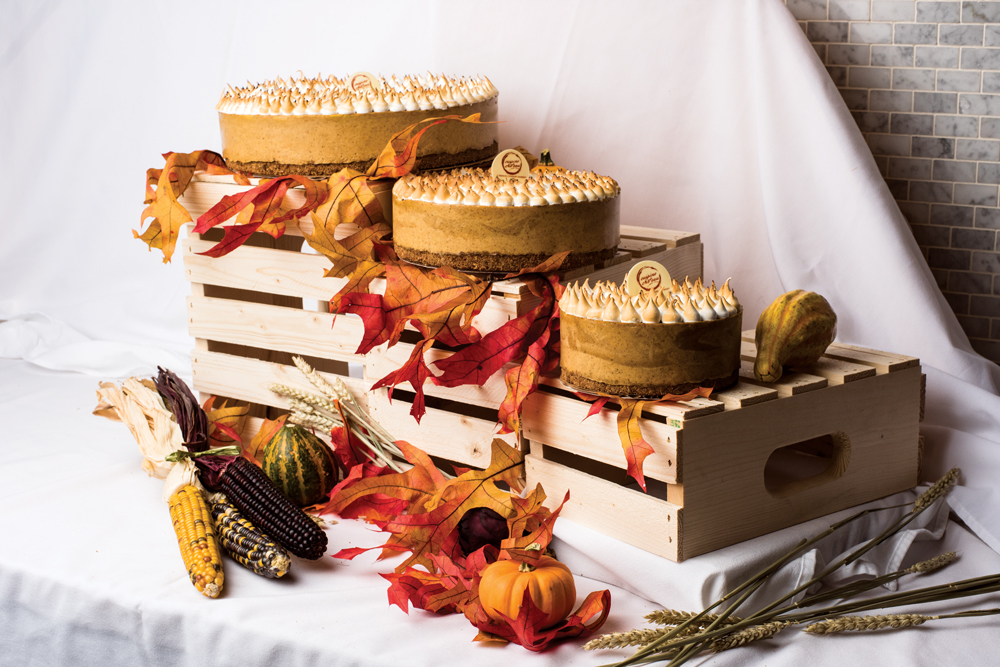 photograph by jared sych
"For fall, I think you can definitely incorporate pumpkin. You can stack four pies or a few pumpkin cheesecakes on a tiered cake stand." -Marnie Fudge, pastry chef, 
Cuisine et Chteau 
The Fall Drink
All About Pickles
Pickles are the ultimate garnish for one of Calgary's favourite cocktails, the Caesar.
"A Caesar with a skewer of pickled vegetables, like yellow and orange peppers, cucumbers and a pickled green bean, tastes really good and people like the presentation of it," says Katie Mondey, owner and operator of Cheers Event Bartending.
You can take this classic cocktail to the next level by garnishing it with homemade pickles. For the D.I.Y.-inclined, pickling is a great opportunity to take a break from wedding planning and spend some quality time with your partner. As a bonus, homemade pickles also make for a personal and thoughtful wedding favour.
For those couples that cringe at the very idea of D.I.Y. anything, fear not. CRMR Kitchens provides a variety of house-made pickled vegetables ready for your special day.
403-617-2612, cheerscalgary.com
Where to take a pickling class
Poppy Innovations, 403-919-0176, poppyinnovations.ca 
Where to buy pickles
CRMR Kitchens, 3628 15A St. S.E., 403-252-9924, crmrkitchen.com 
Local spirit suggestion
Classic Vodka from Park Distillery, $46, 219 Banff Ave., Banff, Alta., 403-762-5114, parkdistillery.com
---
The Wow Factor
"Right now all metals are in, especially copper. I would use copper charger plates and copper napkin rings on a cream-coloured tablecloth. The look is very warm, but not cluttered." -Alexandra Slawek, owner and principal wedding planner,
Boutiq Weddings & Events
Real Wedding
Annie and Adrian Dueck's Fall Wedding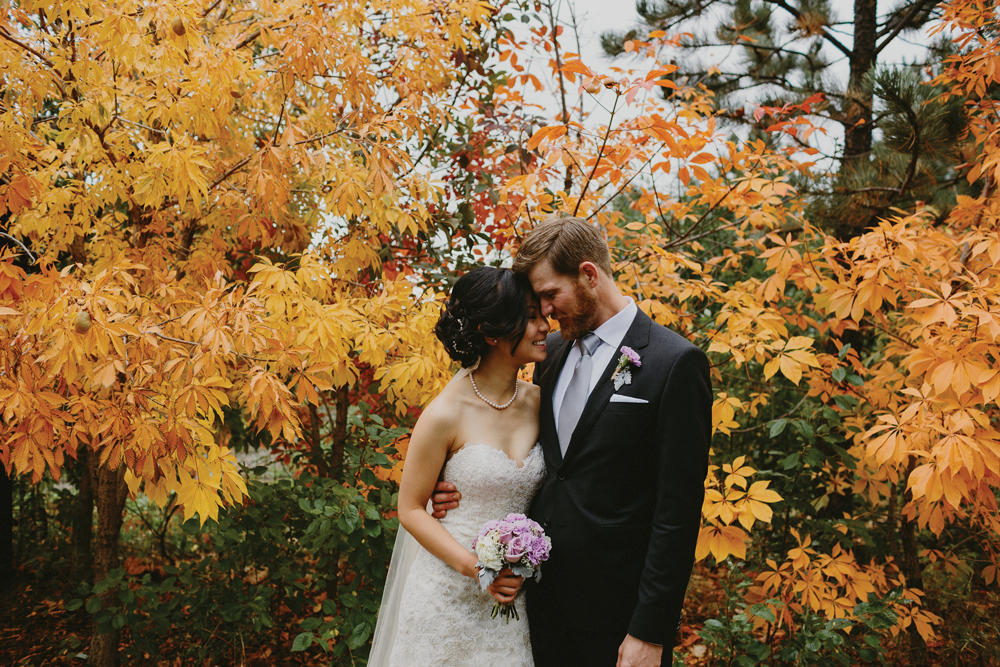 photograph by allison seto
Date: September 26, 2015
Photographer: Allison Seto, allisonseto.com
Venue: Ceremony at the Saskatoon Farm and reception at
the Shawnessy Barn
Caterer: Farm Girls Food Truck & Catering, farmgirlsfood.com
"Fall is such a short season and unpredictable weather-wise, so it's ideal for brides who are pretty easy-going. It rained a little during our outdoor ceremony, which was perfect for photos and actually very romantic. Our meal highlighted the season the most. We had dishes like Boursin-stuffed chicken and mustard-maple salmon. It was served family-style, which is something I'd definitely recommend. It was warm and cozy and got everyone talking." -Annie Dueck, fall bride
---
The Honeymoon
Napa Valley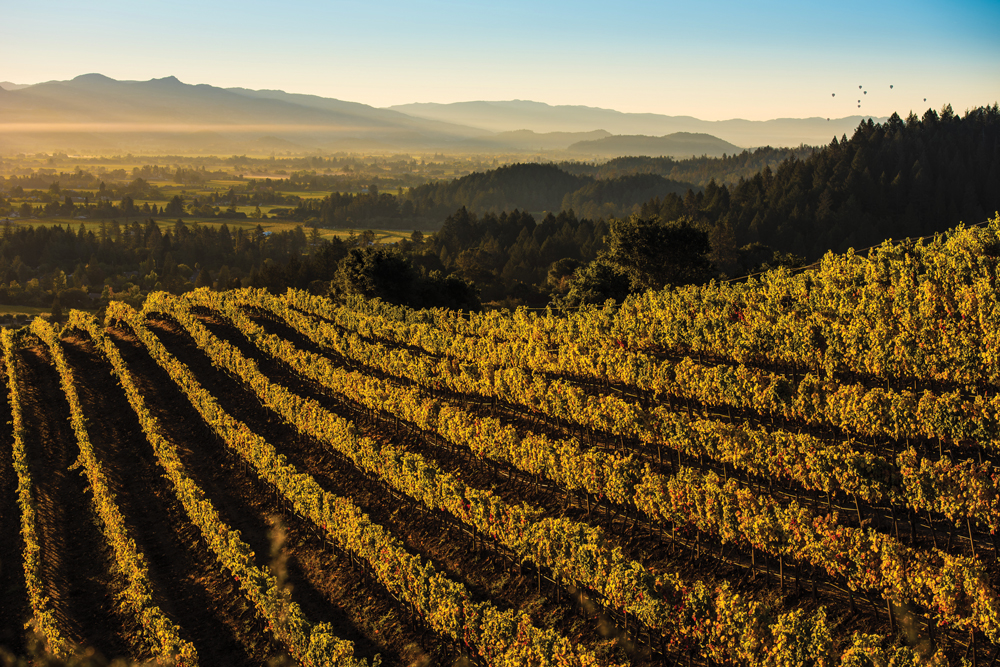 napa valley photograph by bob mcclenahan of visit napa valley
California's Napa Valley is heaven on earth for couples that count sharing a bottle of  fine wine among life's great pleasures. One of the premier wine- producing regions in the world, the area is also a honeymooner's paradise, with lovely boutique hotels, world-class restaurants and vineyards as far as the eye can see. To get to heaven, fly direct to San Francisco then rent a car for the northward drive to Napa – this is definitely the time to indulge that dream of cruising the California highways in a cool convertible.
The charming town of St. Helena makes an ideal base for exploring the region. While wine touring is ubiquitous, the historic Beringer Vineyards estate in St. Helena is a must, as are the tasting rooms at Sterling Vineyards, which is high on a hilltop overlooking the nearby town of Calistoga, and accessed by an aerial tram. Truly, the wine is  ne in Napa, but it's the warm autumn California sun that's intoxicating.