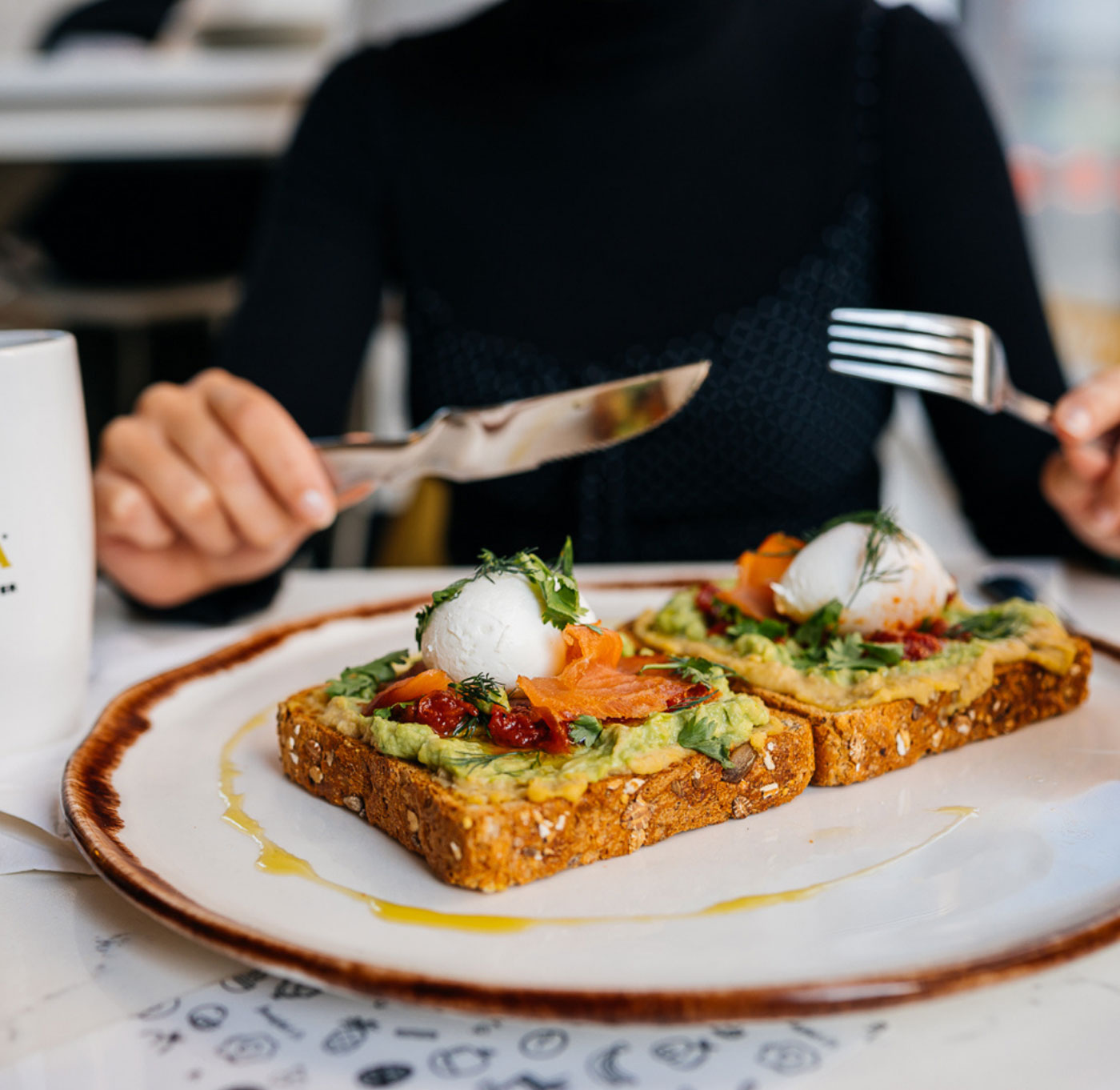 No. 1
OEB Breakfast Co. brings creativity and mouth-watering flavours to the most important meal of the day. In the 12+ years since founder and chef Mauro Martina started OEB, this local chain has grown considerably and continues to draw in diners with dishes like its breakfast poutines, banana cream pie French toast and scrambled crepe. If your meal inspires you to spice up your cooking at home, eggs from OEB's own free-run hens are available for purchase at each location.
Four Calgary locations, eatoeb.com, @oeb_breakfast
Runners-up
Brothers and co-owners Jeff and Gil Carlos have created a fun and filling brunch experience for Calgarians with The Bro'kin Yolk. Satisfy your sweet tooth with the apple and cinnamon waffles or keep it classic with one of the four eggs Benedict options.
Three Calgary locations, brokinyolk.ca, @brokinyolk
A Bridgeland staple, this cozy diner offers a mix of comforting classics like buttermilk pancakes with berries and creative dishes like the vegetarian jackfruit carnitas hash bowl. Factor in additional perks like Blue Star's emphasis on local ingredients and its summer patio, and its not hard to see why Calgarians love this spot.
809 1 Ave. N.E., 403-261-9998, bluestardiner.ca, @bluestar_yyc
With its elegant atmosphere and beautifully plated breakfast dishes, it's no surprise that brunch fans flock to Queens Breakfast Cocktails. Dishes like the brioche French toast and croissant eggs Benedict are just as eye-catching as the restaurant's interior filled with portraits and dazzling chandeliers.
3927 Edmonton Tr., N.E. 403-764-0878, queensyyc.ca, @queensyyc
Diner Deluxe is one of Calgary's brunch hot spots, and once you feast on a sizzling skillet or the maple fried oatmeal, you'll understand why. Visit either Calgary location to start your day off right with a hearty meal, friendly service and a brunch cocktail like an Aperol spritz or a Caesar.
804 Edmonton Tr. N.E., 403-276-5499 and 106 Mahogany Centre S.E., 587-482-9979; dinerdeluxe.com,
@dinerdeluxe, @dinerdeluxemahogany
Namo Cafe and Bistro's globally inspired menu brings delicious flavours and beautiful colours to your plate. Cocktails like the peach bellini and mimosa start your meal on a high note, and it only gets better as dishes like the tiramisu waffles and duck confit Monte Cristo start rolling out. The bright and warm dining room encourages good conversation over a tasty meal.
824 Edmonton Tr. N.E., 403-475-7010, namocafebistro.com, @namoyyc
Monki Breakfastclub & Bistro is known for the decadent, creative brunch fare it serves at its Beltline and Inglewood restaurants. The menu is equal parts sweet and savoury, and whether you order the reverse French toast or the brisket breakfast poutine, we're willing to bet that you'll clear your plate.
1301 10 Ave. S.W., 587-352-7131 and 1420 9 Ave. S.E., 403-453-7131, monkibistro.ca, @monkibistro
Red's Diner is known for the classic, all-day breakfast menu it offers at all four of its Calgary locations. Whether you're enjoying the prairie breakfast plate over family brunch or sipping cappuccinos with old friends, Red's Diner has a way of making everyone feel at home with its friendly staff and inviting atmosphere.
Four Calgary locations, redsdiner.com, @reds_diner
Located in Sunnyside, Vendome offers delicious dishes like the chicken and waffles, avocado toast with cured salmon, the double smoked bacon stuffed French toast and more. If you're in the mood for something light, the cafe also offers a takeaway coffee menu and baked goods like chocolate croissants.
940 2 Ave. N.W., 403-453-1140, vendomecafe.com, @vendomeyyc
Brunch is only served on Saturdays and Sundays at Donna Mac, giving guests something to look forward to during the week. While most of Donna Mac's all-day menu is also available during brunch, there are dishes that you can only get during this time like the Vietnamese crepe with oyster mushrooms, brioche French toast or the breakfast sandwich served on a dill and gouda biscuit.
1002 9 St. S.W., 403-719-3622, donnamacyyc.ca, @donnamacyyc