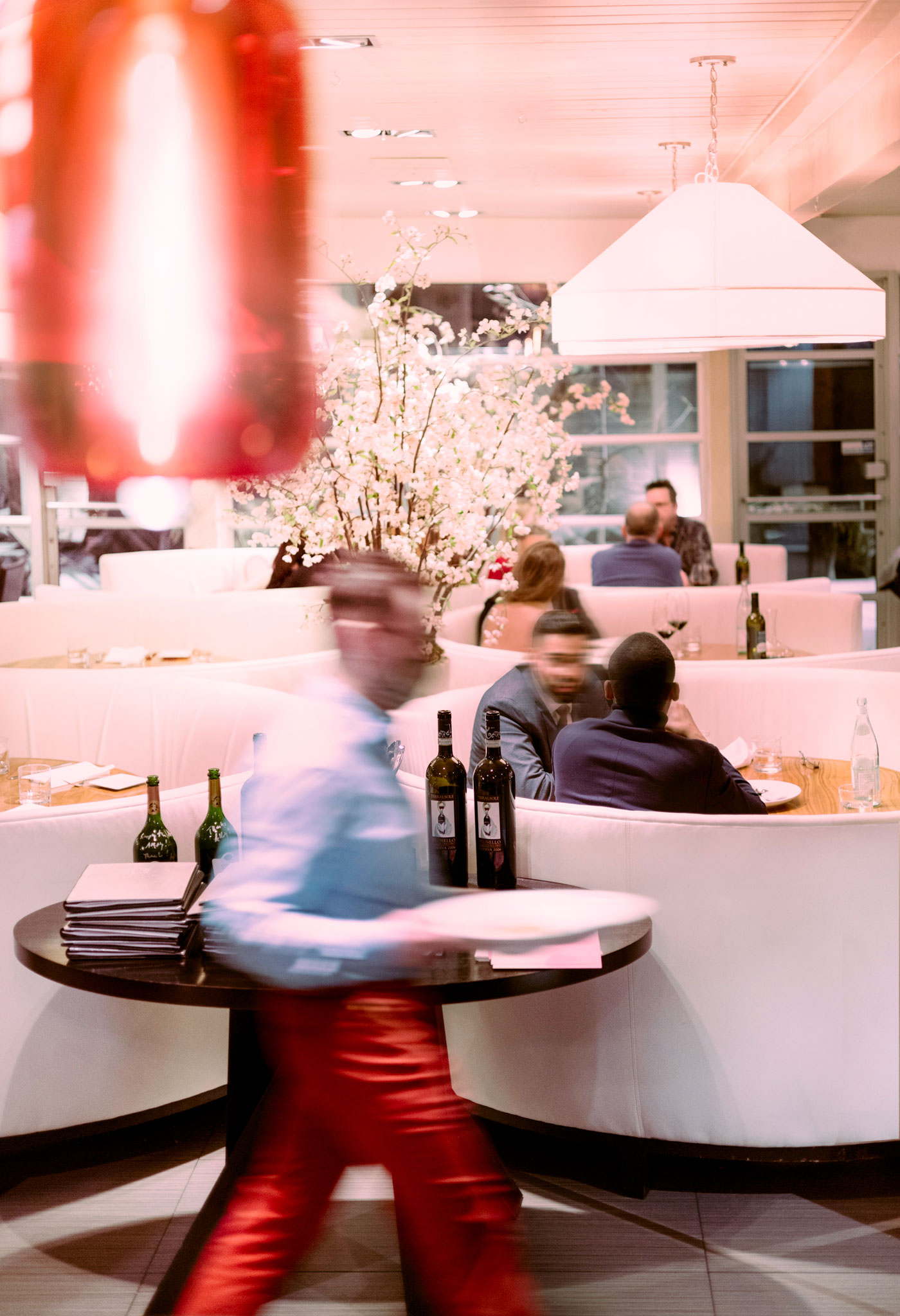 Each year, we ask our readers to weigh in on the best restaurants in Calgary with an online voting ballot. Here are the winners and runners-up for Best Special Occasion Restaurants in Calgary.
Winner
Who's behind it?
Co-owners Uri Heilik and chef Rogelio Herrera.
What's on the menu?
Globally inspired dishes such as tempura prawns with gochujang and maple glaze, and classics like braised beef short rib.
Why we love this place
A hidden-gem location with a gorgeous enclosed patio matched by a superlative guest experience. Alloy celebrated its 15th anniversary last fall, while this year, Avenue readers recognized it as their No. 1 choice in Calgary for special occasions. Co-owner Uri Heilik chalks Alloy's success up to a few factors: a unique location in the Manchester area conducive to hosting parties, an amazing and dedicated staff (some of whom have been at Alloy since it opened), and consistency in the food and overall experience. "We take enormous pride [in the fact] that what we created feels special to our guests," says Heilik, who runs the restaurant with chef and co-owner Rogelio Herrera. "Striving for consistency so that all our guests receive the Alloy experience has created many, many regulars."
One of those regulars, Cam McVeigh, dines at Alloy with family and friends often — up to three times a week for lunch, and three times a month for dinner — to celebrate birthdays, anniversaries, or, simply, because "we are hungry and need a good meal," he says. "We keep coming back because the food is excellent, the menu is always changing, and the service is impeccable," says McVeigh. "Special events work well at Alloy due to the flexibility in seating, including the huge patio in warmer months, and Alloy's ability to customize food, beverage and decor [for each event]."
Heilik believes Alloy can maintain its fine balance of evolution and consistency. "After 15 years, we try to bring an experience that matches the times we live in, while still keeping the same formula that has brought us success," he says. "But the beef short rib will always be with us!" —Chris Landry
220 42 Ave. S.E., 403-287-9255, alloydining.com, @alloydining
Runners-up
Major Tom's spectacular view of Calgary from 40 floors up is just part of the reason to celebrate a special occasion here. The memorable menu includes dishes like crispy hen eggs with pepperoni jam, cavatelli with elm oyster mushrooms and a classic Alberta roasted prime rib. Don't miss out on Major Tom's original cocktails, such as the Mt. Milk Punch, a clarified milk cocktail made with bourbon, amaretto and flavoured with Honey Nut Cheerios.
700 2 St. S.W. (40th Floor), 403-990-3954 (text only), majortombar.ca, @themajortombar
The natural landscape of Prince's Island Park makes this restaurant a special dining destination. Surrounded by picnic areas, flower gardens and trails, River Café has been a key player in Calgary's dining scene since 1995. Enjoy dishes like hand-cut papardelle with a lamb neck ragu or the hog wild boar belly with wines handpicked by the restaurant's proprietor and sommelier.
Prince's Island Park, 403-261-7670, river-cafe.com, @rivercafeyyc
Pat & Betty is inspired by the mothers of managing partners Mike Pigot and James Martin, a sentiment that adds a special touch to the restaurant's dining experiences right from the start. Expect a menu of beautiful, indulgent dishes like rigatoni (sourced from Pasta La Mano) with vodka sauce and burrata or the rich beef tartare, as well as a wide range of wines and classic cocktails.
1217 1 St. S.W., 403-453-7690, patandbetty.com, @patandbettys
Operating inside of a historic home in Fish Creek Provincial Park, Bow Valley Ranche is decorated in the style of an early 1900s Canadian ranch house, complete with a wrap-around veranda and picturesque view. Throw in a menu of impeccable Canadian cuisine made with the best local ingredients and you have one of the most unique dining experiences in Calgary.
15979 Bow Bottom Tr. S.E., 403-476-1310, bvrrestaurant.com, @bowvalleyrancherestaurant
Teatro has been helping Calgarians celebrate birthdays, anniversaries and more for decades. The restaurant's contemporary Italian cuisine with a Mediterranean twist is complemented by its massive wine cellar that features more than 10,000 bottles. For an extra special Teatro experience, try the chef's tasting menu, consisting of five courses and optional wine pairings.
200 8 Ave. S.E., 403-290-1012, teatro.ca, @teatrorestaurant
D.O.P serves classic Italian cuisine rooted in owner Tony Migliarese's family recipes. This cozy Italian joint, squeezed into a tiny space in the Beltline, keeps it simple with recipes like pickled green tomatoes (one of the recipes handed down from Migliarese's family), anchovies with pickled onions and "really good olive oil," and pillowy-soft bread best enjoyed with whipped ricotta. The tiny space means excellent and attentive service, making you feel like family.
1005A 1 St. S.W., 587-349-2656, dopyyc.com, @dopyyc
Much like its sister restaurant River Café, this restaurant comes with a historic location and incredible views. Deane House's menu is designed around the seasons, using locally sourced products from ecologically responsible producers. It even has its own garden, where it grows herbs, berries and flowers that are used in its dishes.
806 9 Ave. S.E., 403-264-0595, deanehouse.com, @deanehouseyyc
Caesar's Steakhouse is a Calgary institution that's been open since 1972, and has created many memories for guests along the way. The menu features beloved steak house classics like Caesar salad, twice-baked stuffed potatoes and of course, Alberta beef that is aged for at least 28 days. For a special experience, try one of the many dishes that are prepared tableside. And don't forget to try the famous Bloody Caesar, which has been on the menu since the restaurant's inception.
512 4 Ave. S.W., 403-264-1222; and Willow Park Village, 403-278-3930, caesarssteakhouse.com, @caesarssteak
Located inside the A.E. Cross house, Rouge is a farm-to-table restaurant with an emphasis on using unique, foraged Canadian ingredients to create a one-of-a-kind dining experience. Rouge also uses ingredients grown in the restaurant's garden in its dishes, including the six-course tasting menu that changes regularly.
1240 8 Ave S.E., 403-531-2767, rougecalgary.com, @rougerestaurant