Calgary and the Changing Workplace
Social, demographic and technological changes have all come together to affect the way we work now.
By Elizabeth Chorney-Booth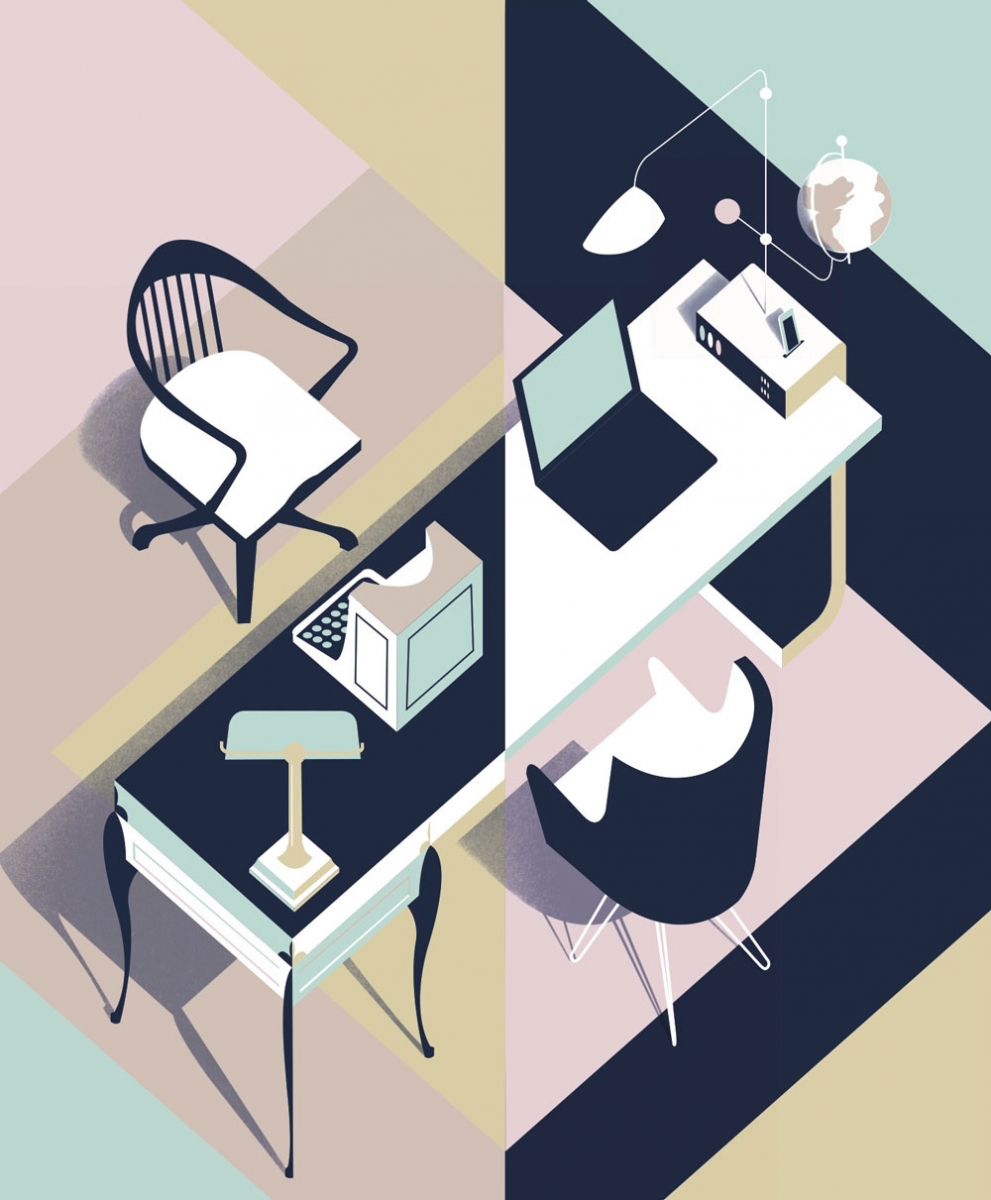 Illustrations by Pascal Blanchet
So many aspects of people's day-to-day lives, from the makeup of families to the way we communicate and spend our leisure time, have shifted significantly over the last few decades, and it makes sense that the way we work is shifting as well. After all, most of us spend more time doing whatever it is that earns us a living than anything else, and many of us are beginning to seek out employment situations that make room for the other priorities in our lives.
With two-family incomes having become the norm, and with technology allowing employees to work from spaces other than the traditional office, workplaces are evolving in order to retain top talent and keep employees invested and engaged. Terms like "telecommuting," "flex work" and "work-shifting" are now part of our professional lexicon, but many companies are still figuring out how to make the best use of these concepts while also deciding if they need to make bigger changes to the framework of how they conduct business.
One factor that's key in driving the need for change is the makeup of the workforce, with more women working outside of the home. According to Statistics Canada, in 1976, only 27.6 per cent of women with children under the age of three worked outside the home, compared to 64.4 per cent of women with children the same age working in 2009. As children get older (and also with women who don't have children), the percentage of women working is even higher. An estimated 78.5 per cent of women with children aged six to 15 did paid work in 2009 (compared to 45.4 per cent in 1976), and 80.4 per cent of women under the age of 55 with no children at home did paid work (compared to 60.9 per cent in 1976).
Of course, in most cases this doesn't mean men are choosing to stay home to provide child care – rather, in most cases, both parents now seek more flexibility in their work situations to accommodate family responsibilities, be it through shift work, working from home or another location, or temporary contract work in order to balance the demands of work and home life.
Allowing employees to work from home through the magic of their computers sounds like an easy solution to getting a full 40 hours a week out of employees while allowing them to juggle personal matters and lifestyle concerns. But so-called telecommuting may not be all that companies hoped it would be.
Robyn Bews, the executive director of Calgary Economic Development's Workshift program (a locally based organization that helps companies in several Canadian cities facilitate out-of-the box flexible working programs), says her organization rarely advises companies to ask employees to work solely from home. "We're really getting away from the 'work from home' message," Bews says, "which isn't to say people don't work from home, but that's not really the trick shot. The trick shot is flexibility. And what we mean by that is both time and location."
A report from Statistics Canada backs this up, saying that, while 11.2 per cent of employees (as opposed to self-employed individuals) worked at home in 2008, that number was only up one percentage point over the years since 2000, meaning the trend has largely plateaued. Furthermore, those identified as working from home weren't usually working at home full time – most averaged only about eight hours at home per week. Professionals and university graduates are the groups most likely to get the green light to work from home (23 per cent of managers and professionals work at home at least some of the time), but those numbers still indicate that the vast majority of professionals are using the office as their primary workspace.
So, when Bews talks about flexibility, she isn't talking about engineers sitting at home working in their pyjamas. Her model of flexibility is more about companies and employees coming up with a plan to create scenarios that work for them, be it through working at home on certain days, if needed, shifting from a nine-to-five schedule to an 11-to-seven schedule or working a four-day week, while also putting in measures to ensure maximum engagement and productivity.
The Workshift program works with companies to set up programs and policies that help them think outside of the traditional workplace structures we've all grown used to – often by changing the physical nature of the workspace and letting workers choose different spaces to work in on a daily basis, rather than being chained to a single desk.
"Traditionally, executives have had dedicated offices, and that's been a motivating factor for employees – they've wanted to work really hard to get the corner office with the mahogany desk," Bews says. "That's not really a motivating factor for younger people. Instead of a mahogany desk, they'd rather have a more flexible schedule or better technology that allows them to work at any time or any place. Organizations are starting to create spaces that reflect the way that people need and want to work."
And, of course, telecommuting does have its benefits in certain situations. Video conferencing and improved online messaging systems mean project teams no longer have to be in the same physical location – co-workers don't need to be in the same country, let alone the same office. While the reality of teams comprised of people in different locations isn't necessarily the ideal and can pose special management issues, allowing co-workers to work from the city of their choice without uprooting their lives (or their spouse's job, which may be location-specific) to be near the head office greatly expands the pool of talent available for most companies. If your business is based in Boston, but the perfect person for the job is in Calgary and won't (or can't) consider relocating, it can be worth taking the chance on telecommuting.
Valerie McIntyre-Baird now runs her own consulting business, McBaird Consulting, but spent much of her career working for larger companies, often thousands of miles away from at least some of her co-workers. While working for BP as the chief information officer for Angola, McIntyre-Baird divided her time between London and Angola, communicating virtually with whichever office she wasn't physically in. In 2014, she moved back to her hometown of Calgary for family and lifestyle reasons and BP allowed her to stay on, working completely remotely, before she left BP in the fall of that year. Now, as a consultant, McIntyre-Baird's biggest client is located in Cameroon, and she continues to use technology to work with a team on the other side of the world. She says modern technology has allowed her to open up her client base on a global level, but it's important that she and her clients understand remote working requires a complete shift in communication style and can't just be seen as business-as-usual with the added novelty of interacting through a computer screen.
"There are pluses and minuses, and it's not all easy," McIntyre-Baird says. "You miss out on those conversations that happen in the office. And you have to be a little more creative about how you use technology. I would always make time to do video conferencing, but I would also fly out or fly people in because relationships and rapport are important."
The other piece of McIntyre-Baird's story that reflects ways in which work has changed is that many tried-and-true corporate employees are abandoning permanent positions for contract, consulting and freelance work. For some, self-employment is a lifestyle choice, for others it comes as a necessity after being laid off (something particularly relevant with the current economic climate in Calgary).
A 2013 Globe and Mail report stated that, at the time it was published, Canada had more than 2 million temporary workers (a statistic that included contract workers), and temporary positions were growing at triple the rate of permanent positions. While we may be seeing that number rise even further in Calgary in the near future, those numbers show there's more than the price of oil spurring on this trend.
Unionization has also decreased significantly over the last decade, declining from 38 to 30 per cent between 1981 and 2012, according to Statistics Canada. This may mean the shift to contract work feels less risky now than it was 30 years ago, since many people in staff positions don't feel the same degree of job security or enjoy the unionization previous generations enjoyed.
One question that arises from an increase in contract workers and consultants is that, without a bustling office to work out of, where do all of these people spend their days? Contractors have the same issue company employees have with the work-from-home model – they lack the day-to-day interaction needed to feel engaged and connected. Calgary is home to several co-working offices, which are common spaces where tenants can rent out a desk or small office from which to run their business. It's an option that is becoming increasingly popular among workers in a wide variety of industries.
Erynn Lyster is co-owner of The Commons, a co-working space in the community of Ramsay. More important than offering tenants desks and Wi-Fi, The Commons and other spaces like it offer a place for professionals to interact, get those water cooler moments they miss out on when they're working at their kitchen tables and make professional connections (e.g., a photographer working in a co-working space may contract out the graphic designer sitting beside her to collaborate on a project).
Lyster admits co-working spaces aren't always the best place to hunker down and crank out a research-heavy report that requires a high level of concentration, but she finds her clients use their public desks in conjunction with their home offices, depending on what tasks they have to accomplish on any given day. "People aren't necessarily only looking for a place to work," Lyster says. "They're looking for a place to connect."
Lyster says she has noticed bigger companies are increasingly interested in renting out space in co-working offices for employees who are either on work-at-home programs or just need an alternate space to their main office. She believes that, even if the number of contract workers decreases after the economy in Calgary turns around again, the demand for space at co-work offices will stay strong, especially from people with more traditional full-time jobs.
"We're finding that businesses need to wrap their heads around not needing a brick-and-mortar-type business in order to be successful," she says. "Businesses are realizing that they don't need this huge overhead and are putting their money into things that are more important for [them]. It makes sense for businesses that are downsizing but don't want to downsize what they offer to their clients."
This combination of technology, flexible work hours and fluid workplaces is ostensibly supposed to satisfy employees who are looking for a better work-life balance (thus retaining top talent, without having to boost their salaries) and create higher engagement in the workplace, with the idea being it makes people more productive. Bews says there are few hard statistics on productivity since it's difficult to measure, but she firmly believes these work models are better for companies' bottom lines.
Despite the emphasis on flexibility for employees, the question remains whether, with cellphones and constant Internet access, some of us are making our work lives so fluid that we're never truly off the clock. Abhay Sisodiya, a leadership and strategy consultant who has also worked in the HR departments of Enbridge and Alberta Health Services, says this is certainly a danger, but many workers are willing to adopt that "always on call" mentality in exchange for the opportunity to duck out to go to the gym in the middle of the day or work at home one day a week. It's a trade-off, and companies need to be willing to make some concessions if they're going to make technological demands on their staff.
"Why do you think companies give you a cellphone? It's because you end up working much more than the eight hours that they're paying you for," Sisodiya says. "You can't turn yourself off. But companies who take advantage of that should also balance it out with some flexibility."
Another thing that seems to be shifting is what's happening when workers reach the point where they start thinking about retirement. Sisodiya says that, while there will always be people ready to retreat the minute they have enough money saved for their retirement, most people are using the "rule of 85" (their age plus years of service – it's a formula many organizations use to determine eligibility for a pension) or working even longer.
The issue with retirement is tricky in that companies are often fearful of losing some of their most experienced workers, and, despite a yearning for freedom, many employees are afraid they won't have anything to do once they leave the workforce. As a result, many people are phasing out of the workforce gradually, which is a win-win for both employer and employee.
"Companies know that a lot of their employees will be retiring and that they're losing their critical talent," Sisodiya says. "So they're asking them to stay and work whatever hours they're willing to – even if it's just a day or two a week. They're giving them flexibility or hiring them back as consultants."
What all of this amounts to isn't so much a single shift of where or when we work, but a way of looking at the technology that's available to companies and how employees are most comfortable working, and figuring out how to facilitate a way of working that keeps them happy while maximizing productivity and allowing companies to manage staff efficiently. Which all seems like a tall order, but, as technology continues to change and the workforce continues to bring in younger people with different expectations, the world of work may change even more rapidly than it has over the last decade.
"There's starting to be an acute recognition that work has already changed," says Bews. "We've created these organizations that ostensibly operated the same way they did in the '60s. We layer on this incredible technology, and we've been able to automate the things that don't really require thinking or direct human touch, but it's still within this basic infrastructure of your average 1965 organization. So companies are saying, 'This has to change.' They're starting to figure out that something needs to shift."