Calgary's first Mormon temple and Canada's eighth recently opened in Royal Oak and is holding public tours until October 20. At the end of October the sacred space will be open to members in good standing with the church only. Inside the 33,000 square foot building is divided into small rooms for weddings, baptism, worship meditation and more. The Celestial Room for silent meditation has a Swarovski crystal chandelier and the marble-encased baptism font rests on a sculpture of 12 oxen. At its tallest point, the temple's granite exterior displays a three-metre-tall gilded statue of the angel Moroni.
(9802 Rocky Ridge N.W.)
The church sanctuary has 1,704 seats all with cupholders, which come in handy since the church provides free fair trade coffee. Weekend services involve big screens, a pastor with an iPad, music pumped through state of the art sound systems and more. The building also has banquet rooms, a children's learning centre, gym and games room. It's the largest Alliance church in Canada and its growing attendance means the building is due for another expansion.
(12345 40 St. S.E.)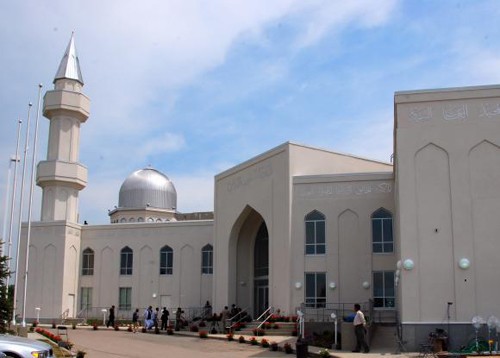 Canada's largest mosque complex is in Northeast Calgary right on the edge of Prairie Winds Park. The complex sits on 3.86 acres and includes a 48,000-square-foot mosque. In addition to the prayer hall (adorned with a 400-kilogram chandelier), there is a library, gym and TV studio. Outside there is a 97-foot-tall, steel-capped minaret and steel dome. The mosque is a gathering place for Calgary's Ahmadiyya Muslim community, which raised 100 per cent of the funds to build it.
(4353 54 Ave. N.E.)
The current building – built and consecrated in 1957 – is the fourth version of St. Mary's in Mission, which is so named because it is where Father Lacombe and the city's original Catholic missionaries settled in Calgary. The cathedral's 125-foot-high streamlined tower can be seen from far away. There is a 16-foot high statue of Madonna above bronze doors and four 750-pound bells, which are all that is left from the previous St Mary's.
(219 18 Ave. S.W.)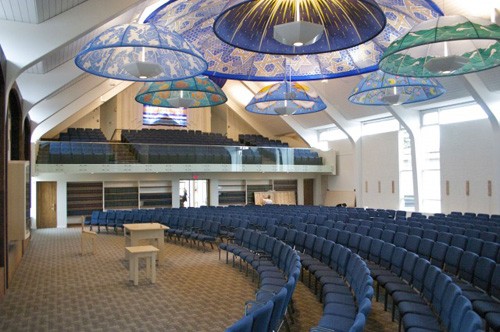 This Jewish temple was once a shared space with the Living United Church, until the Temple B'nai Tikvah became the sole user of the Britannia building. The Christian church was redesigned into a contemporary Jewish synagogue by architect Martin Cohos. Its sanctuary now includes a hanging installation by Calgary artist Jeff de Boer that consists of six hanging fabric domes each representing one of the six days of creation and one larger fabric dome representing a chuppah.
(900 47 Ave. S.W.)