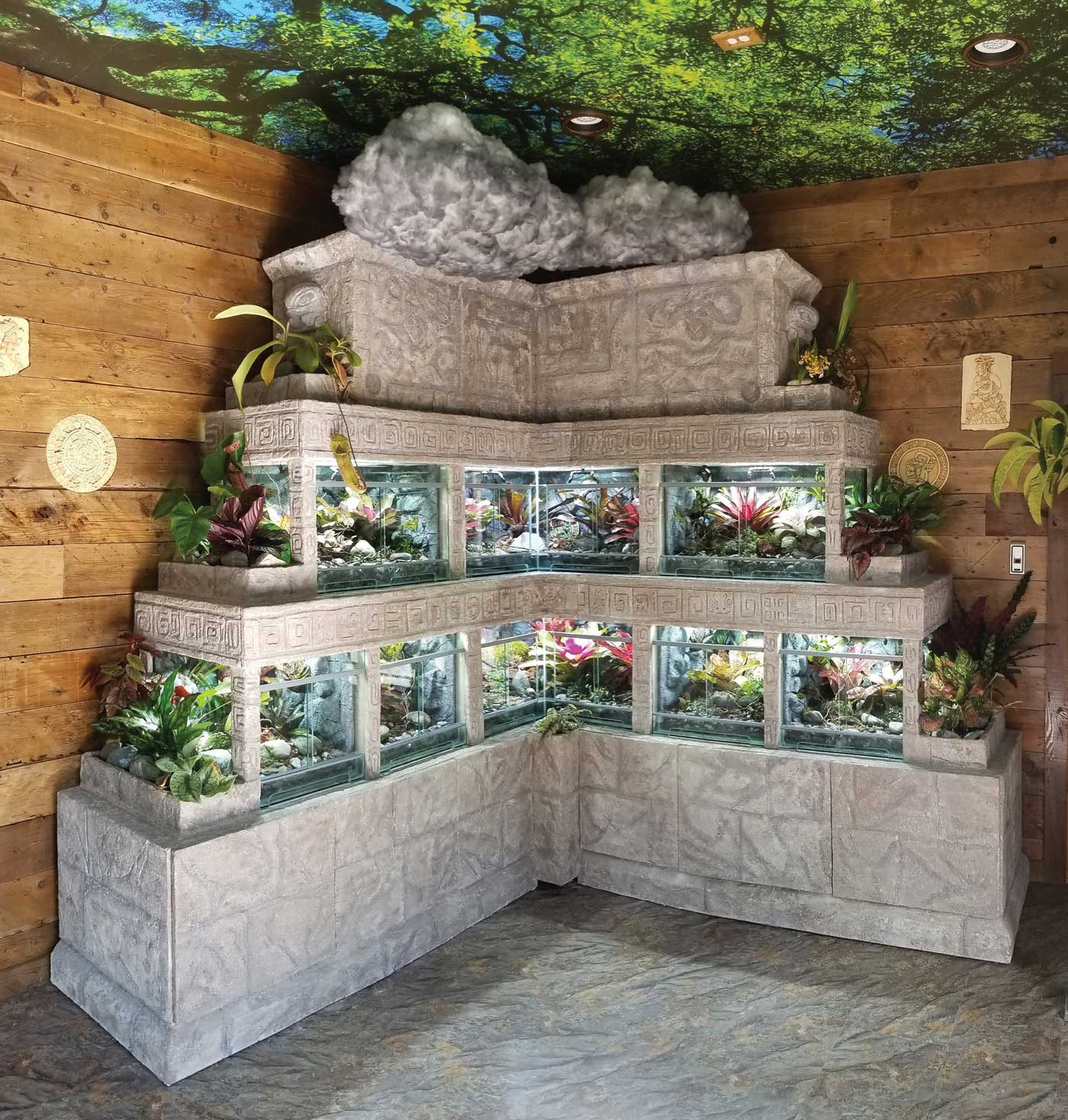 Despite being cold-blooded, reptiles have been nothing but helpful to Calgarian Greg West. They've allowed him to work his dream job, appear on Dragons' Den and even landed him his own TV series. In return, West, the founder of local terrarium company Cornel's World, builds stunning, large-scale reptile homes with cool themes ranging from Japanese pagoda to Western bar. "My favourite build is one that was Bill & Ted-inspired that we did for a comic book shop in Edmonton," says West. "It looked exactly like the phone booth in the movie. We had a lot of the scenes from the movie incorporated into the interior, which actually spun around 360 degrees, so you could always be looking at something different."
West, who grew up with various reptiles as pets, started designing his own terrariums when a job at a glass company provided access to the materials he needed. People began asking for his handiwork and his hobby became a business in 2013, when an appearance on CBC's Dragon's Den inspired him to dive into the business full time.
TV came calling for West and his crew once again when a casting company emailed in 2017 asking if they would be interested in filming a series for Animal Planet. The show, Scaled, follows the terrarium builders' work creating one-of-a-kind habitats for every style of cold-blooded critter, from boa constrictors to monkey-tailed skinks.
While West says filming the show was a great experience, it also put a lot of pressure on him and his team. The show's constraints meant that for the five months they filmed, builds that would normally take a month or more had to be finished in weeks. "We would be filming from nine until seven each day, and once we were done filming we had to actually work — we didn't have a shadow team working through the night for us when we were done filming," says West. "So a lot of late nights, a lot of missed family time. It wasn't easy by any means."
All that work paid off, however, as the exposure has more than doubled sales and created months of backlog work as orders from fans pour in. Cornel's World has even had celebrity orders, like the Jurassic Park– and hockey-themed terrarium created for former NHL player Brad Stuart, whose son is a fan of the show.
West says it's still unusual when people stop him to ask for an autograph, but he's happy his work has made an impact. "The one thing that I thought was really cool about the show is how many people have reached out to us that have never had a reptile and have now gotten into reptiles," he says. "It's really cool to see the end result and realize that there is a fan following."