Hawaii For the Holidays
You don't have to spend Christmas in the freezing cold. Here's how to do the holidays in Hawaii right
By Meredith Bailey, Caitlin Best, Jennifer Hamilton and Tim Johnson
Sorry, Bing Crosby: a white Christmas is overrated, especially when it comes with slushy streets and eyelash-freezing temperatures. Escape the cold and head to Hawaii for the holidays instead. The Big Island, Kauai, Maui and Oahu share many similarities, including spectacular beaches, turquoise water teeming with tropical fish and verdant hikes. But, from Kauai's misty waterfalls to Oahu's hopping nightlife, each island has a distinctive appeal. The hardest part about booking your trip will be deciding which one to visit first.
The Big Island
The island of Hawaii is referred to as the Big Island to distinguish it from the state of Hawaii, and, as the name suggests, it's also the largest of the Hawaiian Islands. In fact, it's nearly twice the size of all the other islands put together, with about one fifth the population of Oahu, making it a great place to experience "the real Hawaii." This mostly rural island has a strong cowboy culture, a thriving locavore food scene, active volcanoes and a spectacular lava landscape, the likes of which you won't see anywhere else in the world.
Must-Do
Hawaii Volcanoes National Park
Hawaii Volcanoes National Park is home to Kilauea, one of the world's most active volcanoes, and Mauna Loa, the largest volcano on earth. Seeing them and their surrounding landscape is a spectacular lesson in geology. Kilauea, whose name means "spewing, much spreading," is the older and larger of the two and is the star of the show, with lava flowing at an average rate of 800 to 1,300 gallons per second. If you're tight for time, you can explore the summit of Kilauea via Crater Rim Drive, a 17-kilometre road that takes you to the summit of the crater and passes through desert and tropical rain forest and crosses the crater floor. There are also hikes ranging from a few hours (some are ranger-led and free) to several days.
Golf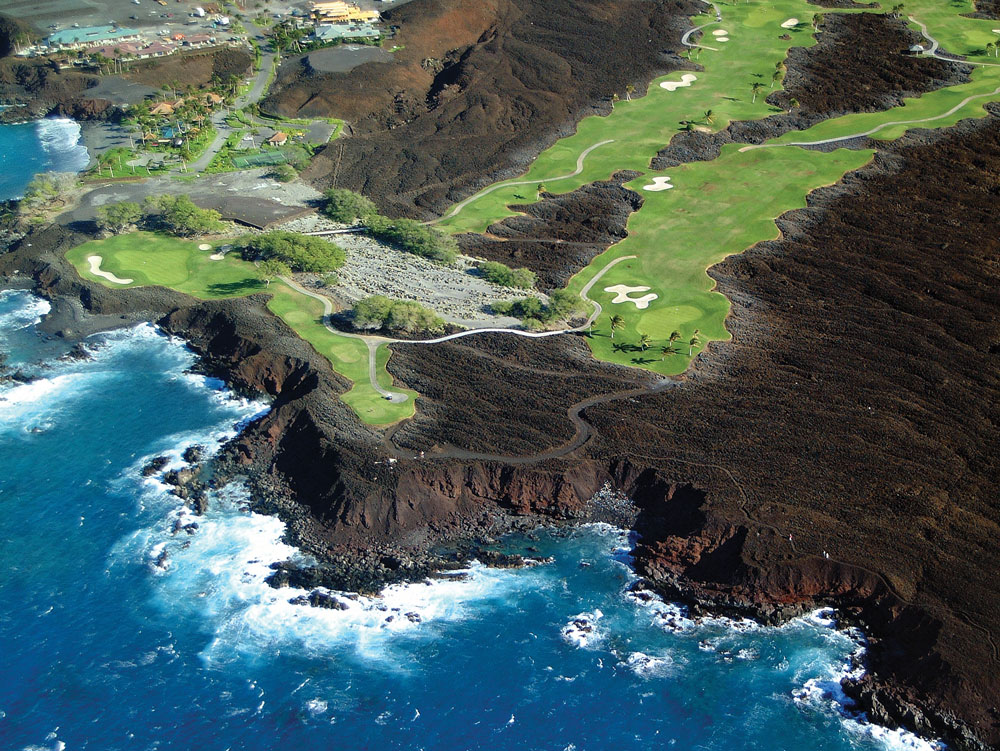 photograph courtesy of hawaii tourism authority. photograph by ron garnett
Hualalai Golf Course.
Designed by Jack Nicklaus, the Hualalai Golf Course is on the dry, sunny, north Kona-Kohala coast, and it's everything most would want in a golf course – impeccably maintained, gorgeously scenic and not too hard for the average golfer. The biggest challenge is keeping your eye on your ball, as the gnarly, twisted, jagged black lava landscape that surrounds the course is impossible not to marvel at.
Cocktails at Sunset
Hawaii is famous for its sunsets and there is perhaps no better place to ooh and ahh at one than at the Beach Tree Bar and Lounge with a craft cocktail and sharing plates on the table. It's part of the Four Seasons Hualalai property, but it's open to all visitors.
Off the Beaten Path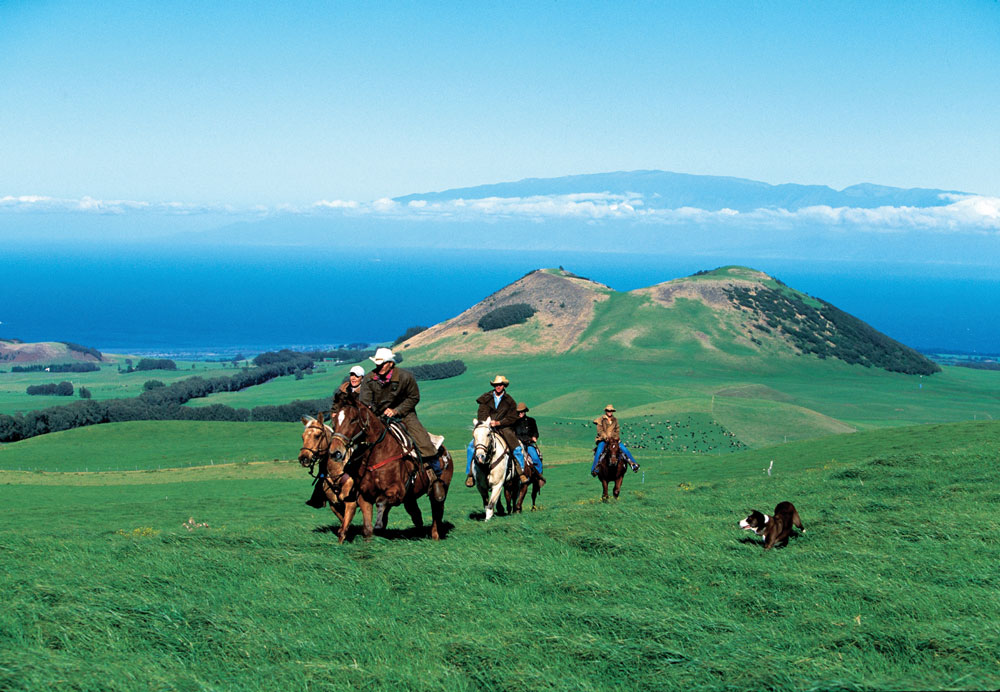 photograph courtesy of hawaii tourism authority. photograph by kirk lee aeder
Horseback riding on the Big Island.
Cowboy culture is alive and well on the Big Island, and there's no better way to experience the vast, gently undulating, grassy mountain slopes than on horseback, where at times it's impossible to tell where the sky ends and the ocean begins. But don't expect a boring trail ride if you choose to go to a working ranch (and you should). If you (or your horse) want to run, the guides will let you go for it, and it's awesome.
Where to Stay
Adjacent to the Four Seasons Resort Hualalai is Hualalai Resort, an elegant resort community made up of premium luxury villas you can have access to by purchasing a membership or by buying outright (homes start around US$4 million and go up to US$12 million-plus). What's most remarkable about all the properties is they seamlessly integrate into the natural landscape, so nothing seems ostentatious, and all are exquisitely appointed and afford the utmost privacy. Owners and members have access to all the Four Seasons amenities, including pools, restaurants, tennis courts and golf courses.
Christmas on the Big Island
The annual planetarium show, Mystery of the Christmas Star, looks at possible scientific explanations for the bright star that the Wise Men followed to find the baby Jesus. The show is at the Imiloa Astronomy Center located at the University of Hawaii at Hilo Science and Technology Park and runs throughout December. – J.H.
---
Kauai
Lush and green – an oasis of emerald floating amidst deep blue seas – Kauai is a true beauty and perhaps prettiest of all the Hawaiian islands. But the most beautiful thing about this place may just be the pace. Formed more than 5 million years ago by the volcanoes that still flow in other parts of this state, here, fresh, clean mountain streams have taken plenty of time to carve deep valleys and canyons through the craggy mountains that bisect the island, creating incredible vistas that often include misty waterfalls. Famous for its peace and quiet (the entire island has fewer than 75,000 residents), you can take Kauai as it comes, whether you're seeking special fun for the holidays, outdoorsy natural pleasures, a little movie trivia or just a great day at the beach.
Must-Do
Hike Kauai
Sometimes known as the "Grand Canyon of the Pacific," Waimea Canyon State Park is more than 3,600 feet deep and offers opportunities for every energy level. Those looking for a challenge can hike right into the gorge, but, if you're just seeking a stroll, take advantage of the small trails that run all along the ridge, which lead to a number of gorgeous viewpoints. Hard-core hikers should check out the 17-kilometre (one-way) Kalalau Trail that, while very difficult, is often ranked among the most spectacular hikes in the world.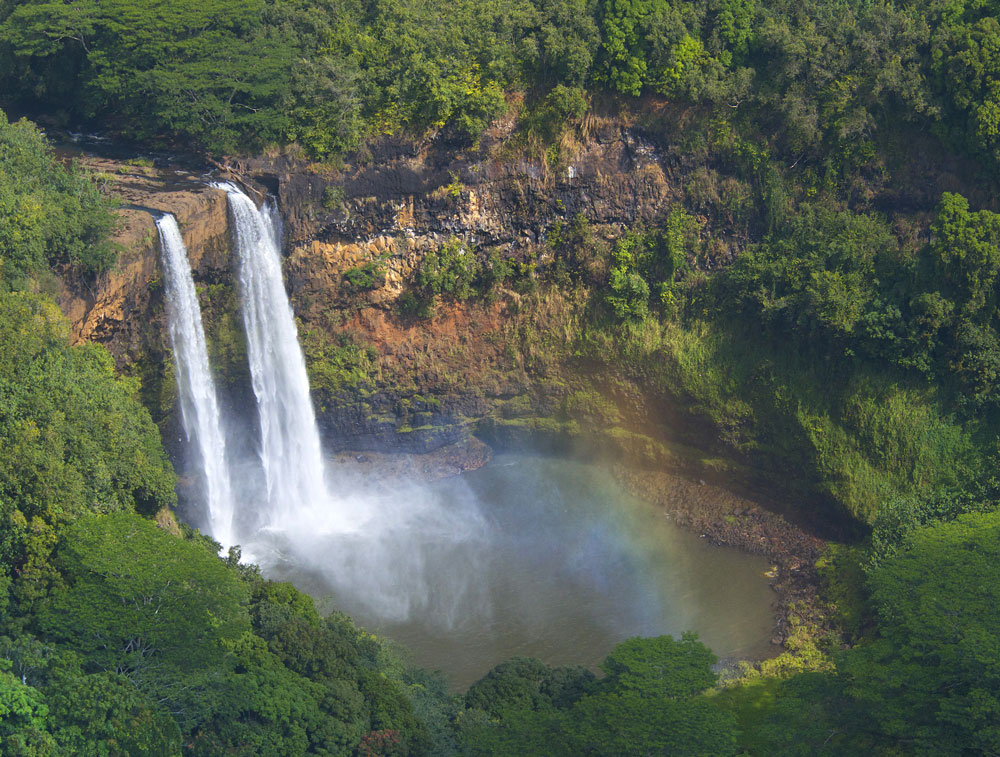 photograph courtesy of kauai Visitors bureau. photograph by damon moss.
Wailua Falls.
Aquatic Adventures
Scuba or snorkel along the coral reefs that sit off the South Shore, where you can spot a variety of colourful fish that are endemic to Hawaii and are found nowhere else on earth. You can catch a ride out on a boat from Poipu, where you can also book a whale-watching tour. Head inland to kayak amongst Kauai's most beautiful waterfalls. Try the Wailua River which includes a unique triple waterfall that was once the site of daring cliff dives.
Best Beaches
The beaches that line the Na Pali Coast are extremely remote – reachable only via helicopter, boat or a very challenging hike – but offer complete seclusion at the base of cliffs that rise thousands of feet from the water. But, if you're looking for something more accessible, just take your pick – all beaches in Hawaii are public, so you can set yourself down on any little bit of paradise that catches your eye (including the spectacular stretch of sand that lines the front of the St. Regis Princeville, the island's most luxurious hotel, even if you can't afford to stay there).
Kauai on Film
This small island has served as the set for some of Hollywood's biggest movies.
It's no secret that Elvis Presley loved Hawaii, and the wedding scene of this 1966 flick was filmed at Kauai's Coco Palms Resort, which is currently being rebuilt after a hurricane destroyed it in 1992.
Kauai serves as the stand-in for the tropical arena built by gamemakers in this second movie of the Jennifer Lawrence series.
In this 2011 movie, a Hawaiian-shirted George Clooney visits Kauai. You can even rent the luxurious suite at the St. Regis Princeville where several scenes from the movie were shot.
Christmas on Kauai
The Christmas Craft Fair on Dec. 5 is an event organized by the Kauai Museum. The celebration invites you to create traditional crafts while you watch floats glow and glisten in an annual parade on Rice Street in Lihue. – T.J.
---
Maui
If you want to know what Maui is like, ask a local. "Maui no kai 'oi," they'll likely reply, which, in Hawaiian, means "Maui is the best."
The second largest of the Hawaiian Islands has a lot to be proud of. The "Valley Isle" boasts long stretches of white-sand beaches, colourful towns, lush valleys and rain forest peppered with waterfalls, plentiful marine life and the peaks of Haleakal National Park.
Must-Do
At 84 kilometres from Kahului, a trip to the idyllic town of Hana seems doable in a morning. It's not. The twisty, narrow road along Maui's eastern coastline comes with almost 60 bridges – most of which are only one lane – and more than 600 curves. On a busy day, the going is slow (expect 2.5 to four hours one-way), but the route and scenic stops are stunning. Walk the black sand beaches of Wai'anapanapa State Park, take a cooling dip in multiple waterfalls, including the pools of the Lower Puohokamoa Falls, and much more.
Hiking Haleakal
Haleakal, in Haleakal National Park, is a massive dormant volcano that rises 10,000 feet above sea level. Haleakal means "house of the sun" in Hawaiian, and its peak is a popular spot to watch the sun rise above the clouds. To catch the morning rays, expect to leave for the park by as early as 3 a.m. Too early? Take in the equally beautiful sunset instead.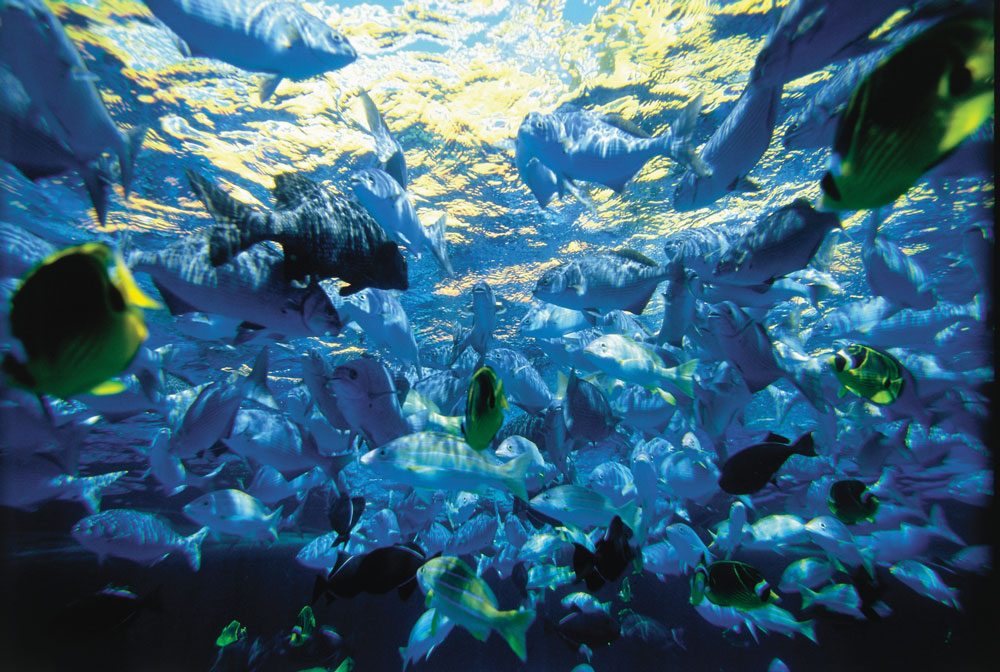 photograph courtesy of hawaii tourism authority. photograph by kirk lee aeder.
Molokini.
Snorkelling Molokini
Created from an ancient volcanic eruption, the Molokini crater sits in open ocean four kilometres off the south coast of Maui. The island's crescent-moon shape provides a natural shelter, and the crater is a designated Marine Life and Bird Conservation District. It's home to more than 250 species of fish and offers spectacular snorkelling and scuba diving. Boats and cruises ferry visitors to Molokini regularly.
Big Beach
Big Beach in Makena State Park is an expansive stretch of sand along Maui's southwestern shores – it's one kilometre long and 90 metres wide. It's postcard-perfect with golden sand, turquoise waters and views of the Molokini crater. Pack a picnic and plan to lounge.
Off the Beaten Path
The Ali'i Kula Lavender Farm is a cool and fragrant retreat 4,000 feet above sea level in the uplands of Maui. The 13.5-acre farm boasts roughly 55,000 lavender plants in 45 different varieties. Take a guided tour of the lavender fields, shop the gift shop for lavender-infused finds, including hand-cut soap, and stay for lunch on the farm's pretty patio – try the lavender scones with a cup of aromatic lavender-flavoured coffee.
Maui Donuts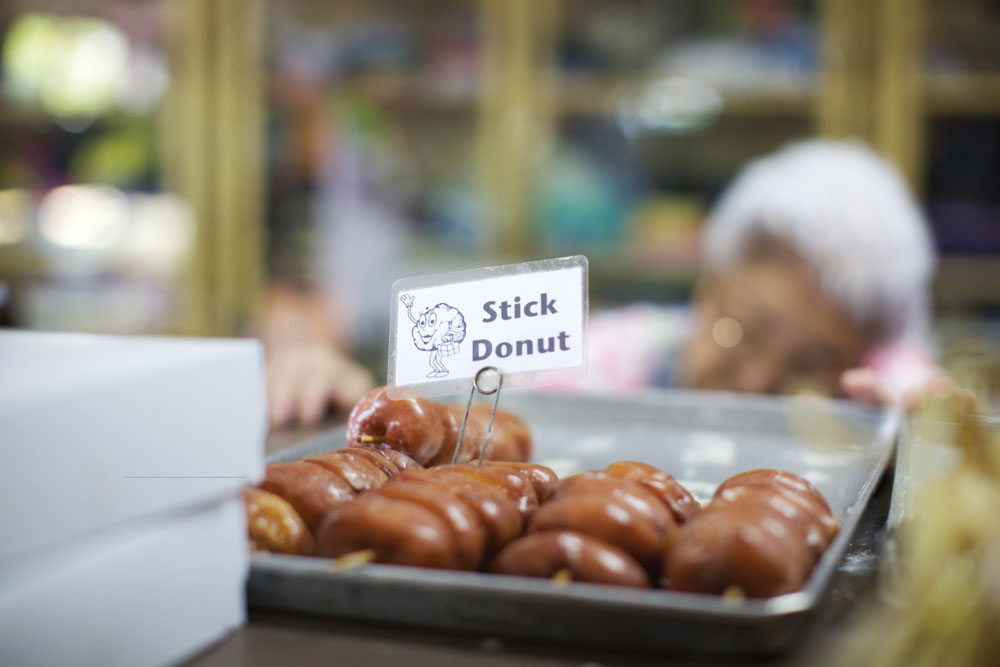 photograph courtesy of hawaii tourism authority. photograph by max wanger.
The T. Komoda Store & Bakery has been making delicious crispy-on-the-outside, soft-and-sweet-on-the-inside glazed doughnuts for almost 100 years. Find it in the tiny town of Makawao in Maui's inland upcountry. The cream puffs are really good, too.
Christmas on Maui
Head to Lahaina to see the historic town's famous giant banyan tree lit up with thousands of Christmas lights. Lahaina hosts a two-day festival to celebrate the lighting of the banyan tree on Dec. 6 and 7, including live music, cookie decorating and a visit from Santa. – M.B.
---
Oahu
Geographically smaller than the Big Island, Oahu is home to Honolulu, the state's capital and largest city, and Waikiki Beach, the birthplace of Hawaii's beach-resort culture. Known as the "Gathering Place," the island is a little slice of heaven for anyone looking to escape during the harsh winter months.
Must-Do
Book a room at the Moana Surfrider, a stately hotel located on Waikiki Beach that's been catering to clientele since 1901. The lanai offers a beautiful view of the Pacific and the magnificent old banyan tree in the courtyard is a cool retreat from soaring afternoon temperatures.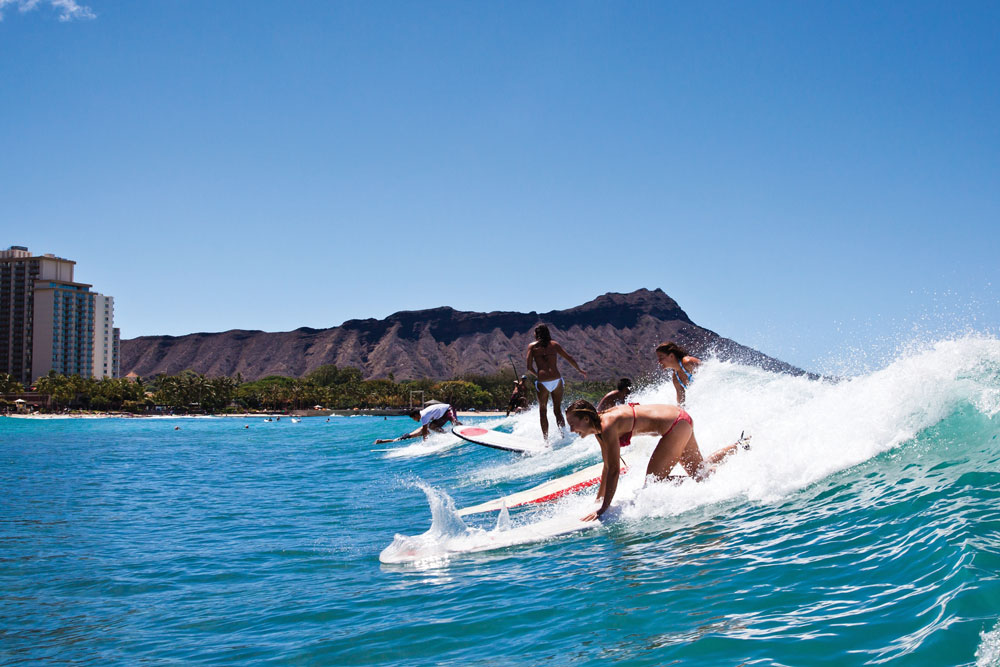 photograph courtesy of hawaii tourism authority. photograph by tor johnson.
Waikiki.
Surf Waikiki
Waikiki Beach is the place to work on your tan, catch glimpses of sea turtles, admire the spectacular views of Diamond Head and learn the basics of surfing. The smaller waves are perfect for beginner surfers, and reasonable board rentals can be found just off the main beach. Koa Board Sports on Koa Avenue has the best selection and a reasonable day rate. Make sure to ask for Larry.
Oahu Cuisine
After trying your hand at surfing, head to Duke's Waikiki for a few pupus. The hot wings and Hawaiian pizza made with Klua pork and fresh pineapple are highly recommended. If five-star dining is what you crave, then make reservations at La Mer in the Halekulani Hotel, where modern French cuisine is prepared using regional ingredients like macadamia nuts, coconut and fresh onaga, the local equivalent to red snapper.
North Shore
Seeking a sanctuary from the hustle and bustle of the city? The quiet beauty and chilled-out vibe of Haleiwa on the North Shore is your next destination. Renting a car is advisable, and, in less than an hour, you'll be able to catch a luau at the Polynesian Cultural Center or watch surfers shred 20-foot waves on the Banzai Pipeline.
Day Trips
Kailua Town, 30 minutes from Honolulu, is home to one of the most beautiful beaches on the island. Here you can enjoy the mellow waves and the feel of white sand beneath your feet. To the east of the beach, you can spot the two tiny and picturesque Mokulua Islands commonly referred to as the "Mokes," home to many of Oahu's seabird species.
Moku Nui, the larger of the islands, is accessible by kayak on calmer days and the interpretive centre in Kailua will advise you on the best way to reach your destination. A relaxing paddle in and around a raised coral reef bed will land you on an island to explore.
Ambassador of Aloha
Born of royal Hawaiian descent, Duke Kahanamoku was an Olympian, a Hollywood star and, most importantly, credited with bringing big-wave surfing to the rest of the world. You can pay tribute to Duke by visiting his statue on the main Waikiki Beach. The custom is to leave a lei.
Fit for Royalty
The Iolani Palace is a lavish space that was once home to King David Kalakaua and Queen Liliuokalani of the Hawaiian monarchy and America's only royal residence. Locals are very proud of the fact Iolani had electricity before the White House.
Christmas on Oahu
Don't miss the 20th annual Hawaii Yacht Club Christmas Boat Parade in Honolulu Harbor in December. Spectators will have a dazzling view of boats in all shapes and sizes making their way across the water with more lights and decorations than a Macy's storefront in December. – C.B.