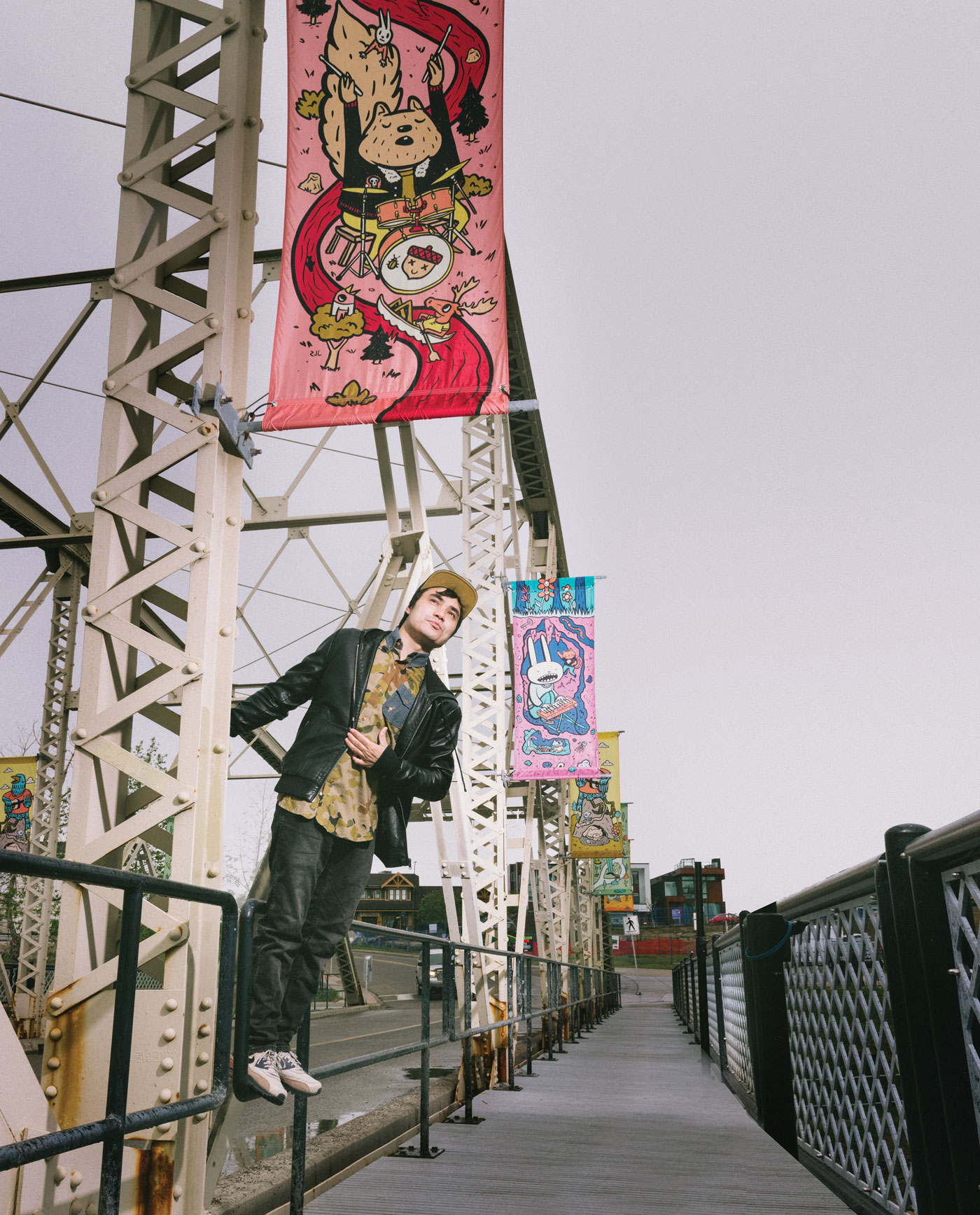 Each year, the Centre City Banner Program selects a local artist to create imagery for banners on six bridges leading into Calgary's core and on the pergola at Olympic Plaza. The most recent artist selected to do the banners is illustrator and animator Jarett Sitter, who created a series depicting animals in their natural environments playing different musical instruments: a squirrel plays the drums, a rabbit plays the piano, a frog plays the trumpet.
Sitter's quirky and whimsical style reflects nostalgic influences that have shaped his art since childhood. Old cartoons, skateboard art and musical elements blend together in his works.
"I have lots of little details that people can discover as they come back to a piece," he says. "When you look at it a bit more, there are those moments that allow you to find new things."
The banners initially focused on Alberta wildlife and its native environments. But as the pandemic started changing things, Sitter began adding in themes closer to home and things he missed from pre-pandemic life — namely, music.
Although he isn't a musician himself, Sitter has long used his art to connect with that world. He has created album covers, worked on music videos and designed band merchandise.
Sitter has also worked for local music festivals including the Calgary Folk Music Festival and Sled Island. "To [still] be able to participate in that world is a lot of fun and can be very rewarding," he says.
Outside of music-related projects, Sitter works with a range of editorial and advertising clients. A few of his local clients include Calgary Roller Derby, CIFF, Glenbow and Wild Rose Brewery. Lately, he has kept busy working on book illustrations, more band merchandise and illustrations for magazines including The Believer and The Virginia Quarterly Review.
With all the changes brought about by the pandemic, Sitter is doing what he can to convey positivity through his art. "I try to keep the media that I consume light so I [can] make stuff pretty and more cheerful," he says. Now, with the banners, he can spread that positivity even further. "I'm hoping people will really enjoy them and feel happy on their commute or walk," he says.