Skip the hotel on your next adventure in Canada's flagship national park and rest your head in a wilder place. Check out this option that lets you leave your tent, but not your comfort, behind.
It's a not-so-local's secret: campers looking for the most scenic and accessible spots to pitch their tents in Banff National Park head to the shores of Two Jack Lake. Nestled in a light forest of lodgepole pines, this campground is the only lakeside option in close proximity to the town of Banff.
But, if you like the idea of staying overnight at Two Jack and aren't too keen on sleeping in a tent, Parks Canada has the answer: an oTENTik ($120/night). Part A-frame cabin, part prospector's tent, oTENTiks are available from mid-July to mid-September and occupy some of the best campsites by this indigo lake.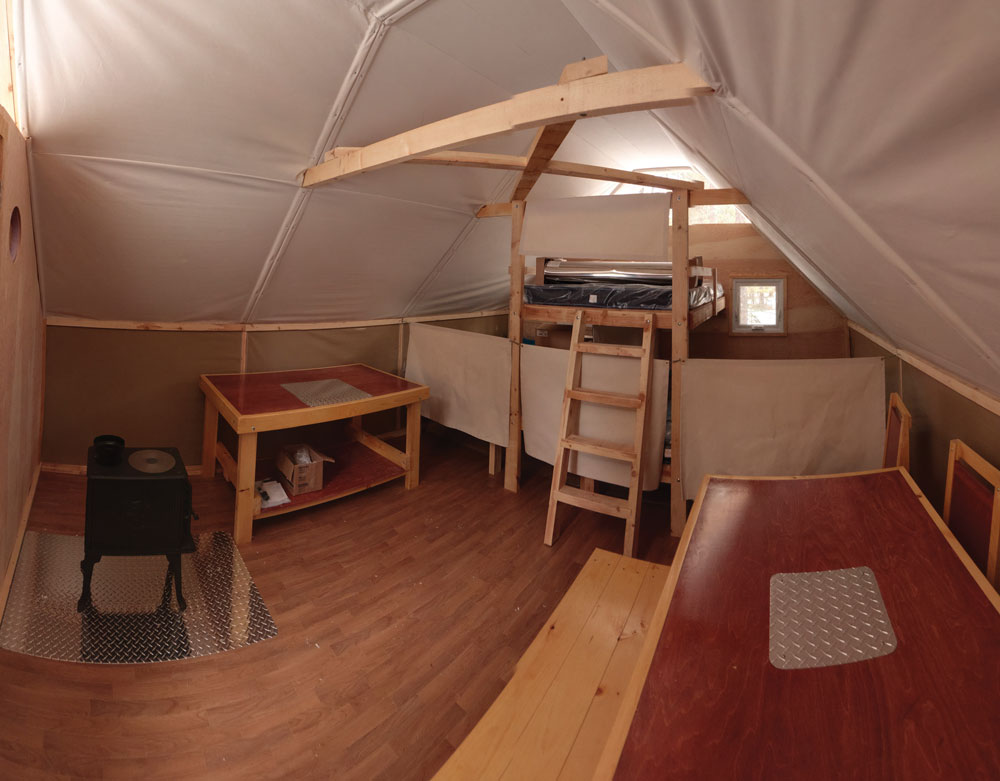 The interior of an oTENTik cabin is spacious and luxurious.
Call it "glamping" if you like, but don't expect a gourmet chef or electric duvet warmers. These quaint shelters sleep up to six people and offer the comforts of high-density foam mattresses, a common area with a table and chairs, lighting and an electric heater – all on a raised wooden floor and under a shelter fit to withstand any weather the mountains have in store. Unzip the screened windows for a breezy, yet mosquito-free experience, and snap down the shades when it's time for sleep or shadow puppet silhouettes on the walls. Just outside you can take in views of mounts Inglismaldie and Astley while cooking up your smokies, camp-style, over an outdoor fire pit or Weber barbecue.
The oTENTik experience is as close as you can come to camping without actually sleeping in a tent. Leave the tent and sleeping mats behind, but bring everything else you normally need for camping, down to the very last marshmallow skewer. Users need to provide their own sleeping bags, tarps, food, pots, pans, dishes and utensils. If you don't have your own gear, head in to Bactrax in Banff to get outfitted.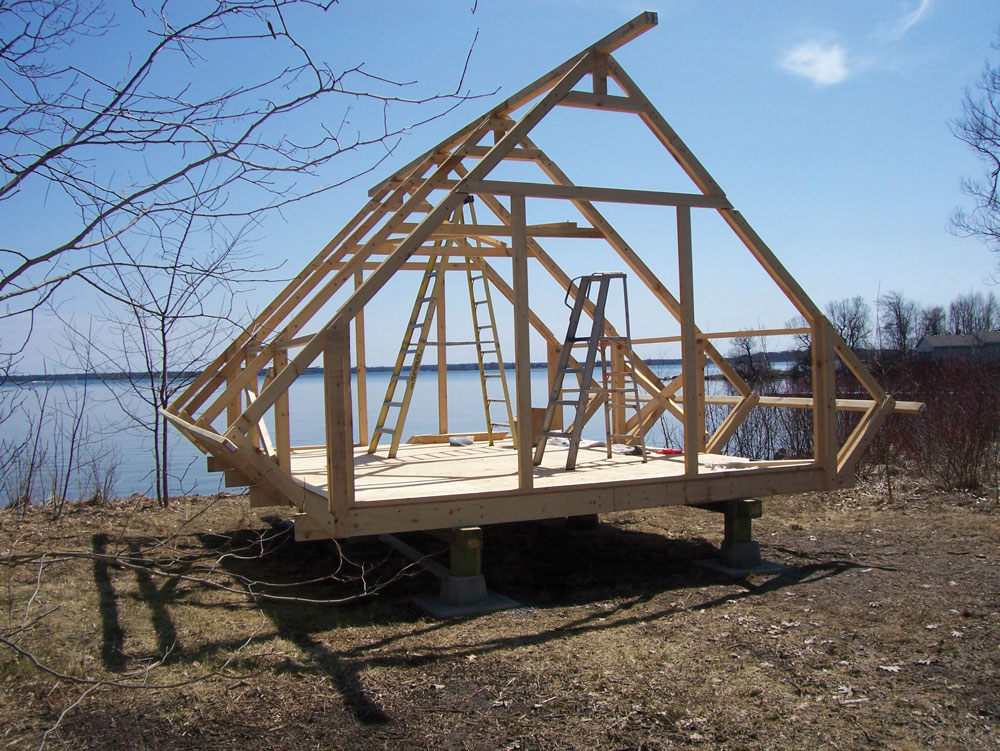 The durable construction of oTENTik cabins is meant to withstand the worst elements in the mountain park.
The best way to enjoy an oTENTik is to move right in and treat it like home. Drive-in access means you can bring anything you want to make your experience as comfortable as possible. There is no food preparation or eating allowed in the cabin (oTENTik users must follow all Parks Canada rules for camping in the National Park), so bring a tarp in case you're treated to some rain come mealtime. And don't forget your paddleboards, bicycles, kayaks, canoes and hiking boots. You're in a prime location for outdoor activities on and off the water.
There is a minimum two-nights' stay with a reservation, and otherwise oTENTiks are available on a first-come, first-served basis. For more information or to book online, go to the Parks Canada website.
More Tent-Free Experiences in Banff National Park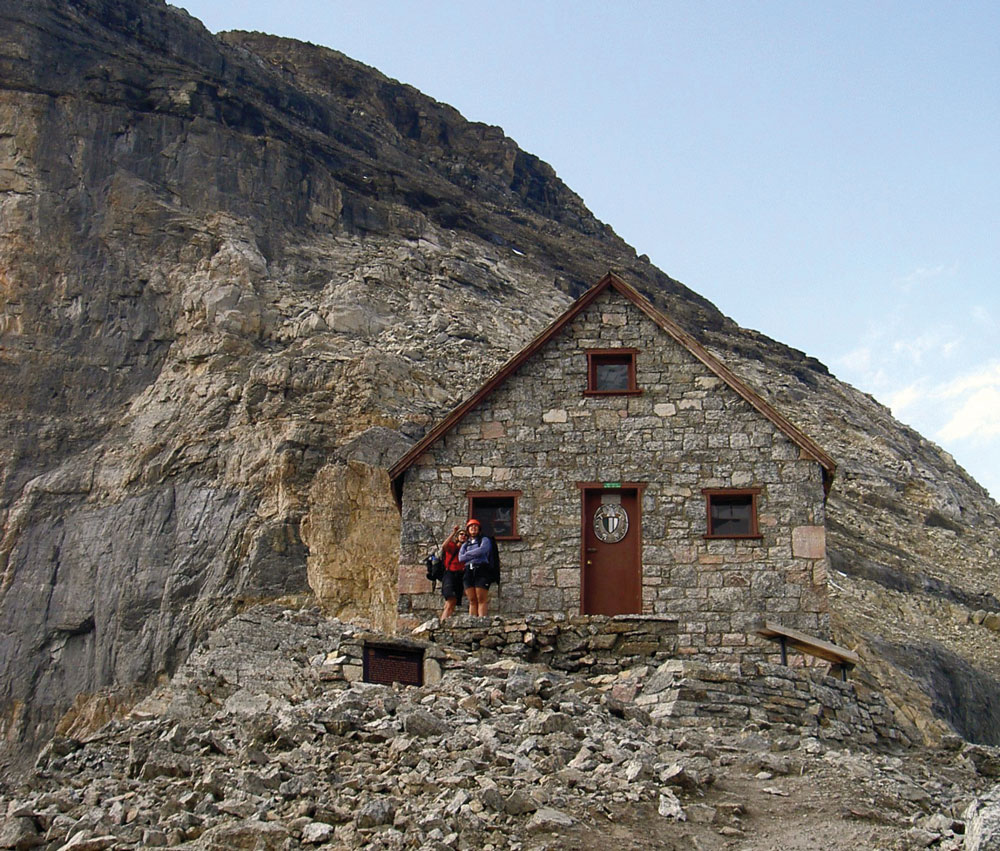 Photograph by Suzan Chamney
Abbot Alpine Hut
Outdoorsy folks looking for a little more adventure can hike into one of the alpine huts operated by the Alpine Club of Canada (ACC). These huts (starting at $36 per person, per night) are speckled throughout the Rocky Mountain Parks, including Banff, and range in terms of access, amenities and architecture. All have sleeping bunks and mattresses, two-burner stoves, propane, cookware, dishes and utensils, while some also feature wood-burning stoves, ovens and a separate sleeping area.
Expect some good old communal living with the other guests unless you book the hut completely. Bring your sleeping bag, food and whatever luxury items you can carry on your back, and plan to stay at least two nights to enjoy some day hikes and high-elevation relaxation.
Outdoor Activities Right From Your Doorstep
On the Trail
Great hikes in the area range from easy walks at Johnson Lake and Stewart Canyon to more rigorous climbs, such as the C Level Cirque. Each promises a reward of spectacular mountain views, so you can't go wrong.
On the Water
This area is home to three beautiful mountain lakes that are perfect for paddling, including Two Jack Lake, Lake Minnewanka and Johnson Lake (where you'll also find one of Banff's only beaches). Rent a boat or join a guided cruise over at Lake Minnewanka.
On Two Wheels
Lake Minnewanka Road is one of the most popular loops to cycle in Banff National Park. This road has no shoulder but has a slower speed limit for vehicle traffic, so take your time and enjoy this scenic ride.