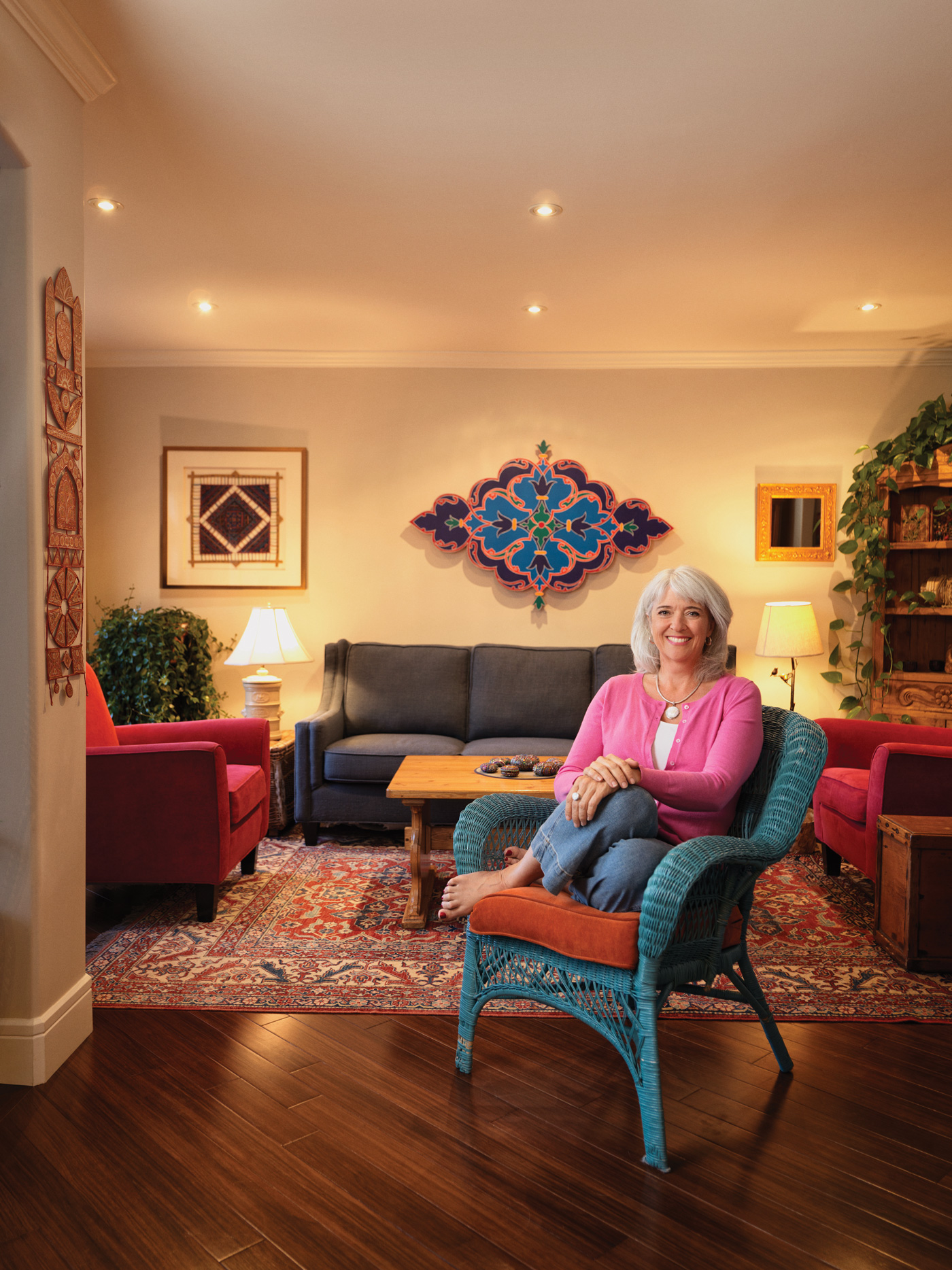 Death is something we're conditioned to avoid. Though it happens to all of us, it's also one of the most difficult things to comprehend. At a time when we're in need of peace and reflection, the death of a loved one, or a diagnosis of illness can instead bring emotional upheaval and chaos. Navigating that chaos is central to Sarah Kerr's work as a death doula and ritual healing practitioner.
Kerr says she has always possessed an ability to stay grounded in chaotic situations. It served her well in her previous work as a wilderness guide in northern Canada and Alaska, and continues to serve her well in her practice of providing emotional, spiritual and practical support to those faced with the death of a loved one or the diagnosis of a terminal or serious illness.
This grounded nature is evident in conversation: Kerr is thoughtful and precise, often pausing in reflection to decide how best to articulate the big ideas she deals with on a day-to-day basis. Her home in northwest Calgary manifests her reflective qualities, displaying art pieces inspired by a variety of world cultures and traditions, including Hindu philosophy and Mexican Tree of Life craft.
Her interest in culture and tradition drew Kerr to pursue doctoral studies in transformative learning and change at the California Institute of Integral Studies in San Francisco in the early 2000s. Her studies focused on how rituals and traditions support individuals during times of life-altering transition, though not death, specifically. But when her father unexpectedly suffered a life-threatening stroke in 2010, Kerr was struck by how "unprepared" she felt with the very real prospect of losing him. "So, I made a vow to be more prepared," she says.
Kerr has since gone from feeling lost when confronted with the idea of mortality, to becoming an authority and a guide for others. She graduated from her program in 2012, and later that same year founded her company Soul Passages.
Much in the way a birth doula offers emotional and practical support at the beginning of a life, a death doula offers support at the end of one. The practice has historic roots. Janet Arnold is a certified thanatologist (a branch of science that deals with death, its causes and phenomena, as well as the effects of approaching death and the needs of the terminally ill and their families) and is an instructor of Mount Royal University's Topics in Death and Dying course. According to Arnold, up until the 19th century, there was usually a woman in each community who would be called upon to support families and the dying. This role included practical tasks such as washing and clothing the deceased in preparation for burial. The rise of the funeral industry in the 1800s saw a shift away from the home for the care of the dead. But in recent decades, a movement that has brought other life processes and milestones back into the home, such as home-schooling and home-birthing, has similarly regenerated interest in the "home death."
Using an approach more spiritual than religious (she describes her role as "clergy for the unchurched") Kerr uses both big and small rituals to familiarize those in mourning with the intense and hard-to-comprehend transition of death. Kerr says she typically works with three-to-five family groups navigating a current death in a year, the work with each family happening over multiple months. She also does between four and six individual support sessions per week, either in person or over the phone. Her work always starts with an open and honest conversation. "It's the absolute opposite of small talk," she says. "People are just true — true in the love, true in the grief, true in frustration, true in whatever is happening."
The work is unpredictable by nature. Calls at 3 a.m. aren't uncommon, while a client taking a turn for the worse can mean reworking her schedule with a moment's notice. Following the death of a client, Kerr immediately delivers a good-bye ceremony. This is rarely where the work ends. Her services include practical and spiritual consultation, funeral planning and officiating, and healing unresolved losses. While she doesn't offer services pertaining to preparing bodies for burial, she does educate and support families who wish to take this on themselves. Kerr does not provide palliative care, but will refer clients to specialists and help navigate the process of moving into hospice. She also offers consulting services for people recovering from or learning to live with a non-terminal illness.
Kerr's academic studies on ritual and tradition have guided her death doula and ritual healing practice, in that she focuses on the loss of "collective experience" in Western culture. This, in turn, has led to a view of death as an isolating time, rather than a time of comfort and community. Kerr defines a ritual simply as "an action that means something." One example of a healing ritual drawn from her own practice is gathering a group together to share memories of the deceased in a facilitated setting.
Arnold says collective rituals, such as those Kerr facilitates, create a clearer path for concepts that feel abstract. "Rituals give us a guidepost of what we can do when we don't know what to do," says Arnold. "[A ritual] helps us feel like we have a little bit more control over what's happened. And in that control, it helps us feel like we have more power."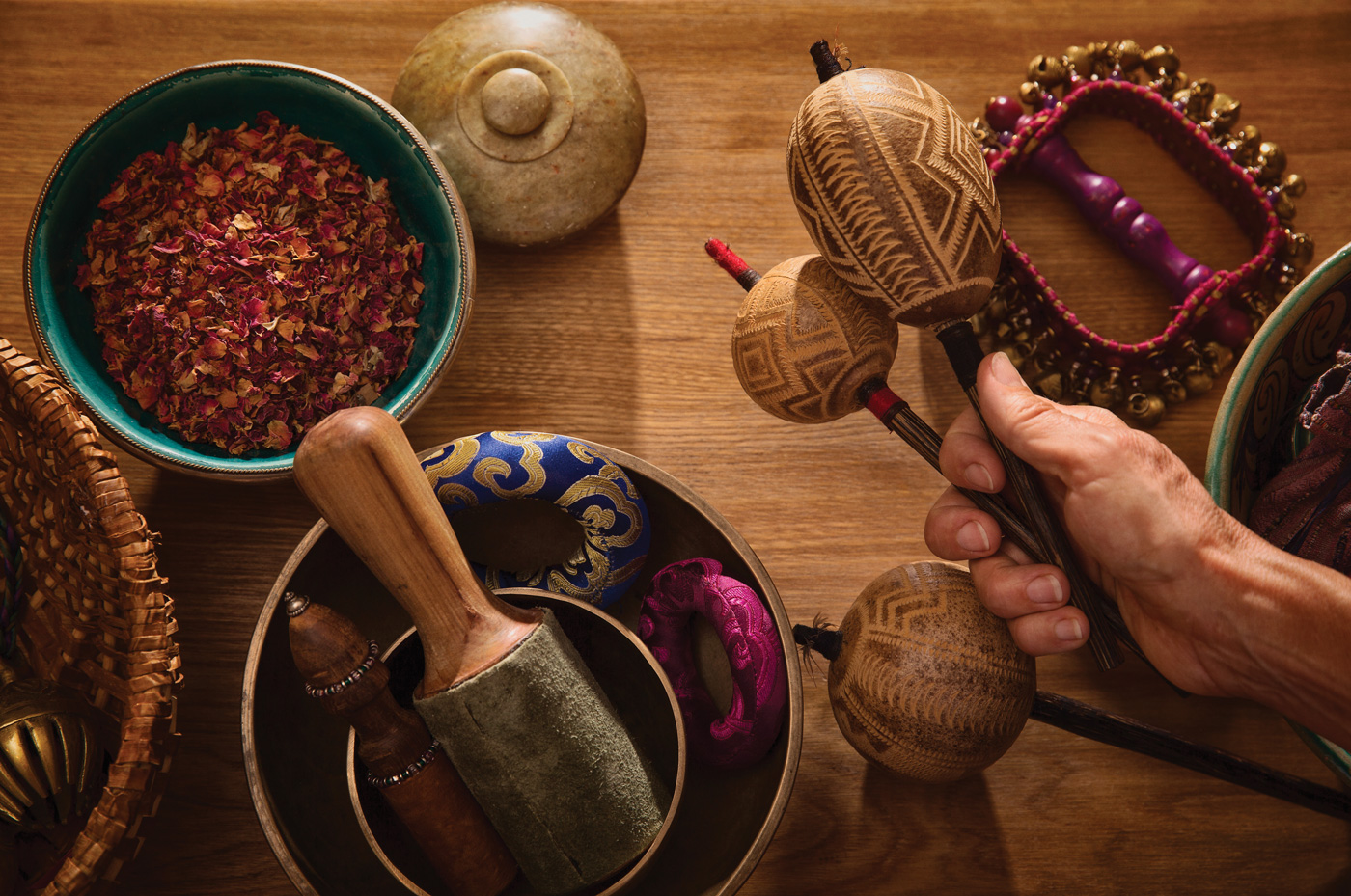 Kerr also teaches classes and workshops, in person and online. The students who come to her range from those looking to start their own death doula practices, to those just looking for new perspectives on death and dying.
Chris Vander Pyl first sought out Kerr in 2016, hoping to gain some insight in advance of volunteering at the Foothills Country Hospice. The following year, Vander Pyl was at her own mother's side as she passed away. "If I hadn't been working with Sarah, I think being there at my mother's bedside would have been very different," Vander Pyl says. "Instead I was able to see this as a transition, to really be present with my mom, to talk to her about death and how she was feeling about it, and to really receive that and hear that in a way that allowed her to be very present with it."
Kerr provided doula services for Vander Pyl and her family when they buried their mother, designing a ceremony around her wishes. With Kerr present and on hand as a guide, Vander Pyl says the family was able to focus fully on grieving, and that she, herself, was able to experience the burial fully, participating as a daughter.
When her own father passed away in 2017, Kerr brought in several of her former students to hold that same space for her. "The dying of someone you love is, by definition, something that takes you apart," says Kerr. "To allow myself to be the grieving daughter, I needed others around to hold the space [together]."
Looking back at how blindsided she felt when her father had his stroke, Kerr now recognizes how her perspective on death has completely transformed. "I made a commitment to myself to develop these skills and to be able to help other people," she says. "At [my father's] deathbed, I felt capable, I felt comfortable. I felt prepared." She even went so far as to document the process on social media, opening up about her own loss to the community of those she had helped. "The love that flowed back was incredible," Kerr says. "It felt like being held."
In all, Kerr and her family took a month to send off her father. Having guided many others through the transformative experience of death, Kerr's own experience marked a sense of closure for her, and also helped her realize what she does is of real value. She believes that the modern Western world's "dysfunctional" relationship with death stems from fear of facing the unknown without a picture or map of the other side, and rejects notions that those grieving need to "get over it." Instead, a central component of her work is the recognition of ancestry and those who lived — and died — before us. "My focus on my ancestors and my teachers is about making visible that they are still present, that I do what I do because of them. I recognize that they're still in my life," Kerr says. It's a sentiment echoed in the words etched on her father's gravestone in a small country cemetery in southeastern B.C.: "What is remembered, lives."
This past summer, Kerr's experience with mortality became even more personal when a routine mammogram revealed a three-centimetre cancerous tumor in her breast. "I don't think this is a death sentence, but it certainly brings mortality into the space," she says. "In the first few days, when I was really in shock, the possibility that I could die became so much more real to me than it ever has."
True to form, Kerr shared the news openly through her social-media channels and created a page on her website labelled "my cancer journey." Her video and Facebook posts drew immediate response from past clients. Within two days of her initial announcement, Kerr says she had received over 200 emails and hundreds more comments containing words of support from the community she has fostered. Some told her they had performed small rituals on her behalf. "It's been an incredible validation," Kerr says. "I don't think it is, but if this were to be the end of my life, I could feel good about what it has been."
Kerr plans to continue to work through her treatment, albeit cutting back slightly on the number of clients she takes on. She had surgery last month, having requested a slight delay (with the approval of her surgeon) in order to feel more "aligned and understanding" of both the tumor and the operation before proceeding. Whatever lies ahead, Kerr's work over the past 10 years has given her a deep well to draw from of learned experience, both academic and practical knowledge, spiritual tools and supportive community.
In the days immediately following her diagnosis, Kerr says she engaged in an exercise from her workshops, running through what she would do if she did have only a year left to live. "I went through that in my mind and was like, 'Okay, mostly I'm doing it. But I think I'd like to get a dog, actually,'" she says, laughing. "If time is short, I want a dog."