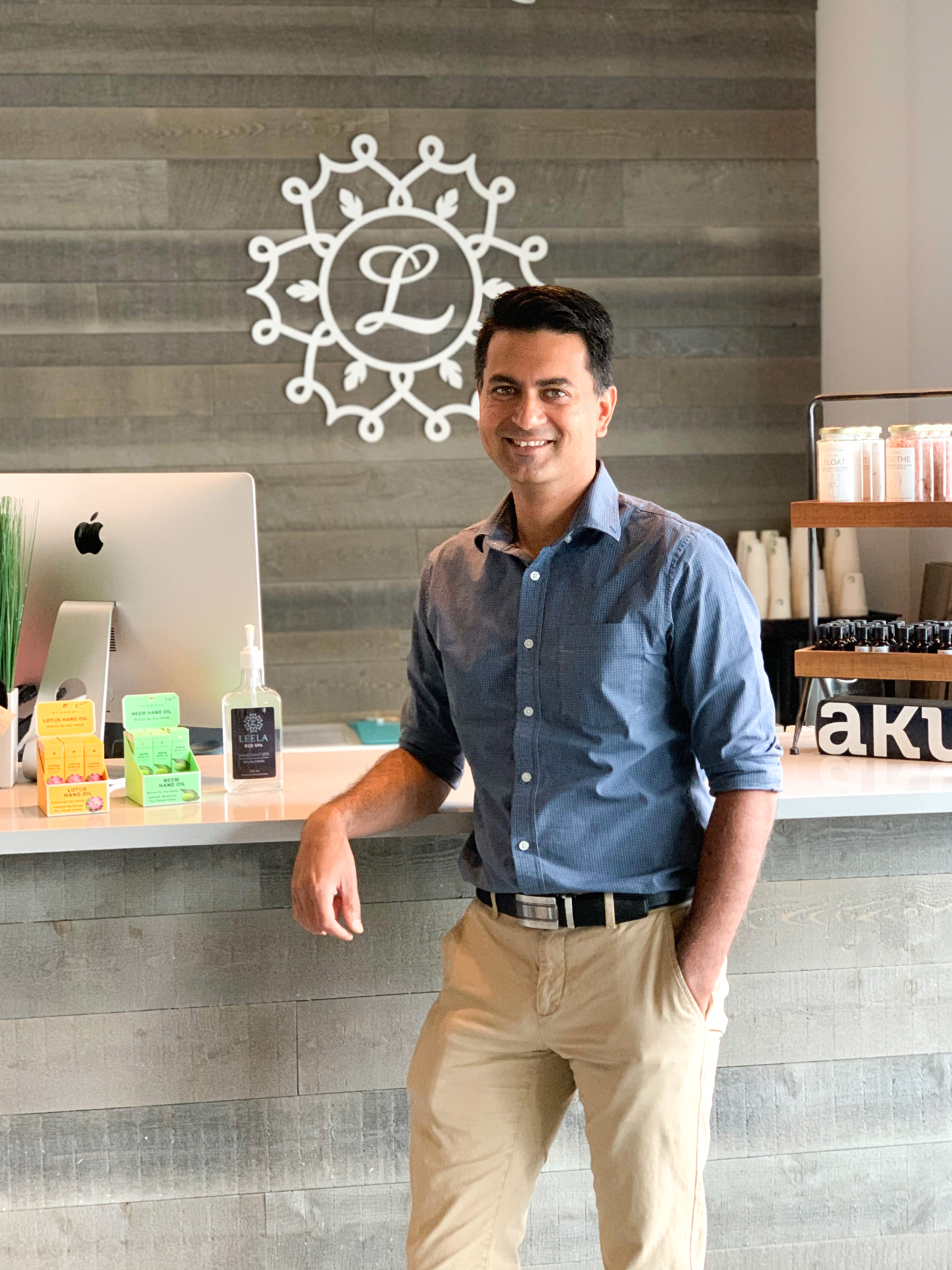 Gaurav Gupta is the owner of Leela Eco Spa, a boutique set of spas offering massage, esthetics, osteopathy, chiropractic and acupuncture services using environmentally conscious and eco-friendly approaches. Leela has five locations in Calgary, including its newest addition, Uncommon, a beauty and cocktail bar on 17 Ave. S.W. Prior to Leela, Gupta worked as an engineer at SNC-Lavalin and Suncor Energy.
Here, Gupta talks about how his background in engineering led him to find zen as an entrepreneur in the spa and wellness industry. Some answers have been edited for length.
Tell us about your educational background.
"I came from India to do my bachelor's in chemical engineering from McGill University back in 2002. I did my engineering, then I was fortunate enough to get a job in Calgary, so I joined SNC-Lavalin in 2006. At that time, the oil and gas industry was booming like anything and process guys were in good demand. I had a good time for a couple of years in Calgary, and in the meantime also did my masters in engineering from U of C.
"And then I moved on to Suncor Energy to work as a process engineer on-site in Fort McMurray. And after that I pursued my MBA from INSEAD in 2012 to 2013. That's been my educational background, combined with my professional experience."
What made you want to switch from engineering to entrepreneurship?
"To be honest, I was really lucky. I think a lot of us want to switch to entrepreneurship at some time or the other, but that catapult to make that happen doesn't really happen very frequently. And for me, I was lucky enough to be in Fort McMurray where I could really discover myself and Suncor Energy did provide me with the time, the money and the opportunity to really discover who I really am or who I really want to be. That made me go for my MBA which is a continuous journey. It made me seek out what I really wanted to do which happened to be Leela at this time. It's an evolving journey.
"Honestly, I think entrepreneur is a name given to people who own businesses, but we all are entrepreneurs. Entrepreneur means making decisions yourself and standing behind it. And some of it takes on and expands to the business side as well."
Take us back to the moment that you decided you were going to get involved with Leela. What was that moment like?
"You know, to be honest, it was sort of love at first sight when I walked into our location at Bridgeland. I walked in on a nice weather day in June 2014, never been to Bridgeland ever before, did not get a massage ever and just loved the experience talking to the person behind the desk and just the vibe in the space itself. And that made me [want] to be a part of it. The financials could be an aspect to decide. But if I had the option of going with my sort of, not passion, but my inclination, that would be it. So, it was sort of love at first sight, but I didn't know how the journey was going to be for sure."
What transferable skills from your engineering background do you think make you a good entrepreneur?
"[An] engineering background really gives core, hard skills to be able to transfer to entrepreneurship. And coming from this background, having this bachelor, master degree, which I practice nothing of right now, really enabled me to deep dive into financials. I am not an accountant and I'm not a finance guy, but know numbers having this background. Being able to figure out what's wrong, there is something not right here or where can I improve, a lot of these skills are embedded in us as engineers, as troubleshooting or problem-solving people.
"Also, I was lucky to be part of SNC-Lavalin and Suncor – they both are very professional companies, like most engineering companies are. It made me appreciate my co-workers a lot more. It made me appreciate my failures, not to take them as setbacks but opportunities, how to get back up. It made me just stronger as a person, having more empathy, having more appreciation for most of the things around us. So [when I took those skillsets] over into entrepreneurship, it really transformed into something unique because not many people make that switch on a full-time basis."
Tell us a little bit more about what Leela does.
"Leela has been evolving as a business itself. We like to think of it as a place where people escape their normal life and come to us, whether it be pampering for pedicures/manicures, relaxation for massages, whether it be a bit of therapeutic treatment to chiropractic, osteopathic, acupuncture or deep tissue massages, or whether it be just to have a great time with your friends [at the] cocktail bar. So if you want to detox, relax, have time away from life, then that's what these try to offer – that oasis from everyday life."