A flurry of sounds fill the air at the boat ramp near the Calgary Auto Mall, as I stand on the shore of the Bow River, fly fishing rod in hand. Giant semi-trucks trundle across the Graves Bridge on Glenmore Trail; motorbikes whizz by; and, overhead, jet engines roar as they make their descent into Calgary International Airport. The cacophony makes it a bit tricky to pick up on the snapping noise my rod is making as I learn to cast on this late-August morning. That snap, says my guide and instructor Quinn Soonias, is one sound I shouldn't be hearing.
"You're breaking the sound barrier when you make that noise," Soonias says, his voice animated and reassuring as he teaches me and my fly fishing companion the forward and backward motion of the false cast. "It should be a really quiet kind of cast." He demos it for us on the rocky river's edge, showing how we should pause for a beat before propelling forward. We practice a little longer, trying our best to emulate his fluid action.
This riverside tutorial, which also covers setting and mending, roll casts and stripping our lines, is key before we hop into Soonias's three-seater drift boat and start casting for real. Rainbow trout, brown trout, whitefish, jackfish and burbot are all possible catches in the Bow River, one of the top fly fishing locales in North America — particularly when it comes to trout.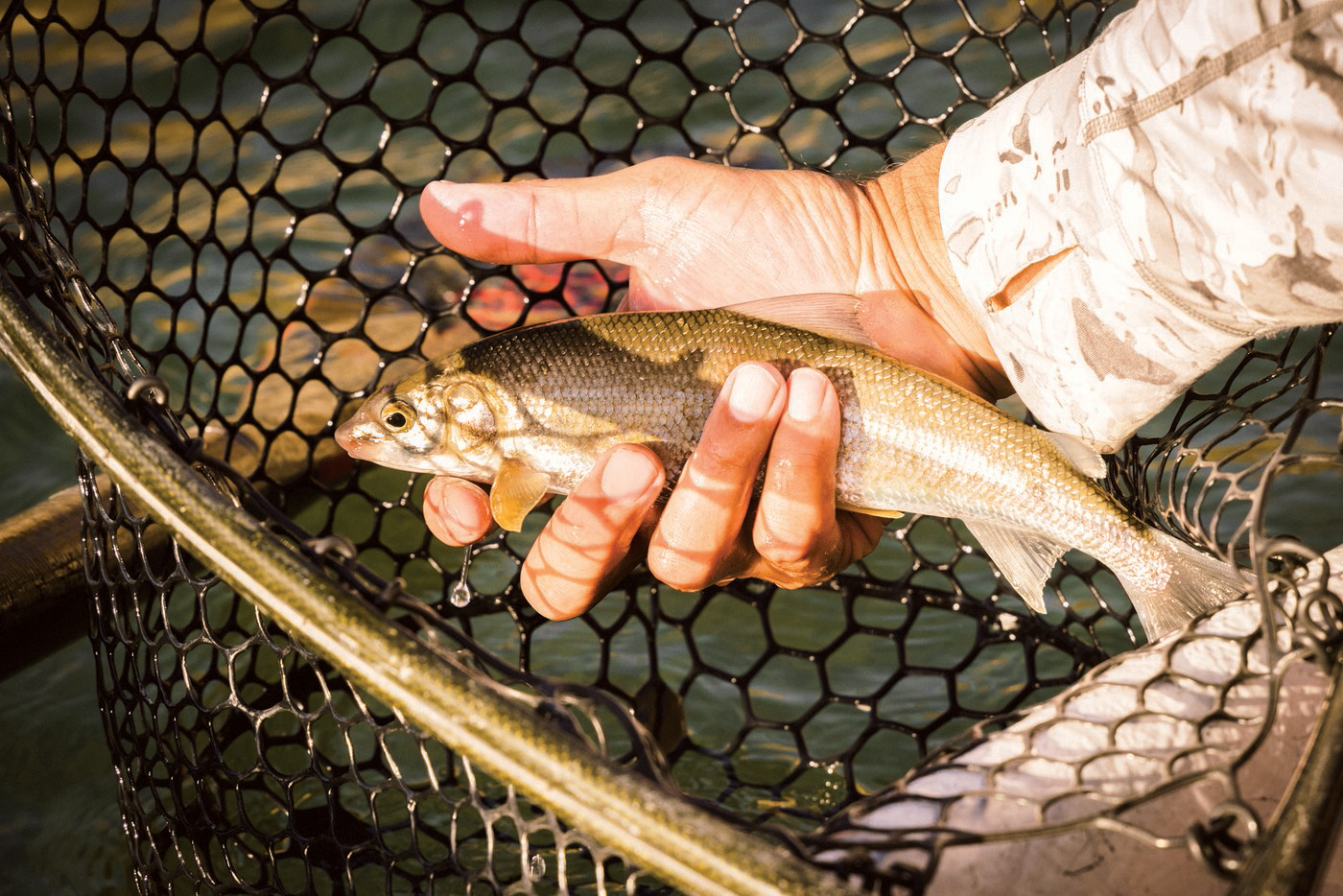 Soonias is the owner of Drift Out West Fly Fishing, a guiding business he operates on the Bow. Equipped with his red and white boat, tackle boxes full of colourful homemade flies, and more than 30 years of experience and knowledge, Soonias takes clients out on half- and full-day fly fishing adventures, right here in Calgary. He also offers a unique perspective: As a member of Red Pheasant Cree Nation, Soonias shares his history and connection to the water, inviting conversation, learning and exchange with his guests, who come in all ages and skill levels, including first-timers like us.
After donning our PFDs and receiving a quick safety briefing on the boat, Soonias begins paddling us away from the hubbub near the launch and into the calm flow of the Bow. This stretch that we're floating is part of the "blue ribbon" section of the river, which begins near downtown and extends to the Carseland Weir south of the city, a distance of about 80 kilometres, where the trout are renowned for their size — up to 24 inches long.
The City's water treatment plant is partly to thank for this, says Soonias. "The treatment plant creates a lot of food for the bugs, so the bugs really thrive below the treatment plant, and the fish [get] big because the bugs are plentiful."
Our float today will take us on a 13-km-long stretch of the blue ribbon section, to the boat launch at Fish Creek Provincial Park. It can take up to eight hours, says Soonias, so there are parts he will paddle through to get us moving a little quicker. We must also have our lines out of the water by 2 p.m.; a streak of hot weather has put hoot owl restrictions into effect, so fishing is not permitted during the warmest part of the day in order to provide a break to fish stressed by low water levels that are rising in temperature.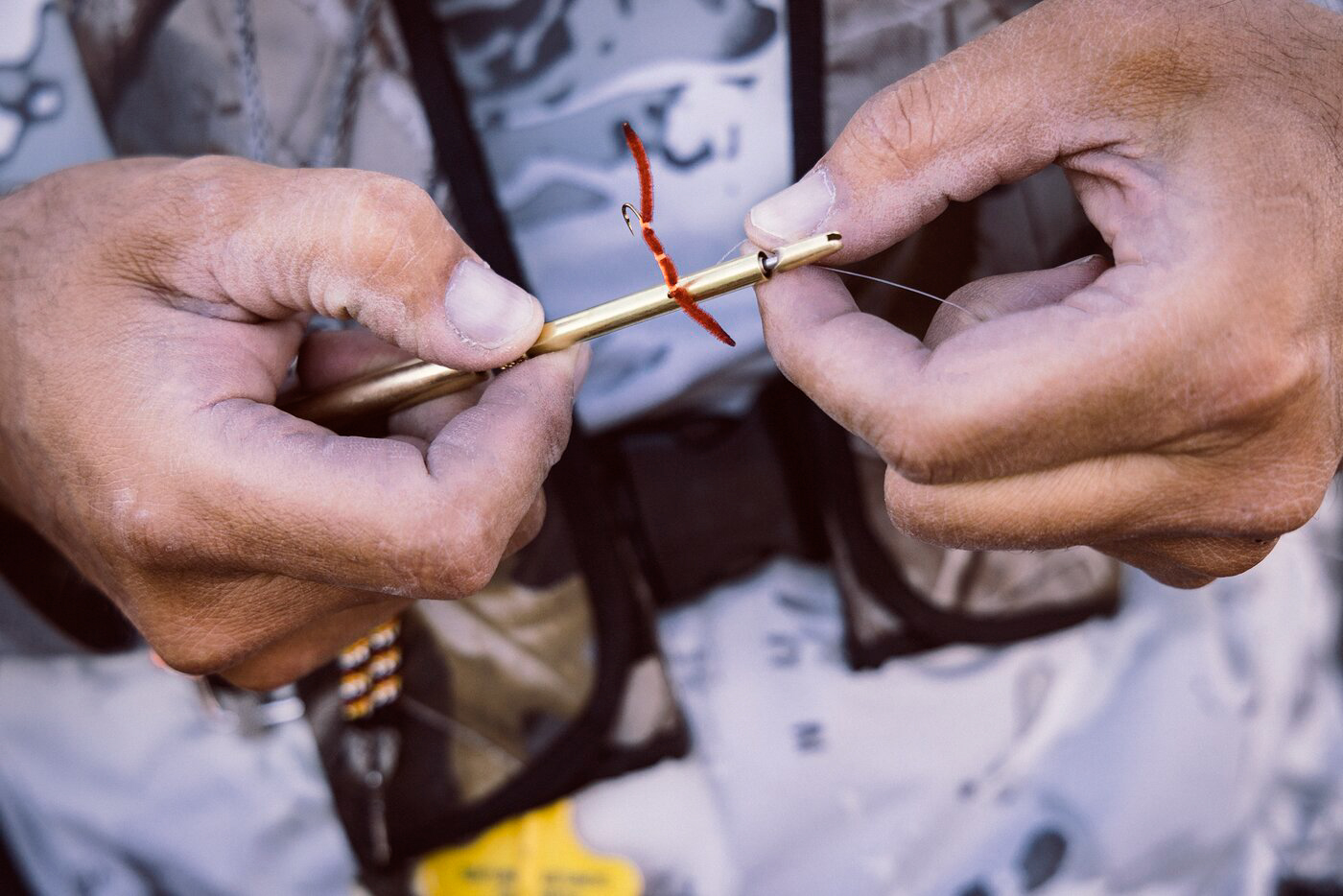 Soonias isn't bothered by the restrictions: taking care of the water and the fish is paramount for him. Originating in the Rockies, the Bow meanders 587 km through mountains, foothills, city and prairie, before meeting up with the Oldman River and eventually joining the water that Soonias's family and ancestors lived on in Red Pheasant Cree Nation, just south of North Battleford, Sask. "The Bow River turns into the South Saskatchewan, and then connects with the North Saskatchewan, which is where we were," Soonias says. "The one thing I always think about, is how the stuff that happens here is going all the way down, through where my reserve was, and then to Hudson Bay. So, we need to watch what we do because, if we destroy the water here, it's going to have an effect right across Western Canada."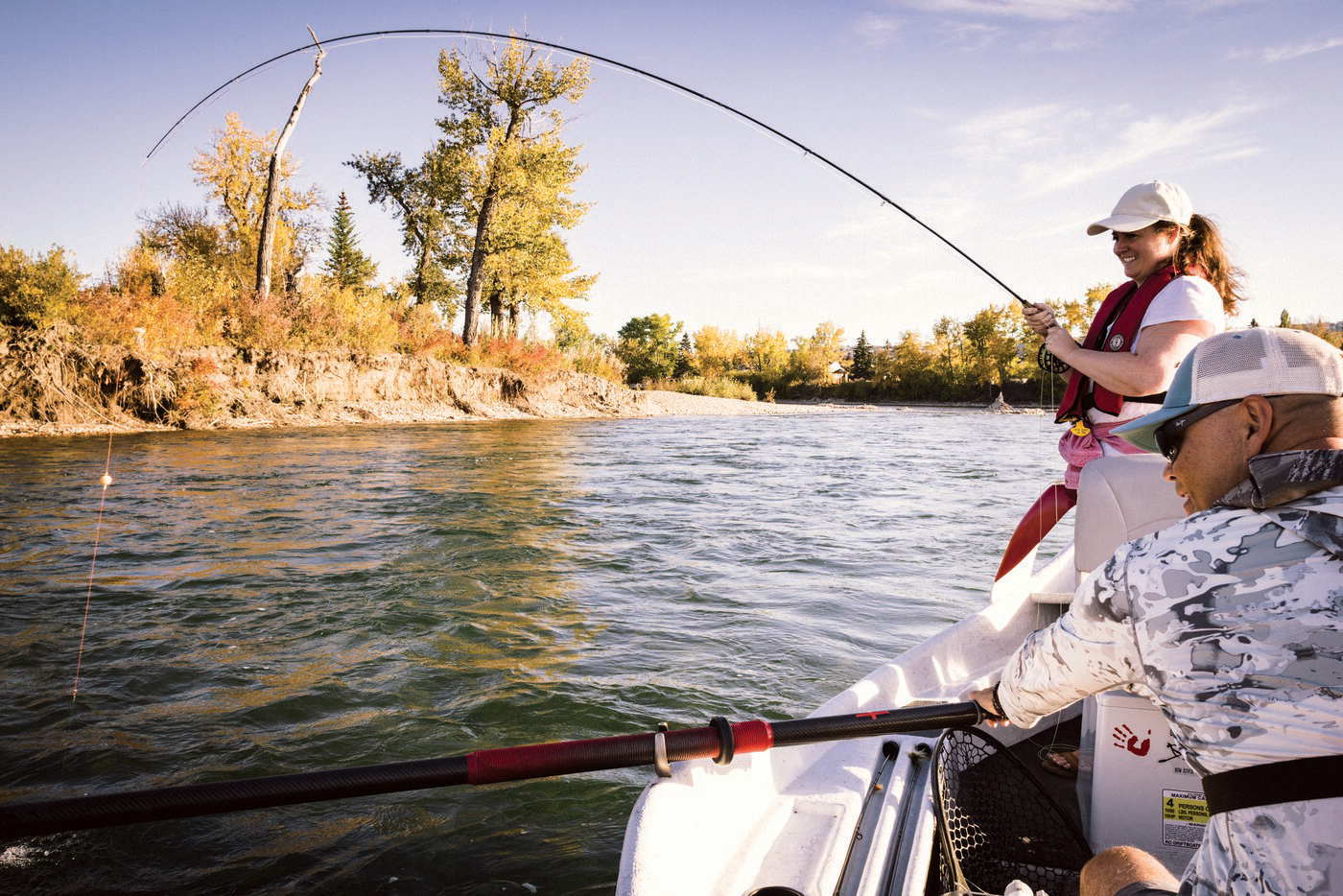 Born in Saskatoon, Soonias moved from there with his family to Alberta, eventually returning to Saskatchewan to live with his grandparents on Red Pheasant Cree Nation when he was 13. It was there he started spending more time in nature, developing an appreciation for it. At 16, he tried fly fishing for the first time with some friends in a nearby dugout stocked with trout. "I didn't have any idea how to cast or how to tie a knot or anything," he says. "I just started flailing away, trying to get my fly out there. But once I got it out, having a fish come up and eat a dry fly was pretty cool."
While that initial experience launched a lifelong love of fly fishing, it would be another two decades before Soonias started Drift Out West. Along the way, sport and the outdoors were common threads in his life. In high school, he played volleyball and basketball — natural choices for a tall kid (Soonias is 6 feet 7 inches). He would go on to play volleyball with Mount Royal in Calgary, earning a spot on the National B team.
In 1994, Soonias moved to Yellowknife, N.W.T. (he'd spent summers there during university), where he worked at a sporting goods store and began developing a career in tourism. A youth tourism course inspired him to pursue a dream of becoming a backcountry ski guide: He eventually relocated to Fernie, B.C., and took a certification course at the College of the Rockies.
Soonias spent the next four-and-a-half years taking groups of people on backcountry cat-skiing trips with Fernie Wilderness Adventures, which also involved snow compacting and avalanche safety. He was typically the tail guide, helping fallen skiers and riders get up in deep powder, and motivating them to keep going down the mountain. "At the end of the day, having guests come up to you and say, 'Thanks man, that was an awesome day, I haven't experienced anything like that,' was the reward," Soonias says.
A broken arm eventually convinced Soonias to put backcountry guiding on ice. He moved to Calgary, where he worked in construction for years, before becoming an air supply agent at WestJet. During that time, Soonias was fishing regularly with a friend who owns a fly fishing outfit, and he started guiding for the company part-time. This side gig made Soonias wonder whether he could make a living at it himself. He bought his first boat and, in 2007, launched Drift Out West Fly Fishing. In 2019, Soonias began guiding full-time.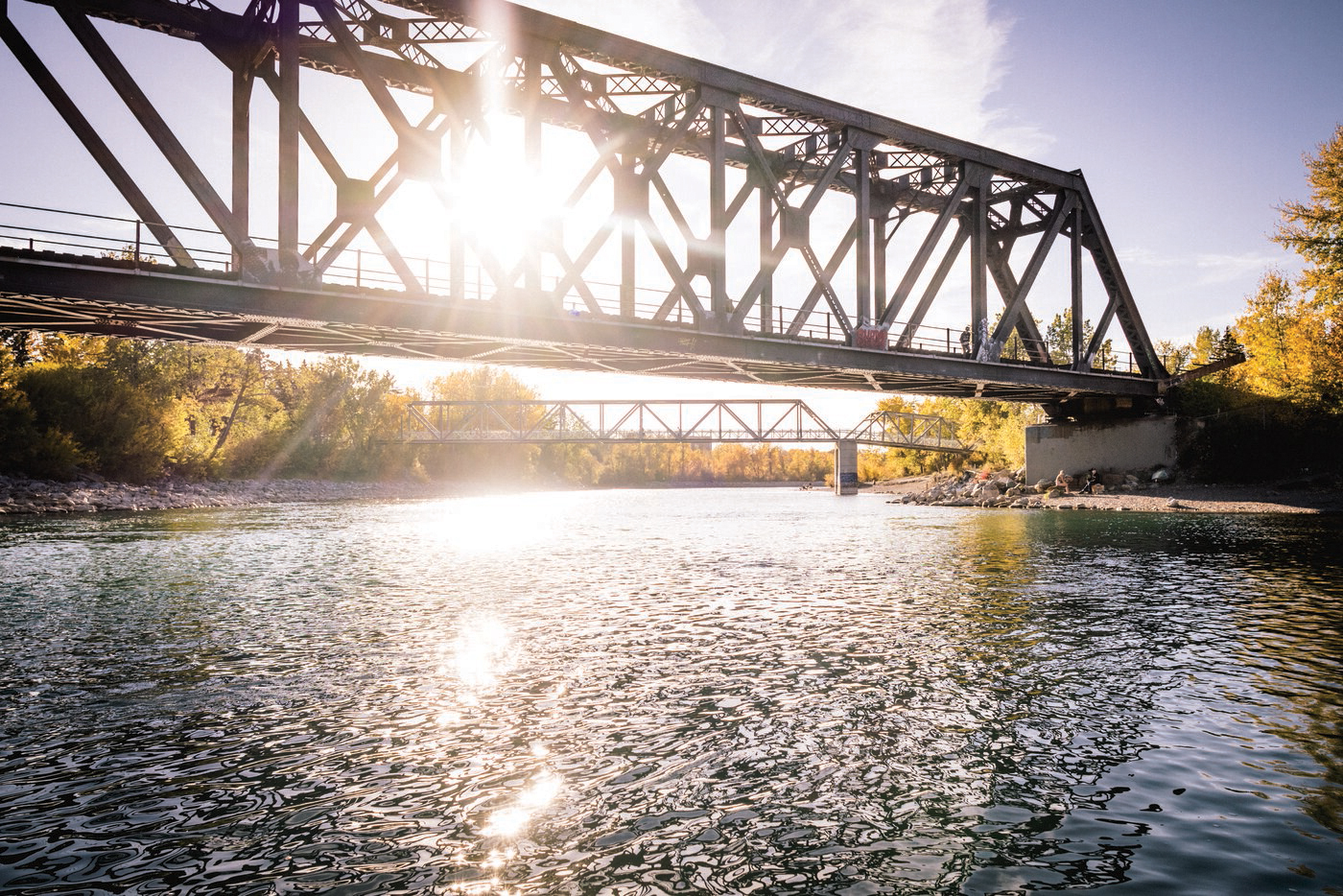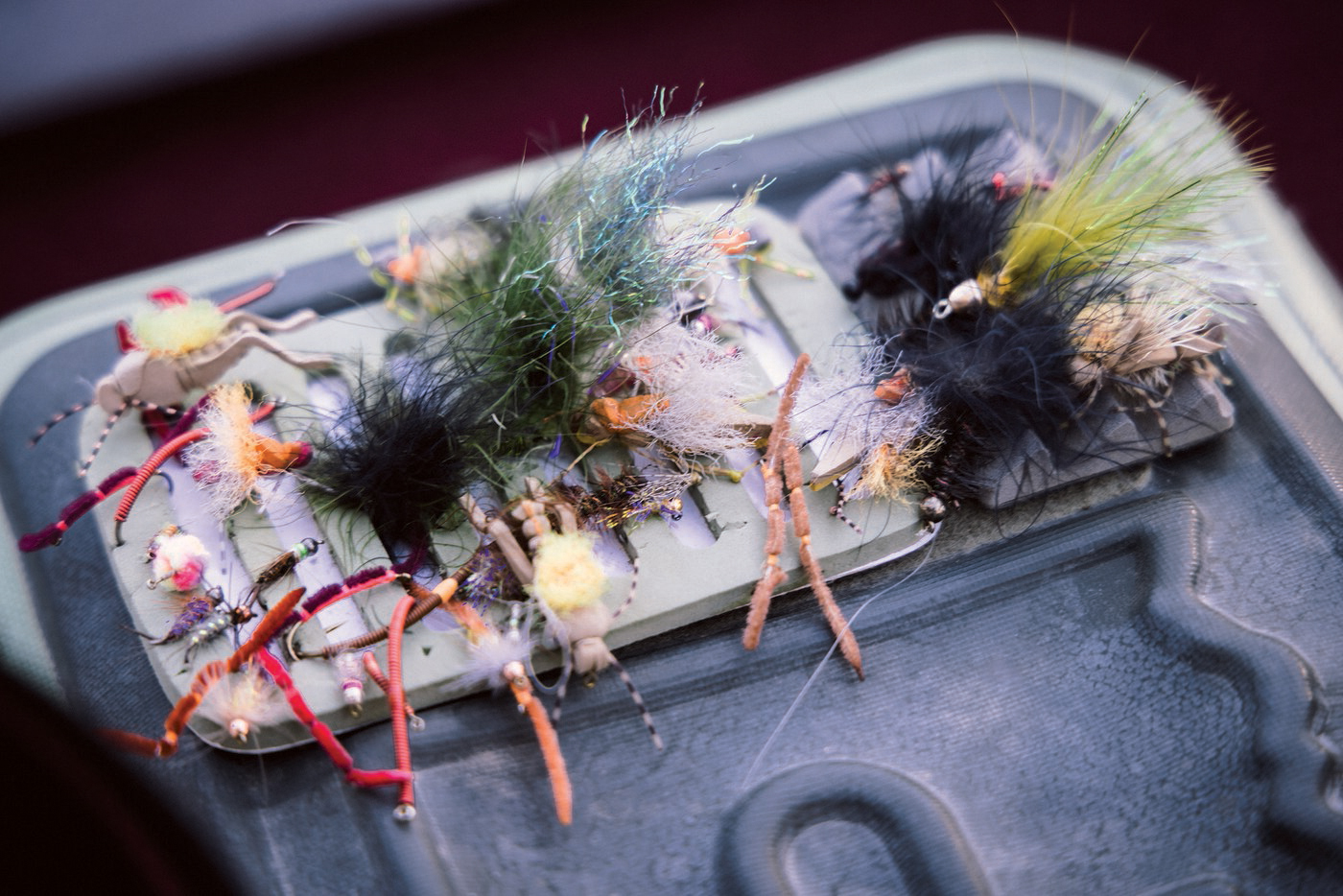 As Soonias navigates the water on the Bow, paddling us upriver so we can fish certain sections multiple times, he's constantly scanning and calling out instructions: "pick up and cast to the left;" "drop that rod tip and point at your indicator;" "strip in;" "cast again;" "mend your line;" "set, set, set!" The fish sit right where the slow water and fast water meet, in the eddies of the river. When your indicator moves, or drops under the water, you have a bite: "Even if there's a little bit of movement, you set — lift straight up," he says.
Similar to his experiences as a backcountry ski guide, Soonias says the best part of river guiding for him is seeing his guests enjoying themselves, and the excitement that comes when they catch a fish — the ecstatic reaction from all of us when my fly fishing partner pulls a rainbow trout out of the river for the first time perfectly demonstrates what he means. "When one of my clients catches a fish, it feels like I just caught that fish," he says. "And when they lose a fish, I'm just as upset about it as they are."
Soonias also finds great joy in the art of making and tying flies, a skill he taught himself using books and, later, online videos. "I can sit down and start tying flies and the next thing I know, six hours have passed," he says. He opens one of his boxes filled with homemade flies in varying shapes and colours, some neon and sparkly. "I've got worms, foam flies, nymphs, cactus flies, black leeches, streamers, sparkle minnows," he says, gesturing to the contents. For each type of flying fishing — nymphing, dry-fly and streamer fishing — he has a favourite. "For streamer fishing, I really like the sparkle minnow; it's shiny and it's got a lot of movement in it," he says, noting the marabou feathers and glittery synthetic material he uses to make it.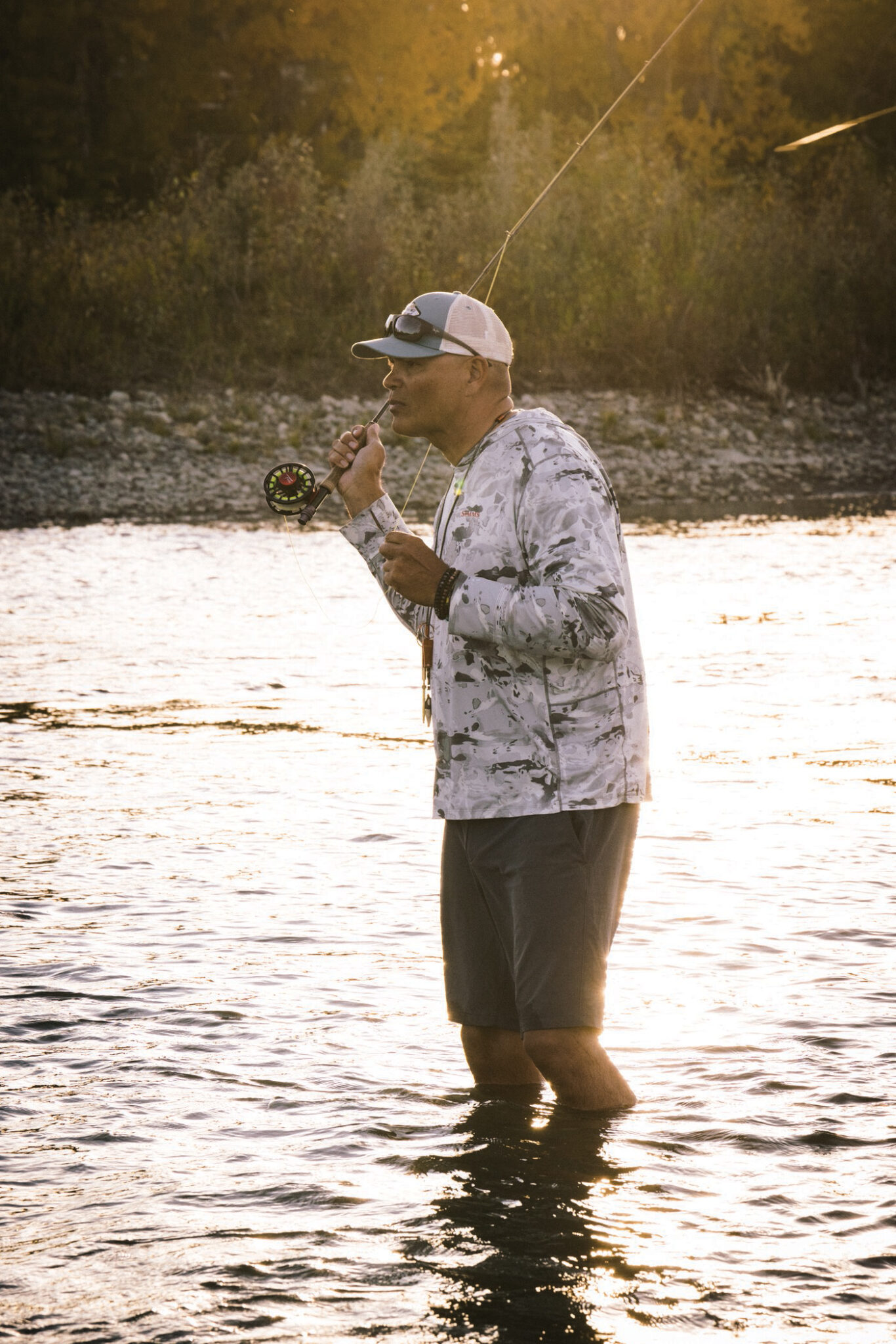 Unlike others in his position, he's open to sharing flies on the river: "Some guides even cut their flies off their line if they're coming in for lunch where there are other boaters because they don't want people to see what they're using," Soonias says, laughing. "We all know what works on the river; it's no big secret."
While there's a healthy and, for the most part, collaborative guiding culture on the Bow, Soonias is offering something different than most. As an Indigenous tour operator — he's a member of Indigenous Tourism Alberta (ITA) — he builds in opportunities to open up the discussion around Indigenous culture, truth and reconciliation, and honouring tradition with his guests. One way he does this is by starting tours with a tobacco offering: "I take out some tobacco from my medicine bag and pay respect to the water and the creator and my ancestors; I thank them for everything I've got and place that in the water." It usually breaks the ice, he says: "People will often ask me to tell them more after that."
Prior to the COVID-19 pandemic, Indigenous tourism was the country's fastest-growing tourism sector. And it's continuing to keep pace, says Shae Bird, the CEO of ITA, with both demand and investment on the rise. In March, Travel Alberta announced $6 million in funding for ITA over the next three years. "With the current environment and acknowledgement of residential schools, and this new desire to learn more about the authentic Indigenous culture within our own backyard, the domestic demand is actually growing significantly," Bird says.
The biggest challenge ITA faces is increasing awareness, especially because what you experience with an Indigenous tourism provider isn't always marketable. This is true when it comes to Drift Out West, says Bird: "You don't think of fly fishing as an Indigenous experience; you think of it as a fishing experience. It's not until you meet Quinn, sit down with him and he shares his stories and his connection to the waterways and where his family comes from, that the perceived fly fishing experience turns into an authentic Indigenous fly fishing experience. It's something that's really hard to market, because it's not something that you necessarily see, it's something you feel when you're with him. That is the magic of a lot of our operators."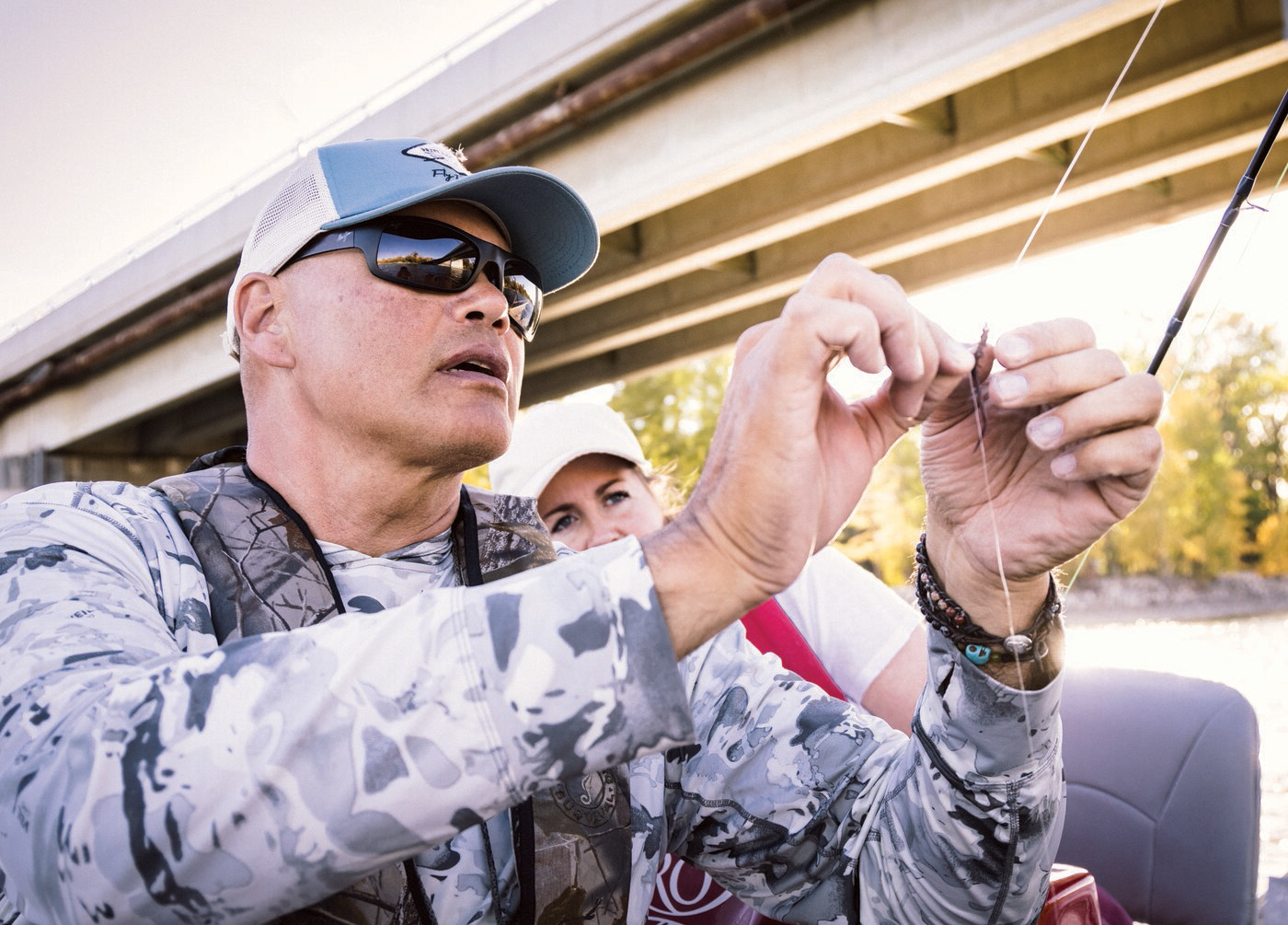 Near the end of our float, Soonias hands us each a "snacklebox" and invites us to take a seat as he paddles through the next stretch — we've just passed Douglasdale and Fish Creek Park's canopy is opening up on our right. Inside the tackle-box-cum-lunch-box compartments are crackers, cheese, pickles and elk pepperoni, made with elk Soonias hunted and had processed at a butcher shop. He hunts in the off-season, and uses elk salami, sausage and pepperoni in the homemade sandwiches and snackleboxes he prepares for all of his tours.
His grandfather was a hunter, too; a residential school survivor, Soonias's grandfather didn't share much of his Cree culture with Soonias or the rest of his family. "He was taught not to speak his language or share his culture, so he didn't," Soonias says.
But Soonias wants to continue to learn as much as he can about his culture for himself — and the more he learns, the more he can share with his guests. As he paddles, the water trickling down his oars and ricocheting off the side of his boat, which he named Nicimos (Cree for "sweetheart"), Soonias tells us how water is sacred to Cree people, and what it means to him personally.
"In the medicine wheel, there's air, fire, water and earth. And for me, the more I think about it, water is everything — it's part of all the elements," he says.
"The water has given me this job, it gives me the fish that my guests catch… It's one big circle and it just keeps coming back to water all the time."