It's been a great year for Legacy. The southeast community was named community of the year-City of Calgary at the Calgary Region Association SAM (Sales and Marketing) Awards last April. Now, it can lay claim to a public sculpture that had people seeing stars at its unveiling in October. Specifically of the film variety.
The public artwork, "Open Hearts Icon" was created by artist and actress Jane Seymour, known for her roles as the star of Dr. Quinn, Medicine Woman, as well as playing Bond girl Solitaire in 1973's Live and Let Die.
Seymour's inspiration for her trademarked symbol of connected, open-ended hearts stems from a piece of advice from her mother that always stuck with her.
"Every time I painted hearts, I always painted them open and I wondered why that was," says Seymour. "My mother used to tell me that, in life, there would always be challenges. When there were your natural instincts would be to close up your heart, not let anyone know and keep it all inside. But, if you can open your heart and reach out to help someone else, you then feel good about yourself and love will come into your life. So I created this heart that was open to another heart and that is the image on the sculpture."
Though the sculpture in Legacy is the only piece of public artwork to use the symbol, Seymour has the original "monumental" sculpture in her backyard at home, where Bravin Goldade, president of Legacy developer WestCreek Developments, saw it for the first time.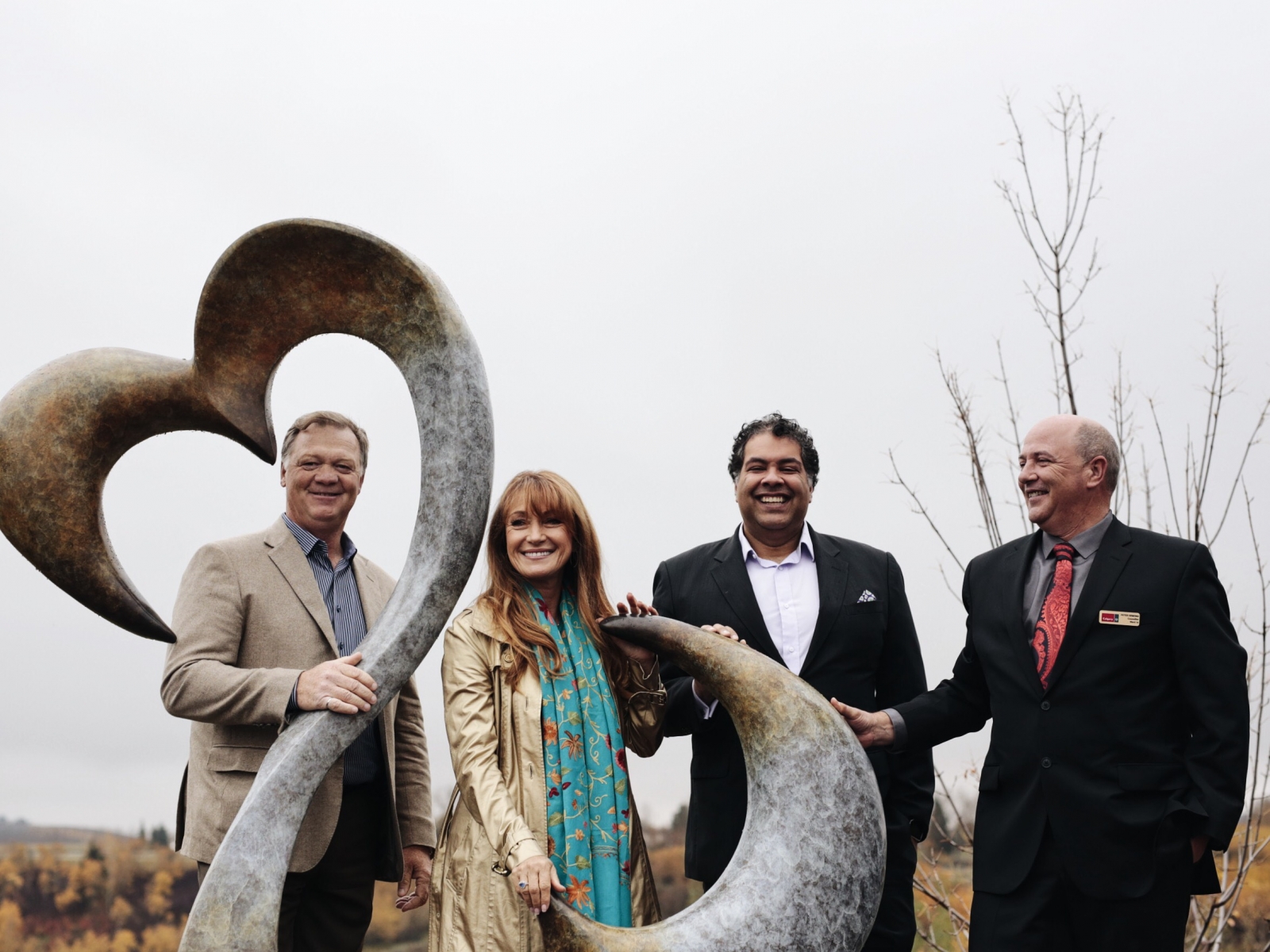 Photo by Allison Seto
The unveiling of "Open Hearts Icon". From left to right: Bravin Goldade, Jane Seymour, Mayor Naheed Nenshi and Councillor Peter Demong
"Bravin met me at one of my art shows in Calgary and purchased various pieces of my artwork. He saw this monumental sculpture and asked to see the original one at my home," says Seymour. "He said he really wanted to put this in Legacy."
The sculpture isn't the only place you'll encounter the twin open hearts. Seymour wore a necklace featuring the design during her time on Dancing with the Stars in 2007. Kay Jewelers saw it and asked Seymour to create her own line of jewellery using the design. She also launched the Open Hearts Foundation, which partners with and supports organizations committed to positively impacting lives in the areas of health, education and sports.
Ultimately, Seymour hopes that her work become an inspiration for people. "I hope that people go there to celebrate special moments in their lives to take the inspiration of why it's important to live with an open heart and an open mind."