The Story of the C.C. Snowdon Building
Old and new meet in this historical character building in Ramsay.
By Andrew Guilbert
Photographs by Andrew Guilbert
Designated by the city as a municipal resource, the Snowdon building has been at its 11 Street S.E. location for more than 100 years. The building's namesake, Campbell Camillus Snowdon, was a wholesale refiner, manufacturer and importer of oils who built the initial structure in phases from 1911 to 1914, eventually adding an oil warehouse and then a garage and office.
His family retained the building after Snowdon's passing in 1935, eventually selling the business in the 1960s to Turbo, who in turned sold to Shell. It was cacant from 1983 to 1987. In 1988, a warehouse severely damaged it, essentially gutting the insides and a large portion of the eastern wall, though the office space remained usable, and was rented out to various commercial tenants, including antique and piano dealers.
Now the Heritage Property Corporation are renewing the building's lease on life with second and third floor modern additions, as well as restoring much of the original building. The head of the HPC, Neil Richardson, says the project is almost like working from scratch. "When we bought it in 2008, this whole back area had been burned, they never cleaned up the rubble, and there were trees growing in it."
Still there were some classic elements, including three walk-in, early-1900s safes, that were spared and will remain in the building. "I don't think they were for money, more likely for documents, paper records, as well as formulas and recipes for products. You didn't record that on a computer and upload it to the cloud. I think that explains why they have so many safes on site," says Richardson.
Another interesting element is an industrial mixer, once housed on the main floor with pipes running to the basement, and will now serve out its days as a reminder of the past. "It was too cool to throw out, so we'll put it out as a landscape fixture with a sign or plaque explaining what it was and what they did," says Richardson. "You have to put it in perspective because people will forget."
The back wall of the main floor still shows evidence of the flames with the transition from old to new brick apparent in a few areas. Due to a strict building code regarding window proximity to properties lines, HPC decided to install glass blocks where windows once stood. "The glass block is a way to meet fire code while letting in outside light," explains Richardson.
Photo by Andrew Guilbert
A photo of the early days of the building that now hangs in its main entrance.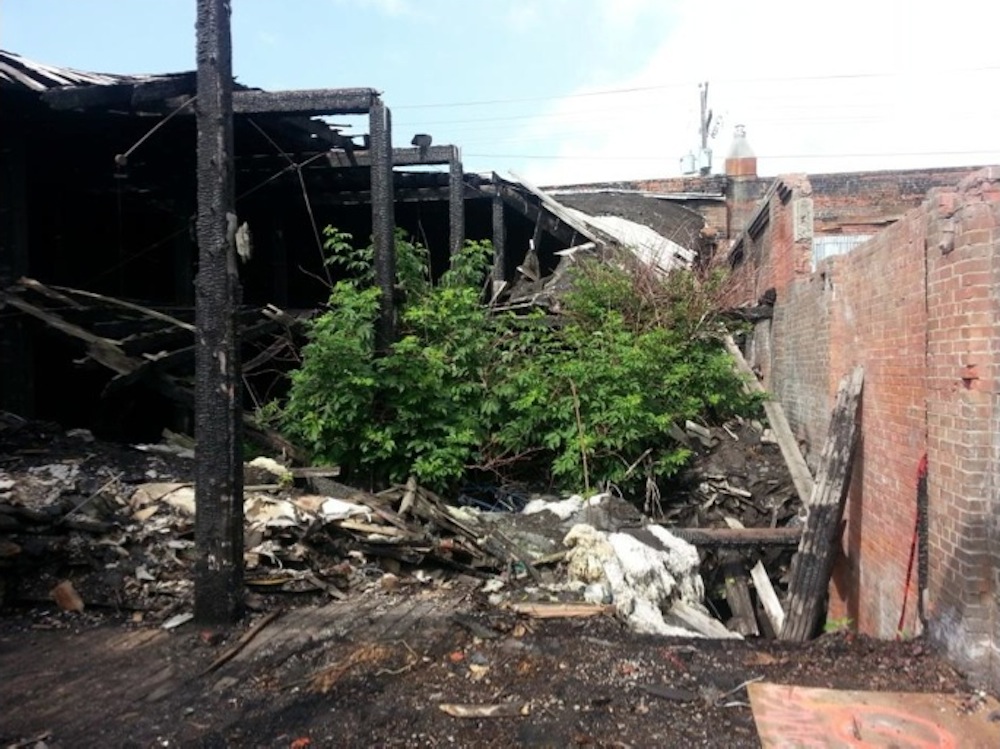 Photo courtesy Heritage Property Corporation
The view inside the once burnt Snowdon building.
Photo by andrew guilbert
The remaining industrial tank now rests outside the building awaiting its plaque.
photo by andrew guilbert
Both old and new brick share space in the main floor of the building
photo by andrew guilbert
Glass blocks stand-in for old windows that were too close to the property line to replace.